Report: SNY punked by own employee
April, 2, 2011
4/02/11
11:54
PM ET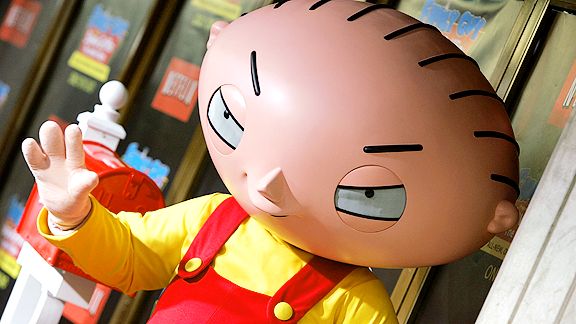 Michael Tran/FilmMagic
Stewie Griffin was not happy with the Opening Day result for the Mets on an episode of Family Guy.
A hilarious episode of the animated Fox sitcom "Family Guy" that originally aired earlier this winter and had jokes at the expense of the Mets made its way onto the Mets' season-opening telecast against the Marlins on SportsNet New York on Friday.
On the show, the diabolical baby
Stewie Griffin
says: "So far, Halloween is a bigger letdown than being a Mets fan."
Shortly thereafter, there's a scene at a Mets game in which the broadcaster says: "Opening Day, and here's the first pitch. ... And the season's over." Stewie, dressed as a Mets fan, is disgusted.
According to The New York Times, the only audio portion that made it onto the Mets' telecast was "Opening Day and here's the first pitch."
Writes
Richard Sandomir
in the Times:
An employee of SNY, the Mets' network, played a prank -- perhaps for April Fool's Day -- after the Mets' opening night loss to the Florida Marlins. The worker, whom SNY would not identify, inserted a few seconds from a 2010 "Family Guy" episode that made light of the Mets' miseries. ... Andrew Fegyveresi, an SNY spokesman, said, "It was a very poor decision by an individual employee and the matter is being dealt with internally." He would not say what position the person held or what sort of discipline would be imposed for the joke.