In-depth: Johan insurance, drugs, diversity
April, 5, 2011
4/05/11
6:49
PM ET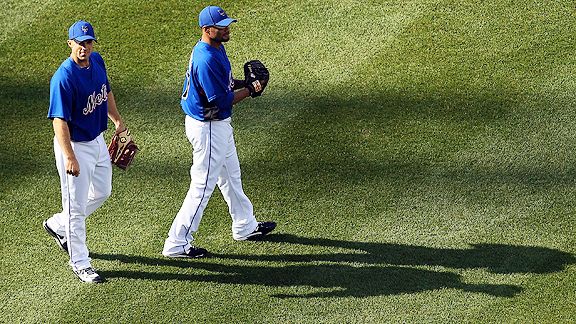 Jim McIsaac/Getty Images
David Wright's contract is protected by outside insurance, but not Johan Santana's contract.
Johan Santana
is tossing a baseball on flat ground in Port St. Lucie, Fla., four times a week, with an eye toward stepping on a mound for the first time about May 1.
Still, Santana may not be back in a major league uniform until after the All-Star break.
And the Mets are getting no relief via insurance in the interim for the ace's $22.5 million salary for this year.
As premiums have skyrocketed because of escalating salaries and past payouts -- such as the bailout when
Mo Vaughn
was owed $17 million and could not play for the Mets in 2004 -- the organization began more often "self-insuring" its larger contracts than seeking outside coverage. In essence, the Mets chose to create a rainy-day fund available so that the organization would not be crippled financially by the loss of a key player due to injury.
It saves potentially a $2 million insurance premium per year to protect a contract, although the amount annually paid to an insurance company naturally decreases as the years on the contract elapse -- like you'd pay less to an insurance company on a car as the years go by and the vehicle is worth less.
Across baseball, outside insurance has "declined tremendously," according to one baseball official.
Santana was self-insured by the Mets, whereas the contracts for
Carlos Beltran
,
David Wright
and
Jose Reyes
were insured by an outside company.
Tom Glavine
and
Mike Piazza's
contracts were insured externally during their Mets days as well.
Insurance generally covers the salary after a deductible period -- usually either after the player has missed 60 or 90 days of games.
Policies can exclude particular body parts if the player has been injured there in the past.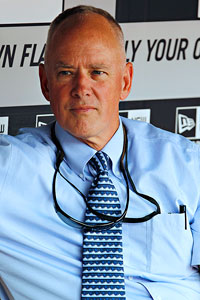 AP Photo/Lynne Sladky
Sandy Alderson on Mets' roster: "Half the players that we brought in are either minority or international players."

John Scotti
, whose Pittsburgh-based Team Scotti handles the majority of the insurance coverage for major league teams, explained: "Clubs who benefit the most from this type of coverage establish a risk philosophy which spells out what contracts they would or would not insure. Generally the main components setting the philosophy parameters are whether the player is a position player or pitcher along with the monetary size on the contract and length of contract."
As for how escalating salaries have affected insurance, Scotti said typically a policy only pays out if the incapacitation occurs in the first three years of the contract now, whereas it used to be five years.
Said Scott: "What this means is a club can insure a five- or 10-year contract, but the injury or illness must occur within the first 36 months in order to receive benefits in years four, five, six, seven, eight, nine or 10 as long as the disability has continued to be the cause of his inability to perform."
•
TOOK A SHOT: Mike Pelfrey
pitched in so much discomfort last season because of a strained rotator cuff and posterior capsule in his right shoulder, the team's medical staff injected Toradol, a non-steroid anti-inflammatory drug, before each start for most of the year.
"They inject it in your butt instead of putting it in your arm," Pelfrey explained. "I think it's a pretty common shot. I think a lot of guys do it on other teams. A lot of guys do it on other teams even if nothing's wrong because I think it helps with recovery and it eliminates inflammation and stuff."
Before proceeding with that between-starts treatment, Pelfrey inquired if it could be harmful.
"I asked the doctor and he said no," Pelfrey said. "It would knock out the pain, so it would feel good."
Still,
Philip Wenger
, an assistant professor of pharmacy practice at St. Louis College of Pharmacy, said it is not recommended to use Toradol for more than five days. And Pelfrey used it regularly for the entire season.
The generic name for the drug is Ketorolac, with Toradol a brand name.
"It's often used for pain and inflammation, and especially pain from inflammation. But this one specifically has a warning on it that it shouldn't be used for more than five days just because of the potential adverse reactions from it," Wenger said. "The longer you use it, the higher the risk of problems happening. The serious problems can be serious stomach problems, serious kidney problems and the potential for bleeding and heart problems."
As for Pelfrey, he believes the shoulder woes are behind him.
"No surgery or anything like that. I took the shot. I continued to pitch," Pelfrey said. "And the doctor said at the time it wasn't going to get worse. So I kept pitching. And I wanted to pitch. At the end of the season I rested it and it went away. I feel good now."
•
METS DIVERSITY:
Under former GM
Omar Minaya
, the Mets annually ranked first in the majors -- with the exception of one year -- in players born internationally on the Opening Day roster. This year, Major League Baseball's report ranked the organization tied for sixth with 10 players born outside the United States, and that includes Canadian-born
Jason Bay
and
Mike Nickeas
.
Still, GM
Sandy Alderson
notes: "Half the players that we brought in are either minority or international players."
In-depth appears selected Tuesday's during the regular season