Series preview: Mets vs. Nationals
April, 8, 2011
4/08/11
12:42
AM ET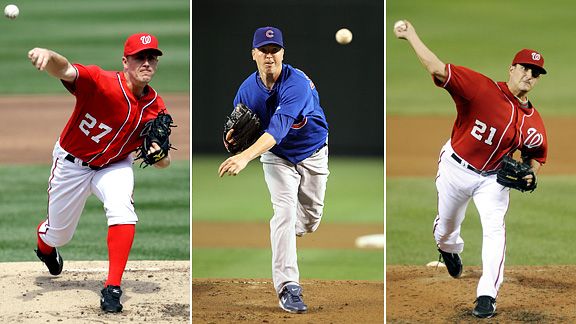 Getty Images
Jordan Zimmermann, Todd Gorzelanny and Jason Marquis (left to right) are scheduled to start against the Mets this weekend at Citi Field.
METS (3-3, second place/NL East) vs. WASHINGTON NATIONALS (2-4, fifth place/NL East)
Friday:
RHP R.A. Dickey (1-0, 0.0) vs. RHP Jordan Zimmermann (0-1, 3.00), 4:10 p.m. ET
Saturday:
LHP Chris Capuano (0-0, 13.50) vs. LHP Tom Gorzelanny, 7:10 p.m. ET
Sunday:
RHP Chris Young (1-0, 1.69) vs. RHP Jason Marquis (0-0, 2.84), 1:10 p.m. ET
Nationals short hops
• Right fielder
Jayson Werth
-- who is hitting in the No. 2 hole for the Nationals because of a lack of quality top-of-the-order producers -- delivered his first Nats homer and RBI on Thursday night with a one-out solo shot off
Josh Johnson
in the fourth that ended the Florida ace's second straight mid-inning no-hit bid. Werth defected from the Philadelphia Phillies for seven years, $126 million, leading Mets GM
Sandy Alderson
to quip about the deficits in Washington. Werth has a .407 on-base percentage through six games with Washington. He has committed one costly error. Werth called off second baseman
Danny Espinosa
on a pop-up and then wound up dropping the ball in the 10
th
inning Tuesday at Florida, which led to a 3-2 loss.
• Ex-Met
Alex Cora
made the Nationals as a utility infielder. The Nats shipped competitor
Alberto Gonzalez
to the San Diego Padres at the end of camp for minor league right-hander
Erik Davis
.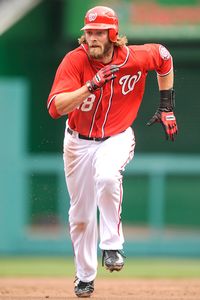 Mitchell Layton/Getty Images
Jayson Werth defected to the Nationals for seven years, $126 million.

• Former Cardinal/Brave
Rick Ankiel
(.158) won center-field job, beating out
Nyjer Morgan
and
Roger Bernadina
. Ankiel also had been in the competition for the left-field job, but
Michael Morse
grabbed a stranglehold on that spot early in camp. The Nats traded Morgan to the Brewers last week for
Cutter Dykstra
, the son of ex-Met
Lenny Dykstra
. He was assigned to Class A Potomac. Morse is 2-for-18 to open the season and did not start Thursday.
•
Oliver Perez
, who was signed by the Nationals after the Mets ate the $12 million owed to him this year, remained in Viera, Fla., at the team's spring-training complex when minor league squads broke camp. Perez is working with pitching coordinator
Spin Williams
, who also worked with the southpaw during their days with the Pittsburgh Pirates.
•
Ivan Rodriguez
, 39, is hitless in 10 at-bats this season. He has hit only one ball to the outfield. Highly regarded young catcher
Wilson Ramos
, who arrived from the Minnesota Twins in a July 29, 2010 trade for reliever
Matt Capps
, is hitting .357. The duo is alternating games at the moment, meaning Rodriguez should start the series opener against the Mets. But the playing distribution should start decidedly tilting toward Ramos within weeks. The Nats are deep at catcher, with former Mets farmhand
Jesus Flores
finally seeming to have a couple of years of shoulder woes behind him. Flores is opening the season with Triple-A Syracuse (he went 1-for-4 with an RBI on Thursday night against Buffalo) because the organization did not want him playing only once or twice a week at the major league level. The Nats could look to trade Rodriguez and promote Flores during the first half.
•
Adam LaRoche
, who replaces departed
Adam Dunn
at first base, snapped a 3-for-23 drought to open his Nats career with an 11
th
-inning two-run homer Thursday that lifted Washington past the Marlins, 5-3, in Miami. LaRoche is playing through a slight tear of the labrum in his shoulder, but it only affects throwing, not hitting. He took a cortisone shot and insists it's a nonissue.
• Outfielder
Jerry Hairston Jr.
is the brother of the Mets'
Scott Hairston
. They formerly were teammates with San Diego. They are one of only three three-generation major league families, along with the
Bells
and
Boones
.
• Like
Chris Capuano
, Nats fifth-starter
Tom Gorzelanny
is waiting until Saturday's eighth game for his first start. Unlike Capuano, the ex-Pirate Gorzelanny has not appeared in a game in relief, although he had been available out of the bullpen. The Nats staged a simulated game to line Gorzelanny up for Saturday's start.
• Staten Islander
Jason Marquis
missed half of last year dealing with bone chips in his right elbow after three April starts, but pitched well at the end of last season (two runs or fewer in six of his final eight starts). Marquis followed that up with a solid spring training, then by limiting Florida to two runs in 6 1/3 innings in his season debut as the Nats finally start to get some return on a two-year, $15 million contract they signed in December 2009.
• Reliever
Todd Coffey
was ejected from Wednesday's game for arguing balls and strikes.
•
Tyler Clippard
,
Drew Storen
and
Sean Burnett
combined for five scoreless relief innings Thursday against Florida, allowing only two hits while striking out seven. That continued a string of dominant performances from the bullpen trio, who have a 0.61 ERA between them. Until Coffey's scoreless inning in the series finale against the Marlins, the rest of the bullpen had a 15.63 ERA.
•
Jordan Zimmermann
, the mostly highly touted of the Nats' starting pitchers, has looked sharp since returning from Tommy John surgery in September. Zimmermann has been hitting 95 mph. He allowed three runs (two earned) in six innings in his season debut against Atlanta.
• The Nationals are hitting .140 (7-for-50) with runners in scoring position this season.
• Third baseman
Ryan Zimmerman
is off to a fast start, with a .316 average, one homer and four RBIs through six games.
•
Ian Desmond
nearly lost his leadoff spot to Espinosa after going 0-for-13 in the season's first three games. After a game out of the lineup, Desmond has six hits in his past two games.
• Phenom
Bryce Harper
, the top overall pick in last year's draft, made his professional debut Thursday and went 2-for-4 with an RBI and steal for Class A Hagerstown.
Matchups
Dickey vs. Nationals (career: 1-1, 4.18 ERA)
Wilson Ramos 1.000, 1 HR, 2 RBI, 2 PA
Matt Stairs .455, 1 HR, 4 RBI, 1 BB, 2 K, 12 PA
Ivan Rodriguez .333, 2 RBI, 1 BB, 3 K, 13 PA
Mike Morse .333, 3 PA
Rick Ankiel .286, 7 PA
Jayson Werth .273, 1 HR, 1 RBI, 2 BB, 4 K, 13 PA
Adam LaRoche .250, 4 PA
Ian Desmond .143, 1 BB, 8 PA
Ryan Zimmerman .125, 9 PA
Danny Espinosa .000, 3 PA
Alex Cora .000, 1 PA
Jerry Hairston --
Laynce Nix --
Capuano vs. Nationals (career: 1-2, 3.58 ERA)
Ryan Zimmerman .571, 1 HR, 2 RBI, 1 K, 7 PA
Jerry Hairston .286, 1 HR, 1 RBI, 2 K, 14 PA
Adam LaRoche .286, 3 K, 8 PA
Jayson Werth .200, 3 K, 5 PA
Rick Ankiel .000, 2 K, 3 PA
Alex Cora .000, 2 PA
Ian Desmond --
Danny Espinosa --
Mike Morse --
Laynce Nix --
Matt Stairs --
Wilson Ramos --
Ivan Rodriguez --
Young vs. Nationals (career: 3-1, 2.42 ERA)
Matt Stairs .333, 1 RBI, 1 K, 3 PA
Ryan Zimmerman .273, 1 HR, 2 RBI, 1 BB, 2 K, 12 PA
Jerry Hairston .200, 1 RBI 1 K, 5 PA
Adam LaRoche .167, 1 HR, 3 RBI, 1 BB, 7 K, 19 PA
Ivan Rodriguez .000, 4 K, 6 PA
Jayson Werth .000, 1 BB, 2 K, 5 PA
Rick Ankiel .000, 2 K, 3 PA
Alex Cora --
Ian Desmond --
Danny Espinosa --
Mike Morse --
Laynce Nix --
Wilson Ramos --
Zimmermann vs. Mets (career: 1-1, 3.54 ERA)
Josh Thole .667, 2 RBI, 1 BB, 4 PA
Ike Davis .500, 1 HR, 1 RBI, 2 BB, 4 PA
Angel Pagan .333, 2 K, 9 PA
Daniel Murphy .333, 1 HR, 3 RBI, 1 K, 6 PA
Carlos Beltran .333, 1 K, 3 PA
Jose Reyes .200, 1 BB, 6 PA
David Wright .143, 1 RBI, 5 K, 8 PA
Lucas Duda .000, 1 BB, 2 K, 4 PA
Brad Emaus --
Scott Hairston --
Willie Harris --
Chin-lung Hu --
Mike Nickeas --
Gorzelanny vs. Mets (career: 2-3, 5.11 ERA)
Ike Davis .667, 1 K, 3 PA
David Wright .300, 1 RBI, 2 BB, 2 K, 12 PA
Jose Reyes .200, 2 RBI, 3 BB, 13 PA
Scott Hairston .167, 2 BB, 1 K, 8 PA
Carlos Beltran .000, 2 BB, 1 K, 4 PA
Angel Pagan .000, 1 BB, 1 K, 4 PA
Willie Harris .000, 1 K, 3 PA
Jose Thole .000, 1 PA
Daniel Murphy .000, 1 PA
Lucas Duda --
Brad Emaus --
Chin-lung Hu --
Mike Nickeas --
Marquis vs. Mets (career: 6-7, 4.65 ERA)
Josh Thole .500, 2 PA
David Wright .400, 2 HR, 8 RBI, 1 K, 31 PA
Daniel Murphy .333, 1 RBI, 1 BB, 10 PA
Jose Reyes .321, 1 RBI, 1 BB, 1 K, 29 PA
Angel Pagan .200, 1 RBI, 3 K, 10 PA
Carlos Beltran .190, 1 HR, 2 RBI, 3 BB, 6 K, 24 PA
Willie Harris .143, 1 BB, 1 K, 8 PA
Scott Hairston .143, 3 K, 7 PA
Chin-lung Hu .000, 1 K, 2 PA
Ike Davis --
Lucas Duda --
Brad Emaus --
Mike Nickeas --
Last series results
Mets won, 2-1, at Citi Field, Oct. 1-3, 2010 (AP game recaps)
Mets 2, Nationals 1 (10 innings):
With the New York Mets braced for a management shakeup, Josh Thole homered in the 10th inning to begin the final series of the season with a victory. Thole connected against Tyler Clippard (11-7), hitting a one-out drive into the right-field seats for New York's fourth hit and first since the fourth inning. Rookie Ike Davis homered in the fourth off Jordan Zimmermann. Michael Morse's homer tied it in the seventh. Hisanori Takahashi (10-6) pitched two hitless innings, combining with Pat Misch on a three-hitter. Washington hitters struck out 14 times. Misch struck out a career-high 10 in eight innings. His previous high was eight for San Francisco at San Diego on Aug. 4, 2007. Zimmermann allowed three hits in six innings, struck out three and walked none, lowering his ERA to 4.94 in his seventh start following right elbow ligament replacement surgery. Davis took a pitch down the middle and drove it into the Mets' bullpen in right with one out in the fourth. With his 19th homer, he matched Ron Swoboda (1965) for the second-most by a rookie in Mets history, trailing only Darryl Strawberry's 26 in 1983. Morse tied it with one out in the seventh, hitting a drive to right-center for his 14th homer. Washington's Adam Dunn struck out in the first and seventh innings, giving the free-agent-to-be a career-high 196, two more than he had in 2004 with Cincinnati.
Mets 7, Nationals 2:
David Wright launched a tiebreaking, three-run homer in the seventh inning. With the count 1-2, Nationals reliever Tyler Clippard threw a pitch close to Wright's chin, sending him back off the plate. Wright stepped back in and hit a drive that just made the second deck, deep into the left-field stands. Washington starter Yunesky Maya had thrown behind Wright's back earlier in the game. Raul Valdes outpitched Maya in the first matchup of Cuban starters in seven years. Knuckleballer R.A. Dickey made his first relief appearance in a season in which he has emerged as a key member of the Mets' rotation at 35 years old. The Mets became the first team to use a lineup of seven rookies since the Florida Marlins used seven on Aug. 23, 2006, according to STATS LLC. Two New York rookies, second baseman Joaquin Arias and Josh Thole, combined to cut down a runner at home plate in the sixth to preserve a 2-1 lead. In addition to joining Maya in becoming the first Cuban starters to face off since May 22, 2003, when Montreal's Livan Hernandez opposed Florida's Michael Tejera, Valdes earned another unusual distinction: The 32-year-old rookie became the first pitcher since Ismael Valdes in 1994 to start within three days of pitching in both games of a doubleheader. Valdes gave up a homer to Michael Morse and a double to Wilson Ramos to start the sixth and left an out later. Embattled Jerry Manuel then used six relievers, with Elmer Dessens giving up a tying RBI single to Ramos that hit off third base and shot straight up in the air to make it 2-all. After Dessens walked pinch-hitter Adam Dunn to load the bases, Ryota Igarashi (1-1) struck out Justin Maxwell to end the threat. Maya pitched five innings and gave up six hits and two runs. Clippard gave up a two-out single to Angel Pagan and walked Jesus Feliciano ahead of Wright, who struck out for the 161st time in his previous at-bat. Dickey entered in relief and received an ovation from the modest crowd as soon as his name was called, and another as he strode off the mound after a scoreless inning. Feliciano had a sacrifice fly in the third. Lucas Duda homered in the fourth for a 2-0 lead. Pinch-hitter Chris Carter hit a two-run shot in the eighth.
Nationals 2, Mets 1 (14 innings):
Oliver Perez hit Adam Kennedy with a pitch before walking three batters in a row in the 14th inning, and the Nationals avoided a three-game sweep. It was a fitting ending to a miserable season for Perez. Making just his fourth appearance since Aug. 1, the left-hander entered to loud boos in the 14th. With one out, he plunked Kennedy in the shoulder. Kennedy stole second before Roger Bernadina and pinch-hitter Wil Nieves walked to load the bases. Justin Maxwell walked to force in the go-ahead run. Perez (0-5) walked 42 in 46 1/3 innings this year. In the second season of a $36 million, three-year contract, he was banished to the bullpen in May. Joel Peralta (1-0) pitched two innings for the win and Miguel Batista got three outs for his second save, helping the Nationals end a string of 18 straight one-run losses on the road. With it almost certain that the Mets will not ask him back, manager Jerry Manuel said he would not speak with his players as a group because "to address them to prepare for spring training is probably not mine to do at this point." After moving a season-high 11 games over .500 on June 27, it was all downhill for New York. The season's home attendance was 2,559,738, including 30,849 on Sunday. The team drew 3,154,262 in 2009, its first at Citi Field. Adam Dunn went 1-for-4 in what could be his last game with the Nationals. Mike Pelfrey was sharp for seven innings, then was pulled for a pinch-hitter.