Dickey undermined by nail
April, 8, 2011
4/08/11
7:56
PM ET
R.A. Dickey
successfully pitches without the ulnar collateral ligament in his right elbow. Yet a cracked fingernail undermined his outing Friday, giving a sour end to a day in which the knuckleballer received the loudest applause from the Citi Field faithful during introductions before the home opener.
Dickey matched a career high by walking five batters and lasted only five innings in what became a 6-2 loss to the Washington Nationals. He was charged with three runs, the final of those scoring when he issued a bases-loaded walk to
Michael Morse
. The damage could have been worse if shortstop
Jose Reyes
did not then make a diving stop and turn a two-run single into an inning-ending double play.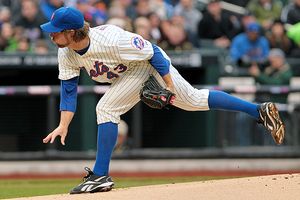 Anthony Gruppuso/US Presswire
R.A. Dickey walked a career-high five batters during Friday's home-opener loss to the Nationals.

"It's funny. You don't often go from such a high to such a low," Dickey said, contrasting the pregame reception from the crowd with the injury and game's result. "But that's the nature of the game that we play. There's always another side of the coin. Tonight it was a real honor to be given that ovation. It wasn't taken lightly. That's what makes it hurt all the more when I couldn't give back to them a quality outing. It makes me sick to my stomach when I can't go six innings or more. That's what I do."
Dickey ripped the nail on his right index finger on his second-to-last pitch of the first inning. Trying to minimize the stress on the nail, Dickey then threw a slow knuckleball to
Ryan Zimmerman
, which the Nats' third baseman waved at for the third strike to finish the inning.
At that point, catcher
Josh Thole
learned about Dickey's issue in the dugout. Dickey told Thole, however, that he did not want to alter his pitching style -- such as by instead throwing 84 mph fastballs -- and give in to the injury.
"He said he wanted to go down with the knuckleball," Thole said.
Said Dickey: "The knuckleball is such a 'feel' pitch. When it comes out of your hand, there's a unique feeling to that. It's just a matter of trying to repeat that feel over the course of a game. It's really a non-issue usually. But when you have to [file] the nail that close to the nail bed, you really don't have a fingernail to dig in. So it was fingernail on one finger and skin on the other finger, which just isn't a good recipe for a consistent knuckleball."
Dickey did get through five innings, but that meant the Mets' starting pitching has contributed only a combined 11 innings in a three-game span. That has meant the Mets taxing their bullpen, which manager
Terry Collins
acknowledged is a concern.
"It was a pretty good snag," Dickey said about his fingernail catching on the baseball's seam as he threw the first-inning offering that caused the tear. "I had to take a file to it pretty quickly and take it down pretty low in order to save the integrity of the nail for the next start."
Still, Dickey pledged he would be fine for his next start, which will come Wednesday at Citi Field against the Colorado Rockies.
"I do know that my nail is going to be fine for my next start, because I know how quickly they grow, because that's my job," Dickey said. "It shouldn't be an issue."