Series preview: Mets vs. Rockies
April, 10, 2011
4/10/11
8:16
PM ET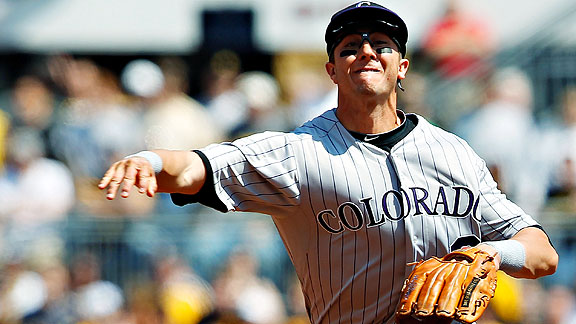 Jared Wickerham/Getty Images
Troy Tulowitzki throws to first base Thursday in Pittsburgh. He is signed for 10 years at $157.75 million.
METS (4-5, third place/NL East) vs. COLORADO ROCKIES (6-2, first place/NL West)
Monday:
RHP Mike Pelfrey (0-1, 15.63) vs. RHP Jason Hammel (1-0, 7.20), 7:10 p.m. ET
Tuesday:
LHP Jon Niese (0-1, 6.55) vs. RHP Esmil Rogers (1-0, 1.23), 7:10 p.m. ET
Wednesday:
RHP R.A. Dickey (1-1, 2.45) vs. LHP Jorge De La Rosa (1-0, 0.00), 7:10 p.m. ET
Thursday:
LHP Chris Capuano (1-0, 6.75) vs. RHP Greg Reynolds (0-0, 3.00), 1:10 p.m. ET
Rockies short hops
• Shortstop
Troy Tulowitzki
signed a 10-year, $157.75 million deal on Nov. 30. He notoriously has poor March/April numbers, including a career .223 average during the opening month. Sure enough, Tulowitzki is hitting .214 this season, although he does have three homers in 28 at-bats. In 2010, en route to a 27-homer season, Tulowitzki did not produce his third long ball until May 22. In conjunction with the Denver Post, Tulowitzki held a contest in which he picked four songs, and fans voted for their favorite to play before his at-bats. The winner was
Katy Perry's
"Firework." But after Tulowitzki opened the season 0-for-8 with that music in the opening two games, he switched to
Justin Bieber's
"Baby" and homered. Regardless, Tulowitzki has been solid at shortstop early in the season.
•
Jorge De La Rosa
has been pulled from consecutive starts because of blistering of his left middle finger and may use a fake nail during his appearance against the Mets.
•
Carlos Gonzalez
won the NL batting title last season at .336. He finished third in MVP balloting and won a Gold Glove as well as the Silver Slugger award. Battling the flu, Gonzalez did not start Sunday, but was used as a pinch-hitter. Meanwhile, don't bother bringing in lefty specialist
Tim Byrdak
to face the lefty-hitting Gonzalez. He hit .320 with 14 homers in 222 at-bats against southpaws last season. Among lefty-hitting major leaguers with 200 plate appearances against left-handers in 2010, Gonzalez ranked third in batting average, trailing only Baltimore's
Nick Markakis
(.361) and San Diego's
Adrian Gonzalez
(.337).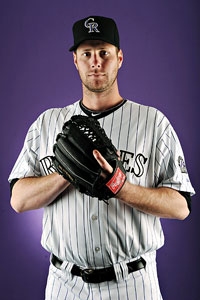 Harry How/Getty Images
John Maine was roughed up in his first Triple-A outing with Colorado.

• Ex-Mets
John Maine
and
Mike Jacobs
are with Triple-A Colorado Springs. Maine was sent to the minors to build shoulder strength, with
Esmil Rogers
being tabbed the No. 5 starter. (
Greg Reynolds
subsequently was called up from the minors before Maine too to fill a rotation vacancy.) Maine hit 93 mph in spring training, but the sharpness of his slider had yet to return, so he was sent to Colorado Springs to get innings and so the organization could get a better read on him. Maine allowed four runs on four hits and four walks -- including homers to the Tucson Padres'
Aaron Cunningham
and
Logan Forsythe
-- while striking out three in three innings in his debut Thursday with the SkySox, in an 18-14 shootout loss. He can opt out on June 1 if he is not on the major league roster. Jacobs is hitting .308 with five RBIs in 13 at-bats through four games for the Rockies' top affiliate.
• Rogers' father
Danilo
is battling colon cancer in their native Dominican Republic and had surgery before the pitcher left for spring training. Rogers wears the Spanish words for "Daddy, wait for me" in his cap. He is coming off a performance in which he pitched a career-high 7 1/3 innings and struck out a career-high seven against Pittsburgh. Rogers allowed consecutive singles to open the first inning, then retired 22 of 23 batters, including 18 straight, to earn the win in a 7-1 victory. The development of a changeup has helped Rogers as a starting pitcher. Of Rogers' 28 appearances last season with the Rockies -- during which he compiled a 6.13 ERA -- 20 of the outings came in relief.
• Ex-Met
Matt Lindstrom
picked up Saturday's save after closer
Huston Street
pitched three innings the previous night in a 14-innning game at Pittsburgh. Lindstrom is waiting in the wings for the full-time role if Street falters, although the incumbent closer has been better of late. Street signed a three-year, $22.5 million deal after converting 26 straight chances during a 35-save season in 2009. But Street missed the first 69 games of last season with shoulder and groin issues and then blew five of 25 save chances the remainder of the year. Street's leash was so short early this year that in two of his first three saves opportunities, manager
Jim Tracy
had another reliever warming. Street has looked sharp his past couple of outings. Because he is only throwing 88-91 mph, when his changeup is not working, he struggles to find a put-away pitch.
• Reynolds limited the Pirates to a two-run homer by
Ryan Doumit
but no other damage in six innings Saturday in his first major league appearance since 2008. The second overall pick in the '06 draft out of Stanford, Reynolds signed for $3.25 million. He went 2-8 with an 8.13 ERA in 14 appearances (13 starts) for Colorado in 2008 and missed nearly all of the following season after being hit on the arm by a line drive while throwing batting practice that spring training. Reynolds replaced
Ubaldo Jimenez
in the rotation. The ace has been dealing with a right thumbnail cut and is on the disabled list for the first time in his career. Jimenez twice dealt with the issue last year. It also arose during spring training. The Denver Post's
Troy Renck
writes: "Because of his inordinately long fingers, Jimenez places his thumb underneath the baseball rather than on the side. As such, the seams rub when he releases each pitch, particularly his four-seam fastball and sinker." Jimenez is due to pitch in an extended spring training game Wednesday.
• The Rockies are also down a third member of their 2010 rotation -- also with a finger issue.
Aaron Cook
is on the disabled list with a broken tip of his right ring finger, which reportedly got caught in a door as he reached for a phone.
• Ex-Met
Ty Wigginton
signed a two-year, $8 million deal with Colorado as a free agent in December. Wigginton (.248, 22 HR, 76 RBIs with Baltimore last season) has started four games at third base and one apiece at first base and in left field. Wigginton will be the regular starter at third base against southpaws, and also will spell
Todd Helton
at first base. He should sneak a start here and there in the outfield as the Rockies look to be creative to give Wigginton five to six starts a week without being locked into a position.
• Third baseman
Ian Stewart
has been dealing with flu-like symptoms and did not start Sunday, although he pinch-hit and struck out. Stewart is hitless in 12 at-bats in 2011. He sprained his right knee during spring training, then had a hamstring act up on the eve of breaking camp.
• Helton was scratched from Friday's game with lower back stiffness and has yet to return to the starting lineup. Ex-Yankee
Jason Giambi
primarily has filled in at first base. Helton did pinch-hit Friday. He tested the back before Sunday's game.
• Giambi testified in
Barry Bonds'
perjury trial.
• The Rockies took three of four games while facing former manager
Clint Hurdle
during a weekend series in Pittsburgh.
• Center fielder
Dexter Fowler
had dramatically different results at Coors Field (.313, 5 HR, 27 RBIs) versus on the road (.211, 1 HR, 9 RBIs) last season. The switch-hitting Fowler also has a pronounced difference versus left-handed and right-handed pitching in his career (.292 versus .242).
•
Jason Hammel
, who throws 94 mph, has worked on a new delivery during which he takes the ball out of his glove more quickly. His primary issue is an inability to minimize damage, resulting in big innings. One memorable meltdown occurred in a five-run second at Citi Field on July 30, 2009 during which six of the inning's seven batters reached.
Josh Fogg
needed to be summoned to record the final two outs.
• The Rockies were 31-50 on the road in 2010.
Matchups
Pelfrey vs. Rockies (career: 5-2, 2.63 ERA)
Chris Iannetta .667, 1 BB, 5 PA
Todd Helton .600, 1 HR, 5 RBIs, 4 BB, 1 K, 14 PA
Seth Smith .444, 1 BB, 2 K, 10 PA
Carlos Gonzalez .400, 1 HR, 2 RBI, 1 BB, 1 K, 6 PA
Troy Tulowitzki .333, 1 BB, 16 PA
Ian Stewart .250, 1 BB, 9 PA
Jason Giambi .250, 1 RBI, 2 BB, 2 K, 6 PA
Dexter Fowler .200, 3 K, 10 PA
Ty Wigginton .125, 1 RBI, 2 BB, 2 K, 10 PA
Ryan Spilborghs .000, 1 K, 4 PA
Jonathan Herrera --
Jose Lopez --
Jose Morales --
Niese vs. Rockies (career: 0-1, 4.91 ERA)
Ian Stewart .500, 3 PA
Todd Helton .400, 1 K, 10 PA
Chris Iannetta .400, 1 RBI, 1 K, 6 PA
Ryan Spilborghs .333, 1 HR, 4 RBI, 9 PA
Seth Smith .333, 1 K, 7 PA
Troy Tulowitzki .286, 2 BB, 1 K, 9 PA
Dexter Fowler .167, 6 PA
Carlos Gonzalez .000, 1 K, 3 PA
Jason Giambi --
Jonathan Herrera --
Jose Lopez --
Jose Morales --
Ty Wigginton --
Dickey vs. Rockies (career: never faced)
Jose Lopez .600, 2 RBIs, 1 BB, 1 K, 6 PA
Ty Wigginton .250, 4 PA
Carlos Gonzalez .000, 1 K, 3 PA
Jason Giambi .000, 2 PA
Dexter Fowler --
Todd Helton --
Jonathan Herrera --
Chris Iannetta --
Jose Morales --
Seth Smith --
Ryan Spilborghs --
Ian Stewart --
Troy Tulowitzki --
Capuano vs. Rockies (career: 4-3, 2.98 ERA)
Troy Tulowitzki 1.000, 1 HR, 1 RBI, 2 BB, 5 PA
Ryan Spilborghs .600, 1 BB, 6 PA
Todd Helton .217, 3 RBI, 1 BB, 6 K, 24 PA
Ty Wigginton .200, 1 BB, 1 K, 6 PA
Ian Stewart .000, 1 K, 1 PA
Dexter Fowler --
Jason Giambi --
Carlos Gonzalez --
Jonathan Herrera --
Chris Iannetta --
Jose Lopez --
Jose Morales --
Seth Smith --
Hammel vs. Mets (career: 0-2, 9.72 ERA)
Carlos Beltran 1.000, 1 RBI, 3 PA
Daniel Murphy 1.000, 1 PA
Chin-lung Hu 1.000, 1 PA
Jose Reyes .500, 1 RBI, 4 PA
Angel Pagan .333, 2 RBI, 6 PA
Josh Thole .333, 2 K, 3 PA
Ike Davis .333, 3 PA
Scott Hairston .286, 1 BB, 1 K, 8 PA
Willie Harris .222, 2 K, 9 PA
David Wright .000, 1 PA
Lucas Duda --
Brad Emaus --
Mike Nickeas --
Rogers vs. Mets (career: 0-0, 3.00 ERA)
Jose Reyes 1.000, 1 PA
Angel Pagan .000, 1 K, 1 PA
David Wright 2 BB, 2 PA
Carlos Beltran --
Ike Davis --
Lucas Duda --
Brad Emaus --
Scott Hairston --
Willie Harris --
Chin-lung Hu --
Daniel Murphy --
Mike Nickeas --
Josh Thole --
De La Rosa vs. Mets (career: 3-1, 4.30 ERA)
Willie Harris .600, 1 K, 6 PA
Scott Hairston .333, 2 HR, 7 RBIs, 4 BB, 4 K, 19 PA
Jose Reyes .333, 1 BB, 1 K, 7 PA
David Wright .250, 3 BB, 4 K, 11 PA
Angel Pagan .222, 1 RBI, 1 K, 9 PA
Carlos Beltran .000, 1 BB, 2 K, 4 PA
Daniel Murphy .000, 2 BB, 3 PA
Chin-lung Hu .000, 1 PA
Ike Davis --
Lucas Duda --
Brad Emaus --
Mike Nickeas --
Josh Thole --
Reynolds vs. Mets (career: 0-1, 4.85 ERA)
Scott Hairston .500, 1 HR, 1 RBI, 1 BB, 3 PA
Carlos Beltran .200, 1 HR, 2 RBI, 1 BB, 6 PA
David Wright .200, 1 RBI, 1 BB, 1 K, 6 PA
Jose Reyes .143, 1 K, 7 PA
Chin-lung Hu .000, 2 PA
Ike Davis --
Lucas Duda --
Brad Emaus --
Willie Harris --
Daniel Murphy --
Mike Nickeas --
Angel Pagan --
Josh Thole --
Last series results
Mets won, 2-1, at Citi Field, Aug. 10-12, 2010 (AP game recaps)
Mets 1, Rockies 0:
Mike Pelfrey returned to early season form, outpitching All-Star Ubaldo Jimenez for seven innings, and Jose Reyes hit a sacrifice fly. The Mets moved back to .500 (56-56) with a much-needed win after returning from a 2-4 road trip against division rivals that helped drop them 8½ games behind Atlanta. They were relying on Pelfrey to bounce back from a horrible seven-start winless stretch while facing the Rockies' 17-game winner. Pelfrey (11-6) had been so bad since late June that at one point Jerry Manuel considered skipping his turn in the rotation. But Pelfrey worked on his arm speed between starts to correct a discrepancy between his fastball and off-speed pitches and he looked as good as he did in going 10-2 to open the season. He went seven innings for the first time since June 19, and gave up four hits. He struck out four and walked one while throwing a career-high 122 pitches. Fernando Martinez made a diving catch in left field to help Hisanori Takahashi pitch a 1-2-3 eighth. Francisco Rodriguez was perfect in the ninth for his 25th save in 30 chances, completing the Mets' 16th shutout, most in the majors. It was New York's second 1-0 victory in four days and third of the season. After failing to capitalize on a bases-loaded situation in the sixth in which Pelfrey had a single, the Mets broke through against Jimenez in the seventh. Chris Carter walked leading off and Josh Thole doubled off the wall in right field before Ruben Tejada struck out. Carlos Beltran, out of the starting lineup for a scheduled day off, pinch-hit for Pelfrey and was intentionally walked. Reyes then hit a long fly ball to right field that scored Jeff Francoeur, who was pinch-running. Reyes came through after having pregame chats with coach Chip Hale and Manuel about his pre-pitch preparation on defense after he made three errors on a road trip. Jimenez (17-3) was the more dominant pitcher early. He did not allow a hit until Martinez reached on an infield single leading off the fourth.
Rockies 6, Mets 2:
The Mets' discouraging season took an ugly turn when closer Francisco Rodriguez wound up in police custody and facing assault charges for a postgame scuffle with his girlfriend's father at Citi Field. Rodriguez did not pitch in the game. The scuffle came shortly after Melvin Mora kept what's left of Colorado's postseason hopes alive with a go-ahead grand slam. The night got off to a promising start for the Mets when Angel Pagan hit a two-run homer in the first and Jon Niese hung on to the early lead through seven strong innings, but it all came undone in the eighth. With two outs in the eighth, Hisanori Takahashi (7-6) gave up a single to Todd Helton and walked Carlos Gonzalez, prompting manager Jerry Manuel to call on Manny Acosta. Acosta's first offering was a wild pitch that let the runners advance. Troy Tulowitzki was intentionally walked. Mora's slam then became the MLB-high ninth allowed by the Mets. Acosta followed the homer with a walk and two singles, the last one a dying quail by Clint Barmes that landed in shallow left field to score one more run and bring Manuel out. Rockies starter Jeff Francis allowed two runs and three hits in six innings. He struck out five and walked one. Matt Belisle (5-4) struck out the side in the seventh, part of a string of seven straight Mets who whiffed. David Wright struck out four times in the game. The Mets had three hits and didn't get a baserunner after the fifth. Niese gave up one run in seven innings, striking out seven without a walk. He has allowed one run in three of his last four starts. After Niese started the seventh inning with two singles, he gave up a sacrifice fly before retiring Barmes on a popup to second baseman Luis Castillo in shallow right field.
Mets 4, Rockies 0:
Johan Santana made a closer unnecessary, a good thing for New York because Francisco Rodriguez wasn't available. After Rodriguez was arrested on a charge of assaulting his girlfriend's father at Citi Field, Santana pitched a four-hit shutout. Just before the game began, the Mets suspended Rodriguez for two days without pay, a move that cost him $125,683 of his $11.5 million salary. Against the Rockies, Santana (10-6) won for the second time in four starts and boosted the Mets back to .500 at 57-57 with only their second series win since June 27. Using a nasty changeup, he struck out 10 and walked two, striking out the side in the first. In a game that took 2 hours, 18 minutes, Santana needed 115 pitches for his 49th double-digit strikeout game, 11th complete game and eighth shutout in 259 career starts. All four hits he allowed were singles. He improved to 5-1 with a 1.88 ERA in his last nine starts. Carlos Beltran went 3-for-3 with a double and sacrifice fly for his first three-hit game for the Mets since his season started July 15, raising his average to from .185 to .214. Jason Hammel (8-7) gave up four runs and eight hits in seven innings, losing for the fourth time in five decisions. Troy Tulowitzki had two of Colorado's hits. Jose Reyes sparked the Mets in the first when he singled, stole second and scored on a single by Angel Pagan, who came around on Ike Davis' double and Beltran's sacrifice fly. Santana keyed a two-run seventh following a one-out walk to Ruben Tejada, who has four hits in his last 51 at-bats (.078). Santana tilted his bat as if to bunt, then pulled it back and had a hit-and-run single that put runners at the corners. Reyes singled for a 3-0 lead, and Fernando Martinez drove in Santana with a sacrifice fly. Santana thought it was the first time he ever had been given a hit-and-run sign. The Mets filled Rodriguez's roster spot by recalling right-hander Ryota Igarashi from Triple-A Buffalo. He took a taxi from Scranton, Pa., at a cost of $300 and arrived in the sixth inning. The Mets lead the majors with 17 shutouts.