Gee rolls with travel issues, over Braves
April, 17, 2011
4/17/11
5:36
PM ET
Attention U.S. Airways: Send
Dillon Gee's
lost bag to Citi Field. After all, Gee is getting at least one more shot in the rotation while
Chris Young
is on the disabled list with biceps tendinitis.
After a rough travel day that included delays at the Providence and Philadelphia airports, Gee pulled into Atlanta for his start shortly before 1 a.m. He was minus his bag, which included his clothes and baseball gear. He borrowed a suit that was too large from
Mike Nickeas
,
Bobby Parnell's
glove and
Josh Thole's
spikes and proceeded to limit the Braves to one run in 5 2/3 innings en route to a 3-2 Mets win that snapped a seven-game losing streak.
"He was the first person to offer, so I just took it," Gee said about Parnell's glove.
Asked if it would take a lot to pull Gee out of the rotation after that,
Terry Collins
noted Young would have to miss at least one more turn in the rotation because he is not eligible to return from the disabled list until April 26. Until then, Collins suggested there's no sense speculating.
"He called me in the morning, about 1:30, and said he just got in and he didn't have a phone charger, nothing. His bags were lost," Thole said. "It was a long day for him all day yesterday. You don't know how his body is reacting to it. He's a guy who is never going to show emotion. He's not going to get upset. He gets mad at himself, but he's not going to bring a negative vibe to us at all."
"He used my spikes and ripped them all up, so now he owes me a pair of spikes," Thole said. "That's all right, though. We can handle that. He's going to wear them next time, I'll tell you that much. His next start he'll have them on. And I think they're half a size big, too."
Said Gee: "Yesterday was a long day. I was stuck in the airport all day long, a lot of delays and stuff. My bags didn't make it today. You just have to keep going out there and plugging away and get it done. … I have my routines, but that kind of got messed up yesterday. You just have to roll with it and do the best you can with what you're given."
As for U.S. Airways and his bag, Gee joked: "I don't want to throw them under the bus, but I still don't have it."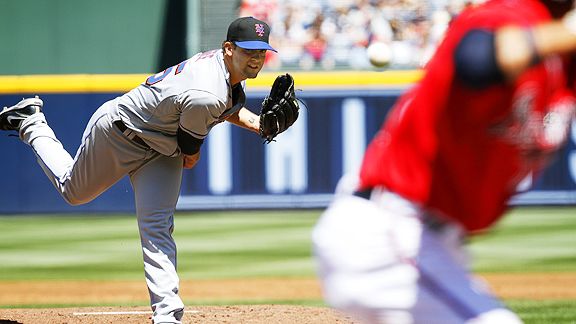 Daniel Shirey/US PresswireAfter a crazy travel day, and minus his own baseball equipment, Dillon Gee limited the Braves to one run in 5 2/3 innings.