Pagan to DL, Pridie in CF
April, 22, 2011
4/22/11
4:19
PM ET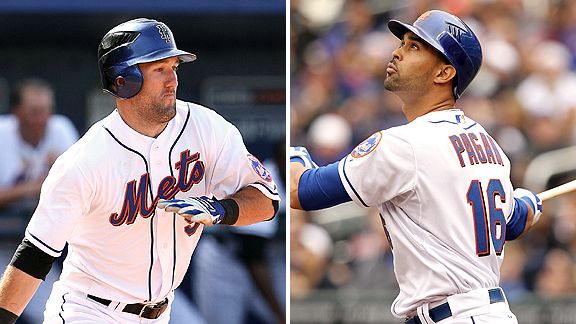 Getty Images
The Mets placed Angel Pagan (right) on the DL with a strained left oblique and promoted outfielder Jason Pridie (left).
Angel Pagan
officially landed on the disabled list Friday with a strained left oblique muscle.
Jason Pridie
was promoted to take Pagan's roster spot because he was the best defensive option at Triple-A Buffalo according to that minor league staff,
Terry Collins
said. The manager placed Pridie in the starting lineup in center field.
Jason Bay
just returned to the lineup Thursday from a rib-cage strain suffered on the eve of the regular season. Asked if Pagan would be out a similar time frame, GM
Sandy Alderson
said: "I don't think it's really possible for us to compare it to Bay. Each individual is different. What Angel did say is when he had an oblique [injury] previously -- and I think he had one last year -- he felt the one last year was more severe than this one. In terms of comparisons, that's probably a better comparison for us, and also a small piece of good news."
Pagan arrived at the stadium Friday feeling "sorer" than the day before, when he was forced to leave the game.
"After they put the ice pack on your rib and after you wake up, I felt a little more sore than last night," Pagan said. "That's not a good sign so they decided to put me on the DL."
The manager again ruled out considering
Carlos Beltran
in center field.
"I would not do that to him," Collins said. "I told him the first day of spring training when the decision was going to be made, if he was going to be the right fielder that I would not put him back in center field. ... He understood. The one thing I don't want to do is take a guy of his caliber, his credentials and jack him around a little bit."
Asked if lefty-hitting
Willie Harris
might get regular starts once the Mets resume facing right-handed starters Saturday, Collins was noncommittal, saying, "I'm going to see how it goes. One of the reasons tonight was the numbers dictate they hit a lot of fly balls off Pelf [
Mike Pelfrey
]. This guy is really a good defensive player. Really, really good. So I thought it would be a good night for him. ... With our staff, we've got to catch the baseball."
Pridie is a former waiver claim from the Minnesota Twins who missed much of last season at Buffalo with recurring hamstring woes. He was watching Thursday night's Mets game on television, but switched to NBC to watch favorite shows "The Office" and "30 Rock" when his phone rang to be on standby.
Asked if he was calmer making his Mets debut because he had appeared in 11 major league games with Minnesota, the 27-year-old Pridie said: "You're always in a little bit of awe being at this level. It's been a few years since I've been at this level. Especially being in New York, the stage that this is, there's always that little bit of awe. But I feel a lot more comfortable. I can remember that first call-up being more nervous."
Pridie was hitting only .186 (11-for-59) with three homers with Buffalo, and said about that start: "That's what a lot of people look at is average. I wasn't doing too good. But as a baseball person you have to worry about how you're going about things. I felt comfortable at the plate. I was hitting some balls hard and had some nice plays made on me, just like everybody has at times."
Pridie had been removed from the 40-man roster during the winter, cleared waivers and had the choice of becoming a free agent. Instead, he decided to stay. Pridie reasoned that Collins and former Buffalo manager and current bench
Ken Oberkfell
knew him, and that would be better than blindly going to another organization.
"A big part of getting to the big leagues is knowing some people -- and having some people who know you and know your ability," Pridie said. "To have a big league manager and a bench coach who know me and know what I can do, the type of player I can be, is a huge step right there. I knew I wasn't going to be able to get that anywhere else."
Pridie, by the way, offers a favorable review of "The Office" makeover.
"I like
Will Ferrell
, but
Steve Carell's
a hard guy to replace," he said.