Series preview: Mets at Nationals
April, 24, 2011
4/24/11
9:58
PM ET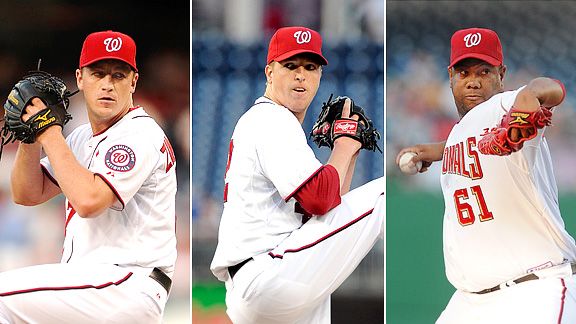 G. Fiume/Getty Images
The Mets face (l to r) Jordan Zimmermann, Tom Gorzelanny and Livan Hernandez during a midweek series in Washington.
METS (9-13, fifth place/NL East) vs. WASHINGTON NATIONALS (10-10*, third place/NL East)
Tuesday:
RHP Chris Young (1-0, 1.46) vs. RHP Jordan Zimmermann (1-3, 3.70), 7:05 p.m. ET
Wednesday:
RHP R.A. Dickey (1-3, 4.10) vs. LHP Tom Gorzelanny (0-2, 4.96), 7:05 p.m. ET
Thursday:
LHP Chris Capuano (2-1, 5.95) vs. RHP Livan Hernandez (2-1, 2.88), 7:05 p.m. ET
* Washington plays at Pittsburgh on Monday night in rainout makeup
Nationals short hops
• Third baseman
Ryan Zimmerman
is on the disabled list with a strained abdominal muscle. He is now eligible to be activated, but he has not yet started baseball activities and will not return for at least another week.
Jerry Hairston Jr.
, the brother of Mets outfielder
Scott Hairston
, primarily has manned third base in Zimmerman's absence.
• Teams are exploiting the partial labrum tear in first baseman
Adam LaRoche's
throwing shoulder. Players, including Philadelphia's
Jimmy Rollins
, have attempted to go first-to-third on groundballs because of LaRoche's inability to muster anything on throws. Opposing players are stealing on first moves from Nats pitchers too, unconcerned if a pickoff throw catches them. During this weekend's Nats-Pirates series,
Jose Tabata
was picked off, but continued toward second and successfully swiped the base anyway because of LaRoche's shoulder issue.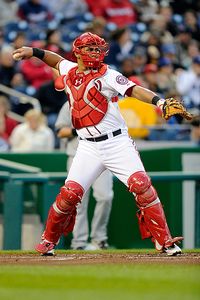 G. Fiume/Getty Images
The presence of Wilson Ramos (pictured) and Ivan Rodriguez prompted Washington to return third catcher/ex-Mets farmhand Jesus Flores to Triple-A Syracuse.

•
Chris Young
returns from the DL for the Mets on Tuesday in Washington after dealing with biceps tendinitis, but the best storyline of that game may be Nationals starter
Jordan Zimmermann
. In a division with
Roy Halladay
,
Josh Johnson
, etc., Zimmermann is quietly becoming one of the National League East's best starting pitchers. Despite a 1-3 record and 3.70 ERA to open the season, scouts love Zimmerman's 94-95 mph fastball and breaking stuff, and especially his deceptive delivery in which he "short-arms" the baseball. Zimmermann returned in late August from Tommy John surgery, and one scout says, "He's the same guy as before he got hurt." Zimmermann is tough, too. He pitched with a wired jaw down 15 pounds his draft year at Wisconsin-Stevens Point weeks after getting hit with a line drive.
• Right fielder
Jayson Werth
went 0-for-5 Sunday, dropping his average to .200 in the first season of a seven-year, $126 million deal after defecting from Philadelphia. Werth has three homers, but only five RBIs for the season. Since the Mets last saw the Nationals, Werth has slid from second to the No. 3 slot in the lineup. He is expected to resume batting second when Zimmerman returns from the DL.
• Left fielder
Michael Morse
had three hits, including a three-run homer, Sunday. He had been hitting .196 with no homers and four RBIs in 16 games (14 starts) before the outburst.
• Ex-Met
Livan Hernandez
allowed five first-inning runs for only the second time in 450 career major league starts Saturday in Pittsburgh. The other instance: April 8, 2006, during his first tour of duty with the Nationals, when Houston's
Lance Berkman
belted a two-run homer and
Brad Ausmus
and
Roy Oswalt
had run-scoring singles. Hernandez was upset he learned of the rain-delayed start time a half-hour before Saturday's first pitch -- allegedly with less notice than the host team -- which affected his warm-up ritual.
• Shortstop
Ian Desmond
was given Sunday's game off by manager
Jim Riggleman
after committing two errors the previous day on drops while he accepted throws at second base. The errors upped his major league-high total to six.
Alex Cora
started at shortstop and went 0-for-4, dropping his average to .111. Desmond is due to go on paternity leave any day.
• Right-hander
Drew Storen
-- the 10
th
overall pick in 2009, out of Stanford -- has recorded his first three saves of the season in his last three appearances. Left-hander
Sean Burnett
had produced the Nationals' first three saves of the season, in four chances. Riggleman determines the closer on any given day by matchups.
• Ex-Yankee
Tyler Clippard
tossed two scoreless innings Sunday in Pittsburgh to shave his ERA to 1.26 and record his sixth hold. He has struck out 17 and walked five (one intentionally) in 14 1/3 innings.
• Nationals starters have completed five innings in all 20 starts.
• Infielder
Brian Bixler
was promoted Friday from Triple-A Syracuse. He took the roster spot of
Jesus Flores
. Flores, a former Rule 5 pick from the Mets, had spent time on the major league roster because team officials concluded he was the best experienced right-handed bat for the bench. But with fellow catchers
Wilson Ramos
and
Ivan Rodriguez
already on the roster, Flores received only two plate appearances during his time in the majors. The organization concluded he was better off getting game action behind the plate in the minors.
• Reliever
Todd Coffey
(left calf strain) was activated from the DL on Sunday. The Nats optioned
Collin Balester
to Syracuse.
• Hard-throwing right-hander
Elvin Ramirez
, a Rule 5 pick from the Mets, continues a season-opening stint on the disabled list. Ramirez received a cortisone shot in his shoulder last week. As a Rule 5 pick, he must remain on the Nationals' major league roster for the season in order to become Washington's property. Actually, he also needs to spend 90 non-September days on the active roster in order for the Mets to fully lose his rights. If Ramirez does not meet that criteria by the season's end, he will remain a Rule 5 pick into 2012, until that 90-day criteria is satisfied. Washington's other Rule 5 pick is right-hander
Brian Broderick
from the St. Louis Cardinals. The 24-year-old right-hander has made six relief appearances. He has a 7.36 ERA, but all the damage came in his first two major league games, against the Braves, then April 9 at Citi Field.
• Nationals minor leaguer
Yewri Guillen
, who had been working at the team's academy in the Dominican Republic, tragically died of bacterial meningitis April 15. He was 18 years old.
Matchups
Young vs. Nationals (career: 3-1, 2.18 ERA)
Matt Stairs .333, 1 RBI, 1 K, 3 PA
Mike Morse .333, 1 K, 3 PA
Jerry Hairston .200, 1 RBI, 1 K, 5 PA
Adam LaRoche .150, 1 HR, 3 RBI, 2 BB, 7 K, 22 PA
Ivan Rodriguez .000, 1 RBI, 4 K, 8 PA
Jayson Werth .000, 1 BB, 2 K, 8 PA
Rick Ankiel .000, 2 K, 6 PA
Danny Espinosa .000, 1 BB, 2 K, 3 PA
Ian Desmond .000, 1 K, 3 PA
Alex Cora .000, 2 PA
Dickey vs. Nationals (career: 1-2, 4.40 ERA)
Wilson Ramos 1.000, 1 HR, 2 RBI, 2 PA
Matt Stairs .455, 1 HR, 4 RBI, 1 BB, 2 K, 12 PA
Rick Ankiel .400, 10 PA
Adam LaRoche .333, 1 BB, 7 PA
Ivan Rodriguez .308, 2 RBI, 2 BB, 3 K, 15 PA
Jayson Werth .286, 1 HR, 1 RBI, 2 BB, 4 K, 16 PA
Mike Morse .200, 1 RBI, 1 BB, 6 PA
Ian Desmond .100, 1 BB, 2 K, 11 PA
Danny Espinosa .000, 1 BB, 5 PA
Alex Cora .000, 1 PA
Capuano vs. Nationals (career: 2-2, 4.01 ERA)
Wilson Ramos .667, 1 K, 3 PA
Danny Espinosa .333, 1 HR, 3 RBI, 2 K, 3 PA
Ian Desmond .333, 1 HR, 1 RBI, 1 K, 3 PA
Adam LaRoche .286, 3 K, 8 PA
Jerry Hairston .235, 1 HR, 1 RBI, 3 K, 17 PA
Rick Ankiel .167, 2 K, 6 PA
Jayson Werth .143, 1 BB, 5 K, 8 PA
Mike Morse .000, 1 K, 3 PA
Alex Cora .000, 2 PA
Zimmermann vs. Mets (career: 2-1, 3.51 ERA)
Josh Thole .600, 2 RBI, 1 BB, 6 PA
Ike Davis .333, 1 HR, 2 RBI, 2 BB, 1 K, 6 PA
Daniel Murphy .333, 1 HR, 3 RBI, 1 K, 6 PA
Carlos Beltran .333, 1 K, 6 PA
Jason Bay .333, 3 PA
Jose Reyes .250, 1 BB, 9 PA
David Wright .200, 1 RBI, 5 K, 11 PA
Willie Harris .000, 1 K, 2 PA
Gorzelanny vs. Mets (career: 2-4, 5.70 ERA)
Ike Davis .600, 2 RBI, 2 K, 6 PA
Carlos Beltran .400, 2 HR, 3 RBI, 2 BB, 1 K, 7 PA
David Wright .250, 1 RBI, 3 BB, 4 K, 15 PA
Jose Reyes .167, 2 RBI, 4 BB, 16 PA
Scott Hairston .111, 2 BB, 3 K, 11 PA
Jason Bay .000, 1 K, 3 PA
Willie Harris .000, 1 K, 3 PA
Mike Nickeas .000, 2 PA
Chin-lung Hu .000, 2 K, 2 PA
Josh Thole .000, 1 PA
Daniel Murphy .000, 1 PA
Hernandez vs. Mets (career: 12-14, 4.21 ERA)

Scott Hairston .333, 1 RBI, 2 K, 4 PA
Carlos Beltran .323, 2 HR, 5 RBI, 3 BB, 5 K, 35 PA
David Wright .267, 4 HR, 10 RBI, 3 BB, 6 K, 49 PA
Jose Reyes .264, 2 HR, 3 RBI, 2 BB, 5 K, 55 PA
Ike Davis .250, 1 RBI, 2 K, 12 PA
Jason Bay .214, 1 BB, 4 RBI, 15 PA
Willie Harris .000, 3 BB, 14 PA
Josh Thole .000, 2 BB, 6 PA
Last series results
Nationals won, 2-1, at Citi Field, April 8-10 (AP game recaps)
Nationals 6, Mets 2:
R.A. Dickey split a nail on his index finger and the New York Mets quickly cracked in their 50th home opener. Jordan Zimmermann beat the Mets with his bat and arm, smacking an early two-run single off Dickey and pitching the Nationals to a victory at chilly Citi Field. Dickey (1-1) had trouble controlling his knuckleball after splitting a nail in the first inning. He received a loud ovation during pregame introductions but lasted only five innings for New York, which fell to 10-3 in its last 13 home openers and 31-19 overall. Ivan Rodriguez added a two-run single, snapping an 0-for-12 skid to start the season, and weary Washington got brilliant work from its bullpen to win its second road game in a row. The Nationals, who took advantage of nine walks by Mets pitching, arrived at their New York hotel about 4 a.m. following an 11-inning victory the previous night at Florida. The sellout crowd of 41,075 on a 42-degree afternoon began to clear out in the eighth as Washington tacked on three runs to make it 6-2. Rick Ankiel had three singles for the Nationals. Tyler Clippard preserved a 3-2 lead in the seventh by striking out Jose Reyes and retiring Angel Pagan on a comebacker with runners at second and third. Five Washington relievers combined for 3 2/3 innings of shutout ball and the Mets finished 0-for-10 with runners in scoring position. Zimmermann (1-1) gave up two runs and six hits in 5 1/3 innings for his fifth major league win and second since undergoing Tommy John surgery in August 2009.
Mets 8, Nationals 4:
Carlos Beltran hit two early home runs. But it was his routine flyball in the sixth inning, which was muffed by left fielder Jerry Hairston Jr., that sparked a three-run rally as the Mets got several rare clutch hits in beating the Nationals. Ike Davis hit a two-run triple in the sixth to give New York a 5-4 lead after Hairston's brother, Scott, struck out. Pinch-hitter Daniel Murphy had an RBI single through a drawn-in infield to give the Mets two big hits after they went 1-for-17 with runners in scoring position the previous two games. Chris Capuano (1-0) pitched six gutsy innings in his first start for the Mets and first in April since 2007. The left-hander gave up a three-run homer to Danny Espinosa and a solo shot to Ian Desmond but only two other hits. He struck out eight and walked one. Capuano also hit a one-out double in the fifth but was stranded. Taylor Buchholz pitched a perfect seventh. Bobby Parnell nearly gave away a 6-4 lead in the eighth. With runners on first and second, Rick Ankiel hit a long drive that soared just foul. After two strikeouts, Francisco Rodriguez relieved and induced pinch-hitter Matt Stairs into a groundout before finishing for his first save since Aug. 10. K-Rod also got his first career at-bat in 534 games in the ninth, striking out with the bases loaded after fouling off a pitch. Davis was called out for interfering with Desmond on Josh Thole's grounder past shortstop before Rodriguez came to the plate. Jose Reyes followed with a two-run double for his first hit in 10 at-bats this season with runners in scoring position to make it 8-4. Playing on creaky knees, Beltran came in hitting just .190 over the first seven games this season. But he took Tom Gorzelanny (0-1) deep for a two-run shot in the first and hit a solo drive to nearly the same spot in left field in the fourth, both hits coming after David Wright struck out. Beltran, who switched from center field to right this spring to limit the toll on his knees, had his 28th multi-homer game. In the sixth, Beltran followed Wright's leadoff walk with a long fly to left but this drive was staying in the park. Hairston ranged to his left for what appeared to be an easy out. Hairston, though, turned his head at the last moment and the ball glanced off his glove and Beltran ended up on second, Wright on third. An out later, Davis sent a drive to deep right-center one at-bat after he was hit in the hand by a pitch and slid into third with his second career triple.
Nationals 7, Mets 3 (11 innings):
After being held to one run and one hit in seven innings by Chris Young, the Nationals and their experienced bench broke out against the Mets' shaky relievers. Ivan Rodriguez hit a tiebreaking RBI single in the 11th inning and Laynce Nix followed with a three-run homer off the Mets' fifth reliever, Blaine Boyer (0-2), who was designated for assignment after the loss. The Nationals actually left this one to the eighth, when an outfield gaffe was crucial to the outcome for the second game in a row. Right fielder Lucas Duda misjudged Rodriguez's leadoff flyball. He sprinted toward center, but the ball sailed over his head. Rodriguez wound up with a leadoff double off D.J. Carrasco, who then walked pinch-hitter Matt Stairs with one out and gave up an RBI single to Ian Desmond before Rick Ankiel's grounder to second tied the score at 3. Duda was optioned to Triple-A Buffalo afterward and the Mets tried to bolster a bullpen that issued 11 walks and 10 hits in 11 innings this series by purchasing the contracts of pitchers Ryota Igarashi and Jason Isringhausen. In the 11th, Rodriguez's hit got past second baseman Daniel Murphy, who pinch-hit for Brad Emaus in the ninth after the Mets' bullpen blew a 3-1 lead in the eighth. Duda scooped up the ball, but his throw to the plate was inaccurate and pinch-runner Wilson Ramos scored easily. Drew Storen (1-1) pitched a scoreless 10th for Washington, which salvaged a 3-3 road trip and took two of three from the Mets thanks to timely hitting from its bench players and five innings of scoreless relief. Young looked right at home in Citi Field's wide-open spaces, getting 15 of his 21 outs on flyballs. The only groundout he allowed was Rodriguez's RBI to second base in the second inning. Adam LaRoche began the second inning with a walk and Michael Morse followed with a single to left, but Young retired 18 of the next 19 batters.