Farm report: Schwinden sticks with Bisons
May, 4, 2011
5/04/11
10:50
AM ET
Even right-hander
Chris Schwinden
is somewhat surprised he has settled into the Triple-A Buffalo rotation. In fact, he left most of his belongings, including his wardrobe, behind at Binghamton when he was called up for an April 16 start at Pawtucket.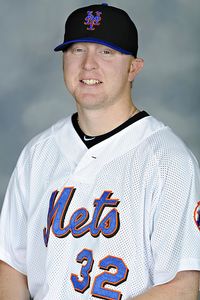 Courtesy of New York Mets
Chris Schwinden

After opening the season in Binghamton's bullpen, the plan was for Schwinden to slide in the Double-A B-Mets' rotation once right-hander
Josh Stinson
eventually was promoted from that Eastern League club to Buffalo.
Instead, Schwinden -- a 22
nd
-round pick in 2008 from Fresno Pacific -- and Stinson both were summoned to plug depleted Buffalo's rotation. And because of Schwinden's immediate success, he stayed and
Dylan Owen
instead was returned from Buffalo to Binghamton when a pitcher needed to be dropped from the Bisons' rotation.
"I was told it was just a spot start [at Buffalo]. I packed for two days," Schwinden said. "I stuck around. And then Josh came up. Then I thought I was going to be sent back down. But it was a real shocker. I had to wear the same clothes for a few days. I've sent for the rest of my stuff."
Schwinden, 24, is 1-1 with a 2.57 ERA in four starts for Buffalo. The Visalia, Calif., native has limited opponents to 14 hits while walking nine (one intentionally) and striking out 20 in 21 innings.
"He's been doing a great job," Buffalo manager
Tim Teufel
said. "I had him last year for a little while. His first outing was outstanding in Double-A (one run in six innings at New Britain on May 22, 2010). He really showed me a good fastball and a good cutter. He dominated his first outing when I had him last year. From there on out, he pitched just OK. He didn't pitch great, dominating baseball.
"This year he seems like he's coming in with more weapons. He has a curveball now he's working with, and a changeup. Plus, he's got that regular fastball and a cut fastball. He almost uses that as a slider. He still needs to mix in his changeup a little bit more, and he showed me a decent curveball. If he can mix all of those pitches up, he's been very effective up here so far doing that and keeping the hitters off-balance."
Said Schwinden: "I didn't think I was going to do as good as I am now. It's kind of shocking. It's turned out for the best so far."
Organization leaders
Average:
Matt den Dekker, St. Lucie, .373; Pedro Zapata, St. Lucie, .343; Josh Satin, Binghamton, .333; Michael Fisher, Binghamton, .327; Jefry Marte, St. Lucie, .323; Kirk Nieuwenhuis, Buffalo, .316; Cory Vaughn, Savannah, .306; Wilmer Flores, St. Lucie, .298; Ruben Tejada, Buffalo, .279; Stefan Welch, St. Lucie, .277.
Homers:
Brahiam Maldonado, Binghamton, 5; Jefry Marte, St. Lucie, 5; Aderlin Rodriguez, Savannah, 5.
RBI:
Wilmer Flores, St. Lucie, 19; Jefry Marte, St. Lucie, 19; Matt den Dekker, St. Lucie 17; Aderlin Rodriguez, Savannah, 17; Sam Honeck, Savannah, 16.
Steals:
Pedro Zapata, St. Lucie, 8; Jordany Valdespin, Binghamton, 7; Lorenzo Scott, Binghamton, 6; Robbie Shields, Savannah, 6.
ERA:
Matt Harvey, St. Lucie, 1.37; Jeurys Familia, St. Lucie, 1.52; Chris Schwinden, Buffalo, 2.25; Mark Cohoon, Binghamton, 2.70; Jenrry Mejia, Buffalo, 2.86; Chase Huchingson, Savannah, 2.95; Brad Holt, Binghamton, 2.96; Scott Moviel, St. Lucie, 3.34; Ryan Fraser, Savannah, 3.75; Erik Goeddel, Savannah, 3.75.
Wins:
Matt Harvey, St. Lucie, 4; Scott Moviel, St. Lucie, 3.
Saves:
Jeffrey Kaplan, St. Lucie, 7; Josh Edgin, Savannah, 4; John Lujan, Binghamton, 4; Nick Carr, St. Lucie, 3; Ronny Morla, Savannah, 2.
Strikeouts:
Matt Harvey, St. Lucie, 30; Jeurys Familia, St. Lucie, 30; Darin Gorski, St. Lucie, 30; Erik Goeddel, Savannah, 28.
Short hops
•
Matt Harvey
and
Jeurys Familia
suffered consecutive blemishes during otherwise-solid seasons with Class A St. Lucie as Mets brass watched firsthand. Harvey surrendered six runs (four earned) on nine hits, a walk and hit batter in 4 1/3 innings on Thursday against Bradenton. The 2010 first-round pick from the University of North Carolina had limited opponents to one unearned run in 22 innings spanning his first four professional starts. A day later, Familia -- who had allowed two runs (one earned) in his first four starts -- surrendered four earned runs in four innings as his Florida State League ERA rose from 0.35 to 1.52.
• Center fielder
Kirk Nieuwenhuis
has reached base in 26 of his 27 games with Buffalo this season. Nieuwenhuis is hitting .316 with four homers, eight RBIs and two steals in 95 at-bats. His .430 on-base percentage is tied for fourth in the International League, trailing only Toledo's
Scott Sizemore
(.495), Colorado's
Cord Phelps
(.439) and Pawtucket's
Yamaico Navarro
(.436). Nieuwenhuis' 10 doubles are tied for second in the league, trailing only Gwinnet's
Mauro Gomez
. Scouts in spring training suggested Nieuwenhuis needed to improve on his approach when facing curveballs and against left-handed pitching. Nieuwenhuis has a .214 average in 28 at-bats against southpaws this season.
• With
Ronny Paulino's
activation from the disabled list, catcher
Mike Nickeas
was optioned to Triple-A Buffalo. Nickeas hit .250 with three RBIs in 20 at-bats with the Mets, and produced his first major league homer on April 21, off Houston's
J.A. Happ
. Nickeas made his season debut with the Bisons on Monday at Lehigh Valley and went 0-for-4 with a walk. Buffalo has three catchers, with
Salomon Manriquez
and
Raul Chavez
also active. Chavez is 5-for-9 with two doubles in two starts this week, although that merely lifted the 37-year-old catcher's average to .192. Manriquez started at first base for the first time this season in Tuesday's matinee at Lehigh Valley.
•
Nick Evans
, who has made four of his past six starts at third base with
Zach Lutz
on the Bisons' DL with a right hamstring strain, has a four-game hitting streak. Since snapping an 0-for-10 drought, Evans is 7-for-last-13 and has produced three straight two-hit games. For the season, Evans is hitting .240 with four homers and 13 RBIs in 96 at-bats. The Mets had planned to expose Evans to some third base this season regardless of Lutz's injury. Evans played all 21 games at third base in the Gulf Coast League during his first professional season, in 2004.
•
Jenrry Mejia
is headed for Tommy John surgery, although he plans to seek a second opinion from Dr.
James Andrews
. …
Steve Matz
, the organization's top pick in the 2009 draft, who is at the one-year mark after Tommy John surgery, continues to throw bullpen sessions in Port St. Lucie. Matz, who turns 20 later this month, should be assigned to a short-season team next month.
•
D.J. Carrasco
allowed five runs (three earned) in three innings at Lehigh Valley on Saturday in his first Triple-A start since a demotion.
•
Lucas Duda
had five multi-hit games in an eight-game stretch, during which he collected three doubles, three homers and seven RBIs, before earning a promotion to the Mets with
Jason Bay
briefly given paternity leave for the birth of his third child.
• Binghamton right-hander
Brandon Moore
tossed seven scoreless innings Saturday, while limiting Akron to two hits and striking out nine batters. The performance snapped a stretch of three straight games in which the B-Mets' starter (
Brad Holt
,
Robert Carson
and
Edgar
Ramirez
) lasted three or fewer innings. Ramirez was making a spot start to plug the gap caused by Stinson's recent promotion to Triple-A. Owen likely will step into Binghamton's rotation after returning from Buffalo.
• B-Mets shortstop
Jordany Valdespin
has picked things up on the hitting end, raising his average 24 points, to .260, by going 5-for-9 in his past two games. Still, Valdespin -- who also has seen significant action at second base in his minor league career -- already has eight errors.
• Right-hander
Michael Powers
was promoted from St. Lucie to Binghamton after going 1-2 with a 2.92 ERA in six appearances (one start) in the Florida State League. The 31
st
-round pick in 2008 out of the University of Michigan looked jittery in his Double-A debut, allowing three runs in an inning against Akron, but should settle down and settle into a middle-relief role with the B-Mets.
• B-Mets right-hander
Manny Alvarez
landed on the disabled list with a strained right elbow strain.
• First baseman
Allan Dykstra
, acquired from the San Diego Padres at the end of spring training in a change-of-scenery trade for reliever
Eddie Kunz
, produced his first homer with the organization Saturday. Dykstra, who is hitting only .229 with the B-Mets, has been working with hitting coach
Luis Natera
, trying to translate terrific batting-practice power into games.
• Binghamton -- which remained 8-13 and in last place in the Eastern League's Eastern Division after being rained out Tuesday -- got an earful from manager
Wally Backman
after getting routed, 10-1, by Akron on Friday. Backman told the Binghamton Press & Sun-Bulletin: "I'm going to have to talk with some people in the organization because I think that some changes have got to be made. Something has got to happen. I'm embarrassed for the [expletive] town here because we need to be better than that. It should be better for the fans than it is right now. I've never been through something quite like this, especially at this level. Every fricking day you get two or three hits through five [expletive] innings, that's not going to win you any ballgames."
Backman also said: "There are a couple of things in baseball you don't need any ability to do -- that's compete and hustle. I'm not seeing it out of everybody. There are going to be a lot of guys that are going to find themselves without jobs next year if they don't change their ways. … You know, we got picked off twice [Saturday]. Both times we had the hold sign. Nobody was running. ... We've missed so many signs this year, and my signs are so easy. It's just unacceptable play, especially at this level. Right now, the way that we're competing, we couldn't beat A-ball teams. We played pretty good in spring training too, the core of people that are out there. So it's time for people to look in the mirror and make a decision. You know, it's their career."
• St. Lucie center fielder
Matt den Dekker
, a fifth-round pick in 2010 out of the University of Florida, lifted his average to .373 with a 2-for-5 performance Monday. That ranks fourth in the Florida State League, trailing Clearwater's
Joe Savery
(.438), Charlotte's
Hak-Ju Lee
(.410) and Jupiter's
Kyle Jensen
(.378).
• Third baseman
Aderlin Rodriguez
lost a nine-game hitting streak Tuesday at Lakewood, N.J. It nonetheless was the longest by a Savannah player this season, surpassing eight-game streaks by first baseman
Sam Honeck
and shortstop
Wilfredo Tovar
. Rodriguez had five homers and 11 RBIs during the nine-game stretch.
• UCLA product
Erik Goeddel
, who made only one Gulf Coast League appearance last season after signing for an over-slot $350,000 as a 24
th
-round pick, earned his first professional win Monday at Lakewood. The right-hander limited the BlueClaws to three hits and a walk while striking out nine in six scoreless innings. Overall, Goeddel is 1-1 with a 3.75 ERA in five South Atlantic League starts.
• While it has not yet translated to batting average, farm director
Adam Wogan
is pleased with shortstop
Robbie Shields'
improved approach at the plate and noted Shields is starting to drive the ball with Savannah. Shields is hitting .235 with two homers and eight RBIs with the Sand Gnats.
• Outfielder
Darrell Ceciliani
(hamstring) is due to rejoin Savannah after the team's Wednesday off-day.
•
Tobi Stoner
, slowed by a shoulder impingement, is pitching in extended spring training games.
Adam Rubin's farm report appears Wednesdays during the season