Clock ticking on Gee in pen
May, 5, 2011
5/05/11
12:21
PM ET
Dillon Gee
threw 28 pitches in relief Tuesday, then came back and threw 10 pitches on Wednesday. So how does he feel Thursday?
"I actually feel pretty good today so far," Gee said. "That's the first time in my life I've probably gone back-to-back days. I felt fine. No ill effects today either."
It has been 11 days since Gee last started a major league game, when he allowed four runs (two earned) in six innings against Arizona. And
Terry Collins
made it sound like Gee is definitely on the clock in terms of remaining in the bullpen. The Mets don't want the rookie to lose the stamina required to be available to plug into the rotation if the need arises.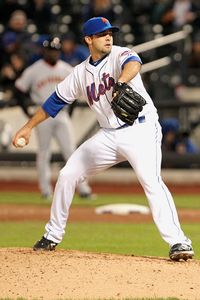 Anthony Gruppuso/US Presswire
Terry Collins knows Dillon Gee (pictured) cannot work in relief much longer and still be available for immediate starting duty if required.

"Right now that's where he's helping us the most," Collins said about relief, "but we've got to be aware that sooner or later we've got to make sure this guy is ready in case we need him as a starter. … Probably the last team that I remember that only used five starters [during a season] was the Atlanta Braves 15 years ago. I think we're going to need more starting pitching. So we're in constant discussion when we need to make sure Dillon Gee is reaching the point where, 'Hey, look, we've got to keep him ready to start in case we need a starter.' That's a daily conversation."
With
Jenrry Mejia
expected to have Tommy John surgery for a torn medial collateral ligament, a surgical procedure fellow Triple-A rotation member
Boof Bonser
already has required this season, the safety net in terms of minor league starting pitching is pretty thin -- making Gee working in Buffalo's rotation in the interim more vital.
"Absolutely," Collins said. "Mejia is down. Boof Bonser is down.
Pat Misch
is the one guy there.
Josh Stinson
is an option we have. But Dillon Gee, we've got to make sure we have ourselves some security."
Pitching coach
Dan Warthen
recently said a starting pitcher generally can work in a bullpen for up to three weeks before the stamina for starting fades.
"I don't think starting really would be the problem," Gee said. "I think I could still go out and throw six or seven innings. I think it's how I would respond to that, the recovery would be messed up, not having starts before."
Gee's first relief appearance at the major league level did not go well. He walked two batters and hit another ahead of
Ryan Howard's
grand slam last Friday in Philadelphia. In the consecutive outings against the Giants, Collins and the staff have tried to give Gee more warm-up time, closer to what a starting pitcher would get.
Gee did produce back-to-back scoreless efforts, although
Jason Isringhausen
needed to strand a pair of inherited runners in Tuesday's outing.
"One of the things we've tried to do is make sure he has plenty of time," Collins said. "It's not easy to do it in a relief role. But his last two times out we've tried to make sure he's had plenty of time to get up and get him ready without trying to rush it. Last night, [
Ryota
]
Igarashi
, he can get ready in seven throws, where Dillon is not going to be ready to do that yet."