Selig: Dodgers, Mets no comparison
May, 9, 2011
5/09/11
4:57
PM ET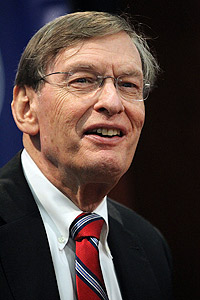 Ronald Martinez/Getty Images
Bud Selig

While appearing on the premiere of
Mike Lupica's
2 p.m. radio show on ESPN New York 1050, commissioner
Bud Selig
maintained comparing the Mets' and Dodgers' financial messes is inappropriate:
"There are enormous complexities in both deals," Selig said. "I've read all these stories that say 'Well, they're really the same.' They're far from the same. Without going into details that haven't been announced,
Fred Wilpon
and I have been friends for a long time, and I have enormous respect and affection for him. But Fred Wilpon is doing what he should do. He's looking for an economic mechanism that will bring equity into the club -- sheer raw cash to put it in the most candid way. That alone is a huge difference.
"To compare one situation to the other is factually incorrect. I've talked to Fred a lot about it, and I feel very comfortable that we're gonna have a very reasoned economic solution to that problem as opposed to another.
"They're approaching it the way I would've approached it. They're looking to add equity and I don't doubt that's gonna work out. The Madoff situation? That's well in the future. But in this case, to solve the immediate problem, they're doing it."
Read more of Selig's comments
here
.