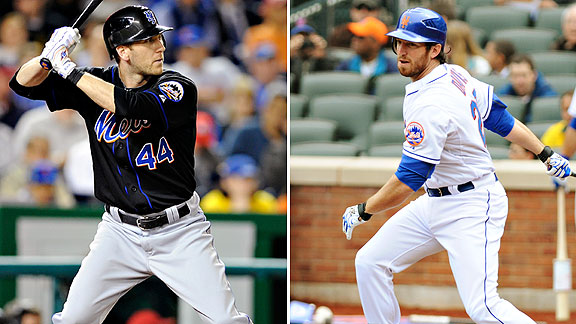 Getty Images
Terry Collins has placed Ike Davis (right) ahead of Jason Bay (left) in the lineup, but says that's about splitting lefty batters and not about performance.
Terry Collins said there was no motive in having Ike Davis leapfrog Jason Bay in the batting order beyond separating Davis from fellow left-handed hitters Jason Pridie and Josh Thole, who occupy the Nos. 7 and 8 spots.
Now, if Rockies manager Jim Tracy summons left-handed reliever Franklin Morales or Matt Reynolds, the southpaw will need to face Davis and then be removed. Or, if Tracy wants to keep the southpaw in for Pridie and Thole, that left-hander will need to get through the righty-hitting Bay first.
"I talked to Jason earlier. I said, 'Hey, look, they've got two pretty good left-handers in that bullpen. And obviously Ike is going to be their target. If they're going to go after him, they're going to have to face you next,'" Collins said.
During the series against the San Francisco Giants, who had three left-handed relievers, Collins noted he ended up pinch-hitting early for one of the latter lefty batters when Davis, Pridie and Thole were stacked. "And the next thing you know you're in the eighth inning and you're out of options," the manager added.
On performance merits alone, the move would make sense anyway. Davis is hitting .293 with seven homers and 23 RBIs. Bay is hitting .241 with one homer and four RBIs, albeit in 54 at-bats.
Collins made sure to go to Bay before posting the lineup.
"I think they need to sign off on it, a guy like that," Collins said. "I spent all winter talking about how important it was that he hit fifth behind Carlos [Beltran]. Now I'm moving him to the sixth spot. Even though, yeah, he's not swinging like he's capable of, that has nothing to do with it."
Meanwhile, Collins said he has no plans to remove slumping David Wright from the No. 3 hole. Wright has walked in eight straight games, but his average has slipped to .240 and he has 37 strikeouts, which ranks fifth in the National League.
"Then you end up putting pressure on Ike," Collins said. "You end up putting pressure on somebody else. David Wright, he's the guy who is used to it. He's dealt with it. He deals with it on a daily basis. And then when he gets hot what do you do? You put him back. I don't like juggling a lineup like that."