Capuano laments his 3 Ks, Young injury
May, 10, 2011
5/10/11
12:32
AM ET
Chris Capuano's
biggest regret came at the plate Monday, where he struck out all three times. In his first two at-bats, the Ks came to open innings. In the final instance, Capuano left the bases loaded in the sixth inning.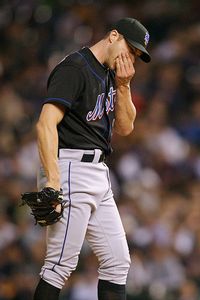 Chris Humphreys/US Presswire
Chris Capuano had a tough-luck loss Monday at Colorado.

"I would like to personally do some little things to help myself out -- put the ball in play when I've got runners on base, give myself a chance to at least help myself," said Capuano, who limited Colorado to two runs on five hits and three walks while striking out four in 6 2/3 innings. "… We work on that stuff. As a pitching staff, we don't want to be an automatic out up there. We've got runners on base. We've got a chance to help ourselves. We should at least be able to put the ball in play."
Capuano suffered his second straight loss in which he limited the opponent to two runs while pitching into the seventh inning.
Regardless, his postgame thoughts were with
Chris Young
, after learning the right-hander has a torn anterior capsule in his right shoulder that likely will end his season. Capuano, who missed two full years dealing with elbow issues, certainly can empathize.
"It just gives you a sinking feeling in your stomach," Capuano said. "I know where his head's at. And I know he's down. He's just such a competitor. He's just such a good asset to this team. In all the meetings we've had, he's been the guy who has spoken up and said, 'Hey, 'Let's pick it up' -- kind of the leader. He'll be missed. I just hope he keeps his head up and keeps going forward."
Capuano did wiggle free of a bases-loaded jam in the first inning by getting
Todd Helton
to ground into a double play. The game-deciding homer in the 2-1 defeat came on a line drive that narrowly carried over the wall in the left-field corner by
Chris Iannetta
. Capuano did not label it bad luck that the shot cleared the fence.
"No, it was a hanging breaking ball," Capuano said. "I was trying to throw a backdoor breaking ball there and it just kind of stayed up and in the middle of the plate, right into his swing."