Gee aims to regain control
May, 14, 2011
5/14/11
2:45
AM ET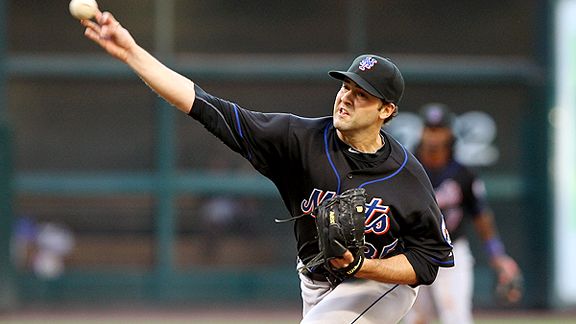 Troy Taormina/US Presswire
Dillon Gee is displeased with the number of baserunners he has allowed via walk and hit batters.
Dillon Gee
remains unbeaten this season in seven appearances (four starts). But the replacement for
Chris Young
in the rotation has felt as though he has now performed poorly in consecutive outings.
The difference between Gee's start in Houston on Friday and his previous outing against Los Angeles, when he was charged with two runs in 5 1/3 innings? Last time, Gee suggested, he had more good fortune.
Against the Dodgers at Citi Field last week, Gee managed to strand the bases loaded in each of the first two innings in an outing in which he walked three batters and hit two others. This time, while striking out a career-high six batters, the usually controlled-oriented Gee walked four and hit
Brett Wallace
.
When
Ryota Igarashi
allowed a pair of inherited runners to score, Gee was charged with four earned runs in five-plus innings, although the Mets rallied for a 6-4 win against the Astros.
Terry Collins
suggested maybe Gee's sizable cheering section at Minute Maid Park played a factor. But Gee, who hails from Cleburne, Texas -- outside of Dallas -- downplayed that alibi.
"I'm not going to make any excuses for him, because that's not the guy we know, but he probably had a 100 people here to see him," Collins said. "He's from real close to here. He's probably got a huge amount of people here. I know he was all amped up. I'm going to cut him a little slack, and hopefully he gets ready for his next start."
Said Gee: "I don't think that was really the issue tonight. I've just kind of felt bad the last two starts I've had. Going back to the last one, I got luckier last time than I did tonight. I just tried to battle through what I was doing out there. I mean, walking four or five guys and hitting a guy is never going to get it done.
"It's frustrating. My last two outings have been pretty frustrating for me. I've got to get back to work in my side sessions and stuff, and try to get the command back. I just feel off right now. … I struggled with the fastball command early on. That's where it all starts. And the curveball, I just couldn't throw it for a strike. The one pitch I was throwing for a strike every now and then -- the changeup -- I was throwing way too many of them. So then they started sitting on them."