Series preview: Mets vs. Padres
August, 8, 2011
8/08/11
1:34
AM ET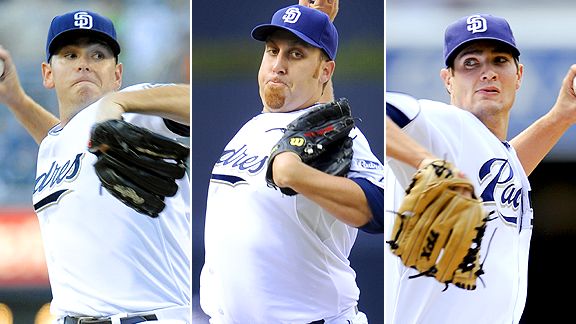 Getty Images
The Mets face (l to r) Tim Stauffer, Aaron Harang and Cory Luebke during a four-game series against the Padres.
METS (56-57, third place/NL East) vs. SAN DIEGO PADRES (51-64, fifth place/NL West)
Monday:
RHP Mike Pelfrey (6-10, 4.48) vs. RHP Tim Stauffer (7-8, 2.96), 7:10 p.m. ET
Tuesday:
LHP Chris Capuano (9-10, 4.44) vs. LHP Wade LeBlanc (0-2, 4.98), 7:10 p.m. ET
Wednesday:
RHP R.A. Dickey (5-10, 3.72) vs. RHP Aaron Harang (10-3, 3.91), 7:10 p.m. ET
Thursday:
LHP Jon Niese (11-8, 4.12) vs. LHP Cory Luebke (4-6, 3.06), 12:10 p.m. ET
Padres short hops
• All-Star closer/ex-Met
Heath Bell
remained a Padre, but right-handed reliever
Mike Adams
and left fielder
Ryan Ludwick
were shipped elsewhere before the July 31 trading deadline. Adams, who had a 1.13 ERA in 48 appearances with San Diego, went to Texas for minor league pitchers
Robbie Erlin
and
Joe Wieland
. Ludwick, who was hitting .238 with a team-high 11 homers and 64 RBIs, was acquired by Pittsburgh for a player to be named or cash. Bell, a free-agent-to-be, has 31 saves in 33 chances and expected he would be dealt.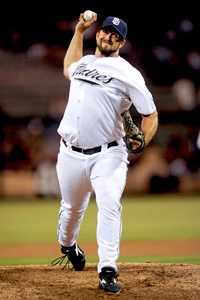 Andy Hayt/Getty Images
Ex-Met Heath Bell unexpectedly stayed put in San Diego at the trade deadline.

• Third baseman
Chase Headley
(.292, 4 HR, 43 RBI) suffered a fractured left pinkie sliding while stealing a base Saturday and may miss four to six weeks. Padres.com reported prospect
James Darnell
will join the team in New York and is poised to make his major league debut. Darnell, 24, is a second-round pick in 2008 out of the University of South Carolina, where he was teammates with Mets farmhand
Reese Havens
, the 22
nd
overall pick in the draft that year. Darnell has split the season between Double-A San Antonio (.333, 17 HR, 62 RBI, 288 AB) and Triple-A Tucson (.272, 6 HR, 13 RBI, 103 AB).
•
Kyle Blanks
, who took over in left field with Ludwick's departure, produced his first career grand slam Saturday, a night after Headley produced his first. It marked San Diego's first grand slams in consecutive games since
Fred McGriff
did it Aug. 13 and 14, 1991.
• San Diego leads the majors with 130 steals. Center fielder
Cameron Maybin
has successfully stolen 20 straight. That is the most consecutive steal attempts without being caught by a Padre since
Dave Roberts
swiped 25 straight in 2006, according to the Elias Sports Bureau. Maybin's 14 steals in July ranked second for a month in franchise history, trailing only
Gene Richards'
16 in July 1980. Shortstop
Jason Bartlett
has 22 steals, giving San Diego two players at 20-plus for the first time since 2006 (Roberts,
Mike Cameron
and
Josh Barfield
.) Maybin arrived in a Nov. 13 trade with the Florida Marlins for relievers
Edward Mujica
and
Ryan Webb
.
• Catcher
Nick Hundley
began a rehab assignment Wednesday with San Antonio, but may not be activated until after the series at Citi Field. He underwent arthroscopic surgery on his right elbow July 8. Rookie
Luis Martinez
and former Seattle Mariner
Rob Johnson
have handled the catching duties in Hundley's absence.
• The Padres had two members of the rotation undergo season-ending surgeries within days of each other.
Clayton Richard
and
Dustin Moseley
underwent arthroscopic shoulder surgeries, although Moseley's more-recent procedure was on his non-throwing shoulder, which he dislocated while batting. Southpaw
Wade LeBlanc
reportedly is the choice to take the start Tuesday and fill the void. However, he last pitched in the majors July 31, after which he was optioned to Triple-A Tucson. That means he would have to spend 10 days in the minors and would be ineligible unless another Padre simultaneously is placed on the DL. LeBlanc's return could be achieved by having his roster move tied to Headley being placed on the DL, with another roster move allowing Darnell to be promoted. Rookie reliever
Anthony Bass
is the alternative to LeBlanc.
• Left-hander
Cory Luebke
struck out a career-high nine while walking none in seven innings Saturday against Pittsburgh. He moved to the rotation July 2 to fill the other rotation spot.
• Right-hander
Tim Stauffer
, who hails from Saratoga, is tied with
Cliff Lee
and
Huroki Kuroda
for eighth in the National League with a 2.96 ERA. He is coming off an outing in which he tossed 6 1/3 innings in a 3-0 shutout of the Los Angeles Dodgers.
• First baseman
Jesus Guzman
is hitting .371 (26-for-70) in the second half.
• Right fielder
Chris Denorfia
landed on the DL with a right hamstring strain. The Padres promoted rookie outfielder
Blake Tekotte
.
• The Padres scored 35 runs in a three-game weekend sweep of Pittsburgh. The franchise record for three games is 36, from May 17-19, 2001 in a game against the Mets (15 runs, including seven off starter
Steve Trachsel
) and in two games against Montreal (1 and 20). San Diego still ranks 27th of 30 major league teams in runs scored.
• The Mets and Padres are the only franchises without a no-hitter.
Matchups
Pelfrey vs. Padres (career: 2-0, 2.60)

Orlando Hudson .500, 2 RBI, 2 BB, 1 K, 12 PA
Jason Bartlett .500, 2 PA
Chase Headley .333, 1 BB, 3 K, 13 PA
Alberto Gonzalez .286, 1 RBI, 7 PA
Will Venable .000, 2 K, 8 PA
Capuano vs. Padres (career: 4-2, 3.29 ERA)

Jason Bartlett .500, 1 RBI, 2 PA
Orlando Hudson .200, 1 K, 5 PA
Cameron Maybin .000, 3 PA
Chase Headley .000, 2 PA
Will Venable .000, 1 K, 1 PA
Dickey vs. Padres (career: never faced)

Chris Denorfia .667, 2 RBI, 3 PA
Alberto Gonzalez .500, 2 PA
Orlando Hudson .333, 1 K, 3 PA
Jason Bartlett .000, 1 PA
Niese vs. Padres (career: 1-0, 0.00 ERA)

Orlando Hudson .667, 3 PA
Cameron Maybin .267, 2 RBI, 6 K, 15 PA
Chase Headley .000, 3 PA
Stauffer vs. Mets (career: 0-1, 1.80 ERA)
Willie Harris .000, 1 BB, 1 K, 4 PA
Angel Pagan .000, 1 K, 3 PA
David Wright .000, 2 K, 3 PA
LeBlanc vs. Mets (career: 0-1, 3.38 ERA)
David Wright 1.000, 1 HR, 2 RBI, 3 PA
Ronny Paulino .500, 1 HR, 3 RBI, 5 PA
Jason Bay .500, 1 BB, 1 K, 3 PA
Angel Pagan .000, 1 K, 3 PA
Jose Reyes .000, 3 PA
Harang vs. Mets (career: 2-3, 6.11 ERA)

David Wright .667, 1 HR, 5 RBI, 2 BB, 3 K, 14 PA
Jason Bay .370, 5 HR, 9 RBI, 1 BB, 1 KK, 49 PA
Angel Pagan .333, 1 RBI, 1 K, 3 PA
Scott Hairston .200, 1 BB, 4 K, 11 PA
Jose Reyes .154, 2 RBI, 1 BB, 2 K, 14 PA
Ronny Paulino .154, 1 RBI, 6 K, 13 PA
Willie Harris .125, 1 K, 8 PA
Luebke vs. Mets (career: never faced)
Last series results
Mets won, 2-1, at Citi Field, June 8-10, 2010 (AP game recaps)
Mets 2, Padres 1 (11 innings):
Ike Davis homered in the 11th inning, Mike Pelfrey turned in another terrific outing and Mets beat San Diego for their ninth straight home win. Davis started the 11th with a long drive into the second deck in right field off Edward Mujica (2-1). Pelfrey allowed one run and five hits in nine innings, finishing with six strikeouts and no walks. He is 4-0 with a 1.19 ERA in his last five starts. Jose Reyes homered and David Wright had two hits for New York. Elmer Dessens (1-1) got one out for his first win since Aug. 26, 2007, for Colorado against Washington. Chase Headley had two hits for San Diego. Headley is batting .381 (16-for-42) in his last 10 games. Davis' seventh homer was the decisive blow in a tight game that featured impressive pitching performances by Pelfrey and Clayton Richard. Richard was in line for the win before Reyes hit a two-out drive to left in the seventh that bounced above the orange line that runs along the top of the wall. Reyes' shot was originally ruled in play by third base umpire Mike DiMuro but was changed to a home run after a video review. That was the only blemish in a sharp start by Richard, who allowed seven hits, struck out six and walked one. The Padres put a runner on second with one out in the eighth and ninth and failed to score each time. David Eckstein struck out and Headley flied out to end the eighth. Nick Hundley struck out and Will Venable grounded out to end the threat in the ninth.
Padres 4, Mets 2
Mets 3, Padres 0:
On a day filled with impressive pitching performances, Jon Niese delivered the best of the bunch. Niese tossed a one-hitter for his first career complete game and the Mets overcame a triple play to beat the Padres for a doubleheader split. Niese allowed only Chris Denorfia's leadoff double in the third inning, his second stellar start since coming off the disabled list. He faced 28 batters, one more than the minimum, in New York's first complete game this season. Mat Latos outpitched Johan Santana in the opener, and San Diego stopped New York's nine-game home winning streak. Adrian Gonzalez had three hits for the Padres in Game 1, including a go-ahead single. David Eckstein and Chase Headley added RBI doubles. Latos and three relievers combined to retire the final 22 Mets after Henry Blanco's two-run homer in the second inning, one of New York's season-low two hits. Jose Reyes opened the game with an infield single. Niese (3-2) topped that, however, striking out six and walking none in his fifth career win. He retired his last 21 batters and threw 76 of 108 pitches for strikes in a game that took only 2 hours, 18 minutes. Niese had been sidelined from May 17 to June 4 with a strained right hamstring. The previous Mets pitcher to throw a complete-game, one-hitter that lasted the full nine innings was Aaron Heilman on April 15, 2005, against Florida. Chris Carter hit a leadoff double in the second off Jon Garland (6-4) and scored on Jeff Francoeur's bloop single. With runners on first and second, rookie Ruben Tejada hit a one-hopper at Headley. He stepped on third and threw to second baseman Lance Zawadzki, whose relay beat Tejada by at least a step. It was the eighth triple play in Padres history and first since May 19, 1997, when pitcher Andy Ashby, shortstop Chris Gomez and first baseman Archi Cianfrocco did it against Cincinnati's Ed Taubensee. Niese drew a leadoff walk in the third and went to third base when catcher Yorvit Torrealba threw wildly past first for an error on Reyes' bunt single. David Wright had a run-scoring groundout and Ike Davis followed with a two-out RBI single. The Mets took two of three from surprising San Diego for their eighth win in the past nine series at home. New York has won 20 of 25 at Citi Field, improving to 24-10 overall in its pitcher-friendly ballpark. In the opener, the lack of run support was nothing new for Santana (4-3), who pitched 15 shutout innings over his previous two starts without getting a decision. This time, he squandered a two-run lead and took the loss. Latos (6-4) went six innings and struck out eight. Then, the Padres turned to their dominant bullpen. Luke Gregerson fanned all three batters in the seventh, Mike Adams worked a perfect eighth and ex-Met Heath Bell pitched the ninth for his 17th save.