Ump's call irks Baxter, costs Mets
May, 19, 2012
5/19/12
5:11
PM ET
TORONTO --
Terry Collins
said he would not have left the dugout to argue with second base ump
Brian Knight
if the manager could not clearly see from his vantage point that
Yunel Escobar
had missed a tag on
Mike Baxter
at second base in the ninth inning.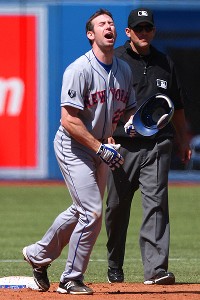 Tom Szczerbowski/Getty Images
Mike Baxter reacts with disgust at ump Brian Knight's out call in the ninth inning at second base.

Baxter was ruled out, taking the tying run off second base and leaving the Mets one out from a loss.
Daniel Murphy
then lined out to strand
Scott Hairston
at third base and end Toronto's 2-0 victory.
"He said he thought he tagged him on the back," Collins said, referring to Knight. "I just thought if he didn't have a good view of it to ask. And he said he couldn't. That was it.
"I could see it. That's why I went out there. I wouldn't have gone out there if I thought he was out. I think sometimes we go out there when we really don't have any basis for it. But I knew he missed the tag, so I went out there. He said that's a play they can't ask. I pretty much had no argument after that."
Baxter went into politically correct mode after the game, beyond saying he did not feel a tag.
"We got to a good spot there, kind of like we've been doing for the past couple of weeks, coming back late in the game," Baxter said. "Those umpires, they're great. They're very, very skilled at what they do. Tonight it didn't work out in our favor."
At the time of the call, Baxter pounded his helmet into the ground a couple of times, then flipped it aside at second base before Collins picked up the argument.
"I hate doing that," Baxter said. "I'm not trying to show anybody up. I definitely got caught in the moment there. It's not what you want to do on the field."