TC plans to start Wright captaincy process
February, 18, 2013
2/18/13
3:13
PM ET
PORT ST. LUCIE, Fla. -- Terry Collins suggested Monday that he plans to start the process soon of anointing
David Wright
the fourth captain in Mets history, joining Keith Hernandez, Gary Carter and
John Franco
.
Collins said the first step would involve approaching chief operating officer Jeff Wilpon and GM Sandy Alderson.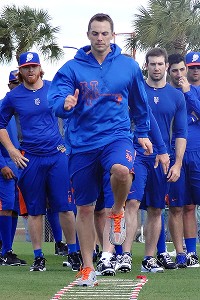 Adam Rubin
David Wright does the ladder drill during Monday's full-squad workout.

"I've never had that before, so I'm not really sure what the process is," Collins said. "I have an idea in my head of how to approach it as we move forward. I'll start that process, but it's something I need to discuss with Jeff and Sandy first."
Collins said Wright, who signed an eight-year contract in December, is taking on a quiet but increased leadership role.
"I think he's always the same guy. There's not a better person that I've been around than David Wright," Collins said. "But I do believe he has taken a little bit more leadership responsibilities. He may not hold team meetings, but I'll tell you what he does do: He does some one-on-one stuff -- take a guy to dinner, or go over and sit with him and have lunch with him. He's done it several times already since he's been down here the last couple of weeks. And that's where I think he's taken on that role. He's done it right.
"Whether he's named the captain, whether he has the 'C' on his jersey, he's still the main guy here."
Wright joked that one byproduct of having a young team is the crossword puzzles tend to take a little longer to complete in the clubhouse.
More seriously, he said: "Having a young group of guys, I think the important thing is seeing the guys that have been here for a while go about their work. Leadership by example is more important than yelling and screaming. I didn't particularly respond all that well when I was a young player to people yelling and screaming and all the cheerleading going on. I think there's a time and place for that. But most important is seeing how you go about your business -- getting your work in the weight room in, getting your work in the video room in, going out there and with the reps that you get making the most of them, not just messing around.
"For me, I like to approach it as if I'm trying to win a job."