Marcum happy to 'contribute'
June, 26, 2013
6/26/13
11:33
PM ET
CHICAGO --
Shaun Marcum
preferred to label it "contributing" rather than "breaking the ice."
Regardless, Marcum tossed eight scoreless innings and finally notched his first Mets win in
a 3-0 victory
against the
Chicago White Sox
on Wednesday night at U.S. Cellular Field.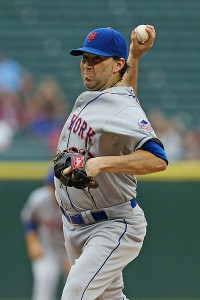 Jonathan Daniel/Getty ImagesShaun Marcum put up eight zeroes on Wednesday night, matching the longest scoreless outing of his career.
"It's nice to be able to do that every now and again," Marcum said. "The guys played great behind me. Omar [Quintanilla] made some unbelievable plays. David [Wright] made some great plays. [John] Bucky throwing a guy out at second. If I didn't have those guys behind me, it probably wouldn't have looked as good as it did."
Marcum said his changeup was pitiful while warming up in the bullpen. So for the first time in a game in his career, he threw split-finger fastballs instead.
"I didn't even throw a changeup tonight," Marcum said. "I got in the bullpen and my changeup was terrible. I told John we'll try the split-finger tonight. I ended up throwing that tonight and it worked out for us. It might be a new pitch I have to keep working on. I've been toying with it for a couple of years, but today the changeup was awful in the bullpen. I threw a couple of [split-fingers] down there [in the bullpen] and they were decent, and I told him I was just going to throw them throughout the game. I threw some good ones out there. I threw some bad ones, too."
Marcum insisted the 0-9 start to his Mets career was not weighing on him.
"No, not really," Marcum said. "Like I said awhile back, I'm not really concerned about my personal record. It's more about the team."
Still, Terry Collins suggested Marcum's first Mets win was important.
"I think it's huge," Collins said. "Everybody has got pride in this league. You don't get to the big leagues without having a little bit of an ego and a sense of pride. Nobody likes to look up and see a zero in the win column under their name, especially when they're a pitcher. He knows, and we know, he doesn't belong there. There should be some wins up there. But there isn't. I think this probably is a great kick-start for Shaun."