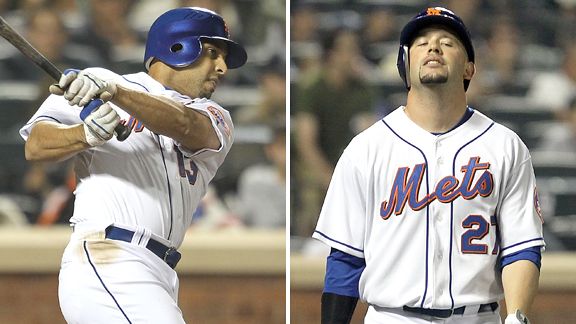 Getty Images
Alex Cora (left) was released and Jesus Feliciano demoted on Saturday morning.
Alex Cora has been released and Jesus Feliciano has been demoted, the Mets have confirmed.
The moves pave the way for the promotions of Fernando Martinez and Ruben Tejada from Triple-A Buffalo.
Cora, 34, was considered a team leader and is widely seen as a future managerial candidate, but he had a .207 average with no homers and 20 RBIs in 169 at-bats. He had appeared in 62 games. His contract would have vested for $2 million for 2011 if he appeared in 80 games.
Martinez hit .176 (16-for-91) with one homer and eight RBIs in 29 games with New the Mets in 2009. He underwent season-ending right knee surgery on July 15 of last season to repair a torn meniscus.
Tejada has had two previous stints with the Mets this season. He batted .212 (22-for-104) with five RBIs in 35 games.