April, 27, 2017
Apr 27
7:30
AM ET


BOSTON -- It was Chris Sale's turn to pitch, and not in a minor league scrimmage on some remote practice field, either. He took a two-and-a-half-hour bus ride to Tampa for a 7 p.m. game, pitched six strong innings, got back on the bus and arrived home shortly after midnight. No big whoop.
Besides, it gave him a taste -- a spring training sip, if you will -- of this whole Red Sox-Yankees thing.
If pitching in the postseason was the biggest thing Sale didn't have a chance to do in seven seasons with the Chicago White Sox, taking part in an age-old rivalry might be No. 2. The White Sox have long fought for divisional supremacy with the likes of the Cleveland Indians, Detroit Tigers and Kansas City Royals, but none qualifies as an intensely hated foe. Although the annual crosstown series with the Chicago Cubs once featured fisticuffs between catchers A.J. Pierzynski and Michael Barrett, it has always felt like a forced interleague creation.
Winslow Townson/USA TODAY Sports"Obviously, anybody who knows anything about sports knows about Boston and New York," Chris Sale said. "Even from the outside looking in, you can see it. You can sense the competitive drive on these teams and in this series."
But Red Sox-Yankees is the real thing -- not just in baseball but across sports. Sure, it has lacked some sizzle the past few years, largely because the teams haven't been serious playoff contenders at the same time. But it remains a capital-R Rivalry that dates back to Babe Ruth and includes some of the game's biggest names, from Ted Williams, Joe DiMaggio and Carlton Fisk through Thurman Munson, Reggie Jackson, David Ortiz, Pedro Martinez, Derek Jeter and Alex Rodriguez.
With the 2017 installment underway this week at Fenway Park, Sale is about to become the newest star to enter the ring when he takes the Fenway mound for the Red Sox on Thursday night.
Sale has kept a low profile since the season began, mostly limiting his availability to the media to after he pitches. But the ace lefty's desire to face the Yankees on March 21, rather than going the minor league route, and his comments afterward indicate that he is aware that these games are relevant beyond the teams' respective places in the standings.
"Obviously, anybody who knows anything about sports knows about Boston and New York," Sale said. "Even from the outside looking in, you can see it. You can sense the competitive drive on these teams and in this series."
Sale, 28, is off to a historically good start for the Red Sox. In four starts against the Pittsburgh Pirates, Tigers, Tampa Bay Rays and Toronto Blue Jays, he has allowed three runs on 15 hits and six walks in 29 2/3 innings while racking up a league-leading 42 strikeouts. His dominance has even been compared to Martinez's first season with the Red Sox, and indeed, it is "pretty darn close," as Hall of Fame reliever Dennis Eckersley said. Through four starts, Pedro allowed three runs on 16 hits and seven walks in 32 innings while striking out 44.
"

In another time, Sale's lights-out start would've been enough to make George Steinbrenner fume. Nothing got under The Boss' skin quite like Boston making a move for a star such as Sale, especially if the Yankees took a pass. Heads, or at least the one on general manager Brian Cashman's shoulders, would have rolled.

"- null
"It's impressive, man," second baseman Dustin Pedroia said of Sale. "He's just attacking the zone and overpowering guys with all of his pitches. You go up there and gear up to try to hit, and you can't. That's when you know his stuff is overpowering. That's pretty impressive."
Said closer Craig Kimbrel: "He's been great. You couldn't ask him to do any more."
In another time, Sale's lights-out start would've been enough to make George Steinbrenner fume. Nothing got under The Boss' skin quite like Boston making a move for a star such as Sale, especially if the Yankees took a pass. Heads, or at least the one on general manager Brian Cashman's shoulders, would have rolled.
After Sale was acquired in December for a package of minor leaguers, including 21-year-old top prospect Yoan Moncada and Double-A flamethrower Michael Kopech, Cashman responded by calling the Red Sox "the Golden State Warriors now in baseball." It was a statement that came off as part gamesmanship, part genuine admiration. Cashman referred to Boston's star-studded starting rotation of Sale, David Price and Rick Porcello by saying, "They've got their [Kevin] Durant, their [Draymond] Green, their [Klay] Thompson and [Stephen] Curry."
But Cashman also explained that the Yankees weren't in position to make a comparable offer for Sale, even though their farm system is loaded with elite prospects. While the Red Sox have a core of young stars (Mookie Betts, Xander Bogaerts and Andrew Benintendi are all under 25 years old), the Yankees are a step behind, with Gary Sanchez, Aaron Judge and Greg Bird getting established at the big league level and Gleyber Torres, Clint Frazier and Justus Sheffield still on the way.
"We have a game plan that we're going to continue to stay diligent and determined with, and I think it will serve us well over time," Cashman said. "I think where Boston certainly is sitting currently and where we're currently sitting, we're on different time frames."
Yet the Yankees entered this week's series with an 11-7 record, a half-game better than that of the Red Sox (11-8), who shudder to think of where they would be without Sale. Price is slowly rehabbing a spring-training elbow injury that likely will keep him out until June. The rest of the rotation -- Porcello, knuckleballer Steven Wright and lefties Eduardo Rodriguez and Drew Pomeranz -- has ranged from inconsistent to rotten.
Sale brought to Boston a reputation as a Yankee-killer. In 10 games (seven starts) against the team in his career, he's 4-1 with a 1.17 ERA, the lowest of any pitcher who has thrown at least 50 innings against New York in the past 100 years.
"Can you knock on some wood for me?" Sale said in spring training. "I don't know why I have had so much success against them. That's a good question. They definitely run out some great ball teams. Sometimes you get lucky, I guess."
Consider it unlucky, then, that the Yankees will catch Sale in this series. But with 19 games against the Red Sox, the Yankees are bound to see him frequently.
You can bet Sale will be ready. And there won't be five hours of bus rides this time.
April, 27, 2017
Apr 27
12:22
AM ET
BOSTON -- The New York Yankees have seen the types of things rookie Aaron Judge is doing.
In 2004, Derek Jeter risked his limbs and raced headfirst into the third row, picking up an out while bloodying his face against the Red Sox.
A decade ago, another rookie, reliever Joba Chamberlain, took over the summer and lifted the Yankees to a playoff appearance.
Last year, rookie Gary Sanchez seemed to hit a homer per day.
Now, Judge is mixing all this into one amazing brew.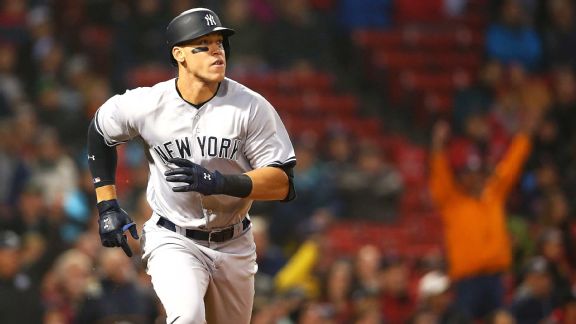 Adam Glanzman/Getty ImagesAaron Judge slammed his seventh home run of the season on Wednesday, part of a banner night for the young slugger.
On Wednesday night at Fenway Park, the 6-foot-7, 282-pound Judge celebrated his 25th birthday with his first game in the Yankees-Red Sox series. The right fielder punctuated a 3-1 win with his seventh homer and a Jeter-esque catch, and another night that ended with: Did you see what Aaron Judge did?
"It is impressive what he has done," Yankees manager Joe Girardi said.
It is still a little too early to say Judge is about to take over this Yankees season -- as Joba did out of the '07 bullpen, striking out everyone in sight -- but less than a month in, there are indications nearly every night that Judge might do so.
On Wednesday, the first pitch Judge saw in the game's greatest rivalry was an 89 mph two-seam fastball out of the hand of 2016 AL Cy Young Award winner Rick Porcello. It tailed over the plate, allowing the right-handed-hitting Judge to meet the ball with the barrel of his bat. When that happens, the baseball flies a long way, and this shot voyaged the opposite way over the short wall in right for a two-run homer.
The only other Yankees to homer on their birthdays at Fenway: Yogi Berra and Roger Maris, according to Elias. That is the kind of company the 25-year-old Judge is keeping these days.
In the third inning, Judge sprinted from his position in right toward the foul line. In a 2004 game against the Red Sox, Jeter gave up his body, making a catch at the old Yankee Stadium and then heading full speed into the third row of the stands in shallow left field. The shortstop scraped himself off the seats and carried on, bloodied and more of a legend.
On Wednesday night, Xander Bogaerts fouled off a ball that veered into the stands in right. Judge went after the ball with reckless abandon.
"I saw a ball I could get to and I was trying to do anything I could do to try and catch it," Judge said.
Judge made the play as he flipped into the first row of seats. Judge came up with the ball and, fortunately for the fans nearby, he didn't land on anyone.
"That's a big boy getting piled on the nachos and peanuts," left fielder Brett Gardner said.
Judge might end his career more like Joba than Jeter, but the rookie has already answered questions about his potential and his personality that make it seem the latter is possible.
In quick fashion, Judge has displayed the sort of athlete he is and shown he is not too big to succeed at baseball's highest level. He is fast and nimble, like an NFL tight end. He is not just a lumbering guy who can mash homers. Plus, his commitment to winning is, dare we say it, Jeter-esque.
His answers to questions are deferential, sort of bland, similar to the old captain's. The tao of Jeter was to always put winning above anything else. That might sound cliché in a way, but he left an ethos that has lived on with these up-and-coming young players. Judge has learned all these Yankees lessons.
After the win, Judge smiled about the whole event, pretty much reacting in the same, not-all-that-impressed way that has succeeded each of his feats.
His manager was worried that Judge hurt himself on the catch, though Judge did not seem concerned. It was almost as if it was just another birthday for him.
It wasn't really, but it was just another day that ended with: Did you see what Aaron Judge did?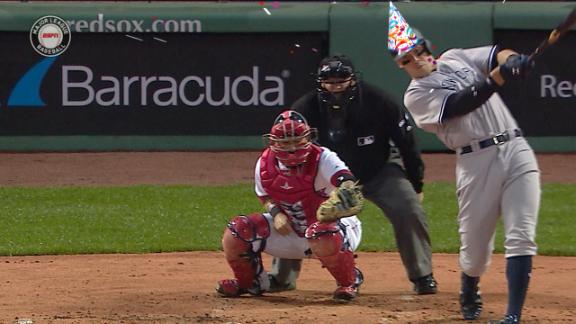 April, 26, 2017
Apr 26
10:32
PM ET
Associated Press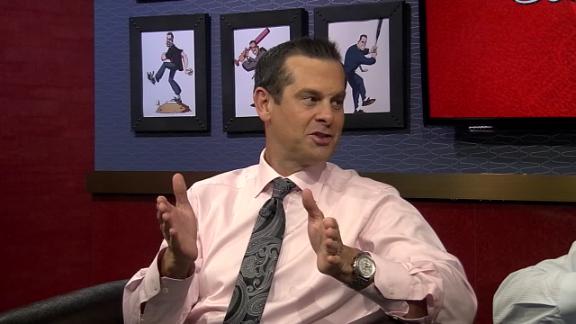 BOSTON -- Luis Severino pitched seven innings of three-hit, shutout ball and Aaron Judge celebrated his 25th birthday with a two-run homer and spectacular catch, carrying the surging New York Yankees to a 3-1 victory over the Boston Red Sox on Wednesday night in the longtime rivals' first meeting this season.
It was the 11th win in 14 games for the Yankees after they opened the season 1-4.
Severino (2-1) struck out six and walked two, posting his third straight strong start. In his previous two, the 23-year-old righty became just the third Yankee ever to post double-digit strikeouts without more than one walk in consecutive games.
Reigning AL Cy Young winner Rick Porcello (1-3) lost his third straight start, giving up three runs -- two earned -- in 6 2/3 innings. He didn't lose consecutive starts last season.
April, 26, 2017
Apr 26
7:30
AM ET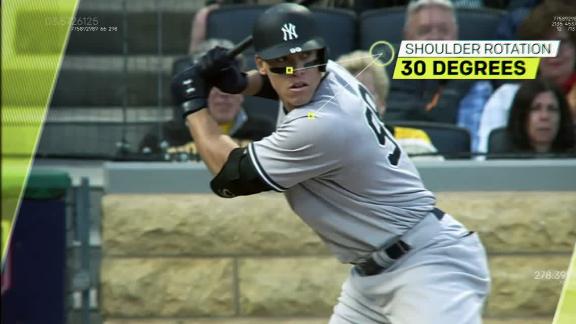 BOSTON -- When Aaron Judge was last a normal-sized human being, at about 9 or 10 years old, the player who made him run to his television was Barry Bonds. Judge grew up in Linden, California, about two hours from what was then Pac Bell Park.
"I was a Giants fan and that was the time he was putting up 70 homers a year," said Judge, who's now a 6-foot-7, 282-pound right fielder for the New York Yankees. "That was pretty impressive to watch as a kid."
On Wednesday, Judge will celebrate his 25th birthday by playing his first game in the Yankees-Red Sox rivalry. He will step to the plate as a rookie sensation; his six homers are tied for the second most in the American League.
But it's not just about how many balls he has hit over the fence -- it's how far he has hit them. Judge is challenging the current champ, Giancarlo Stanton, as the king of the XXXL home run.
Shelley Lipton/Icon SportswireYankees outfielder Aaron Judge is slugging the ball with such ferocity his teammates are even treating batting practice like a must-see event.
Judge's 460-foot homer on Saturday in Pittsburgh was the third longest for a Yankee since ESPN started tracking distances in 2009. Only Alex Rodriguez's 477-foot homer in August 2015 and Juan Miranda's 469-foot shot in October 2009 traveled farther. In the past two seasons, Judge has three of the four longest Yankee homers. Only Chase Headley, with a 453-footer in July 2016, cracks the top four. Headley believes he got all of that one, but he said he and his teammates are eager to see what would happen if everything clicks in perfectly for Judge.
"We are all just waiting for that time where everything just syncs up and he gets every bit of it," Headley said. "I want to see him do that. He is just a humongous human being that has out-of-this-world power. Five hundred fifty feet is not out of the question. If there is nothing in the way, he is hitting it 550."
Starlin Castro, who is usually in the same batting practice group as Judge, has never been big on watching teammates or opponents take BP. He remembers being around Stanton in the Arizona Fall League in 2009 and taking a few glances, but besides that, Castro said he has never been much of a gawker -- until now.
"He is the first guy," Castro said. "I'm really happy we are in the same group. It is really motivating. It is really fun to watch. We feel like every swing he takes, something big is going to happen."
Matt Holliday, on the other hand, has always studied standout teammates and opponents in BP as if there'd be an exam afterward. It's not just tape-measure specialists, but contact guys too. Holliday looks for any little ingredient he can add to his game, making the 37-year-old slugger as qualified as anyone to weigh in on Judge's power.
"

We are all just waiting for that time where everything just syncs up and he gets every bit of it ... I want to see him do that. He is just a humongous human being that has out-of-this-world power. Five-hundred fifty feet is not out of the question. If there is nothing in the way, he is hitting it 550.

"- Chase Headley, Yankees third baseman
"There aren't many guys that can hit the ball as far as him in batting practice, if any," Holliday said. "Obviously, Stanton is the easy one that comes to mind that I've played against. Barry Bonds, too."
Holliday has seen Stanton do his damage only as an opponent, while he receives a daily dose of Judge. He said it might just be familiarity, but he would take Judge in a distance contest.
Mark Teixeira, who just completed a 14-year career in which he swatted 409 homers, said he used to watch Nelson Cruz launch some balls in the Arlington heat when they were teammates in Texas. In 2013, Teixeira played with Stanton in the World Baseball Classic.
"Judge's power is right there with those two guys," said Teixeira, now an ESPN analyst.
In 2016, Judge struck out in 42 of his 84 at-bats, a performance so bad it made the Yankees hesitant to hand him the right-field job in spring training, even with a full winter endorsement from team owner Hal Steinbrenner. In the final days, the Yankees finally gave Judge the nod over Aaron Hicks. Judge has struck out 17 times in 61 at-bats thus far.
"I knew it was going to take some time for him to get used to minor league pitching and big league pitching and really grow into his swing, because he is a big guy and he has to grow into his strike zone," Teixeira said. "The smarter he has gotten about swinging at certain pitches and the more ready he is at the plate, he looks like he is so dangerous right now. He is exactly where you would hope he would be when I saw him a few years ago."
It's early, but Judge has joined Stanton as a player you can't miss. His power, like Bonds in his prime, makes it nearly impossible to look away. He's the type of player little kids will be running to their televisions to see.
April, 25, 2017
Apr 25
5:36
PM ET
ESPN.com news services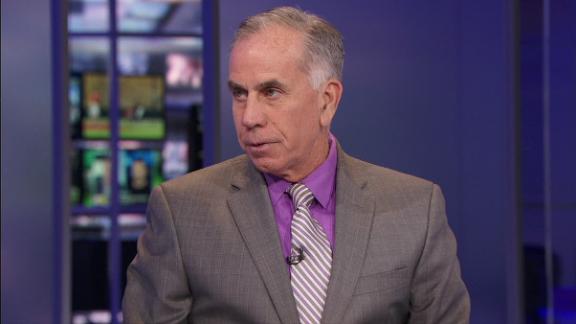 Former New York Yankees shortstop Derek Jeter is part of a group led by ex-Florida Gov. Jeb Bush that has reached an agreement to purchase the Miami Marlins after submitting a bid of $1.3 billion, according to multiple reports.
According to the Miami Herald and Bloomberg, Marlins owner Jeffrey Loria has reached an agreement to sell the Marlins to the Bush-Jeter group after its bid won the auction ahead of other potential buyers for exclusive negotiating rights.
There still is a long way to go in the process. Two sources familiar with the terms of the deal told ESPN's Darren Rovell that financing is far from complete and the deal could fall apart. Miami Herald and Bloomberg, citing sources, said there is no contract as of yet and that the sale would still need approval from Major League Baseball.
"I have not commented on the process and plan to keep it that way, thank you," Marlins president David Samson told the Miami Herald.
MLB commissioner Rob Manfred said the league has not yet accepted any bid but noted the kind of financial structure the league is looking for in an ownership group.
"You can rest assured that the acquiring group, whoever it turns out to be, will have a financial structure -- meaning some debt and the rest equity -- that is consistent with the rules that we have, most notably the debt service rule," Manfred said. "And more important than complying with the rules, [that] puts the franchise in a position that it can operate effectively. That's really the commissioner's office's job in terms of approving any potential bidding group, and we are really focused on that issue with respect to the Marlins."
Others reportedly involved in the bidding process to negotiate for the purchase of the Marlins included New York businessman Wayne Rothbaum and a group led by Massachusetts businessman Tagg Romney that included former Atlanta Braves
April, 25, 2017
Apr 25
4:00
PM ET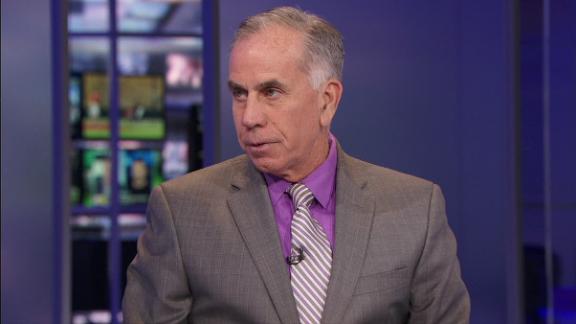 Derek Jeter won the auction for the Miami Marlins, but you already knew that. In fact, the moment you heard Jeter was involved in a group pursuing the purchase of the Marlins, you probably figured muscle memory would rule the day and that No. 2 would finish No. 1.
Jeter wins. It's what he does -- in baseball, in business, in life, in love. How many people on the face of the earth are better at something than Derek Jeter is at winning?
Jeter is even dragging his partner, former Florida governor Jeb Bush, toward the finish line. The group, which is led by Bush, won exclusive negotiating rights with a $1.3 billion bid, according to multiple media reports, but there is still no contract, and the sale would need approval from Major League Baseball.
Jeb Bush couldn't win the White House as brother George W. Bush did. But with Jeter at his side, he has a chance to win the World Series title his brother couldn't as owner of the Texas Rangers.
Of course, this surprises absolutely nobody. Derek Jeter told his grade school teachers he would become a big league ballplayer, and those teachers told his parents their son needed more realistic goals. Jeter became a big league ballplayer.
April, 25, 2017
Apr 25
3:07
PM ET
Associated Press
The opener of the three-game series between the New York Yankees and Boston Red Sox at Fenway Park has been postponed because of rain.
The game has been rescheduled as part of a day-night doubleheader on July 16.
April, 24, 2017
Apr 24
10:22
AM ET
Joe Sargent/Getty Images Rookie slugger Aaron Judge and the Yankees jumped to No. 5 in our MLB Power Rankings this week. Is something special brewing in the Bronx, or is it too soon to bet on the Bombers? Our All-Star panel weighs in.
Aaron Judge is blasting 460-foot moonshots. CC Sabathia is on pace for 18 wins. Despite losing two of three in Pittsburgh over the weekend, the New York Yankees head into a three-game set at Fenway Park against the rival Boston Red Sox as winners of 10 of their past 13 games, jumping to No. 5 in our MLB Power Rankings.
So is something special brewing in the Bronx, or is it just too soon to bet on the Bombers?
Our All-Star panel -- Yankees beat writer Andrew Marchand, columnist Sam Miller and SweetSpot's David Schoenfield -- weighs in.
---
Is Aaron Judge a stud?