April, 23, 2018
Apr 23
8:13
AM ET
April, 22, 2018
Apr 22
4:53
PM ET
If you're one of the remaining fans wondering why analytics-friendly teams -- now nearly every team in baseball -- are stingy in the free-agent market, this is the list for you. Drop an easy popup? Leave a hanging curve in the strike zone? When players make these mistakes, they have to forget them and move on to the next inning or game. For front offices, their errors can haunt a franchise for a generation, ranging from embarrassment to crippling, depending on the other particulars of the franchise.
I'm running down the worst contracts in baseball for a sixth year running. This is a focus on what's left, so the past doesn't count. I'm also considering only players in baseball now, so we won't bring up the $1.2 million Bobby Bonilla makes every year through 2035, or the less-famous $1.12 million a year that Bruce Sutter gets annually through 2021, with an additional $9.1 million bill due in 2021!
I've ranked the worst contracts in terms of surplus wins, that is, the difference between the number of wins the team is paying for and the number of wins they're projected to get for the remaining years of the contract.
15. Troy Tulowitzki (minus-4.2 wins)
Future paydays: $20 million in 2018 and 2019, $14 million in 2020, $4 million buyout for a $15 million club option for 2021.
I was among the analysts that liked the Blue Jays' trade for Tulo, so to be too mean would be hypocritical. But from a numbers-standpoint, last year's groin and hamstring injuries, the first that really had an effect on his qualitative performance, combine with this year's injuries to give enough of a down arrow for Tulowitzki to make this list ahead of Yasmany Tomas. In the end, the Jays/Rockies trade that sent Tulowitzki didn't really help anyone as much as they hoped.
14. Ian Kennedy (minus-5.0 wins)
Future paydays: $16 million in 2018, $16.5 million in 2019 and 2010.
Kennedy deciding to not opt-out of his contract after a 5-13, 5.38 ERA was one of the least surprising decisions of its kind. Kennedy is off to a solid start in 2018, with a 2.35 ERA/3.84 FIP in his first four starts, but that's not enough to push the needle given his 5.08 FIP over his two seasons with the Royals.

13. Homer Bailey (minus-5.1 wins)
Future paydays: $21 million in 2018, $23 million in 2019, $25 million mutual option in 2020 ($5 million club buyout).
Bailey's standing in this rank drops a little every year, not so much because he has shown significant signs of improvement, but because that contract is slowly ticking out. Like Kennedy, Bailey has at least started the season strong, with three quality starts in four appearances, but that's not enough yet to significantly shift the outlook on the expense of having him.
April, 19, 2018
Apr 19
9:36
AM ET
ESPN.com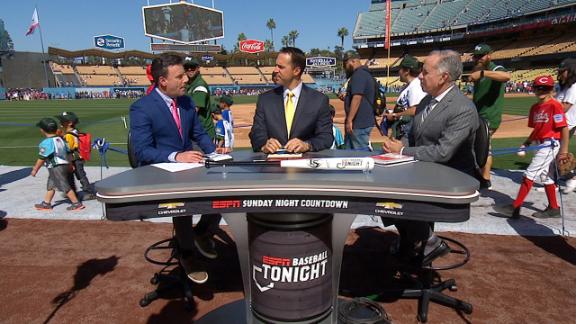 April, 22, 2018
Apr 22
4:14
PM ET
Associated Press
NEW YORK -- Luis Severino pitched three-hit ball over seven innings, prized prospect Gleyber Torres went 0 for 4 in his big league debut and the youthful New York Yankees beat the Toronto Blue Jays 5-1 on Sunday.
Didi Gregorius homered, No. 9 batter Austin Romine laced a two-run double and rookie Miguel Andujar had a career-high four hits, including an RBI double, to help the Yankees take three of four in the series from their AL East rivals.
Torres stranded six runners, striking out, grounding into a double play, popping out and flying out. Torres played second base and batted eighth in a Yankees lineup that didn't include a player 30 or older for the first time since Sept. 29, 1989, according to STATS.
With veteran left fielder Brett Gardner receiving a rest, the eldest starter on the field was Romine, the team's 29-year-old backup catcher.
Teoscar Hernandez homered in the sixth off Severino (4-1), who struck out six and walked two. The ace right-hander won for only the second time in nine outings against Toronto.
David Robertson and Aroldis Chapman each worked a scoreless inning of relief to finish the four-hitter.
April, 21, 2018
Apr 21
7:01
PM ET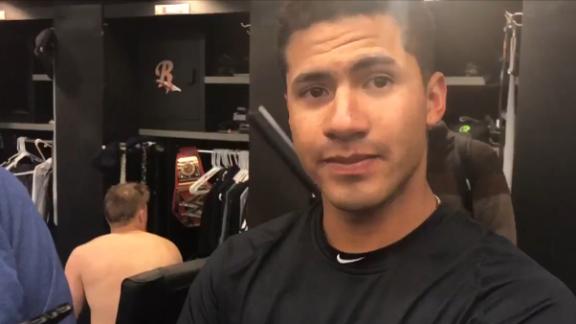 NEW YORK -- Gleyber Torres, one of baseball's most highly touted young prospects, was called up by the Yankees on Sunday.
He will play second base and bat eighth against the Toronto Blue Jays.
Torres, 21, ranks fifth in Keith Law's list of top 100 prospects.
Torres has hit .347 with 3 doubles, 1 triple, 1 home run and 11 RBIs in 14 games for Triple-A Scranton/Wilkes-Barre. He was removed from the RailRiders' 6-5 loss to Toledo on Saturday after six innings.
"Super happy. It's like dreams come [true],'' Torres said Saturday after he was told of his promotion, according to Times-Tribune in Scranton.
Torres, who is from Venezuela, called his parents and said he hoped they would make it to New York in time for Sunday's game against the Toronto Blue Jays.
Because of the timing of his call-up -- three days after a key deadline passed regarding Torres' major league service time for the season -- the organization will be able to keep the infielder under contractual control for another full season.
Torres now won't be eligible for free agency until 2024.
With Torres now in the fold, the Yankees have another glove that can help address some of the early-season woes that have befallen them defensively. New York entered play Saturday leading the American League in errors with 18.
Torres had one error in Triple-A this season and another during spring training.
April, 21, 2018
Apr 21
4:55
PM ET
Associated Press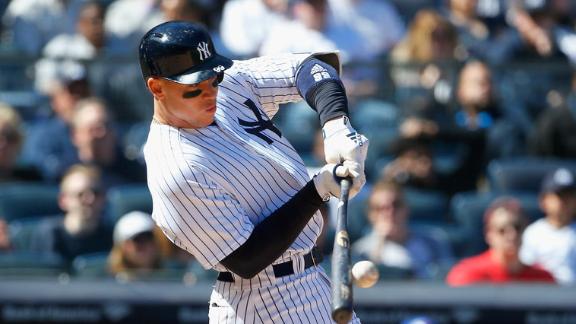 NEW YORK -- Aaron Judge hit an early homer off respected Twitter rival Marcus Stroman, then scored on a disputed play during a seven-run burst in the sixth inning that sent the New York Yankees over the Toronto Blue Jays 9-1 Saturday.
Judge put the Yankees up 2-0 with his sixth homer, a two-run drive in the third. It came after Stroman and Judge exchanged tweets at the end of last season during which the Toronto ace said their "future battles will be legendary."
Judge is now 7 for 16 with four home runs against Stroman (0-2).
It was 3-1 in the sixth when the Yankees loaded the bases with no outs. Aaron Hicks hit a chopper up the first base line and Stroman made a backhanded toss to catcher Luke Maile, trying for a forceout.
The ball bounced off Maile's glove as Judge slid in safely. Blue Jays manager John Gibbons unsuccessfully argued with plate umpire Will Little that Maile had possession.
Rookie Miguel Andujar added a three-run double and Judge capped the inning with an RBI single.
Montgomery (2-0) pitched six innings and allowed one run on four hits. He worked around three walks, and allowed the leadoff hitter on base in three consecutive innings.
Toronto loaded the bases in the third with one out before Montgomery was able to escape the jam with a strikeout and a popup.
Montgomery and two relievers combined to retire the last 15 Blue Jays batters.
April, 21, 2018
Apr 21
12:28
AM ET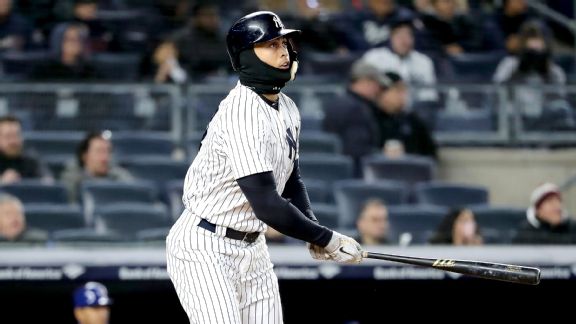 Elsa/Getty ImagesGiancarlo Stanton's first homer since April 4 gave the Yankees a 4-2 lead in the third inning, but New York's pitching couldn't make it stand.

Giancarlo Stanton snapped a long homerless string, and with Sonny Gray unable to hold a lead, New York had better hope the slugger is getting hot.

April, 20, 2018
Apr 20
11:01
PM ET
Associated Press
NEW YORK -- Lourdes Gurriel Jr. made an impressive major league debut with two hits and three RBIs as the Toronto Blue Jays beat the New York Yankees 8-5 Friday night.
Teoscar Hernandez homered and drove in three runs and Yangervis Solarte also connected for the Blue Jays, who have won nine of their last 11 games.
Yankees slugger Giancarlo Stanton broke a 50 at-bat homerless slump with his fourth shot of the season, a drive that put New York ahead 4-2 in the third.
Gurriel was called up from Double-A New Hampshire, where the second baseman was batting .347. The 24-year-old brother of Houston first Yuli Gurriel hit a two-run single in the fourth that gave Toronto a 5-4 lead, then had an RBI single in the fifth that put the Blue Jays ahead to stay at 6-5.
Gurriel signed a seven-year, $22 million deal in November 2016 after defecting the previous February from the Cuban team that was participating in Caribbean World Series in the Dominican Republic.
Toronto starter Marco Estrada (2-1) weaved in and out of trouble over five innings. He was charged with five runs and seven hits, three of them home runs.
April, 20, 2018
Apr 20
12:31
AM ET
A 1952 Mickey Mantle Topps rookie card in mint condition sold for $2.88 million late Thursday night.
That's second-highest price ever paid for a baseball card, falling short of the $3.12 million a collector paid for a 1909 T206 Honus Wagner card in October 2016.
The card, graded by Professional Sports Authenticator (PSA) as a 9 on a scale of 10, was being sold by former NFL offensive lineman Evan Mathis and auctioned by Heritage Auctions.
The rise of the Mantle rookie card has been astounding. In 1988, this card in its best condition could be had for $3,300. Ten years later, the record was $121,000. By 2007, the top sale for the card -- which was a comparable PSA 9 -- was $240,000.
"It's a remarkable price," said Chris Ivy, director of sports auctions at Heritage. "It was 10 years ago when we last had a Mantle 9 sell, but this sold for 10 times that."
The record for the card was for a PSA 8.5 sold for $1.13 million in 2016, which held until Thursday night.
The Wagner card was made more rare by the company that produced them, Piedmont Cigarettes, when the card was discontinued. The Mantle card is naturally rare because, well, no one wanted them.
The Mantle was the first card in the Topps 1952 high number set, which was the second wave of that year's product. But Topps, in only its second year of making baseball cards, found that the cards came out too late in the year and there was little to no interest in consumers buying more. So the 1952 high number packs sat in Topps factory for seven years, before Topps' card pioneer Sy Berger made an attempt to get rid of them.
"I went around to carnivals and offered them at a penny apiece," Berger told Sports Collectors Digest in 2010. "And it got so bad, I offered them at 10 for a penny."
When cards were still left over, Berger gave up and dumped more than 300 cases of the 1952 cards into the ocean.