September, 27, 2016
Sep 27
6:00
PM ET
ASHBURN, Va. -- The game became one to build on, instead of another chance to bemoan missed opportunities. It's not as if Washington Redskins quarterback Kirk Cousins played a perfect game. He didn't. But he did have some strong moments. Mixed in there were some missed chances -- and the continued quest to capitalize in the red zone.
Cousins did finish with 296 yards and two touchdowns Sunday. He did help the offense score 29 points against a good New York Giants defense and beat a winning team on the road. And, yes, he could have played better.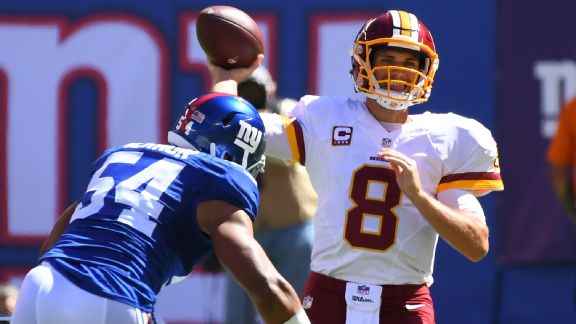 Robert Deutsch/USA Today SportsKirk Cousins finished 21-of-35 passing for 296 yards and two touchdowns against the Giants.
Throws I liked: The deep ball to DeSean Jackson, obviously. He hit him in stride -- and the ball needed to be perfect. But Cousins also conned safety Landon Collins a little with a slight shoulder turn in the direction of tight end Jordan Reed, who was breaking to the outside. So Collins vacated the area where Jackson was running and, with the corner playing as if he expected help, Jackson was open.
"The two back-to-back to DeSean were huge plays for us to get the momentum back, for us to give us a little sign of hope there moving forward," Redskins coach Jay Gruden said.
There were a few other passes, but one play shows why the coaches appreciate Cousins. It wasn't even a completion, but it's why he doesn't get sacked a lot. Cousins knew the Giants were going to blitz, and he knew that his protection could not account for the linebacker coming from his left. So he threw a perfect slant pass to Pierre Garcon, who dropped the ball. But Cousins did his job; it's why he's been sacked just four times in 124 pass attempts.
"He made some big throws under some pressure situations," Gruden said.
One throw I didn't like during the game ended up being one I did after further review. It was the incompletion to Jackson around the 5-yard line. Live, I thought Cousins hesitated before throwing and a window had closed. After watching, Cousins had actually looked to his right, saw Reed wasn't open, and when he saw Jackson, he unloaded the ball. It was a perfect, decisive pass. Jackson couldn't control it, but Cousins gave him a chance.
Throws I didn't: There were a couple, but some jumped out more than others. The two that could have hurt most involved Ryan Grant and Rashad Ross. The one to Ross became irrelevant because a holding penalty would have nullified what should have been a touchdown catch. Cousins left the ball short to a wide-open Ross (benefiting from attention paid to Reed). With Grant, he just underthrew him by a yard or two, and his size prevents him from being able to make a bigger play in a jump-ball situation. But Grant did his job and got open. There were a couple throws under duress that could have led to trouble, but did not (no ball was nearly picked).
Missed chances: There were a couple throws in particular that gained yards but could have been much bigger plays if Cousins had thrown down the field. Every quarterback misses plays in a game, but there are two that stood out for Cousins. And receiver Pierre Garcon could have had himself a huge game had this happened. On the first one, Garcon ran past corner Janoris Jenkins, who was frozen by a play fake, and was open by several yards. It would have been a huge gain and possibly a touchdown. But Cousins waited and, on the same side, threw instead to Jackson, who was running across the field toward the same side. It gained 31 yards and one play later they connected on a touchdown, so it didn't harm them. It was still a good play, but that doesn't erase the fact that Garcon was open.
Another time, on another play-action pass, Garcon was open about 25 yards downfield, about five yards behind the nearest defender. But Cousins opted to throw to Matt Jones on the same side. It still gained eight yards; it could have gained 18 more. This missed chance hurt because the Redskins would have had the ball on the Giants' 45 but ended up punting from their own 35.
Overall: Cousins played better than he had in the first two games and did so against a defense that had played well in the first two. But had the Redskins lost the game, there would have been a lot more focus on some of the failed plays, notably the sequence right before halftime. The Redskins would like Cousins to be better at off-schedule plays -- it's not his strength. Nobody knows more than Cousins that the ball has to be thrown away when there are six seconds left and the first option isn't open. By the way, on that play, Reed would have been open on the other side had that been the play call. The safety to that side never looked at him, and Reed beat his man. But Cousins was more decisive than in the first two games and can certainly build off this win.