October, 16, 2017
Oct 16
12:25
PM ET
FRISCO, Texas -- On the face of it if given the chance to add a four-time All-Pro, three-time Pro Bowler who is not yet 30 would seem to be an easy decision for the Dallas Cowboys.
They are scheduled to meet with NaVorro Bowman if he does not reach a deal with the Oakland Raiders first. Bowman's resume is impressive. His background is impressive. He falls in line with the "right kind of guy" message Jason Garrett prattles on about. From all accounts, he is a professional.
Since the Cowboys play San Francisco this week, his addition would add another plot to the storyline.
Why would there be any hold up?
Well, money and injury come to mind.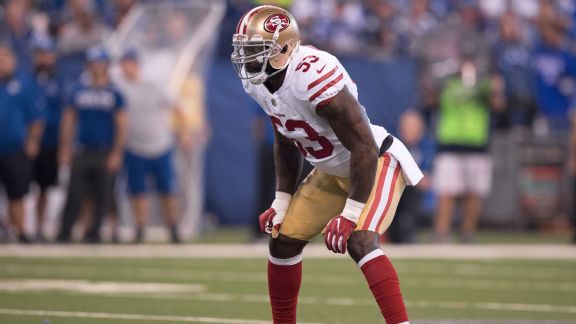 Zach Bolinger/Icon SportswireLinebacker NaVorro Bowman played in the 49ers' first five games and was credited with 38 tackles.
How much money will Bowman want? The Cowboys don't have any cap issues that would prevent adding a player like Bowman, but do they want to make a multi-year commitment to him? It might make sense for him to play out the season on a one-year deal, perhaps perform well and then hit the open market in March.
Bowman has had two serious injuries. He missed the 2014 season because of torn anterior cruciate and medial collateral ligaments suffered during the NFC Championship Game against the Seattle Seahawks. He suffered a torn Achilles last season against the Cowboys.
He played in the 49ers' first five games and was credited with 38 tackles, but they were ready to move on even with rookie Reuben Foster not fully healthy.
Bowman had been in a 3-4 system for his entire career until this season when San Francisco switched to a scheme that is similar what the Cowboys run.
One of the issues the Cowboys have had, especially in Sean Lee's absence, is their linebackers in coverage. The Los Angeles Rams went after Jaylon Smith in coverage with a lot of success. The absence of Lee is a big reason the Cowboys struggled against the run the past two games, with Todd Gurley and Aaron Jones rushing for more than 100 yards.
Lee should return this week when the Cowboys play Bowman's former team, San Francisco.
The Cowboys have expressed faith in Smith, who did not play last season as a rookie because of a serious knee injury, Anthony Hitchens, who missed the first four games with a knee injury, and veteran Justin Durant.
That they were looking at Bowman could just be a sign of due diligence, but also some unrest in their feelings. Hitchens has been a steady performer since coming to the Cowboys. He should have more than one game to show whether he can return to the form that led him to two 100-tackle seasons, according to the coaches' count, in his first three years. It's apparent Smith needs time to be an every-down player.
The Cowboys have to answer whether they will be paying for Bowman's past performance or what they hope he can do for the remaining 11 games. Is he still a Pro Bowl performer in a bad situation or is he a part-time player?
The best answer is to proceed with caution.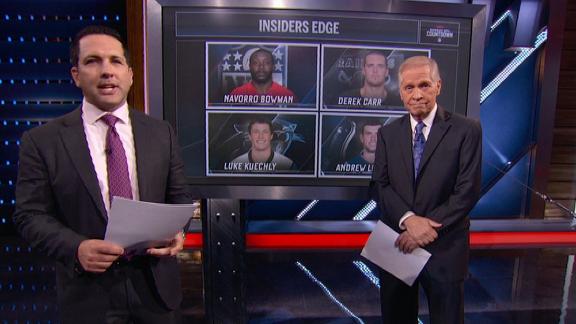 NFC EAST SCOREBOARD
Thursday, 10/12
Sunday, 10/15