October, 27, 2016
Oct 27
8:10
AM ET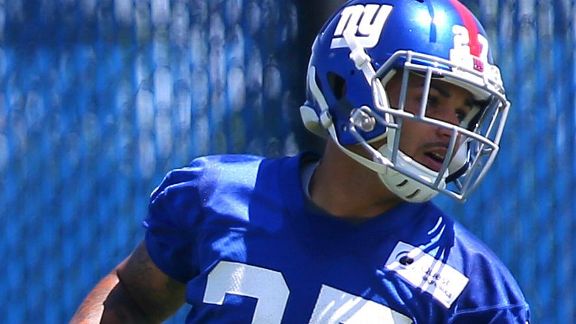 Ed Mulholland/USA TODAY SportsThe Giants have been targeting Week 9 for rookie safety Darian Thompson's return.

Take care of your bodies, fellas. That is part of coach Ben McAdoo's bye-week motto for his New York Giants players.
The first seven weeks of the NFL season yielded a fair share or nagging injuries, including wide receiver Odell Beckham Jr. this past week. They were also hit especially hard in the secondary where, among others, Eli Apple and Darian Thompson had their rookie seasons put on pause.
They can all still make up for lost time. Nine games remain when the Giants (4-3) return from their bye.
The week of rest came at the right time. The Giants should recoup and be in relatively good shape when they return.
"I'm looking forward to getting everybody back," McAdoo said. "I'd love to hit the practice field and have the full team practicing. I think that's certainly a possibility."
When the Giants return to practice on Monday, it could happen. Here's where everybody stands:
WR Odell Beckham Jr. (hip/abdomen): He almost didn't play Sunday against the Rams because of pain in his abdominal area and spent Monday in treatment. He was "pretty sore," McAdoo said. The week of rest was ideal for Beckham. He's a gamer, so he'll be back on the field significantly closer to 100 percent when the Giants host the Philadelphia Eagles on Nov. 6.
S Darian Thompson (foot): The rookie safety hasn't played since injuring his foot late in Week 2 against the Saints. He shed the boot several weeks ago and has done some running recently. The Giants have been especially cautious with Thompson, targeting the post-bye matchup with the Eagles for quite some time. He's expected to be on the practice field Monday with the hope of being ready for next Sunday.
S Nat Berhe (concussion): The third-year safety appeared set to return last week but wasn't completely cleared from the protocol to practice. That was somewhat concerning, as he suffered the injury in Week 3. But Berhe was close. He traveled with the team to London and the hope is that he's cleared for practice on Monday, when the Giants secondary should be in much better shape.
CBs Eli Apple and Dominique Rodgers-Cromartie (groin): They both played Sunday against the Rams, even if they weren't quite 100 percent. But they're getting close. The nagging groin injuries that limited both for weeks should benefit greatly from the week of rest. Apple and Rodgers-Cromartie should return at close to 100 percent and ready for the stretch run. With both healthy (along with Thompson), the secondary can be the strength of this team.
RT Marshall Newhouse (calf): He did some light work last week on a calf injury that must be handled carefully. Newhouse popped his calf in Week 2, and hasn't played since. They're making sure when he returns there is no setback, because this can sometimes turn into a lingering problem. Newhouse is expected to be brought along slowly. Second-year lineman Bobby Hart is likely to remain the starting right tackle even when he returns.
RB Shane Vereen (triceps): He's in good spirits after surgery last month and has been around the team in recent weeks. But Vereen is still not close after tearing his triceps in Week 3 against the Redskins. He's the most likely to return from injured reserve this season (safety Mykkele Thompson is the only other option) but it wouldn't be until very late in the season.