March, 1, 2017
Mar 1
12:00
PM ET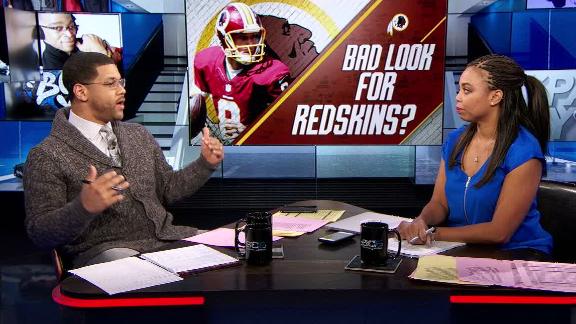 The Washington Redskins continue to say the right things with quarterback Kirk Cousins. They want him here long term, something they said last season, during the season and at the Senior Bowl. Coach Jay Gruden repeated it at the scouting combine Wednesday.
It sounds good. It's what they should say, considering he's still on their roster and, therefore, remains their starting quarterback. If he's a lame-duck quarterback, then how will that play in the locker room? Of course, most players are year to year and some I communicated with Tuesday night were more worried about their own situations. As they should be.
But if the Redskins really mean it with Cousins? Quit talking about it and do it. Make him an offer that comes close to tempting him to sign. And for Cousins, if he really wants to be here? Then that would reveal just how badly. If you think it's a bluff, call it.
If they make him a competitive offer and he wants no part of it, then we'll know it's not just about leverage. It's about using that leverage to leave. At that point, the Redskins can pursue a trade. The issue with a trade is that they'd have to work out agreeable compensation and then hope the new team can make an acceptable offer to Cousins. Otherwise, it won't happen.
The problem is, Washington hasn't come close to committing to him in that manner. Maybe new talks at the combine will lead to more optimism than has been felt at any point in this process, dating back a year. If not, and you keep him around, you're setting up a potentially awkward situation, especially if they draft a quarterback high in the spring. They can still build a winning team, but it would still be, well, different.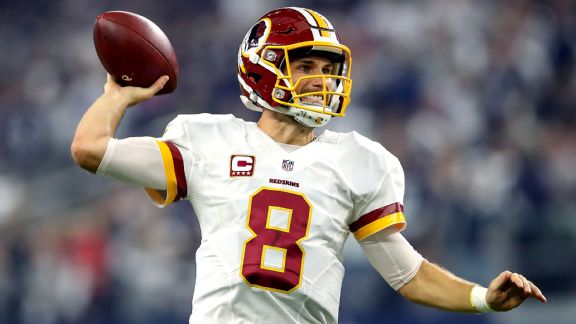 Steve Nurenberg/Icon SportswireIt's time for a final decision on whether or not Kirk Cousins is the Redskins' franchise quarterback.
The best offer last season was for $16 million per year with $24 million in guaranteed money, according to not only multiple sources but multiple reports. It sounds like a lot, right? Except that less-proven Brock Osweiler got $2 million more per year. And that $16 million per year would have left Cousins ranked 20th, as of now, among quarterbacks, according to ESPN Stats & Information. Had they offered Cousins $18-20 million per year, which you now hear would have gotten it done? He'd be, at best, 11th among quarterbacks right now – before new deals for Matthew Stafford and Derek Carr. But the Redskins didn't go that high, so we really don't know what would have happened.
Oh, and by offering him "only" $24 million in guaranteed money, they enabled him to instead make $43 million by playing twice under the tag. My favorite phrase in the Cousins situation remains this: Do the math.
Some of that, of course, is hindsight. At the time, I understood their reluctance to commit heavily long-term. If they don't believe in him to a certain level, it's their right. Many around the league consider him good, not great. It's not a crime. But they did have a chance to get this done at the time and that deal would look awfully good right now – and for the next few years.
And a lot of what we heard last year – how could they pay him $20 million per year! – is what's now being said about $24 million. What will be said next offseason? The salary bar increases every year.
Anticipate, use foresight, or fall behind. The Redskins have done an excellent job managing the salary cap, creating a huge asset when it comes to space. It's like a minor league team with a stocked farm system. That's why they signed corner Josh Norman last year to a deal few saw coming. Even the Redskins know they overpaid; they got their man, so it was all good.
That's not to say it must be spent on Cousins, especially if they're not sold on him. But they have created the opportunity to do so without crippling the franchise. So if you want him here long term, you can get it done. You know the price. It either works for you or it doesn't. Talk is cheap; the contract is not. If you're not willing to pay, it's time to move on. Otherwise, it's time to have serious talks.