January, 25, 2017
Jan 25
8:08
PM ET
ORLANDO, Fla. -- Quarterback Dak Prescott's first NFL season didn't end the way he'd hoped -- his Dallas Cowboys fell to the Green Bay Packers 34-31 in the NFC divisional playoff round -- but the rookie signal-caller, who's in Orlando, Florida, this week taking part in his first Pro Bowl, sees some real building blocks that can be carried over into 2017.
"Just the chemistry that we have as a team, the brotherhood we have, the love we have for each other, the way we went out and executed ... we had fun but we separated the two, having fun and being 'locked in' on the field," Prescott said. "It's a year I'll never forget. But I hope to play many more very similar [games], but end with a win."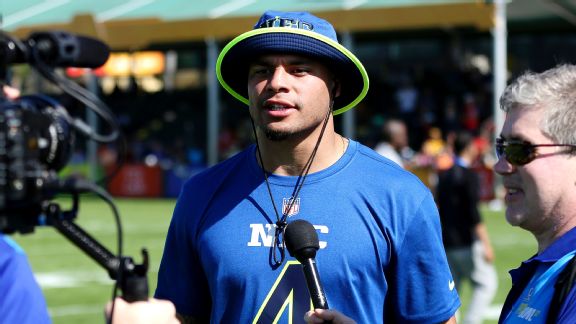 AP Photo/Gregory PayanIt's not the postseason, but Cowboys QB Dak Prescott is enjoying capping his rookie season by preparing for Sunday's Pro Bowl.
Having fun was a huge component of the Cowboys' 13-3 season and for Prescott personally. He and fellow rookie Ezekiel Elliott, who's also among seven Cowboys selected to the Pro Bowl, pulled pranks on each other throughout. Elliott made fun of Prescott's sneakers. Prescott filled Elliott's locker with M&Ms. The two even got into a candy fight midway through an interview.
Prescott believes that's how it's supposed to be: that you should enjoy coming to work each day, even with big games looming.
"This is fun. There's nothing else I'd rather do than come out here and play football," Prescott said. "If I'm playing by myself, if I'm playing with my team, if I'm playing with great NFL Pro Bowlers; the game of football is fun. So no matter which way you look at it, I'm gonna have fun on the field, I'm gonna have fun while I'm playing; it just allows me to be happy in everything I do. You've got to love your job."
One aspect of the job he is currently enjoying: the camaraderie of the Pro Bowl and connecting with veteran players he admires from around the league, such as cornerback Richard Sherman and linebacker Bobby Wagner of the Seattle Seahawks, who are on his NFC team this week.
"Just unbelievable guys you get to sit down and talk with and you just want to learn so much from," Prescott said of the two, emphasizing that it's not so much X's and O's that they talk about -- although getting insight from defensive players certainly has some perks -- but rather more big-picture.
"Being a leader, different stuff like that," said Prescott, who also counts Drew Brees as one of the players he admires and will be watching closely this week. "It's been great just meeting these guys and learning."