June, 13, 2017
Jun 13
10:35
AM ET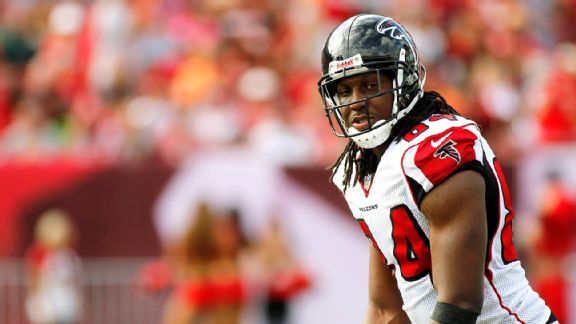 AP Photo/Reinhold MatayRoddy White is potentially interested in a front office role with the Falcons in the future.
ATLANTA -- At the end of his retirement speech Monday, former Atlanta Falcons wide receiver Roddy White said, "I plan to be around this franchise forever."
He didn't mean just as a spectator.
White, currently working as a volunteer coach at a suburban Atlanta high school, was asked if he'd like to coach for the Falcons in the future.
"I don't think I can coach, but I would be open to a front office job," White told ESPN. "I'm not watching over players (as a coach). That job is too hard."
So what type of front office role would White want?
"I don't know yet, but I would like to figure out the process," he said.
How about going the scouting route?
"Yeah, but not college," White said. "Is that possible? Yes, probably as a pro scout."
White, who was released by the Falcons after the 2015 season, still has a strong relationship with owner Arthur Blank, a guy he said he "loves to death." Certainly Blank would vouch for White for as long as Blank owns the franchise.
Former teammate and fellow wide receiver Brian Finneran, who gave an emotional speech to introduce White at the retirement ceremony, says he could envision his good friend in a front office role.
"Roddy became such a student of the game throughout his career," Finneran said. "He studied great wide receivers to improve his own game. He watched more film than anyone in our meeting room. He realized after his first two years that to be a great wide receiver he had to study and learn, and he did. If he wants to be in an NFL front office, he will be fantastic because he knows what great players look and act like."
Regarding coaching, White said he enjoys his current job working with wide receivers and tight ends at the high school level. After already ruling out coaching in the NFL, White doesn't see himself moving up to the college level anytime soon -- even if his alma mater, UAB, came calling.
"Not right now," White said. "My youngest kid is 5 years old. In order for me to think about it, my kids all would have to be going to college before I would pursue a career doing that. The time and commitment that you have to put in as a coach is so hard. I can't dedicate that much time. And then recruiting? You've got to go on the road and recruit? Nah, I'm not doing that right now."
White hopes to have his No. 84 jersey retired with the Falcons, and Blank didn't rule out that possibility.
June, 13, 2017
Jun 13
7:00
AM ET
ENGLEWOOD, Colo. -- The Denver Broncos open their mandatory minicamp Tuesday, and that three-day affair will formally close their offseason program.
When Thursday rolls around there will be the requisite missives tossed around about the "good work" that got done or how "we got better." That indeed happened in many ways, but the Broncos will still adjourn with questions to answer.
That makes the next three days the last look -- until July -- at some front-burner items like:
Where do things really stand at quarterback? Broncos coaches have kept a keen eye on what Trevor Siemian and Paxton Lynch have done since players returned to work in April, but the real on-field competition for the job will begin in training camp.
Though few inside the team's complex would publicly acknowledge it, Siemian is still ahead. He sees the field better, especially between the numbers, throws on time more consistently and does better work in between the big splash plays folks seem to notice more.
That said, Lynch's arm and athleticism are intriguing to the team's decision-makers and he carries that first-round selection with him. Around the league some competing personnel evaluators wonder if Broncos' executive vice president of football operations/general manager John Elway, as well as the Broncos coaching staff, would want to jam Lynch into the lineup to make that first-round selection bear fruit sooner.
However, the Broncos have Lynch potentially signed for five years, if they eventually pick up the fifth-year option, so there is no real hurry there, and Elway has vowed "I don't want to play him if he's not ready." Quarterbacks win jobs on trust, and all of the athleticism in the world cannot push a quarterback into the starting lineup if the people making the decisions don't believe that quarterback will make the right choices when it's a little more than a middle-of-the-week 7-on-7 drill.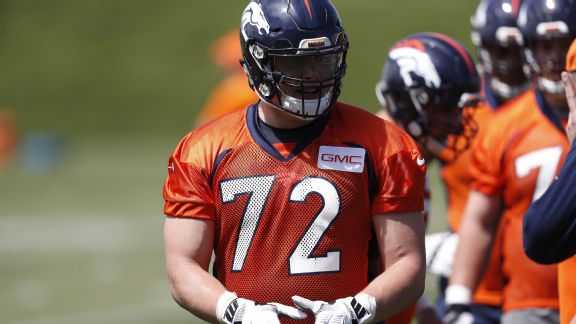 AP Photo/David ZalubowskiRookie Garett Bolles is starting to look like the favorite to win the starting left tackle job.
Will rookie Garett Bolles be the starting left tackle? The first-round pick is headed that way and his work in the coming days could even put him in position to open training camp with the starters.
The Broncos opened OTAs with Donald Stephenson at left tackle and then Ty Sambrailo moved in with the starters. In recent weeks the Broncos really like what Bolles has done -- he's has stood up for himself quite nicely against one of the league's best defenses -- and has shown the expected athleticism in pass protection.
Bolles has also shown the study habits, the wants-to-be-a-pro attitude coaches love to see. If he can show some consistency working out of a three-point stance in the run game, he could edge out Sambrailo for the starting job.
Will the Broncos defense stop the run? Look, they finished 28th last year, so there is almost nowhere to go but up there. That said, opposing offenses were able to essentially mute Von Miller down the stretch last season -- Miller had no sacks in the final four games -- because those offenses could run the ball largely whenever they wished.
The proof will always be in what happens when the pads go on, but Broncos look far more physical up front -- Domata Peko and Zach Kerr were quality additions. That should enable their linebackers, especially Brandon Marshall, to have a little clearer path to the ball-carriers.
Beyond Bolles, what other rookies figure to have impact? It's tough to fool your teammates if you're a rookie, especially in a locker room like the Broncos' that includes plenty of Alpha players. They're going to know who has put in the time and who hasn't, and patience will be hard to find for those who are more interested in telling people they're in the NFL rather than staying there.
To that end, second-round pick DeMarcus Walker has come in and quietly gotten down to work. He figures to be in the rotation, especially in some pass-rush situations.
Carlos Henderson and Isaiah McKenzie could well be the team's kickoff and punt returner respectively, while running back De'Angelo Henderson (a sixth-round pick) could have a more difficult time getting opportunities given a crowded depth chart but gives the team real speed and short-area quickness.
Unless there is unexpected progress over the next month or so, Jake Butt and Chad Kelly will open training camp on the physically unable to perform (PUP) list, given both are still recovering from knee surgeries. Kelly has a hand injury he's been getting treatment for as well.
Butt will move into the rotation at tight end as soon as he's healthy.
June, 7, 2017
Jun 7
7:01
AM ET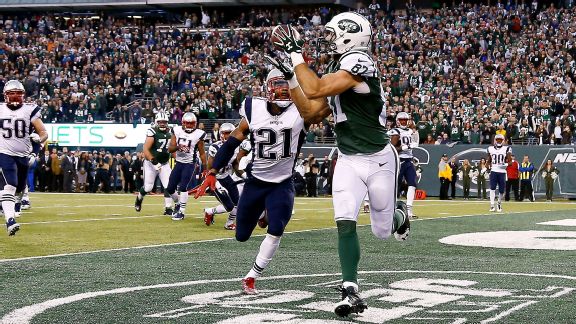 Jeff Zelevansky/Getty ImagesEric Decker, suddenly perhaps available, is the red-zone threat and model of consistency that Joe Flacco and the Ravens desperately need.
OWINGS MILLS, Md. -- The Ravens are waiting on whether free-agent wide receiver Jeremy Maclin will sign with the Buffalo Bills or make his visit to Baltimore on Wednesday.
As strange as this might have sounded a few days ago, does it even matter?
Another receiver unexpectedly became available Tuesday, when the New York Jets confirmed Eric Decker will be released in the coming days if he can't be traded. Decker is the red-zone threat and model of consistency that quarterback Joe Flacco and the Ravens' passing attack desperately needs. He lives up to the label of "complementary receiver," which is the type of wide receiver that general manager Ozzie Newsome has wanted since the end of last season.
Decker's ability to reach the end zone is a big selling point for the league's No. 21 scoring offense. Only four players -- Dez Bryant, Brandon Marshall, Antonio Brown and Demaryius Thomas -- have totaled more than Decker's 43 touchdown catches since 2012.
He's one of the most consistent receivers in the NFL, which would be huge for a Ravens offense that has only one player (Mike Wallace) who's ever produced a 1,000-yard receiving season. In 18 of his last 19 games, Decker has either caught passes for more than 80 yards or scored a touchdown.
Decker doesn't have the same speed as Maclin. He's not as good of a route runner and won't get as much separation. But the Ravens have enough players to stretch the field with Wallace and Breshad Perriman.
What Decker does best plays off the skill set of Wallace and Perriman. He's a big-bodied target (6-foot-3, 214 pounds) for Flacco who isn't afraid to go over the middle. He repeatedly fights his way off press coverage. He eats up defenses on slant routes. And he plays like a power forward inside the 20-yard line.
When Flacco needs to convert that critical third down or get the ball in the end zone in the fourth quarter, you can envision Decker stepping up and battling for that contested catch.
There could be some hesitation on the Ravens' part because of Decker's injuries. He was limited to a career-low three games last season because he underwent hip and shoulder surgeries. Decker has been participating in the Jets' offseason practices and has been medically cleared. Still, with what has happened to Perriman and tight end Dennis Pitta, no one would criticize the Ravens for being concerned about investing in a player coming off those injuries.
Decker's difficult 2016 season could benefit the Ravens. Baltimore, which has limited salary-cap room, might be able to sign Decker to an affordable, prove-it deal. Even if the Ravens trade for Decker (which shouldn't involve anything higher than a sixth-round pick), the team will want to reduce his $7.25 million salary in 2017.
Like Maclin, Decker is still in the prime of his career at age 30. Like Maclin, Decker has familiarity with offensive coordinator Marty Mornhinweg, who was the Jets' play-caller in Decker's first season in New York.
Still, Decker and Maclin are two different receivers who can impact Baltimore's work-in-progress offense in different ways. The key for the Ravens is finding a way to acquire one of them.
Baltimore also could trade for another wide receiver or sign veteran Anquan Boldin at the start of training camp. That's a good fallback plan.
To get a difference-maker in the passing attack, the Ravens' last chance to do so is by adding Decker or Maclin this week.
June, 6, 2017
Jun 6
10:20
AM ET
The Philadelphia Eagles have expressed some level of interest in free-agent wide receiver Jeremy Maclin, according to ESPN's Adam Schefter.
Maclin, who spent the first five years of his career in Philadelphia, was released by the Kansas City Chiefs over the weekend in a cost-cutting move that will save the Chiefs $10 million in salary-cap space. He is to visit with the Buffalo Bills on Tuesday and the Baltimore Ravens on Wednesday, per Schefter. The Cleveland Browns have also shown interest.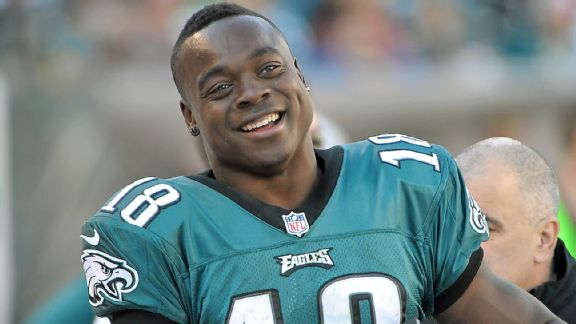 Eric Hartline/USA TODAY SportsJeremy Maclin, drafted in 2009 by the Eagles, caught 343 passes (36 for touchdowns) with Philadelphia.
The Eagles lost out on Maclin in a bidding war with Kansas City back in 2015, as the Chiefs signed him to a five-year, $55 million deal. Maclin posted 87 catches for 1,088 yards and eight touchdowns his first year with the Chiefs. The former 19th pick out of Missouri was slowed by injuries last season, though, and finished with 536 yards and two touchdowns in 12 games.
He has fans in the NovaCare building, for sure. From owner Jeffrey Lurie to executive vice president of football operations Howie Roseman to his former teammates, this organization is well aware of the gifts that he possesses as a player and the professionalism that he lends to a locker room. Head coach Doug Pederson was an assistant in Philadelphia during Maclin's first five years in the league and served as his offensive coordinator for two seasons in Kansas City. Unlike most free-agent situations, there would be virtually zero learning curve when it comes to adapting to the system and culture.
There are other factors to consider, however, including money. The Eagles are one of the most cap-strapped teams in the league with about $5 million in space, according to the NFL Players Association. Though the timing of Maclin's release (post-free agency and draft when team's load up on positions of need) could keep the number down, it's reasonable to think he will still net a decent deal.
It could be difficult to justify investing any sizable dollars in Maclin after signing Alshon Jeffery and Torrey Smith in free agency and drafting North Carolina's Mack Hollins and West Virginia's Shelton Gibson in the fourth and fifth rounds, respectively. With a projected starting corps of Jeffery, Smith and Jordan Matthews, the Eagles appear to be in decent shape.
If the market proves soft and the offers are low, a return to Philly could gain traction. But with other suitors lined up, the Eagles will be competing with teams who have a greater need and more money at their disposal.
June, 6, 2017
Jun 6
8:36
AM ET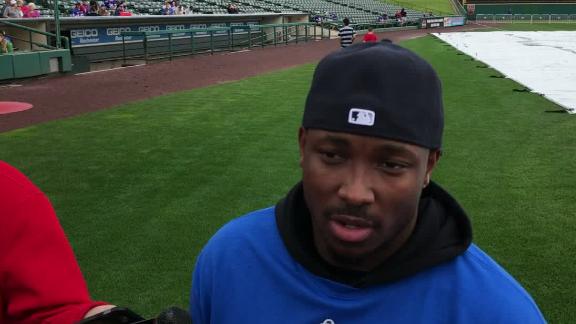 OWINGS MILLS, Md. -- The Baltimore Ravens will have to wait before getting their shot at meeting with recently released wide receiver Jeremy Maclin.
The Ravens are looking to schedule a visit with Maclin for Wednesday, a day after the former Pro Bowl receiver sits down with the Buffalo Bills, according to ESPN's Adam Schefter.
Some believe Maclin won't leave Buffalo on Tuesday without a contract. Bills running back LeSean McCoy, who was Maclin's teammate with the Eagles, has been recruiting Maclin to sign with Buffalo. New Bills quarterbacks coach David Culley was Maclin's position coach in Kansas City for the past four seasons.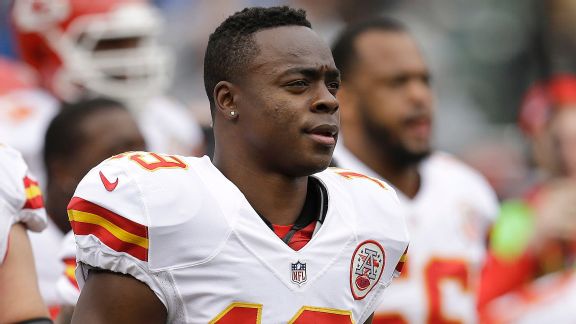 AP Photo/Ben MargotReceiver Jeremy Maclin has 474 catches since 2009, which ranks 16th among active receivers over that span.
If Maclin gets to Baltimore, the Ravens have a history of not letting highly sought-after wide receivers go elsewhere. Just ask Steve Smith Sr. and Mike Wallace. The Ravens reached agreements with both before they could leave the team facility for another free-agent visit.
Baltimore would represent a good fit for Maclin because the Ravens need to find another proven target for quarterback Joe Flacco. The Ravens didn't sign a wide receiver or draft one after Smith Sr. retired and Kamar Aiken signed with the Indianapolis Colts in free agency. After tight end Dennis Pitta re-injured his hip Friday, Baltimore returns only one player from last season (Wallace) who caught more than 34 passes last season.
Maclin, 29, has 474 catches since 2009, which ranks 16th among active receivers over that span. He also totaled 6,395 yards receiving and 46 touchdowns.
The Ravens can offer Maclin a chance to be a prime target in the offense, an opportunity to catch passes from a strong-armed quarterback (after two seasons with Alex Smith) and a reunion with Marty Mornhinweg, who was the offensive coordinator for Maclin's first four NFL seasons.
Baltimore has made only two free-agent signings -- running back Danny Woodhead and backup quarterback Ryan Mallett -- to an offense that ranked No. 21 in the NFL in scoring last season (21.4 points per game).
June, 2, 2017
Jun 2
7:00
AM ET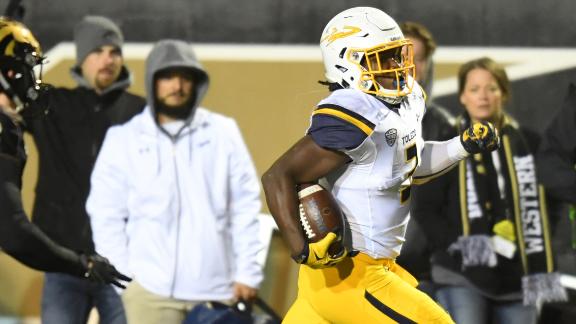 KANSAS CITY, Mo. -- The Kansas City Chiefs will have to wait until training camp, when they can practice in pads, to get a better read on rookie running back Kareem Hunt.
But the Chiefs have seen enough from their third-round draft pick through two weeks of offseason practice to think he'll be able to help when the regular season begins.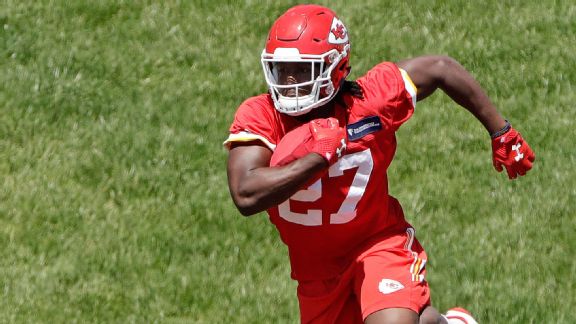 AP Photo/Charlie RiedelChiefs running back Kareem Hunt rushed for 44 touchdowns in his four seasons at Toledo.
"You probably need to see him get banged around a little bit and answer the bell again and again and again," said coach Andy Reid, referring to the treatment Hunt and all running backs will get at camp. "But I'd tell you the center of gravity, the way he moves, those guys that can kind of shift that big body around the way he does, you think he's going to be OK. He catches the ball well and he's a pretty smart kid. We're throwing a ton at him."
The running game needs a boost after last season, when the Chiefs averaged 4.2 yards per carry. That's their lowest average by almost a half-yard since 2011.
Hunt is a logical option for that growth to occur. Hunt rushed for 44 touchdowns and an impressive 6.3 yards per carry in his four collegiate seasons at Toledo.
Spencer Ware, the Chiefs' leading runner last season, and Charcandrick West, their leader in 2015, are the top two backs on the depth chart. But Hunt is getting plenty of work in practice.
"It'll be exciting to see what he does," tackle Mitchell Schwartz said. "With running backs, you can see the speed and the quickness [at offseason practice], but the ability to run through the tackles and all of that stuff will come at training camp.
"There are some things [to be seen from Hunt] out here. It looks like he's going to fall down, but he has great balance and he stays up. I'm just excited to see what happens when the pads go on and things get a little more real."
Because hitting is prohibited at offseason practice, the sessions are more about the passing game. The Chiefs haven't been shy about putting Hunt in a variety of places and throwing him the ball.
He's responded to that part well. The Chiefs will have to wait until training camp to see if he can handle pass-protection responsibilities.
Hunt grew as a receiver last season. He caught 32 passes in his first three seasons at Toledo, and then 41 as a senior.
"I talked to my coaches at Toledo and [told them], 'I feel like I need to get more involved in the receiving game, and I feel like I can get open to make people miss in space,'" Hunt said. "I like [getting] the ball in [the open field]. I'm seeing running backs catching the ball a lot out of the backfield. I was like, 'Why can't we get some of that stuff at Toledo?' Our coach did a great job of installing more things out of the backfield for the running backs, and it helped me out a lot."
May, 25, 2017
May 25
8:20
AM ET
ASHBURN, Va. -- He made plays early in the workouts last spring, whetting the appetite of the Washington Redskins' coaches. Then Josh Doctson started having issues with his Achilles, couldn't practice and was never the same during his rookie season.
He's noticeable once again. In the Redskins' second organized team activity session, Doctson showed how he might be able to help the offense during the season. All offseason, teammates and coaches have singled him out. Nobody doubted his ability last year -- he was the 22nd pick in the 2016 draft after all. But the Achilles' problems limited him to two games. He's now healthy.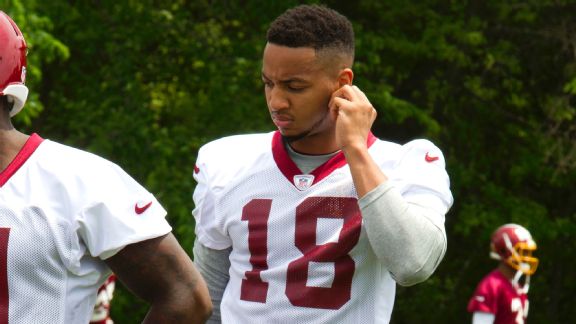 Jose Luis Magana/AP PhotoRedskins receiver Josh Doctson, who had Achilles trouble last season, started running full speed in March.
"He's been impressive," Redskins coach Jay Gruden said. "The big thing for him is the confidence in his Achilles, and I think he's got that right now. The past two days he's looked better and better. It looks like he can run down the field. He made a good catch down the sideline today and [he has] strong hands, we know that about him."
The problem last season was that Doctson twice returned after a layoff only to have the issue resurface. That's why, for now, there's some finger-crossing going on at Redskins Park.
"Now we've just got to continue to put one day after another after another," Gruden said. "If he does have soreness, we have got to taper off for him, but right now, so far, so good. I like the way he looks, like the way he runs and love the way he catches."
In practice, as Gruden said, Doctson beat reserve cornerback Dashaun Phillips down the sideline for an open grab. Later, he ran a strong comeback route against cornerback Josh Norman. However, there was one time Doctson struggled to get off the line when Quinton Dunbar jammed him. That could bear watching as it was an area scouts and analysts wondered about him coming out of college. It's not as if he's had a lot of work in this area since leaving college.
"I feel I was the most anxious one out here," Doctson said. "I was ready to have someone guard me besides the strength coach. I have to get all the rust knocked off. ... and seeing a body in front of me."
But it was clear that, with space, the 6-foot-2 Doctson was effective. On one underneath route, he showed that he could turn upfield quick after the catch.
It's not as though Doctson was the only impressive receiver -- second-year Maurice Harris caught one long ball against Norman during 7-on-7 work. And third-year Jamison Crowder continued to stand out; he's slithery and difficult to handle after the catch. He applies pressure on cornerbacks because of his ability to catch and turn so quick. Terrelle Pryor's size stood out -- he can be a deep threat because he's fast and big. Wednesday, Norman nearly intercepted one deep ball to Pryor and Kendall Fuller broke up another.
But Doctson remains a key because he's more of an unknown, and because of the mental scars that remain from his Achilles. There was never an official diagnosis of what was wrong; but rest was the main prescription. First it was his left Achilles, injured one year ago in OTAs. Then, as the season approached, his right one started bothering him -- that's when they decided to shut him down.
Doctson said he did underwater exercises, worked with resistance bands and even saw a chiropractor to realign his body, especially his hips, in case that was causing stress on his legs that led to the Achilles' issue. His goal was to return healthy for OTAs. Mission accomplished.
Doctson started running full speed in March, and at the end of the month tweeted that he was 100 percent.
"I'm full speed, but maintaining at the same time so I don't do too much," he said, "make sure in training camp I'm ready to go."
That's what the Redskins want, too. They did not plan to draft a receiver in the first round last year -- unless Doctson fell to them. He was the only wideout they would have considered when they drafted; they had him ranked as a top-10 player entering the draft. Instead of making plays, though, he had to sit and watch and learn from DeSean Jackson and Pierre Garcon; he marveled at the latter's route running.
But with those two gone and Doctson healthy, it's time for him to do more than watch.
"I'm ready to show my teammates and coaches that I am worth that draft pick," he said. "It sucked not to be out there."
May, 24, 2017
May 24
1:41
PM ET
Isaiah J. Downing/USA TODAY SportsT.J. Ward has been quite productive through three seasons in Denver, racking up 181 tackles, five sacks, three interceptions and two Pro Bowl nods.
Entering the final year of his contract, Denver Broncos safety T.J. Ward appears to be seeking an extension to remain a member of the team's "No Fly Zone" secondary.
Troy Renck of Denver's Channel 7 reports Ward's representatives and the Broncos have had "preliminary talks" toward a new deal and that the safety hopes to get something done before the regular season starts. "I would love to finish my career here," Ward said.
It's unclear how likely an agreement would be in the near future, as the Broncos inked safety Darian Stewart to a four-year, $28 million extension last November and have three cornerbacks whose contracts will count $30.9 million combined against the cap in 2018. Denver also drafted safeties Justin Simmons (third round) and Will Parks (sixth round) in 2016, each of whom played more than 250 snaps as a rookie.
Stewart's deal fit the mold of Denver's recent late-season extensions under GM John Elway, who locked up Chris Harris Jr. in December 2014 and Derek Wolfe in January 2016 on below-market deals as each was approaching free agency. Perhaps the Broncos will take the same approach with Ward, which would allow them to gauge his effectiveness as he nears his 31st birthday in December.
Ward has been very productive in Denver, earning two Pro Bowl nods since signing a four-year, $22.5 million deal in March of 2014, part of a free-agent haul that included Aqib Talib, DeMarcus Ware and Emmanuel Sanders. Talib's deal still has three years remaining, but Ware played his deal out before retiring this offseason. Sanders earned an extension last September as he entered his own contract year.
Whether or not Ward sticks around remains to be seen, but it's clear that he hopes to return.
"I want to be here," Ward told Renck. "We will see what happens."
--David DeChant
May, 23, 2017
May 23
12:05
PM ET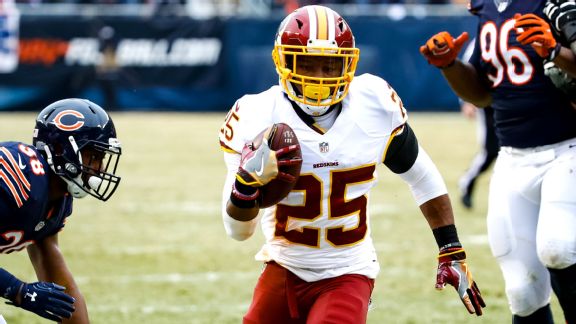 Joe Robbins/Getty Images"There's nobody who's better as a third-down back" than Chris Thompson, Redskins coach Jay Gruden said.
ARLINGTON, Va. -- When the Washington Redskins drafted Samaje Perine, running back Chris Thompson knew what it meant for him. Not much. Thompson's role in the Redskins' offense is secure and, in fact, might increase. That's the feeling he's received early in the offseason.
As the Redskins begin organized team activities, Thompson is the one running back who knows his role. Incumbent starter Rob Kelley will battle Perine, the rookie fourth-round pick from Oklahoma, for the starting job. Regardless of who wins that competition -- and they could well split time -- Thompson will remain the third-down back. And, perhaps, then some.
"I have a feeling I might get a little more this year," said Thompson, who is playing on a one-year contract. "I just see how the workouts and everything are going, when we're working together as a group. I've gotten somewhat of a feeling just through that."
That doesn't mean he'll become Washington's lead running back. Thompson, at 5-foot-8, 195 pounds, has had durability issues in the past, and the Redskins don't want to wear him out. But they also know he'll produce. The quandary remains how to keep him fresh and productive.
That's not to say there's no room for more touches. Thompson's 117 touches from scrimmage last season ranked 47th in the NFL. That's an average of 7.3 per game. According to ESPN Stats & Information, he averaged 6.03 yards every time he touched the ball (5.24 on the ground; 7.12 through the air). His combined yardage total of 705 ranked 37th, but only one back ahead of him -- New England's James White -- had fewer touches.
"Chris' role is big," Redskins coach Jay Gruden said. "There's nobody who's better as a third-down back than Chris. He has a huge role on our team. Whether he does more on first or second down will be determined. I'm sure he will. He's so valuable on third down, I have to keep him in that role for now."
Thompson has improved each of the last two seasons. Not coincidentally, he's been healthy each of the last two years. After missing 12 games his first season (followed by a year spent mostly on the practice squad), Thompson has missed only three games in the last two seasons. It makes a difference in the offseason as well, allowing him to work on his game rather than rehab.
"It helps me focus on little things I needed to work on, like my quickness, my route-running," Thompson said, "I know my route-running is big for me to make it in this league. I worked on that a lot. That was my biggest focus now that I didn't have to worry about healing. That was my main goal this whole offseason."
If his route-running improves, it makes Thompson that much tougher to defend, which, of course, boosts the offense. After his first two years -- and after an injury-filled past in college -- he wondered if he'd ever reach this spot. He was hurt his last two years at Florida State and as a rookie.
"At that point you would think someone would get rid of you and try to move on," Thompson said. "But they stuck with me and believed in me. I worked my butt off to get to where I am now. I figured out things along the way to keep myself healthy. It's been working out. For me, it's up from here."
May, 22, 2017
May 22
6:00
AM ET
When Darrelle Revis became a free agent in 2014 and 2015, he was in such demand that it took him only a few hours to sign with his next team -- yes, hours. Clearly, the third time isn't the charm. The hours have turned into months.
Revis, released by the New York Jets on March 9, still hasn't found a team. Think about that: The most accomplished cornerback of the past decade, a likely Hall of Famer, has been unemployed for 74 days. He's not coming off a major injury and he's not ancient, even by NFL standards -- two months shy of his 32nd birthday.
Yet he hasn't generated any legitimate interest on the open market. It's almost as if Revis Island has become Three Mile Island -- radioactive.
What gives?
ESPN.com contacted officials from four different teams -- a head coach, a team executive, a personnel director and a scout -- and the consensus is there's no market for Revis because of a significant decline last season and whispers about his commitment.
At the same time, those same four believe there's a place for Revis in the league if he agrees to a relatively modest contract and convinces team brass he still has the passion to play. They also said he'd have to find a scheme fit. No longer a shutdown, man-to-man corner, he might be best suited to a zone-based system.
"He has lost a step with his age and some change-of-direction [ability] with his knee [surgery in 2012]," said the head coach, speaking on the condition of anonymity. "I still believe he can do an adequate job at corner. I'm not sure if he has the range for free safety. He used to be a physical tackler, but with age that's gotten worse, so playing strong safety is out of the question. Let him play corner with some protection and he'll do fine."
Revis hasn't spoken publicly since March 15, when he addressed reporters outside a Pittsburgh courtroom after being exonerated on felony assault charges stemming from a February street fight. He reiterated his desire to keep playing, saying, "The hunger is definitely there." He vowed to rededicate himself, saying he expected teams to start calling.
Two months later ... crickets.
"I think he can still play -- not an elite player, but at a good level," the team executive said. "I'm a little surprised he hasn't signed yet."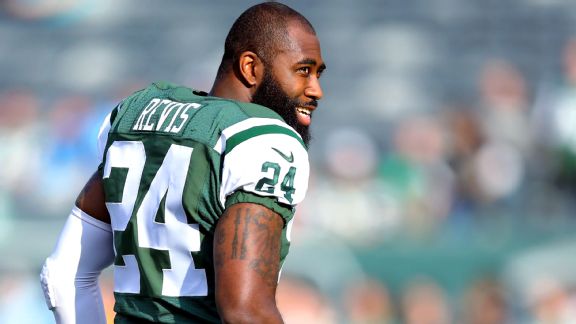 Brad Penner/USA TODAY SportsIt appears there's little market for Darrelle Revis because of his significant decline last season and questions about his desire.
Prospective employers no longer have to worry about potential league discipline relating to the Pittsburgh incident. The NFL, which continued to review the matter even after the charges were dismissed, has cleared Revis, according to a league spokesman.
Revis is in an unusual situation because he gets paid $6 million from the Jets even if he sits out the season, the final guarantee in the five-year, $70 million contract he signed in 2015. If a team offers him the $1 million minimum, the Jets are on the hook for the remaining $5 million. Basically, he'd be playing for free. That might be a tough swallow for someone who has made $118 million in his 10-year career, according to Spotrac.com.
His new agent, Zach Hiller, didn't return messages seeking comment on his client's future. Revis hired Hiller after a bitter divorce last spring from his longtime agents, Neil Schwartz and Jonathan Feinsod. Hiller, a certified agent since 2014, hasn't negotiated any player contracts, according to the NFLPA website.
One former teammate said he wouldn't be stunned if Revis decides to retire.
"No, I wouldn't be surprised," Jets tackle Ben Ijalana said last week. "He has played at a high level and he's done everything, including a championship. [He has] all the accolades -- all-this, all-that, all-world. If he retires, I'd respect that decision. If he still wants to play, I'm watching him."
Linebacker David Harris, drafted the same year as Revis (2007), believes his ex-mate has too much pride to leave the game after a bitterly disappointing year.
"I think he'll keep playing," Harris said. "I think he has a lot of football left in him. He didn't have his best year last year, and he knew that. I'm sure somebody will pick him up. He knows too much about the sport and he's too good a player to be finished."
It was a humbling season for the seven-time Pro Bowl selection, who didn't record his first interception until the 55th minute of the 16th game. Privately, the Jets were taken aback by his decline and how, at times, he appeared disinterested. Revis himself admitted he showed up for training camp out of shape.
On March 1, he was informed of his pending release -- hardly a surprise. What does it say that the Jets were willing to pay him up to $6 million not to play for them?
"His tape is so bad that it's probably scaring a lot of teams away," the scout said. "If he still thinks he's a starter -- and wants to be paid like a starter -- that will be an issue."
Based on the cornerback market, it's hard to imagine him landing a deal for more than $6 million. Even though his resume is far superior to that of any free agent, it's a cutthroat business with no room for sentimentality. No one will pay him for what he did in 2014, when he won a Super Bowl with the New England Patriots. It's possible he won't sign until August, waiting for injuries across the league to take their toll. He also can use the extra time to work out.
Since his junior year at Pitt, Revis has trained at the Fischer Institute in Phoenix, working under defensive backs guru Will Sullivan. Like clockwork, he showed up there every offseason to prepare for training camp.
Sullivan said he hasn't heard from Revis since last season -- Week 3, to be exact.
"I don't know why," Sullivan said in a phone interview. "We never had a problem."
Sullivan said he wouldn't be surprised if Revis, his oldest client, called in a couple of weeks to set up a visit.
That might be wishful thinking. Truth be told, very few people know what's happening in Revis' mind. He keeps a small circle of confidantes, mostly family members. Since the incident in Pittsburgh, he has maintained a low profile.
"I hope he plays," Ijalana said. "I always want to see guys end on good notes. But, more importantly, I want to see a guy end on his own terms."
April, 28, 2017
Apr 28
9:00
AM ET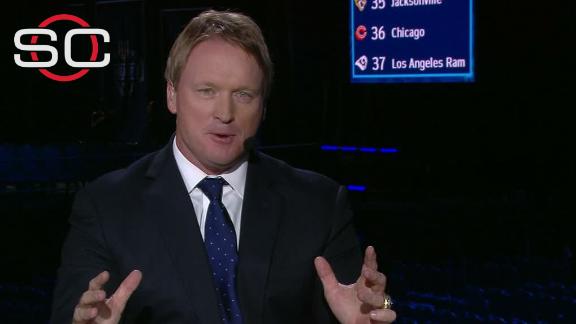 FLORHAM PARK, N.J. -- If they play it right, the New York Jets could make a killing on Day 2.
This is a particularly deep draft, as the second and third rounds are loaded with talented players. The Jets have three picks -- one in the second (39 overall) and two in the third (70 and 107).
This is where the smart teams separate themselves from the pack. Historically, the Jets haven't been too smart. They haven't nailed a second-round pick since 2007 (David Harris), and their last second-rounder to make the Pro Bowl on offense or defense was Mark Gastineau (the 1979 draft).
Talk about a prolonged slump. Maybe they should trade out of the second and accumulate extra picks for the third.
Kidding.
The top remaining players who could be on the Jets' radar:
Dalvin Cook, RB, Florida State: He was a prolific runner in college (1,765 yards, 19 touchdowns last season), but he slipped because of durability and character issues. The Jets need playmakers on offense, and they should take a hard look at Cook.
Kevin King, CB, Washington: He's a 6-foot-3, 200-pounder who blew up the scouting combine by running the 40 in 4.43 seconds and impressing in the agility tests. The Jets brought him in for a pre-draft visit, so there's some level of interest. Cornerback is a need.
Quincy Wilson, CB, Florida: Coach Todd Bowles likes rangy corners to play his press-man scheme, and Wilson fits the bill at 6-foot-2, 211 pounds. He tested poorly, hurting his stock, but he was a playmaker for the Gators.
Adam Shaheen, TE, Ashland: General manager Mike Maccagnan usually avoids small-school players, but Shaheen is worth a look. He's a 6-foot-6, 278-pound former basketball player who dominated the Division II level. You might have heard, tight end is a massive need.
Jordan Willis, DE/OLB, Kansas State: At 6-foot-4, 255 pounds, Willis projects as an outside linebacker in the Jets' 3-4 base. He finished his career with 26.5 sacks and he improved his stock at the combine.
April, 26, 2017
Apr 26
7:00
AM ET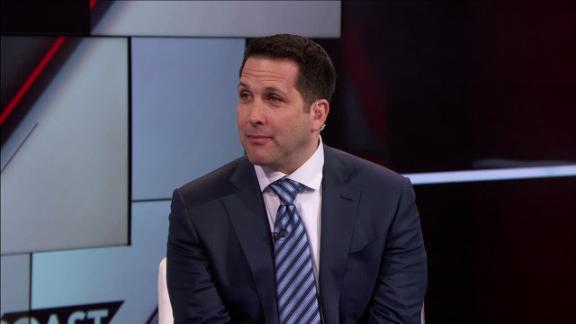 SANTA CLARA, Calif. -- The 2017 NFL draft is to begin April 27 in Philadelphia. The San Francisco 49ers own 10 picks in this year's draft, including No. 2 overall.
With a new regime in coach Kyle Shanahan and general manager John Lynch in place, it's hard to know what direction the 49ers will go with their picks. But they have plenty of needs as they go about reconstructing their roster.
Here's a look at what the 49ers need at quarterback:
In place: Brian Hoyer, Matt Barkley.
Potential fits: Clemson's Deshaun Watson, North Carolina's Mitchell Trubisky, Notre Dame's DeShone Kizer, Texas Tech's Patrick Mahomes, California's Davis Webb, Miami's Brad Kaaya, Pittsburgh's Nathan Peterman, Tennessee's Joshua Dobbs, Virginia Tech's Jerod Evans, Mississippi's Chad Kelly, Iowa's C.J. Beathard, Baylor's Seth Russell.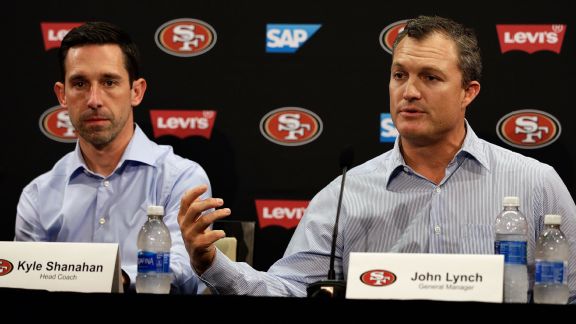 AP Photo/Ben MargotTheir six-year contracts might make 49ers GM John Lynch, right, and head coach Kyle Shanahan more willing to wait to find the right fit at quarterback.
What's needed: For anyone paying attention, there's no greater need here than a franchise quarterback. For a brief period of time, the 49ers thought they finally had that guy in Colin Kaepernick but without a dominant supporting cast, Kaepernick regressed and is now a free agent. The 49ers signed veterans Hoyer and Barkley in free agency. Shanahan feels comfortable with Hoyer as his starter heading into the 2017 season, but Shanahan and Lynch have never minced words about the importance of finding a quarterback who can handle the position for the long haul. They're well aware that player isn't on the roster.
"We're really happy with what we have right now but yet, I have been very upfront with you guys and everyone, Kyle and I, when you start talking about priorities, this is a quarterback-driven league," Lynch said. "I knew that when I played. I learned it even more as a broadcaster, because I don't think I could ever admit it as a player, because I didn't want to give those guys that much credit. I had to play against them. But as I stepped in that broadcast booth, you talk about commonalities between the teams who have had sustained success, they've got that guy minus a few anomalies. Some of the teams I played on in Tampa that were defensive-driven.
"But that's a common thread. As long as Kyle and I are here, we're going to be searching for one of those guys."
So the question isn't really if the 49ers will be adding another quarterback and investing in the guy they believe can be the future, but when? Though Shanahan and Lynch have consistently discussed the need to find a quarterback, they've also said patience can be a virtue in these situations. With bigger and better possibilities on the horizon in 2018 -- both in the draft and free agency -- Shanahan and Lynch might be willing to wait to find the right fit. Armed with six-year contracts, it's feasible for the 49ers regime to be a little patient -- especially knowing that picking the wrong guy can set them back even further.
Verdict: Chances are, the 49ers will have their choice of any quarterback they want with the second overall pick. The Cleveland Browns are expected to take Texas A&M pass-rusher Myles Garrett, and even if they throw a curveball and take a quarterback like Trubisky, the 49ers would be in a prime position to take Garrett, auction the pick in a trade or take another quarterback. Still, it's hard to shake the idea that a Shanahan reunion with Washington quarterback Kirk Cousins is coming at some point. Even if it's not this year, the 49ers can wait and potentially pounce on him as a free agent next year. And if that doesn't pan out, they could find someone else in the draft or pursue someone like New England's Jimmy Garoppolo. All of those options seem to point to the idea that the 49ers won't be using the second overall pick on a quarterback. We can't rule it out entirely given the amount of work they've put in on this class, but there seems to be a more likely plan of attack for the position.
That plan? Waiting until the middle rounds (or potentially even moving back into the end of the first round if someone they love falls) to get a developmental prospect that Shanahan can get in the system and begin building without having to play right away. Someone like Kizer would be an intriguing fit in Round 2, and players like Peterman, Dobbs and Evans would be interesting possibilities in Rounds 3 or 4. That way, Shanahan would have a young player with the skill set he wants to work with while also keeping an eye toward the future.
April, 24, 2017
Apr 24
4:40
PM ET
The Buffalo Bills' decision Monday not to match the New England Patriots' two-year, $6.4 million offer sheet to restricted free-agent running back Mike Gillislee strengthens Buffalo's long-dominant division rival while stripping the Bills of one of the league's most efficient running backs last season.
While the Bills lose one of their promising young players to New England, there are benefits for Buffalo in this week's draft and in their financial outlook moving forward.
As a result of losing Gillislee, who was tendered at an original-round level, Buffalo receives the higher of New England's three fifth-round picks, No. 163 overall. The Bills now have seven selections in this week's draft. They have three fifth-round picks, but they sent their original fourth-round pick to the Chicago Bears during the 2016 draft to trade up for linebacker Reggie Ragland.
The Bills also gain $1.8 million in 2017 salary-cap space, which is money they can roll over into 2018 and combine with the approximately $2 million in 2018 cap space they will save by not matching Gillislee's deal. That will give the Bills, who now have about $13 million in 2017 cap space, some extra wiggle room as they decide which players to sign and retain next offseason.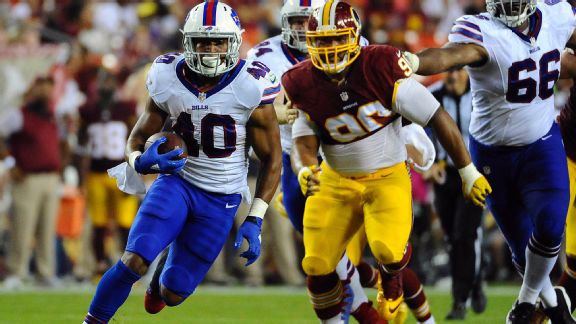 Brad Mills/USA Today SportsThe departure of Mike Gillislee likely means an increased role for second-year back Jonathan Williams, above.
This season, the Bills have several directions in which they can attempt to replace Gillislee's 2016 production (577 yards and eight touchdowns on 101 carries).
The most likely replacement for Gillislee as the Bills' No. 2 running back is Jonathan Williams, a fifth-round pick in 2016. Williams was active for 11 games as a rookie last season, rushing 27 times for 94 yards and one touchdown. A 5-foot-11, 223-pound product of Arkansas, Williams could provide a short-yardage replacement for LeSean McCoy. The question is whether Williams, with a heavier load of carries, can rival Gillislee's efficiency last season -- a league-best 5.7 yards per carry.
But before potential fantasy owners bump up Williams' potential draft value this fall, consider the possibility that fullback Mike Tolbert could poach some short-yardage and goal-line carries. When signing Tolbert last month, the Bills emphasized Tolbert would be used as more than just a lead-blocking fullback, indicating that Tolbert could take some carries away from the more traditional running backs on Buffalo's depth chart.
Another possibility for the Bills to address the loss of Gillislee is to use a mid-round draft pick this week on a running back. This draft is considered deep among running backs, with 12 players at the position listed among Scouts Inc.'s ranking of the top 150 prospects. While Buffalo remains unlikely to select a running back with the No. 10 overall pick, there are mid-round options such as Samaje Perine, D'Onta Foreman and Kareem Hunt who could be considered in the third round, or if the Bills reacquire a fourth-round draft choice.
April, 24, 2017
Apr 24
7:01
AM ET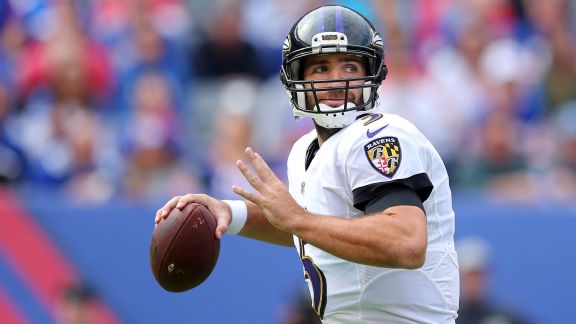 Brad Penner/USA TODAY SportsJoe Flacco said he won't "push one way or another" regarding the Ravens' draft plans.
OWINGS MILLS, Md. -- It was 11 years ago when linebacker Ray Lewis campaigned for the Baltimore Ravens to draft a defensive tackle and the team selected Haloti Ngata in the first round.
At the start of this year's offseason training program, quarterback Joe Flacco indicated he wouldn't take the same approach. Flacco said he isn't going to lobby general manager Ozzie Newsome and other Ravens officials to address offense in this year's draft, even though no one would blame him if he did.
April, 22, 2017
Apr 22
3:15
PM ET
KANSAS CITY, Mo. -- The Kansas City Chiefs' need for defensive line help in the upcoming draft has increased after the release of veteran Jaye Howard.
Howard was a regular at defensive end for the Chiefs the past three years before his 2016 season was cut short halfway through because of a hip injury. Howard was rehabbing in Florida, where he had surgery, rather than in Kansas City, where the Chiefs on Monday started their offseason conditioning program.
Howard's release leaves the Chiefs thin on the defensive line. They lost nose tackle Dontari Poe as a free agent to the Atlanta Falcons, though they replaced him with Bennie Logan, a free agent from the Philadelphia Eagles.
The Chiefs also have Chris Jones, their second-round draft pick last season, Allen Bailey, whose 2016 season was cut short by a shoulder injury, and Rakeem Nunez-Roches.
Logan signed a one-year contract, so he could become a free agent next March.