April, 28, 2017
Apr 28
9:00
AM ET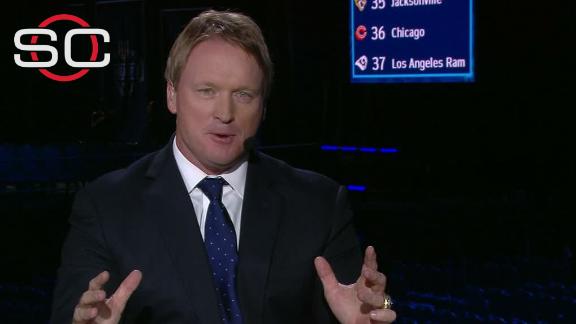 FLORHAM PARK, N.J. -- If they play it right, the New York Jets could make a killing on Day 2.
This is a particularly deep draft, as the second and third rounds are loaded with talented players. The Jets have three picks -- one in the second (39 overall) and two in the third (70 and 107).
This is where the smart teams separate themselves from the pack. Historically, the Jets haven't been too smart. They haven't nailed a second-round pick since 2007 (David Harris), and their last second-rounder to make the Pro Bowl on offense or defense was Mark Gastineau (the 1979 draft).
Talk about a prolonged slump. Maybe they should trade out of the second and accumulate extra picks for the third.
Kidding.
The top remaining players who could be on the Jets' radar:
Dalvin Cook, RB, Florida State: He was a prolific runner in college (1,765 yards, 19 touchdowns last season), but he slipped because of durability and character issues. The Jets need playmakers on offense, and they should take a hard look at Cook.
Kevin King, CB, Washington: He's a 6-foot-3, 200-pounder who blew up the scouting combine by running the 40 in 4.43 seconds and impressing in the agility tests. The Jets brought him in for a pre-draft visit, so there's some level of interest. Cornerback is a need.
Quincy Wilson, CB, Florida: Coach Todd Bowles likes rangy corners to play his press-man scheme, and Wilson fits the bill at 6-foot-2, 211 pounds. He tested poorly, hurting his stock, but he was a playmaker for the Gators.
Adam Shaheen, TE, Ashland: General manager Mike Maccagnan usually avoids small-school players, but Shaheen is worth a look. He's a 6-foot-6, 278-pound former basketball player who dominated the Division II level. You might have heard, tight end is a massive need.
Jordan Willis, DE/OLB, Kansas State: At 6-foot-4, 255 pounds, Willis projects as an outside linebacker in the Jets' 3-4 base. He finished his career with 26.5 sacks and he improved his stock at the combine.
April, 26, 2017
Apr 26
7:00
AM ET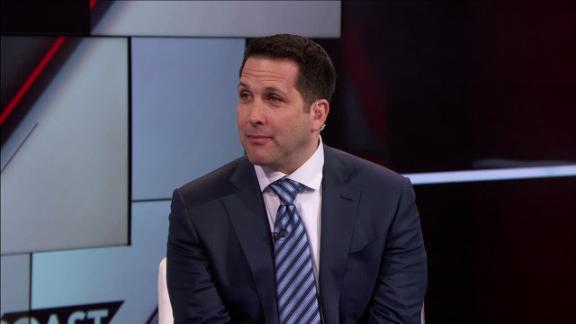 SANTA CLARA, Calif. -- The 2017 NFL draft is to begin April 27 in Philadelphia. The San Francisco 49ers own 10 picks in this year's draft, including No. 2 overall.
With a new regime in coach Kyle Shanahan and general manager John Lynch in place, it's hard to know what direction the 49ers will go with their picks. But they have plenty of needs as they go about reconstructing their roster.
Here's a look at what the 49ers need at quarterback:
In place: Brian Hoyer, Matt Barkley.
Potential fits: Clemson's Deshaun Watson, North Carolina's Mitchell Trubisky, Notre Dame's DeShone Kizer, Texas Tech's Patrick Mahomes, California's Davis Webb, Miami's Brad Kaaya, Pittsburgh's Nathan Peterman, Tennessee's Joshua Dobbs, Virginia Tech's Jerod Evans, Mississippi's Chad Kelly, Iowa's C.J. Beathard, Baylor's Seth Russell.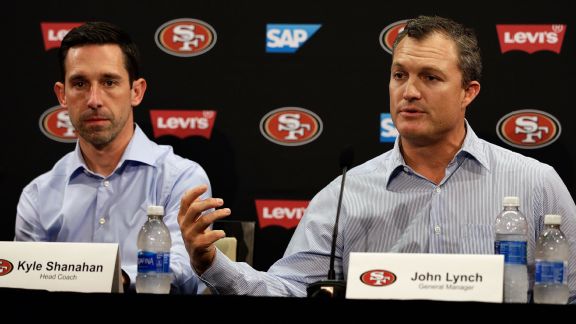 AP Photo/Ben MargotTheir six-year contracts might make 49ers GM John Lynch, right, and head coach Kyle Shanahan more willing to wait to find the right fit at quarterback.
What's needed: For anyone paying attention, there's no greater need here than a franchise quarterback. For a brief period of time, the 49ers thought they finally had that guy in Colin Kaepernick but without a dominant supporting cast, Kaepernick regressed and is now a free agent. The 49ers signed veterans Hoyer and Barkley in free agency. Shanahan feels comfortable with Hoyer as his starter heading into the 2017 season, but Shanahan and Lynch have never minced words about the importance of finding a quarterback who can handle the position for the long haul. They're well aware that player isn't on the roster.
"We're really happy with what we have right now but yet, I have been very upfront with you guys and everyone, Kyle and I, when you start talking about priorities, this is a quarterback-driven league," Lynch said. "I knew that when I played. I learned it even more as a broadcaster, because I don't think I could ever admit it as a player, because I didn't want to give those guys that much credit. I had to play against them. But as I stepped in that broadcast booth, you talk about commonalities between the teams who have had sustained success, they've got that guy minus a few anomalies. Some of the teams I played on in Tampa that were defensive-driven.
"But that's a common thread. As long as Kyle and I are here, we're going to be searching for one of those guys."
So the question isn't really if the 49ers will be adding another quarterback and investing in the guy they believe can be the future, but when? Though Shanahan and Lynch have consistently discussed the need to find a quarterback, they've also said patience can be a virtue in these situations. With bigger and better possibilities on the horizon in 2018 -- both in the draft and free agency -- Shanahan and Lynch might be willing to wait to find the right fit. Armed with six-year contracts, it's feasible for the 49ers regime to be a little patient -- especially knowing that picking the wrong guy can set them back even further.
Verdict: Chances are, the 49ers will have their choice of any quarterback they want with the second overall pick. The Cleveland Browns are expected to take Texas A&M pass-rusher Myles Garrett, and even if they throw a curveball and take a quarterback like Trubisky, the 49ers would be in a prime position to take Garrett, auction the pick in a trade or take another quarterback. Still, it's hard to shake the idea that a Shanahan reunion with Washington quarterback Kirk Cousins is coming at some point. Even if it's not this year, the 49ers can wait and potentially pounce on him as a free agent next year. And if that doesn't pan out, they could find someone else in the draft or pursue someone like New England's Jimmy Garoppolo. All of those options seem to point to the idea that the 49ers won't be using the second overall pick on a quarterback. We can't rule it out entirely given the amount of work they've put in on this class, but there seems to be a more likely plan of attack for the position.
That plan? Waiting until the middle rounds (or potentially even moving back into the end of the first round if someone they love falls) to get a developmental prospect that Shanahan can get in the system and begin building without having to play right away. Someone like Kizer would be an intriguing fit in Round 2, and players like Peterman, Dobbs and Evans would be interesting possibilities in Rounds 3 or 4. That way, Shanahan would have a young player with the skill set he wants to work with while also keeping an eye toward the future.
April, 24, 2017
Apr 24
4:40
PM ET
The Buffalo Bills' decision Monday not to match the New England Patriots' two-year, $6.4 million offer sheet to restricted free-agent running back Mike Gillislee strengthens Buffalo's long-dominant division rival while stripping the Bills of one of the league's most efficient running backs last season.
While the Bills lose one of their promising young players to New England, there are benefits for Buffalo in this week's draft and in their financial outlook moving forward.
As a result of losing Gillislee, who was tendered at an original-round level, Buffalo receives the higher of New England's three fifth-round picks, No. 163 overall. The Bills now have seven selections in this week's draft. They have three fifth-round picks, but they sent their original fourth-round pick to the Chicago Bears during the 2016 draft to trade up for linebacker Reggie Ragland.
The Bills also gain $1.8 million in 2017 salary-cap space, which is money they can roll over into 2018 and combine with the approximately $2 million in 2018 cap space they will save by not matching Gillislee's deal. That will give the Bills, who now have about $13 million in 2017 cap space, some extra wiggle room as they decide which players to sign and retain next offseason.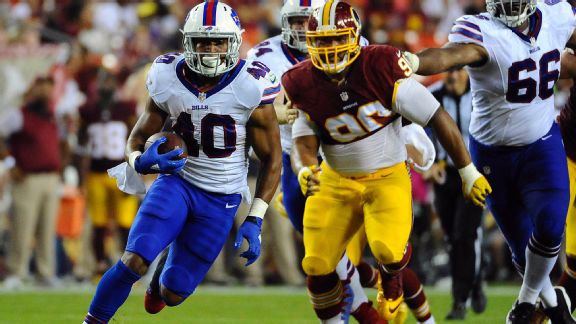 Brad Mills/USA Today SportsThe departure of Mike Gillislee likely means an increased role for second-year back Jonathan Williams, above.
This season, the Bills have several directions in which they can attempt to replace Gillislee's 2016 production (577 yards and eight touchdowns on 101 carries).
The most likely replacement for Gillislee as the Bills' No. 2 running back is Jonathan Williams, a fifth-round pick in 2016. Williams was active for 11 games as a rookie last season, rushing 27 times for 94 yards and one touchdown. A 5-foot-11, 223-pound product of Arkansas, Williams could provide a short-yardage replacement for LeSean McCoy. The question is whether Williams, with a heavier load of carries, can rival Gillislee's efficiency last season -- a league-best 5.7 yards per carry.
But before potential fantasy owners bump up Williams' potential draft value this fall, consider the possibility that fullback Mike Tolbert could poach some short-yardage and goal-line carries. When signing Tolbert last month, the Bills emphasized Tolbert would be used as more than just a lead-blocking fullback, indicating that Tolbert could take some carries away from the more traditional running backs on Buffalo's depth chart.
Another possibility for the Bills to address the loss of Gillislee is to use a mid-round draft pick this week on a running back. This draft is considered deep among running backs, with 12 players at the position listed among Scouts Inc.'s ranking of the top 150 prospects. While Buffalo remains unlikely to select a running back with the No. 10 overall pick, there are mid-round options such as Samaje Perine, D'Onta Foreman and Kareem Hunt who could be considered in the third round, or if the Bills reacquire a fourth-round draft choice.
April, 24, 2017
Apr 24
7:01
AM ET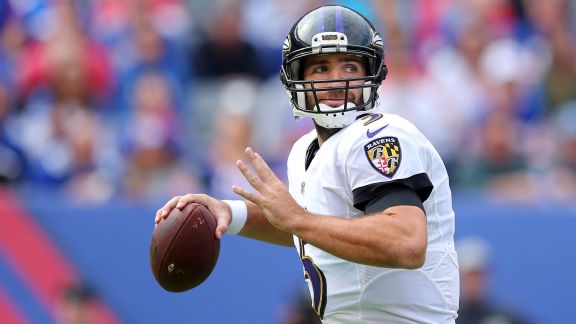 Brad Penner/USA TODAY SportsJoe Flacco said he won't "push one way or another" regarding the Ravens' draft plans.
OWINGS MILLS, Md. -- It was 11 years ago when linebacker Ray Lewis campaigned for the Baltimore Ravens to draft a defensive tackle and the team selected Haloti Ngata in the first round.
At the start of this year's offseason training program, quarterback Joe Flacco indicated he wouldn't take the same approach. Flacco said he isn't going to lobby general manager Ozzie Newsome and other Ravens officials to address offense in this year's draft, even though no one would blame him if he did.
April, 22, 2017
Apr 22
3:15
PM ET
KANSAS CITY, Mo. -- The Kansas City Chiefs' need for defensive line help in the upcoming draft has increased after the release of veteran Jaye Howard.
Howard was a regular at defensive end for the Chiefs the past three years before his 2016 season was cut short halfway through because of a hip injury. Howard was rehabbing in Florida, where he had surgery, rather than in Kansas City, where the Chiefs on Monday started their offseason conditioning program.
Howard's release leaves the Chiefs thin on the defensive line. They lost nose tackle Dontari Poe as a free agent to the Atlanta Falcons, though they replaced him with Bennie Logan, a free agent from the Philadelphia Eagles.
The Chiefs also have Chris Jones, their second-round draft pick last season, Allen Bailey, whose 2016 season was cut short by a shoulder injury, and Rakeem Nunez-Roches.
Logan signed a one-year contract, so he could become a free agent next March.
April, 21, 2017
Apr 21
5:00
PM ET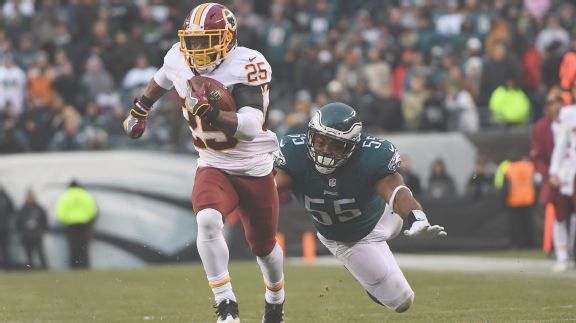 Photo by Andy Lewis/Icon SportswireChris Thompson rushed for 356 yards and three TDs, and had 49 receptions for 349 yards and two TDs in 2016.
The Washington Redskins will continue looking for another running back. What they don't need is someone just to handle third-down duties, after re-signing Chris Thompson on Friday.
Thompson, who had been a restricted free agent, signed his second-round tender, which guarantees him $2.746 million. Had another team signed him, they would have had to forfeit a second-round pick. That leaves linebacker Will Compton as the only unsigned restricted free agent, but he's expected to sign his deal soon. Compton received an original-round tender, but because he was an undrafted free agent the Redskins would not have received any compensation.
Even with Thompson back, the Redskins are interested in adding another running back to supplement him and starter Rob Kelley. Thompson is best in a third-down role, and Kelley's deficiencies in the pass game limit his role. Regardless, Washington would like to add a starting back who is more dynamic. Thompson's return does not alter that desire.
Coach Jay Gruden has been clear all offseason that he likes Kelley and would only select another back high in the draft if it's a home-run hitter type. There are two backs who will tempt Washington in the first round Thursday: Stanford's Christian McCaffrey and Florida State's Dalvin Cook.
But Thompson helps the Redskins' passing game if nothing else. He has caught a combined 84 passes for 589 yards and four touchdowns the past two seasons. He's become a more patient route-runner, and ball-carrier, which has helped him make longer plays. Last season, he averaged 5.2 yards per carry on a career-high 68 runs. He's also become an excellent pass protector.
April, 19, 2017
Apr 19
10:00
AM ET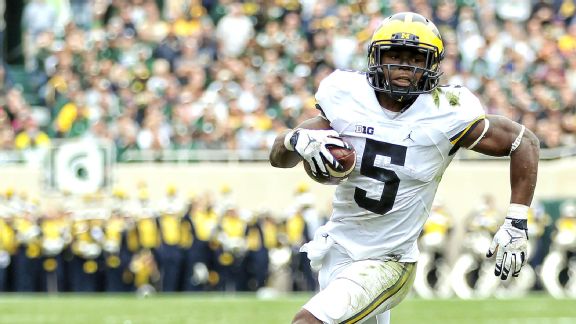 Mike Carter/USA TODAY SportsJabrill Peppers potentially is "going to be one of the best football players on the board" when the Chiefs pick at No. 27, Mel Kiper says.
KANSAS CITY, Mo. -- ESPN draft analyst Mel Kiper Jr. has the Kansas City Chiefs drafting a quarterback -- DeShone Kizer of Notre Dame -- with their first-round pick in his most recent mock draft. But when I asked him for other choices among players who might reasonably be available when the Chiefs pick at No. 27, he threw out an interesting name.
"I think he's going to be one of the best football players on the board, Jabrill Peppers of Michigan, on the defensive side of the ball," Kiper said. "Somebody is going to get him and be very happy with the player they get."
Kiper in his latest mock has Peppers being drafted by the Dallas Cowboys with the 28th overall pick, one spot behind the Chiefs.
Peppers would be an intriguing pick for a team like the Chiefs, who have no glaring roster needs as they head into next week's draft. They're in position to draft the best player available, and if that's what they indeed wind up doing, they could do a lot worse than Peppers.
There's some debate about where Peppers, at about 5-foot-11 and 213 pounds, would fit from a positional standpoint. Safety makes the most sense, but the Chiefs are set there with Eric Berry, Ron Parker and Daniel Sorensen.
Peppers could play some on offense as a receiver or running back. He could return kicks. But the Chiefs already have Tyreek Hill to be their hybrid offense player and kick return specialist.
That's why the only way the Chiefs should draft Peppers is if they have a defined role in mind for him.
April, 18, 2017
Apr 18
6:30
PM ET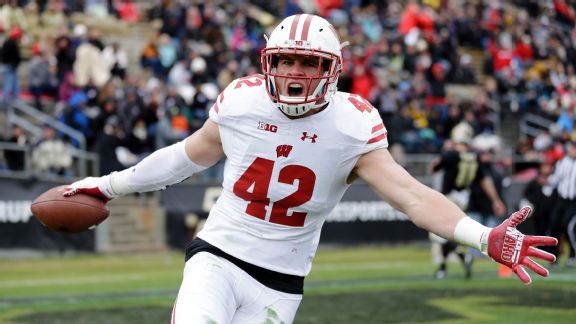 Michael Conroy/AP PhotoSome projections have the Packers taking outside linebacker T.J. Watt in the draft.
GREEN BAY, Wis. -- Clay Matthews doesn't know T.J. Watt, but he knows what it's like to be a draft prospect with a famous last name.
And he knows that some mock drafts have the Green Bay Packers picking Watt, the former University of Wisconsin outside linebacker and the younger brother of Houston Texans star J.J. Watt.
Matthews said he thinks Watt will do just fine, even in the shadow of his older brother, and he wouldn't mind teaming up with the younger Watt on the Packers' defense.
"I know some of the mock draft boards have him potentially coming here, which would be great, if he's even half the player that his brother is," Matthews said Tuesday as the Packers began their offseason workouts. "I'm sure there's pressure on him. But I'm sure if he's anything like his brother, he'll have a drive and work ethic that can't be matched."
Matthews said he didn't feel any extra pressure growing up in a famous football family, which included his father, Clay, and uncle, Bruce, who both were long-time standouts in the NFL.
"Growing up, I feel like people put more pressure than I put on myself just for having that last name," Matthews said. "I think that's really driven by the fact that I always wanted to be more successful than just having the last name Matthews. But, yeah, obviously everyone's going to expect big things out of him with how well J.J. has been playing in this league. I think he just wants his shot."
The Packers could be in the market for another pass-rusher from the outside linebacker spot even though they re-signed Nick Perry to a five-year, $60 million contract in March. Matthews' exact role hasn't been articulated. He could return, at least in a part-time capacity, to playing inside linebacker, a spot he played with success in 2014 and 2015, before he returned to his natural outside spot last season.
"It's Day 1," Matthews said. "You know what, I'm not sure. From my exit interviews last year and then obviously having a few interviews already with my position coach this year, I think the flexibility of myself being able to play multiple positions is really going to help this defense out. What I'm going to do is just stay ready for whatever it is they ask me to do. I've said that in the past, and I've had success both on the outside and inside.
"Ultimately, I think it's just about being ready, and [defensive coordinator] Dom [Capers] always puts me in a position to succeed. We'll see. It's really early right now, but I wouldn't be surprised if I end up playing all over the defense."
April, 18, 2017
Apr 18
7:00
AM ET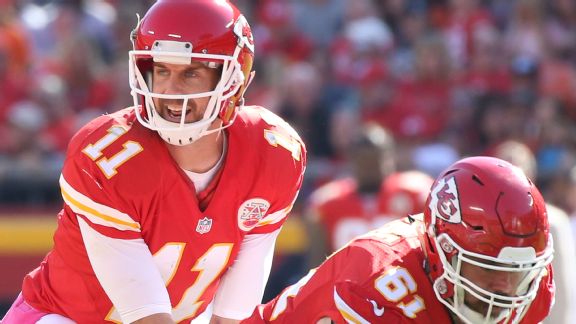 Scott Winters/Icon SportswireAlex Smith, who turns 33 next month, has two seasons left on the contract he signed with the Chiefs in 2014.
KANSAS CITY, Mo. -- Alex Smith looked around in the quarterback meeting on Monday as the Kansas City Chiefs gathered for the start of their offseason workout program and saw only two others in the room with him. Neither Tyler Bray nor Joel Stave have so much as taken a snap in an NFL regular-season game.
Smith doesn't need to be told there's a strong possibility the Chiefs pick a quarterback they envision to be his eventual successor in the upcoming draft.
"This is the NFL," he said. "I've been playing long enough. You pretty quickly realize we've only got three guys in the quarterback room, right? We're a guy short. Someone's coming in."
The Chiefs have met with many of the draft's top quarterback prospects, which doesn't mean they will draft one. But other signs point to them drafting one early, perhaps in the first round for the first time since 1983.
The Chiefs are short at quarterback, not only in numbers but in serious candidates to eventually replace Smith, who turns 33 next month. Neither Bray not Stave was drafted coming out of college.
The Chiefs have 10 picks in the draft, so they can afford to spend one on a quarterback who doesn't necessarily have to play for another season or two. They also have the picks to move up a few spots in a particular round, if they so choose.
Smith has two seasons left on the contract he signed with the Chiefs in 2014. His presence for at least one more season affords the Chiefs the luxury of developing a young quarterback without having to force him into the lineup.
The issue is potentially a delicate one for the Chiefs. They're committed to Smith as their starter for next season, but have to prepare for life without him, whenever that day might come.
If they draft a quarterback in the first round, the Chiefs are putting more pressure on Smith, at least from a public standpoint, than they have since he arrived in 2013.
That's why coach Andy Reid attempted to downplay the situation.
"We've drafted quarterbacks just about every year that he's been here," he said. "I don't think quarterbacks coming through the door, I don't think that's a big deal to him. He's long enough in his career to understand how this whole thing works. I think he has a lot of confidence in his ability, as we do.
"That's not where his mind is. His mind is getting back in, doing all of his film work from this past season ... and then continue to work out. He's been on a six-week workout program over in Hawaii. He's in phenomenal shape right now. He looks great."
The Chiefs drafted quarterbacks Aaron Murray in 2014 and Kevin Hogan last year. But each player was picked in the fifth round and has since moved on.
All Smith can do is try to put off what seems inevitable and make the decision to eventually replace him as difficult as possible. That's the reason behind his Hawaiian workouts, which included some underwater work like he did last year.
"For me, that's fun," Smith said. "It's different. Year-round, you're not just going to be sitting under a squat rack. For me, I'm getting older and (try to) take a load off and do different stuff and try to stay explosive and do different things.
Smith added that what he hasn't done and won't do is stress about what the Chiefs might do in the draft at quarterback.
"Any anxiety you might have over it is pointless," he said. "It has no bearing on me and my focus and what I'm working towards. I control that. So me worrying about that or dwelling on anything else is unproductive."
April, 15, 2017
Apr 15
9:00
AM ET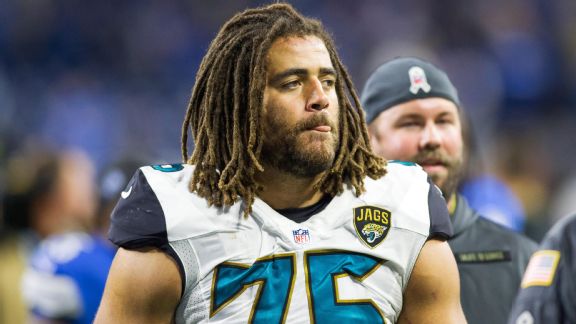 Scott Grau/Icon SportswireThe Eagles are still looking for help on the defensive line and have shown interest in DT Jared Odrick.
There has been plenty of news surrounding the defensive tackle position for the Philadelphia Eagles this offseason.
They lost Bennie Logan to the Kansas City Chiefs in free agency. To help fill the void, executive vice president of football operations Howie Roseman moved back 25 spots in the third round to acquire Tim Jernigan from the Baltiomore Ravens. Just a couple days later, Beau Allen suffered a pec injury while working out and is expected to be shelved until at least September.
More news emerged this week, with ESPN's Jordan Raanan reporting that the Eagles have shown interest in Jared Odrick, as have the New York Giants and Seattle Seahawks.
Odrick, a 29-year-old free agent out of Penn State, is a seven-year vet who has played for the Miami Dolphins and, most recently, the Jacksonville Jaguars. He has 23 career sacks, including 5.5 in 2015.
Whether the Eagles' still have interest following the Jernigan trade (beyond perhaps a veteran minimum deal) remains to be seen.
It's fair to say that depth still remains a question mark following the Allen injury. The team will need to have other rotational options in the pipeline. Perhaps the answer lies within. Destiny Vaeao, an undrafted free agent out of Washington State, showed some encouraging signs as a rookie, and Stanford's Aziz Shittu may find his way onto the roster as well. The Eagles could also use one of their eight picks in the upcoming 2017 NFL draft to address defensive tackle. They have looked into Washington's Elijah Qualls and Michigan's Ryan Glasgow, among others. Both Qualls and Glasgow could end up being mid-round picks.
Roseman has vowed to build along the offensive and defensive lines, so it will not be a surprise if he adds to the DL as the offseason rolls on. He doesn't have much money to spend at the moment, though, as the Eagles have under $2 million in cap space, per the NFLPA.
April, 12, 2017
Apr 12
11:00
AM ET
SANTA CLARA, Calif. -- San Francisco 49ers linebacker NaVorro Bowman hasn't played a snap of football since Oct. 2. That day, he suffered a torn Achilles that cost him the rest of the season.
Bowman has unfortunately grown accustomed to missing large chunks of time, but those absences haven't killed Bowman's desire to play. In fact, they've only strengthened his resolve to get back better than before.
Such is the case currently as Bowman reported for the start of the team's offseason conditioning program Monday with his Achilles mostly healed and a return apparently imminent.
"I believe he's going to be cleared when we get going on the field," coach Kyle Shanahan said. "I know that's something him and [head athletic trainer Jeff Ferguson] are still working out. Right now, he was in the weight room doing the testing and stuff. We can't go out on the field with him yet, but when that time comes, I think two weeks from now at minicamp, might have a better answer for you."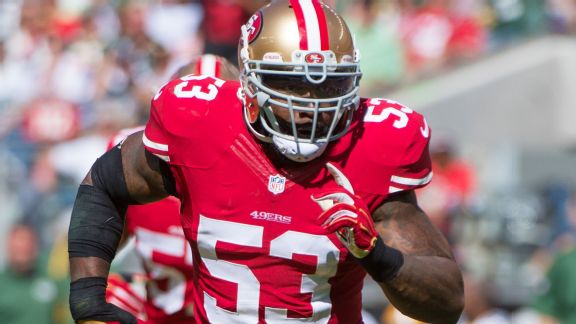 Kyle Terada/USA TODAY SportsNaVorro Bowman is expecting to be back on the field when the Niners hold their first minicamp April 25-27.
Bowman said he participated in the running drills and other tests the players participated in Monday. While he said he still has some kinks to work out, Bowman is also expecting to be back on the field when the Niners hold their first minicamp April 25-27.
Of course, whether Bowman gets fully cleared to participate in that is up to Ferguson but Bowman said Ferguson watched him Monday and thought he moved well.
Getting back to full strength has been another lengthy process for Bowman, who has previously returned from multiple serious knee injuries. Bowman has spent most of his time near the Niners facility so the training staff could keep an eye on his rehabilitation.
"It was good," Bowman said. "We took it slow. In the last month, started ramping it up, doing a bit more things, jumping around, it's been great, there's been no setbacks or anything, just looking forward to getting back out there and showing what I have."
Upon his return, Bowman will be jumping into a 4-3 defensive scheme under new coordinator Robert Saleh. It will be the first time in Bowman's eight-year career he hasn't been in a 3-4 front. Although it's something new, Bowman expressed excitement to play in a scheme where he's only responsible for one gap and doesn't expect the adjustment to be too difficult.
The goal will then be to get back to the elite level of play he's known for.
"I was telling the guys today, I'm hungry," Bowman said. "I've been out of the game since Week 4 so any accomplishment that I had before, none of that matters. I really want to get back to prove myself and get back to that level and guys were saying 'What are you on? How are you moving like this so early?' So I'll put the work in and I think God will bless me with a great season this year."
April, 12, 2017
Apr 12
10:00
AM ET
A week ago, much of the discussion around the Buffalo Bills' first-round pick in the upcoming draft was focused on a pair of positions where the team has needs: wide receiver and cornerback.
Now, with the 2017 draft just over two weeks away, quarterback is once again a hot topic for the Bills and their No. 10 overall selection.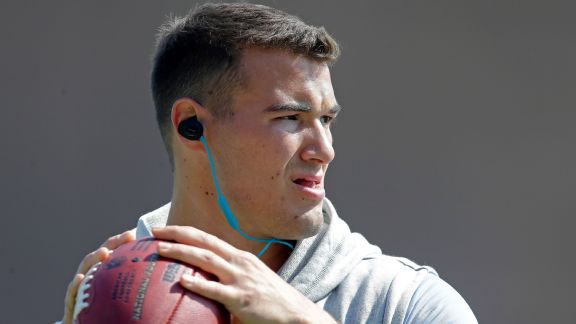 AP Photo/Gerry BroomeThe Bills have recently met with Mitchell Trubisky and other top QB prospects.
A photo posted Sunday to Twitter by North Carolina co-offensive coordinator Gunter Brewer revealed coach Sean McDermott and owner Terry Pegula were among a traveling party meeting with UNC quarterback Mitchell Trubisky. Reports this week also indicated the Bills met with Notre Dame's DeShone Kizer (USA Today) and Texas Tech's Patrick Mahomes (Houston Chronicle). The Bills presumably have also gotten a close look at Clemson's Deshaun Watson, whom Bleacher Report reported GM Doug Whaley is rumored to like.
So does that mean the Bills could take a quarterback with their first-round pick, even with Tyrod Taylor remaining as their starter?
"We'll take a look at those [quarterbacks], but it doesn't mean we're taking a quarterback," McDermott told Kiss 98.5 in Buffalo on Wednesday. "Maybe these last three or four trips were just kind of all a smokescreen, right? It's kind of like hiding your presents from your kids. You kind of put them in different spots and see, right? We'll just see. It's just a big mystery at this point. No one really knows. You never know who's going to be there at No. 10 when we pick. You just got to go do the homework and study it up."
Adding to the mystery was a tweet Tuesday from former Bears college scouting director Greg Gabriel:
It's my understanding that Buffalo was trying to keep QB workouts under the radar until North Carolina coached tweeted out pic from Sunday

— Greg Gabriel (@greggabe) April 11, 2017

Why would the Bills draft a quarterback in 2017 if they just committed to Taylor as their starter this season? His future with the team beyond this season is murky. In Taylor taking a $10 million pay cut in March, the Bills gained some leverage to release Taylor after the 2017 season and not suffer extraordinary salary-cap consequences.
That could mean the Bills select one of the draft's top quarterbacks with their No. 10 pick and envision him replacing Taylor after this season.
Or it could all just be a smokescreen.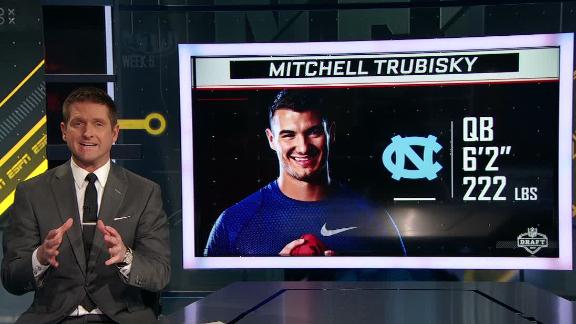 April, 12, 2017
Apr 12
7:00
AM ET
KANSAS CITY, Mo. -- The Kansas City Chiefs have 10 picks in the upcoming NFL draft, but many, if not all, of the players they choose will be looking at backup spots when they join their new team in May.
The Chiefs don't have much in the way of openings in their starting lineup. That's not to say a rookie won't be able to force his way into becoming a regular, but the starting lineup is already in remarkable focus for this point in the year, two weeks before the draft and one before the Chiefs begin offseason workouts.
Here's what the starting lineup could look like for the Chiefs when they open the season in September:
OFFENSE
Quarterback: Alex Smith is set here. But chances are decent that the top backup is not currently on the roster.
Running back: This is one spot where the right draft pick could earn significant playing time. But the Chiefs don't appear ready to give up on Spencer Ware as at least a part-timer.
Fullback: Anthony Sherman will hold this position for the fifth straight season.
Wide receiver: Jeremy Maclin and Chris Conley will again be the regulars. Coach Andy Reid has said the Chiefs will try to get more than they did last year from Tyreek Hill as a receiver.
Tight end: Travis Kelce should be ready for training camp after having shoulder surgery, but the situation bears watching. Otherwise, the battle for playing time as the backups will be interesting between Demetrius Harris, Ross Travis and Gavin Escobar.
Offensive line: Four spots are set, with Eric Fisher and Mitchell Schwartz at tackle, Mitch Morse at center and Laurent Duvernay-Tardif at right guard. Zach Fulton will start at left guard unless Parker Ehinger can challenge him. Ehinger tore his ACL last season.
DEFENSE
Defensive line: The Chiefs have the makings ofma potent rotation with Chris Jones, Allen Bailey, Jaye Howard and the recently signed Bennie Logan.
Linebacker: The Chiefs have yet to add an inside linebacker, which would appear to indicate they believe Derrick Johnson will be ready to go. Johnson tore an Achilles tendon late last season. Justin March-Lillard and Ramik Wilson could compete for the other spot. Justin Houston and Dee Ford will start outside.
Cornerback: The Chiefs have a lot of bodies here, but other than Marcus Peters, there's some uncertainty. Much depends on the Phillip Gaines, who was bothered most of last season by soreness in the knee he had surgically repaired the season before. Steven Nelson will play, perhaps as a starter, perhaps as the nickel back. Terrance Mitchell played well late last season and will have a role, too.
Safety: Eric Berry and Ron Parker are the every-down players. The Chiefs also invested this year in Daniel Sorensen, who played well as an extra safety on passing downs last year. Sorensen will get a lot of playing time.
April, 11, 2017
Apr 11
10:15
PM ET
AP Photo/Gail BurtonSteelers quarterback Ben Roethlisberger has expressed interest in his team adding a tight end, which is a possibility in the upcoming NFL draft.
The NFL draft is just around the corner, and apparently Ben Roethlisberger has a tight end at the top of his wish list.
According to NFL Network's Aditi Kinkhabwala, the Pittsburgh Steelers quarterback told head coach Mike Tomlin he needs "more help" and is "lobbying for a tight end."
Despite the team needing some more help in the secondary, a tight end is not out of the question. According to ESPN's Jeremy Fowler, the Steelers know this is a deep tight-end class and could use that to their advantage come draft time.
The Steelers' starting tight end currently is Jesse James, who totaled 39 receptions for 338 yards and three touchdowns last season. For perspective, Rob Gronkowski put up similar numbers in 2016 (25 receptions, 540 yards, three touchdowns), but the Patriots tight end only played in eight games.
Statistically, James' numbers ranked him 32nd among tight ends in receiving yards, and if this is the Steelers' best option, boosting the number of offensive targets here wouldn't be a bad idea.
So what are some of Pittsburgh's top options at tight end in the 2017 draft class?
Heading the list would be Alabama's O.J. Howard and Miami's David Njoku, but these two likely won't last past the first round, when Pittsburgh will likely address its needs in the secondary. That brings us to Ole Miss' Evan Engram, Adam Shaheen from Div. II Ashland, South Alabama's Gerald Everett, Michigan's Jake Butt, Virginia Tech's Bucky Hodges and Clemson's Jordan Leggett, all possibilities to address the needs Big Ben seeks to fill. That is, if they are still around by the time Pittsburgh -- which picks 30th overall in the first round, 62nd overall in the second round and 94th and 105th in the third -- might decide to scoop one up.
-- Courtney Schellin
April, 11, 2017
Apr 11
7:00
AM ET
Over the past few weeks, the Richard Sherman situation with the Seattle Seahawks has taken many twist and turns, and the latest revealing detail came courtesy of ESPN's Adam Schefter.
"It has been my understanding all along that Richard Sherman was the one who initiated this," Schefter said on SportsCenter. "He was the one that wanted to be traded initially. The Seahawks were obliging him and his request."
Schefter reiterated his stance Monday.
This is - and was - the situation. https://t.co/Sm5FIzBdfz

— Adam Schefter (@AdamSchefter) April 10, 2017
This angle makes it clearer why general manager John Schneider and coach Pete Carroll have been so public in admitting that Sherman is available. There is no fear in upsetting the player in this case, as Sherman is reportedly on board.
Going forward, a sensible deadline for a deal to get done is the NFL draft.
"No reason for it to not happen now," said Joe Banner, a former league executive and current ESPN analyst. "If they get through the draft without it happening, they're in trouble, as far as moving him. It's not impossible because some team could be hoping to get some corner in the draft, and then they don't get him, and maybe they're interested now. Maybe it's a 2018 pick instead of a 2017 pick. But if you're the Seahawks, you really hope to not get yourself in that position."
With that in mind, here's a look at the ways the situation could play out over the next three weeks.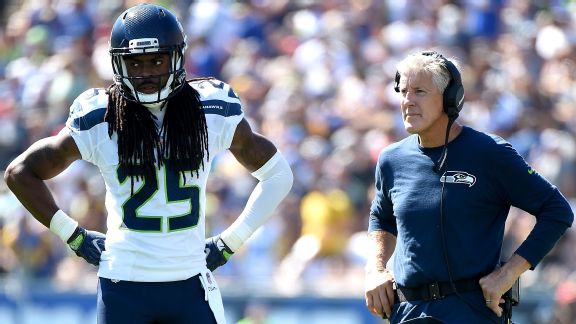 Harry How/Getty ImagesPete Carroll will have to mend a strained relationship with Richard Sherman if the All-Pro corner remains in Seattle.
The Seahawks find a team to meet their asking price and trade Sherman.
What's a reasonable asking price? Darrelle Revis netted the New York Jets first- and fourth-round picks from the Tampa Bay Buccaneers in 2013. He was 27 at the time, and Sherman is 29.
For argument's sake, let's say the Seahawks are able to get something in this neighborhood. The team would still have a huge hole at cornerback going into the season. DeShawn Shead, a starter last season, is recovering from a significant knee injury and isn't expected to be ready for the start of the season. Jeremy Lane is better suited for a nickel role. Behind them are largely unknowns or unattractive options in Neiko Thorpe, Perrish Cox, Pierre Desir and DeAndre Elliott.
The Seahawks have five picks in the first three rounds and would potentially add more with a Sherman trade. The corner class is loaded with prospects who have the physical dimensions Seattle covets. But still, counting on rookies to play well right away is a huge ask for a team that has legitimate Super Bowl aspirations.
The Seahawks trade Sherman but have to settle on compensation.
This would be the worst-case scenario for Seattle.
"They obviously have not yet gotten a call from somebody making a significant enough offer to move him," Banner said. "So I'm starting to think maybe there isn't a significant offer out there to move him. And if I'm an interested party, I'm getting a little more conservative in what I might be offering."
The key question here is: Could the Seahawks reach a point where they feel like they can't salvage their relationship with Sherman?
The organization would obviously never admit that publicly. The team wants to maintain its stance that it would be perfectly fine bringing Sherman back if it can't work out a trade. But it's fair to wonder if the Seahawks really feel that way. Remember, they are not just fielding calls. They are reaching out to teams as well.
The Seahawks hold on to Sherman.
This could go one of two ways. One, he comes back, and everything goes smoothly. Sherman talks about the NFL being a business. Schneider and Carroll say they're always open to making moves but were never really close to trading Sherman. They stress how important the cornerback is to the success of the franchise. Both sides move on as quickly as possible and focus on getting to the Super Bowl.
To his credit, Sherman always plays hard, has never missed a game and has too much personal pride and competitiveness to let this affect his on-field play. The Seahawks often appear to be a team that thrives amid chaos and dysfunction. So there's a chance they could bring Sherman back and have success.
Having said that, the spotlight will be on Sherman. Will he show up on time to the voluntary offseason program? How will he react when defensive coordinator Kris Richard makes a call that he doesn't like? Or if offensive coordinator Darrell Bevell calls a pass from the opponents' 1-yard line?
Many of the Seahawks' issues last year were due to the struggles on offense.
"Anytime we score five points, it's going to be difficult to win the game," Sherman said after a 14-5 loss to the Tampa Bay Buccaneers.
Part of Sherman's outbursts were due to the team's under-performing. Perhaps he feels the Seahawks have missed their window for another title?
But what's clear is the relationship between the player and the organization is strained. At one point last year, Carroll alluded to Sherman being disciplined. What will his plan be the next time there's an issue?
Carroll's coaching philosophy is based on helping players achieve peak performance. If Sherman returns to the Seahawks, Carroll's challenge will be to mend the relationship, get the most out of his All-Pro cornerback and avoid the issues that led to discontent a year ago.