Reimer's opener just what Leafs need
October, 6, 2011
10/06/11
11:04
PM ET
TORONTO -- One game is far from a statement, but an opening-night shutout is perhaps at least a hint for James Reimer.
The Toronto Maple Leafs goalie just might be up to the task.
"The No. 1 thing is goaltending and he picked up right where he left off last year," Maple Leafs coach Ron Wilson said after a 2-0 victory over the rival Canadiens on Thursday night. "He was unbelievable."
A year ago, Carey Price entered the season with more pressure than any netminder in the NHL after replacing playoff hero Jaroslav Halak as the No. 1 man in Montreal. Price delivered, and then some.
This season, one could argue it's Ilya Bryzgalov (Philadelphia), Tomas Vokoun (Washington) or Roberto Luongo (Vancouver), but you can't discount the incredible pressure on the 23-year-old Reimer. Any chance the Leafs have of making the playoffs and ending a six-season postseason drought largely resides on his inexperienced shoulders.
[+] Enlarge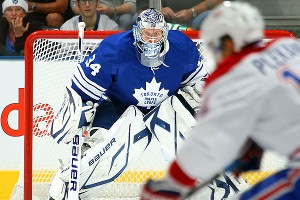 Claus Andersen/Getty ImagesJames Reimer posted the Leafs' first opening-night shutout since Ed Belfour did it against Pittsburgh in 2002.
Reimer has to prove his impressive two-month stint late last season wasn't a fluke. He's the key to a club which is feeling the pressure from top to bottom. Wilson is entering the final year of his contract and a slow start could make him toast. The honeymoon is over for GM Brian Burke, and another non-playoff season will get hockey's biggest market on his back more than ever before.
This marketplace is tired of losing; that came through loud and clear with the tepid (some might say muted) greeting Leafs players received in their season-opening introductions before the puck dropped Thursday night.
The pressure to finally reach the spring dance is palpable in this town. And it all comes back to one man: Reimer.
When we laid out that premise to him after Thursday night's game, his face turned red and he mostly avoided eye contact when he answered it.
"If that's how people are putting it, that's great, they can put it however they want," said Reimer. "But I don't see it like that at all. If it was all dependent on me, then I don't know why there's 20 other guys in here. I get what people are saying, but we've got a great team in here, a great D-core, as you saw tonight."
His blue-line corps, led by the game's second star, captain Dion Phaneuf, did have a solid night. But the first star on the official game summary was Reimer. Say what you want about one measly game, but the optics of an opening-night, 32-save shutout against the Canadiens are just the tonic Reimer and the Leafs needed out of the gates.
He was masterful, particularly in the first period, when Montreal outshot the jittery hosts 14-4. The game could have been over quickly if it weren't for Reimer.
"We didn't start very good, and when we gave up those opportunities, [Reimer] was able to shut the door," said Phaneuf, whose blast made it 2-0 early in the third period. "We started slow and he was there to help us out."
Reimer was big again when the Habs pressed in the third period and outshot the Leafs 14-6. Most noticeable was Reimer's excellent rebound control, limiting the Canadiens' goal-mouth chances. There were a few nervous souls in these parts after Reimer went 1-3-0 with a 3.29 goals-against average in the preseason; but that's why you don't pay attention to the preseason -- it doesn't count.
"You can't take too much out of preseason," said Reimer. "The games are a little bit different. Honestly, I felt like I wasn't getting the bounces [in the preseason] and tonight, I felt like I was."
Again, this is just one game, one night, and there's a long season to go. But Reimer's unflappable demeanor on this night, especially when his teammates didn't look ready early on, told the tale of a young netminder ready for the challenge.
Consider the eight teams that made last season's playoffs and who is in net for them this season: Bryzgalov, Vokoun, Price, Tim Thomas (Boston), Dwayne Roloson (Tampa Bay), Ryan Miller (Buffalo), Marc-Andre Fleury (Pittsburgh) and Henrik Lundqvist (New York Rangers). Reimer has to be at least as good as most of them for the next eight months for Toronto to reach the postseason.
Did we mention pressure? Just don't remind Reimer. He won't know what you're talking about.