Intrigue behind Devils getting leniency
March, 7, 2014
3/07/14
11:27
AM ET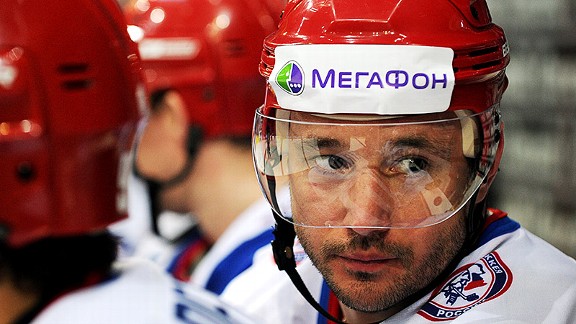 Alexander Nemenov/AFP/Getty ImagesWith Ilya Kovalchuk now playing in Russia, his contentious contract is less of an issue.
Remember how perplexed we all were back in June 2012 at the NHL draft in Pittsburgh when the Devils used their 29th overall pick instead of finally giving it up as part of their
Ilya Kovalchuk
cap-circumvention penalty?
It was well-played, as it turns out, by GM Lou Lamoriello, if he thought there was a chance nearly two years later that the NHL would give back a 30th-overall pick. That effectively meant that the Devils wouldn't lose a first-rounder as a result of that summer 2010 Kovalchuk so-called cheat deal.
No question there was grumbling from other clubs in the wake of Thursday's
announcement by the league
that New Jersey's original penalty would be reduced. Teams are ultracompetitive, and seeing the Devils given back a first-round pick, even if it's 30th overall, does not sit well.
As TSN colleague Darren Dreger said to me Friday morning, maybe the other 29 clubs would have appreciated having the ability to vote on the matter?
But where I find fault with the league is not in this new decision -- I actually believe the NHL made the right call -- but rather where I have a beef is with the original punishment handed out in the summer of 2010. I thought it was rather harsh at the time, given that other clubs were also doing cheat deals in that version of the CBA, and only the Devils were singled out.
I mean,
Miikka Kiprusoff
is living proof of the first cheat deal that actually played out, the former star goalie retiring last summer with one year on his deal that would have paid him $1.5 million this season. That salary was tacked on as the final year of a six-year, $35 million deal for the purposes of bringing down the average cap hit to $5.83 million. In reality, he played five years of that deal, earning $33.5 million; but the Flames should have been charged a $6.7 million yearly cap hit all those years.
Heck, out of the controversy of Daniel Alfredsson's drama-filled exit from Ottawa last summer, everyone was openly talking about how his $1 million salary for last season was originally the last year of his four-year, $19.5 million deal because both sides figured he would retire before the final season, but the Sens would benefit from a smaller cap hit by having that extra year added to spread around the average. But in this case, Alfredsson actually played out that season and remains an active player, so while the Sens in the end never cheated the system, everyone involved barely hides the fact that was the plan originally.
So, yeah, you can see how the Devils might have wondered "Why us?" back in 2010. Then again, at GMs meetings and board of governors meetings over the years, NHL executives repeatedly warned clubs to stop doing these cheat deals (which are impossible now in the new CBA). From that perspective, the league felt it had to act, given that the Devils were late to the party in getting their cheat deal done after all these warnings.
In many ways, they Devils have been appropriately punished, having already paid a fine, having lost a third-round pick in 2011 plus picking much lower this June at 30th overall compared to where they might have otherwise ended up -- possibly a lottery pick, if they miss the playoffs. And it should also not be forgotten that the Devils are still being charged $250,000 a year in a cap hit (through 2025) from the "cap-advantage recapture" penalty formula on the Kovalchuk deal.
As I noted, though, where the league really erred in all of this was back in 2010 by coming down too heavily.
The Devils recently pleaded their case to the league, and I suspect these were elements of that argument:
• Kovalchuk retired from the NHL and is now playing in the KHL; his contract is no longer valid, so why are they still being penalized for it?
• Former Devils owner Jeff Vanderbeek pressured Lamoriello into signing that bad contract with Kovalchuk; Vanderbeek is gone now and the Devils have new ownership, so why are the Devils still paying for his sin?
• Other teams in the previous CBA did cheat deals, so why were the Devils the only team singled out?
No doubt there were other elements to the Devils' case to the league as well, but you get the picture.
And I'm guessing there's another important element here. I'm sure in weighing whether or not to reduce this penalty, NHL commissioner Gary Bettman at least in spirit had to consider the fact he probably owed new Devils owner Josh Harris a break, given that Harris had nothing to do with the Kovalchuk deal. And, let's face it, who the heck else was going to buy this team last summer?
The leniency, to some degree, was doing Harris a solid.
As a side note, if New Jersey misses the playoffs, it's my understanding that the current plan is for the Devils to remain in the draft lottery in April for purposes of keeping the math right in terms of the odds. So, for example, if the Devils were to win the April draft lottery, their No. 1 overall pick would be taken over by the club that ended up No. 2 overall in the lottery, with every team behind them also moving up a spot as the Devils claim the 30th overall selection.
Cap recapture primer
If you want to know more about the cap-advantage recapture formula (designed to hammer teams that did cheat deals in the previous CBA), check out capgeek.com and its very cool
cap recapture calculator
.
In particular, it reminds you how Vancouver is going to pay down the road if
Roberto Luongo
retires early from his long-term deal in Florida.