Caps hope Evgeny Kuznetsov can deliver
March, 18, 2014
3/18/14
12:04
PM ET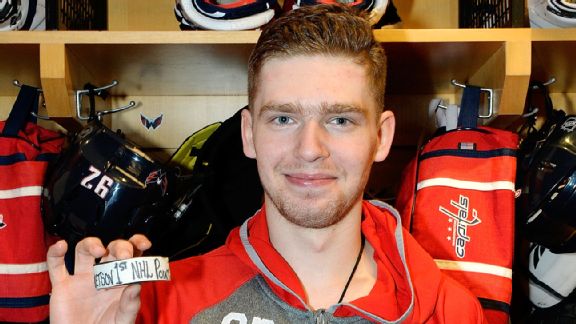 Patrick McDermott/NHLI via Getty ImagesEvgeny Kuznetsov is quickly making an adjustment to the NHL.
Craig Laughlin, the former NHL player who has been providing analysis for
Washington Capitals
games since 1990, calls the Capitals' upcoming five games "the gauntlet."
"I think this five-game stretch will define this team, for the good or the bad," Laughlin told ESPN.com on the eve of the toughest stretch of games the Capitals will face in a season marked by wildly uneven play.
Visits this week to Anaheim, Los Angeles and San Jose -- where they have not won since 1993 -- will be followed by home dates with the Kings and the
Boston Bruins
.
Yes, gauntlet seems about right. For a team that began the week two points out of the final wild-card spot in the Eastern Conference, Laughlin is right on the mark when he figures this stretch of games will illustrate in no uncertain terms just what kind of stuff from which this Caps team is made.
That the team's most crucial stretch of games comes at a time when celebrated prospect
Evgeny Kuznetsov
is hitting his NHL stride provides an enthralling backstory to a most interesting stretch run.
Indeed, there is something almost mythical about the talented Russian forward the Capitals drafted with the 26th overall pick in 2010. Although he might not have been ready for the 2010-11 season, the initial expectation was that Kuznetsov would join the team sooner than later.
Well, "sooner" turned out to be a relative term. Or rather "sooner" morphed uncomfortably for the Capitals into "much later."
One season in the KHL turned into two, there was an appearance in the KHL All-Star Game, hopes for an Olympic berth and, over time in Washington, debate about whether the big forward would ever make his way to an NHL rink.
Even members of the Caps wondered if he was ever coming, defenseman
Karl Alzner
told ESPN.com this week.
GM George McPhee wonders where Kuznetsov would be in terms of his development had he played the last three years in the NHL.
"Certainly, he would have been further ahead just from having played at this level," McPhee said. "It doesn't mean he won't get there, because he will."
But that's a moot point at this stage.
What matters is what happens now that Kuznetsov is here.
In the short period of time that Kuznetsov has been wearing a Caps jersey, he has made a distinct impression.
"It's been a breath of fresh air to have him here," McPhee said.
After a game and a half of looking like a player caught between two hockey worlds, the winger has quickly found confidence in handling the puck and figuring out the smaller ice surface of the NHL world. Getting playing time with the top line of
Alex Ovechkin
, with whom he is staying, and
Nicklas Backstrom
has been a bonus as well.
In his third game, Kuznetsov recorded three assists in a big win over the
Vancouver Canucks
and picked up another helper in Sunday's win over the
Toronto Maple Leafs
.
"Coming into the league at this time of the year is not easy," McPhee said. "He makes our team better."
But whether that's 2 percent better or 4 or 6, McPhee isn't sure.
And McPhee is loath to suggest that how Kuznetsov performs in the coming days will determine whether the Caps extend their playoff streak to seven seasons.
But it could.
"He's not going to be the difference-maker," McPhee said. "That's too much to put on one guy."
But what's interesting about Kuznetsov is that he, in some ways, addresses a need the team has been talking about for a number of years, someone to help take the pressure off the team's big guns, another big, skilled forward to add to the top six.
Although the 21-year-old previously played a lot at center, he has started his NHL career on the wing, where it's believed the adaptation to the NHL game will be more seamless.
Laughlin said he has noted some times when Kuznetsov has seemed uncertain about how aggressive to be on the forecheck or whether to peel back into the neutral zone with the puck or simply dump the puck into the offensive zone. But, on the plus side, Kuznetsov has the size and skill to play either an east-west game or a more traditional north-south game on the wing.
"Obviously, he's got the pedigree and the background to be a top-six forward," Laughlin said.
Either way, Laughlin said his initial look at Kuznetsov has him believing he could be in the hunt for rookie of the year honors next season.
Perhaps because there has been so much discussion about Kuznetsov over the years since he was drafted, Capitals defenseman Alzner was surprised at how young he is. That said, Alzner, who was drafted in 2007 by the Caps, has been impressed with Kuznetsov's maturity off the ice.
"He's fit in right away. He's been in the mix," not standing off to the side, Alzner said.
On the ice, like most observers, Alzner has seen a rapid adjustment to the NHL game.
"He seems to be all that everyone's been expecting," Alzner said. "It's a huge addition to our team."
If the on-ice transition from the KHL to the NHL continues to be a work in progress, having Kuznetsov stay with Ovechkin should help keep the focus where it needs to be.
The only thing Kuznetsov has to worry about is hockey. He doesn't need to worry about directions or transportation or buying food or paying bills. Ovechkin is also helping Kuznetsov, whose mastery of the English language is still improving, with his media duties, although that assistance doesn't extend to phone interviews.
"Everything else is taken care of," McPhee said.
As for the crucial nature of the coming week or so, McPhee is philosophical.
"Every game is a test. Every season is a test. Win a game and you feel like there's hope," he said. "As long as you have hope, it feels good."