Penguins report: Geno still finding his way
December, 31, 2010
12/31/10
6:42
PM ET
PITTSBURGH -- For a team that has won 17 of its past 20 games and owned the most points of any team in the NHL as of Friday morning, you would think everything would be sunshine and light in the world of the Pittsburgh Penguins.
Yet the team's success in the standings, coupled with the extraordinary season being turned in by captain Sidney Crosby, has allowed one struggling star to exist in the shadows and away from what otherwise might be more critical questioning.
Evgeni Malkin, former NHL scoring champ, former playoff MVP, is so far enduring his least productive NHL season. Pointless in his past three games, without a goal in five straight, Malkin has gone pointless in 15 games this season, almost half of the games he's played.
Through 34 games this season, Malkin has produced just 32 points, on pace for 72 points, his lowest total since entering the league in 2006.
At this same point of the season two years ago, Malkin already had 55 points. He finished with 113 points to win the Art Ross Trophy for the first time, and the Penguins went on to win their first Stanley Cup championship since 1992.
There are mitigating issues with Malkin's decline in production, to be sure. He missed four straight games with a knee injury and seemed to have been hampered with the injury even before he left the lineup earlier in December.
[+] Enlarge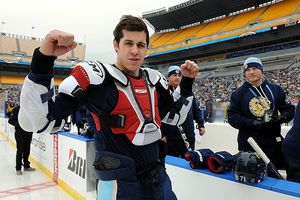 Brian Babineau/NHLI via Getty ImagesEvgeni Malkin on his recent play: "I'm not mad, you know. I just keep doing my job, keep working and working every game."
"It's a little bit tough. I [had an] injury and I play with injury a little bit," Malkin said Friday after the Penguins' practice at Heinz Field in advance of Saturday's Winter Classic. "It's a big moment this year for me, but now I feel better and last game I think I had five scoring chances but [didn't] score. But maybe next game [I'll] have a little bit of luck, you know? I'm not mad, you know. I just keep doing my job, keep working and working every game."
Still, after a disappointing end to the playoffs this past spring, when Malkin produced just one goal and three points in a seven-game second-round loss to the eighth-seeded Montreal Canadiens, this season's numbers are vexing.
Both Penguins coach Dan Bylsma and GM Ray Shero said they have noticed a difference in Malkin's performance since his return from injury. Malkin scored in three straight games upon his Dec. 14 return and posted a five-point night against Phoenix on Dec. 20. Since then, he's had zero goals and just two assists in five games.
"I think this has been his best probably four or five games away from the puck. I think he's working very hard. He's working hard to find his way," Bylsma said Friday. "He's playing the game the right way. And the disappointing part is, he's created for himself and his line, five or six goal-scoring opportunities in the last few games, and hasn't reaped the rewards."
Shero told ESPN.com on Friday that he has no issues with Malkin's game, especially given that his injury cut into his practice time before he went out of the lineup and had an effect on his sharpness.
"Since he's come back, he's had a lot of jump," Shero said. "To me, he's had that jump that is so important for him."
For long stretches of time, Malkin has proved himself to be among the top four or five players in the world. But he also has been prone to stretches of not-so-stellar play, prompting questions about his maturity.
One of the interesting bits from HBO's "24/7" shows chronicling the Penguins and Capitals leading up to the Winter Classic was a comment made by Washington coach Bruce Boudreau, who instructed his team to try to goad Malkin into taking retaliatory penalties. Boudreau turned out to be prescient in a game between the two rivals Dec. 23, in which Malkin was whistled for a retaliatory interference penalty in the first period of the Penguins' shootout victory.
Malkin said he hadn't seen the segment, but Bylsma said his big center likely will see it at some point.
"We've talked about that being something that teams have tried to do and then our response to that as well," Bylsma said. "I think it's a compliment that they think that's what they have to do to get you off your game. It's something we have to be aware of, and in Geno's case, [he] has to be get better about the response."
If your Penguins glass is half-full, you point to the fact that the team's success has come despite Malkin's slow start and the absence of center Jordan Staal, who has yet to play this season. Staal could return to the lineup as early as Saturday and likely will play with Malkin.
"I'm optimistic," Shero said. "[Malkin] has got more to give, which is great."