GM Brian Burke: 3-0-0 start 'huge' for Leafs
October, 14, 2010
10/14/10
1:23
PM ET
TORONTO -- When it comes to hockey and hyperbole, no city mixes the two better than Toronto.
But after finishing 29th overall in the standings last season, even the most jaded sports writer has to admit the Maple Leafs' 3-0-0 start is nothing short of astonishing, especially given that it took until Nov. 7 last season to generate win No. 3.
"It's huge," Leafs GM Brian Burke told ESPN.com on Wednesday night after the team's 4-3 win in Pittsburgh. "This is no small thing. This is a major accomplishment for our team. We had a horrible start last year, and we never recovered. Six points so far, including four in our division, those are huge points. They'll be huge in March, and they'll be huge in April. Our guys are working their tails off."
[+] Enlarge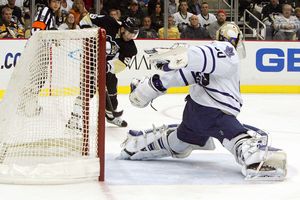 Charles LeClaire/USPresswireJonas Gustavsson recovered Wednesday night to help the Leafs post a 4-3 win over the Penguins.
Soon after this same point a year ago, Burke had to hold a news conference to explain the disaster that already had been his season. The Leafs had one win in their first 13 games. By then, it was over.
So, yeah, a 3-0-0 start feels good for the blue and white, something they haven't accomplished in 11 years.
Let's not get too carried away here. This doesn't mean the Leafs will make the playoffs. But no matter what anyone says, they are a better team.
Burke's roster makeover continued this past summer, and not all his moves generated much attention. Start with Clarke MacArthur, who signed a one-year, $1.1 million deal on Aug. 28 after the Thrashers walked away from a one-year, $2.4 million arbitration award for him in late July. The 25-year-old winger had a quiet 16 goals between Buffalo and Atlanta last season and spent almost all of August on the free-agent wire before the Leafs reeled him in without much fanfare.
He had a great camp and was slotted on the second line with Mikhail Grabovski and Nikolai Kulemin. MacArthur already has four goals and an assist in three games to start the season. Welcome to Toronto, Mr. MacArthur.
"I take no credit for Clarke MacArthur," Burke said. "That was [senior vice president of hockey operations] Dave Nonis and [vice president of hockey operations] Dave Poulin insisting that we sign the guy. They said, 'This is the guy we need.' And I said, 'OK then, if that's what you believe.'
"I know it's early, but he's been really good. Not just the goals he's scored, but he's doing lots of little things right."
There's also the trade at the June draft for winger Mike Brown from Anaheim in exchange for a fifth-round pick. Again, not a move that generated much buzz, but Brown has been a solid foot soldier on the fourth line in these early games. Leafs coach Ron Wilson also gave him a key shift on the top line in place of Phil Kessel late in Wednesday's win for defensive purposes.
"Brownie has definitely been a valuable addition to our team," Burke said. "It's early, but everyone has accepted their jobs on the team, and that's why we've had success."
Other bottom-six forwards such as Tim Brent and Mike Zigomanis, both new to Toronto's roster this season, also have looked good. They've embraced their roles as checkers, which the Leafs didn't have enough of last season.
But the most important factor so far for Toronto has easily been the goaltending. Veteran Jean-Sebastien Giguere was rock-solid in the opening two games, and sophomore Jonas "The Monster" Gustavsson picked up the torch for Game 3. After giving up two goals on his opening three shots Wednesday night (and really not looking good on Pittsburgh's second goal), he settled down and was terrific, especially in the third period. The Leafs were outshot 25 to 14 on the night.
"He looked nervous in the first period, but he was very sharp after that," Burke said.
The Leafs were 29th in goals against last season. Vesa Toskala was largely blamed for it. Now, the Giggy-Gustavsson tandem is giving Toronto hope early this season.
"I've got to take some fault if our goaltending wasn't good enough last year," Burke said. "We thought Vesa could do the job if we got him healthy. But I think 'The Monster' is showing that he's going to be what we thought he would be."
It's early, Leafs fans, but you have a right to enjoy yourselves. It's been a long six years.