Team USA eyes big production from Love
July, 31, 2012
7/31/12
12:24
AM ET
LONDON -- The bar for Mike Krzyzewski has been set pretty high. By Coach K himself.
If the United States is fortunate enough to win its second consecutive gold medal in men's basketball Aug. 12, Krzyzewski will have a good amount of celebrating to do to match the exultant reaction he had to a Kevin Love spin move on the baseline for a fourth-quarter bucket -- in an
exhibition
game last week.
You read that right. At no other point this summer, since Team USA convened for training camp in Las Vegas after the Fourth of July, has Coach K looked as demonstrably pleased as he did when Love whirled past Pau Gasol to shake loose for a gritty score in Team USA's final exhibition game in Barcelona against its old friends from Spain. The limited video
available on YouTube
doesn't do the celebration justice.
[+] Enlarge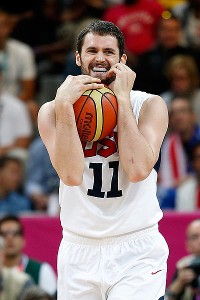 Jamie Squire/Getty ImagesKevin Love asserted himself in the win over France.
Love's basket, after the Americans had kept alive a couple of rebounds and loose balls, made it 86-79 in a game the Americans eventually won by 22 ... but a game that, more importantly, didn't really count. Yet that didn't stop Krzyzewski from leaping off the hardwood and vigorously swinging his right fist as if the two points had just clinched a championship for Duke.
"I didn't see it with my own eyes, but I heard about it," Love said. "He told me about it, actually. We were on the free throw line [at a recent] practice, and he asked me if I saw him."
The fact that Krzyzewski was so eager to relive the display with Love should tell you that the coach clearly doesn't see it as an overreaction. As he explains it now, heading into Tuesday's Group A game against overmatched Tunisia, Coach K got caught up in the moment and lost track of how little was actually at stake at that juncture because he'd been wanting so badly to see something happen on the floor -- anything -- to get a struggling Love going.
"For each guy on our team, you're always looking for ways to get them closer to their ego [and comfort level] that they play with on their parent clubs," Krzyzewski said. "That's still the toughest thing: to get them to play at that level when they're playing for the United States.
"But sometimes for a player, one play can break down the dam."
And it was that sequence, Krzyzewski believes, that enabled Love to break through.
The Timberwolves' go-to guy finished with those two points and a solid nine rebounds in 13 minutes in that exhibition finale against Spain, then scored an aggressive 14 points in 14 minutes in Team USA's rout of France in Sunday's Group A Olympic opener.
So Love, just like that, has forced his way back into a rotation that needs every contribution he can muster, since the 6-10 bruiser was always going to be counted on to serve as the first big man off the bench for a size-deficient Team USA if (when?) Tyson Chandler finds foul trouble.
"I needed a game like this under my belt," Love said after the France victory. Then, acknowledging recent public criticism from Team USA chairman Jerry Colangelo, Love admitted: "I haven't been playing probably the way I should have."
Coming off an All-Star season in Minnesota in which he averaged 26 points and 13.3 rebounds per game, Love thinks he deferred too much in the first few exhibition games to some of his more celebrated Team USA teammates. Yet after a couple of heart-to-heart discussions with Coach K, Love has found his niche just in time, rebounding to the point that USA Basketball officials chose Love to be the player representing the United States at the postgame news conference following the triumph over France.
"I think he built on the second half with how he played against Spain in our last exhibition game," Krzyzewski said. "I thought he played really well in Barcelona against Spain. He played a lot stronger [again in the France game].
"He played with a lot emotion [against France]. ... He played really well. That's why we had him up here [at the podium]."
It was a flurry of seven straight points from Love in the third quarter that allowed the tournament favorites to start pulling away from the French and set him up to be the Team USA spokesman for a day. Quite a turnaround for a guy who had earned only 13 combined minutes off the bench in warm-up games against Brazil and Argentina and prompted Colangelo to tell USA Today that Love "has not performed up to what he is capable of performing."
"Hopefully this will be a good omen moving forward," Love said, suddenly performing so well that he can get Krzyzewski dancing months after March.