Lithuania's history of scaring Team USA
August, 3, 2012
8/03/12
10:12
PM ET
LONDON –- Having covered only one Olympics before this one, back in 2000 in Sydney, I will never forget the stampede of reporters frantically running into the basketball venue once word began to spread that Lithuania and a former Maryland guard named Sarunas Jasikevicius were threatening to upset the mighty United States in the semifinals.
The Lithuanians and Americans met twice that year in the Olympic basketball tournament, with Team USA taking the two encounters by a mere 11 points combined, barely holding on for a two-point win in the semifinals when the plucky floor general couldn't quite connect on a 3-pointer at the buzzer after scoring 27 points.
[+] Enlarge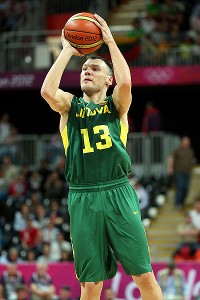 Christian Petersen/Getty ImagesBack for his fourth Olympics at age 36, Sarunas Jasikevicius' Lithuania squad hopes to challenge Team USA again.
Such memories naturally come flooding back in advance of Saturday's Group A game between the teams, especially since Jasikevicius, now 36, is still running the show for the Lithuanians in his fourth Olympics.
"Saras is the best quarterback Lithuania has ever had," says Dallas Mavericks president of basketball operations Donnie Nelson, using Jasikevicius' well-known nickname after serving as an assistant on the Lithuanian bench for multiple trips to the Olympics at the request of close friend and Lithuanian legend Sarunas Marciulionis.
Reminded that Saras is participating in the Summer Games for the fourth time, Nelson added: "He must be drinking from the same fountain as [former Mavericks point guard] Jason Kidd."
The mere sight of Jasikevicius, for the first time since the United States avenged a group-play loss to the Lithuanians to beat them by just eight points in the 2004 bronze-medal game in Athens, is sure to make some of USA Basketball's longer-tenured souls skittish. But the reality is that the modern-day Lithuania -- after three bronzes and two fourth-place finishes in their five Olympics trips as an independent nation thus far -- only has two current NBA players on its roster: Linas Kleiza and incoming Raptors rookie big man Jonas Valanciunas.
The sports betting website Bovada.lv thus lists Team USA as 35-point favorites Saturday after its historic 83-point destruction Thursday night of Nigeria. It really comes as little surprise when you remember that Lithuania is 1-2 in group play with losses to Argentina and France by a combined 35 points. (Don't forget, furthermore, that Nigeria actually beat Lithuania in Olympic qualifying in Venezuela last month before the Lithuanians avenged that defeat here Tuesday at the Olympics.)
The only advantage that Saturday's heavy underdogs might have at the Olympic Park Basketball Arena will likely be measured in crowd noise. The Olympic epicenter in East London is teeming with Lithuanians who live in the area. I, for one, pass a Lithuanian market in the Stratford Centre -- part of a chain called
Lituanica
-- on my walk to the Main Press Centre bus literally every day.
"There are like 250,000 Lithuanians in Great Britain," said veteran forward Darius Songaila, who had stints in the NBA with Sacramento, Chicago, Washington, New Orleans and Philadelphia before returning to Europe the past two seasons. "A lot of people come out and support us. We find Lithuanians working in the stands and security and the cafeteria. Everywhere. The crowd is unbelievable coming out and supporting us. It's almost like a home game."
Yet it's a serious stretch to suggest that even an anti-American crowd, if the noise levels were unexpectedly that severe, could cut into the talent gulf between these teams. Although still ranked in the top five in the FIBA world rankings entering the Olympics, Lithuania looks likely to finish fourth in Group A, which almost certainly means a quarterfinal matchup with reigning European champions Spain. The Yanks, meanwhile, are obviously dripping with confidence after the shooting display they uncorked on poor Nigeria, draining 29 of 46 attempts from 3-point range as a team and shooting 71.1 percent from the floor.
"We're not used to getting open looks [on our NBA teams]," Team USA forward Kevin Durant explained. "So when we do get 'em [so wide open in the Olympics], it's like, 'Wow.' "
The closer international 3-point shot certainly doesn't hurt, either.
"Look at our team," Team USA guard Chris Paul said. "Everybody can shoot that ball. Everybody can step out to the 3-point line [and hit the shot]. Even AD [rookie Anthony Davis] made one out in Vegas."
The biggest game on the Saturday schedule thus has to be the Spain-Russia showdown that features Group B's two 3-0 residents. The winner of that one can avoid Team USA until the gold-medal. France, meanwhile, can clinch second place in Group A with a win Saturday over Tunisia and a Monday night success against Nigeria.
Juan Carlos Navarro, Spain's best perimeter player, has missed the past two games with a worrisome foot condition, but you'd expect him to play against the Russians with so much at stake. Yet it's worth remembering that the Spaniards, as average as they've looked so far against the three weakest teams in Group B (China, Australia and Great Britain) have played like this before in pool play and survived. For all the concerns about its defense and the impact of injuries and advancing age on its overall speed and strength, Spain made it all the way to that memorable battle with the United States in Beijing despite the fact that Navarro did not excel on the road to the gold-medal game.
"I think we're really focusing on ourselves and each game," Team USA forward Kevin Love said. "But, yeah, we're paying attention [to the competition]. Every chance we get, we're watching the other games in the other pool. We just want to continue to stay focused on our dream, which is our 12 being up on top of that podium with gold. But we know that it's going to be game by game. This could be a tough route."