Bode ready for latest Olympic campaign
September, 30, 2013
9/30/13
8:22
PM ET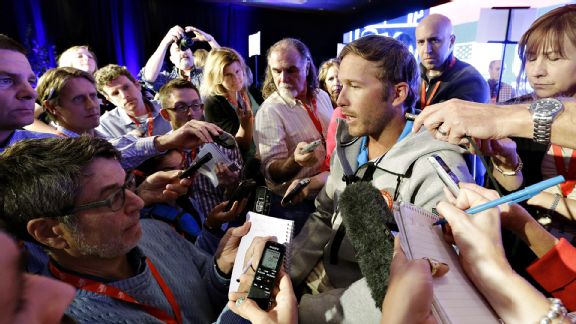 AP Photo/Rick BowmerBode Miller is attempting to qualify for his fifth Winter Olympics. His first was in 1998.
PARK CITY, Utah -- Though he hasn't competed in more than a year and is the oldest male on the U.S. alpine ski team, Bode Miller didn't exactly mince words when asked Monday about his plans for the upcoming season.
"I'm going to kick ass," Miller said. "That's the gist of it."
The statement was greeted with chuckles from the assembled media at the Olympic media summit, but this was no joke. The man who hasn't competed since microfracture surgery on his left knee in spring of 2012 finds himself refreshed, refocused and reenergized entering what is his fifth and likely last Olympic campaign of his decorated career.
The 35-year-old Miller said Monday that he left his decision to retire entirely to the results of the surgery. If things went well, he planned on skiing again. If they didn't, then that was going to be it. With the surgery a success, he's back for what he said is likely his last competitive season.
"It's perishable being a ski racer," he said. "Until you're rotten and shriveled up, you keep going. I'm pretty shriveled up, but I'm not all the way rotten ... at least not yet."
During his recovery, he spent much of his time on the beaches of Southern California with his wife, Morgan Beck, a professional volleyball player, doing plyometric exercises designed to help slim and strengthen his 6-foot-2 frame. He said he's now 20 pounds lighter than when he last competed, allowing him to be even quicker than he once was.
And, most important, his repaired knee is finally pain-free. Despite being relatively conservative during a recent training session in Portillo, Chile, the early results were promising.
"I didn't take a lot of risk," he said. "One thing during an Olympic season is risk management. It's easy to make stupid mistakes in summer training. But in terms of structure, the knee is perfect. The ligaments are in great shape. The last few days were demanding on the body and I was ready."
He added, "My fitness will be a huge asset for me. It's something that was neglected the past few years, so my plan is to kick ass."
And while doing so, help those who are less fortunate. On Monday, the USOC announced that Miller will be the first athlete ambassador for a new "Gateway to Gold" program designed to introduce people with physical and visual disabilities to Paralympic sports and identify those with the possibility of competing for the U.S. Paralympic Team. It was Miller who sought out USOC CEO Scott Blackmun last year with the goal of improving opportunities in the Paralympic space. The new program will essentially take the core principles of Miller's Turtle Ridge Foundation to a broader audience.
"It's a philosophy that needs a broader audience. It needs more exposure," Miller said. "People get inspiration from watching people deal with these situations and do the incredible. I would not still be racing today had I not gone through that process. It really is something I benefitted from and is really important. I'm thrilled to be part of it and ready to help out."