March, 23, 2018
Mar 23
8:00
AM ET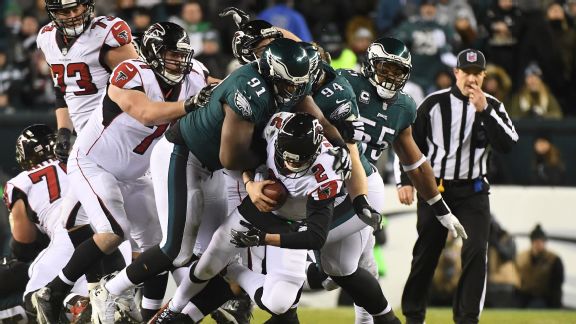 Photo by Andy Lewis/Icon SportswireMichael Bennett and Haloti Ngata will join a deep Eagles defensive line that includes Fletcher Cox, Brandon Graham, Tim Jernigan, Chris Long and Derek Barnett.

The Super Bowl champs decided not to be complacent this offseason, with plenty of departures, a few big additions and more to come on draft day.

March, 22, 2018
Mar 22
6:28
PM ET
ESPN
Former Baltimore Ravens wide receiver Mike Wallace has agreed to a one-year contract with the Philadelphia Eagles, the team announced Thursday.
Wallace's deal is worth up to $4 million, a source told ESPN's Adam Schefter.
Wallace, 31, was the Ravens' most reliable wide receiver last season despite a decline in his numbers. He caught 52 passes for 748 yards receiving, which easily led the team.
Wallace will replace former Eagles receiver Torrey Smith, who was traded earlier in March to the Carolina Panthers for cornerback Daryl Worley.
The receiver is already building a rapport with star quarterback Carson Wentz.
Still confident in his ability and speed, Wallace publicly campaigned to get the ball more during a season in which he finished under 1,000 yards receiving for the fifth time in six seasons.
When called upon, Wallace was able to stretch the field, totaling eight plays of 50 yards or more in his two seasons in Baltimore, which topped the NFL.
Wallace made some spectacular catches with Baltimore, but he also dropped a handful, including a couple in the season-ending loss to the Cincinnati Bengals that knocked out the Ravens from a playoff spot.
A third-round pick by the Pittsburgh Steelers
March, 22, 2018
Mar 22
10:15
AM ET
March, 21, 2018
Mar 21
8:00
AM ET
March, 20, 2018
Mar 20
7:54
PM ET
ALBANY, N.Y. -- What started when NFL players sparked a national discussion on racism and police brutality by kneeling during the national anthem will continue this week as current and former players meet with lawmakers and community officials in major cities across the Northeast.
The campaign began Tuesday in New York's state capitol, where New Orleans Saints linebacker Demario Davis -- representing the Players Coalition -- joined criminal justice reform advocates to lobby legislators to change what they believe are race-based disparities in the bail system.
"We're using our platform and our space to do our part, to raise awareness [on] the social injustices that are going on in our country," said Davis, who signed last week with the Saints after playing for the New York Jets. "In New York, we're focusing on criminal reform. That's just a small piece in a big puzzle."
On Wednesday, former Ravens tight end Benjamin Watson will participate in a town hall-style session in Baltimore that will focus on police and community relations. On Thursday in Washington, D.C., Redskins cornerback Josh Norman will head a group that will visit a local school to discuss education and economic advancement. On Thursday in Boston, New England Patriots safety Devin McCourty and former Pats star linebacker Willie McGinest will meet with key legislators.
March, 19, 2018
Mar 19
4:18
PM ET
PHILADELPHIA -- Michael Bennett wasted no time taking aim at the NFC East quarterbacks he'll soon be chasing.
"I know Eli Manning is probably watching this and thinking ... yes, I'm coming. I know Dak [Prescott] is watching this like, 'Yeah, he's coming.' Yeah, I am," Bennett said at his introductory news conference Monday as a member of the Eagles. "And Alex Smith, he knows he can't run from me. I told him in the Pro Bowl.
"It's definitely going to be a great season, and it's going to be fun to be out here and be able to chase quarterbacks."
Bennett, 32, was recently acquired from the Seahawks along with a seventh-round pick for a fifth-round pick and wide receiver Marcus Johnson. He joins a deep defensive line group in Philadelphia that includes defensive ends Brandon Graham, Chris Long and Derek Barnett, as well as tackles Fletcher Cox, Tim Jernigan and Haloti Ngata.
"I think it can be one of the greatest. I think we can have one of the greatest defensive lines to ever play the game if we approach the game like every single way, just go out there and keep doing what they're doing and just finding a way to just add and keep showing how many great players [we have]. And I think a great defensive line is about the rotation. It's kind of like Golden State, you want to be able to have those guys that can come in and shoot and shoot and score every time," Bennett said.
Given the number of players vying for snaps, as well as defensive coordinator Jim Schwartz's preference to rotate his linemen, Bennett's playing time is likely to dip -- he played 931 snaps for Seattle last year en route to an 8½-sack campaign, while no member of the Eagles' line played more than 663 snaps last year.
But when he does get on the field, he'll be able to hunt in Schwartz's attack scheme.
"I think in Seattle, it's a little bit more responsibility because we played a little bit different defense -- still played with great defensive linemen; Cliff Avril
March, 19, 2018
Mar 19
12:25
PM ET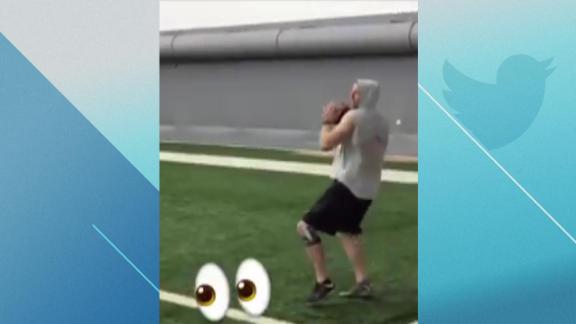 Philadelphia Eagles quarterback Carson Wentz appears to be making some significant strides in his rehab from a torn ACL and LCL.
The quarterback posted video of himself throwing inside the team's practice facility Monday.
Wentz has established the season opener as his target return date. It's still too far out to know whether he'll be able to achieve that goal, but it's clear that he's come a long way since injuring his left knee in December against the Los Angeles Rams. He went from using crutches to a cane to walking on his own. Now, the video shows, he is able to drop back, plant and throw -- albeit with a large brace around that left knee.
Recovery from an ACL tear usually takes between nine to 12 months. The Eagles intend to take the long view when it comes to Wentz's injury and don't want to rush him back. If he's not ready, they currently have Super Bowl MVP Nick Foles on the roster. They have set the trade price for Foles high, knowing the value of having a top-end insurance plan, particularly with their franchise quarterback still on the mend.
Wentz, though, is pushing his way back. His recovery will be the dominant story in Philadelphia over the spring and summer.
March, 19, 2018
Mar 19
8:00
AM ET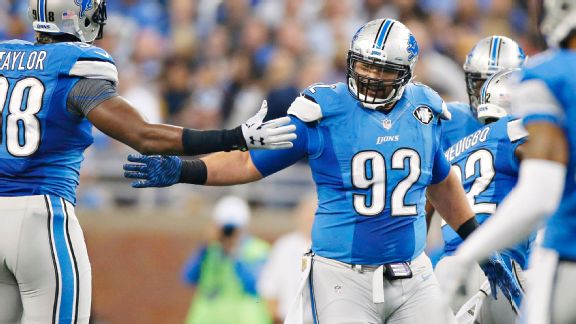 Gregory Shamus/Getty ImagesHaloti Ngata can't wear No. 92 in Philadelphia. After consulting with his kids, he's happily settled on No. 94 instead.

Haloti Ngata won a ring with Baltimore five years ago, and the pursuit of another is what brought him to the city where his idol looms large.

March, 16, 2018
Mar 16
9:47
PM ET
AP Photo/Jeff RobersonLeGarrette Blount has won two Super Bowl rings -- one with the Eagles and one with the Patriots.
The Detroit Lions have signed veteran running back LeGarrette Blount, the team announced Friday.
It's a one-year, $2 million deal while incentives could boost it another $2.5 million, a source told ESPN's Adam Schefter.
Detroit brought in four veteran backs for visits over the past week -- Jonathan Stewart, DeMarco Murray, Frank Gore and Blount -- to try to fix a running game that ranked last in the league in 2017 in yards per game and yards per carry.
Blount, 31, led the Philadelphia Eagles with 766 rushing yards on 173 carries (4.4 average) and two touchdowns during the regular season. He saved one of his best performances for Super Bowl LII, running for 90 yards and a touchdown in a 41-33 victory over the New England Patriots, his former team with whom he won a ring in Super Bowl LI.
He is tied with Marcus Allen for sixth on the career postseason touchdowns list with 11.
Despite posting career highs in carries (299), yards (1,161) and touchdowns (18) with the Patriots in 2016, Blount remained on the market until the Eagles signed him to a one-year, $1.25 million deal last May. He proved not only to be an effective runner but was key in creating a loose locker room atmosphere and remained invested after losing snaps to Jay Ajayi
March, 16, 2018
Mar 16
3:49
PM ET
The Philadelphia Eagles have released defensive end Vinny Curry on Friday in a move that will provide $5 million in salary-cap relief.
Curry, 29, was set to make a base salary of $9 million in 2018. The Eagles attempted to restructure his contract in an attempt to keep him but were unable to come to an agreement. Trade options were also explored before his release.
Curry thanked Eagles fans in an Instagram post Friday.
The loss of Curry is offset at least in part by the addition of Michael Bennett, who was acquired from the Seattle Seahawks along with a seventh-round pick for a fifth-rounder and wide receiver Marcus Johnson. He joins a defensive end rotation that currently includes Brandon Graham, Derek Barnett and Chris Long.
The Eagles signed Curry to a five-year, $46 million in 2016. He started for the Super Bowl-champion Eagles last season and paced the teams with 41 quarterback hurries but finished the season with just three sacks.
Curry, a second-round pick by the Eagles in 2012, has 22 career sacks over seven NFL seasons.
March, 16, 2018
Mar 16
11:40
AM ET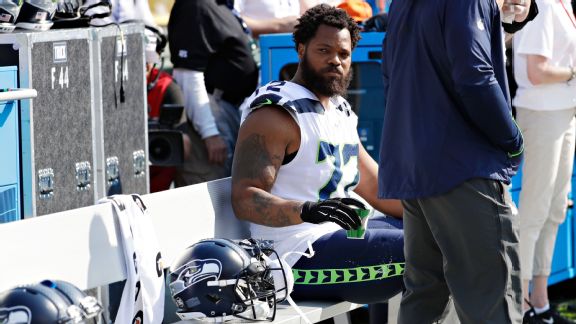 AP Photo/Morry Gashnull

With another NFL year underway, it's clear most trade-happy teams are staying active. The only question is whether more will follow their lead.

March, 15, 2018
Mar 15
8:00
AM ET
By
Cameron Wolfe
| ESPN.com
March, 15, 2018
Mar 15
8:00
AM ET
Robin Alam/Icon SportswireNick Foles appears to be staying in Philadelphia for now, but the Eagles haven't closed the door on a potential trade later in the year.

The Eagles are not in any particular hurry to move Nick Foles, and they clearly know the value of having an experienced backup on the roster.

March, 14, 2018
Mar 14
11:15
AM ET
ESPN
The Tampa Bay Buccaneers are expected to sign former Philadelphia Eagles defensive tackle Beau Allen after the new league year begins at 4 p.m. ET Wednesday, as first reported by the Tampa Bay Times and confirmed by ESPN.
Philadelphia has already secured Allen's replacement, as former Detroit Lions defensive tackle Haloti Ngata intends to sign a one-year deal with the Eagles, sources told ESPN.
A seventh-round pick by the Eagles in 2014, Allen, 26, appeared in 63 of a possible 64 games in four seasons, totaling 87 tackles, 2 sacks and 11 tackles for loss.
He was drafted to play nose tackle in a 3-4 defense, but Allen proved scheme-versatile and remained a key part of the defensive line rotation in Jim Schwartz's 4-3 system over the past two seasons. Allen had a sack and 12 quarterback pressures during the Eagles' 2017 Super Bowl run.
The Eagles and Allen had been working on a contract extension last offseason before he suffered a torn pectoral in April. The injury occurred shortly after the team had traded for Tim Jernigan, who went on to start at defensive tackle alongside Fletcher Cox and recently received a lucrative contract extension.