A viewers' guide to dunk contest reactions
February, 15, 2013
2/15/13
9:07
AM ET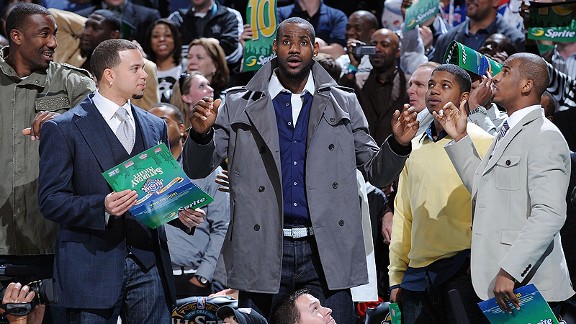 Andrew D. Bernstein/NBAE/Getty ImagesEven back in 2008, LeBron James had his dunk reaction game finely honed.
The dunk contest isn't what it used to be. In olden times, it featured big names pulling off never-before-seen dunks. But there are no new dunks under the sun and the closest most big names get to competing now is
by tweet
.
This year's competition features Gerald Green, Terrence Ross, James White, Eric Bledsoe, Kenneth Faried and Jeremy Evans. It's a Who's Who. Evans, the defending champ, has received 42 minutes of game action since Christmas and apparently remains in the NBA just because he's one of the few players willing to participate in the dunk contest.
When LeBron tweeted "Dunk contest?", maybe he was just asking if he should watch the dunk contest. Why care about no-name players doing derivative dunks, right?
Wrong.
The dunk contest remains one of the most entertaining events on the sports calendar because the dunks aren't the most entertaining aspect of the show. It's the reactions
to
the dunks.
Courtside at an NBA dunk contest are players, celebrities, agents, friends. People who are constantly surrounded by professional basketball players playing basketball at the highest level. They've seen all there is to see in basketball. Every day. Yet at the dunk contest, this assorted group of people reacts to most every dunk as though it is the first dunk they have ever seen in their entire lives. "What?! Man can leap into the air and throw inflated leather through iron! AHHHHHHH! This is amazing!" Just imagine their reactions to the moon landing. Replays of the moon landing. On YouTube. "He's on the moon! WALKING AROUND!" Passes out.
Yes, the reason to watch the dunk contest is for the courtside reactions. And they come in many varieties.
The Pre-Dunk Freakout
Why wait to go insane after a dunk is completed when you can have your head explode pre-dunk?
Check out Dwight Howard's
Superman dunk
at the 2008 contest. All he had to do was pull up his jersey to reveal a Superman logo and everyone went nuts. Insane. The contest was over then. The following dunk itself didn't even matter (which is good, because he didn't really dunk; he threw the ball in the basket).
In a different way, Dwight Howard can still get people excited today by removing their jersey. "Yes! Yes! Please keep it off forever!"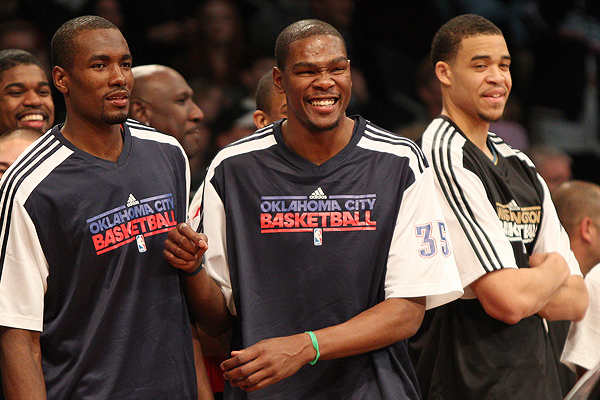 Ned Dishman/NBAE/Getty ImagesIs Kevin Durant preparing to break out The Push Aside Everyone Around You?
The Push Aside Everyone Around You
The race to overreact to a dunk is intense. People are jumping out of seats, limbs are flailing this way and that. You must be aggressive yet controlled to live to see another dunk.
A tried-and-true approach is to have a low base and spread your arms wide as you rise from your seat, as demonstrated
by LeBron James here
.
The Push Aside Everyone Around You method gives the overreactor space to overreact and protects him from the thrashings of nearby overreactors.
The Dumbfounded Stare
How many times in your life have you witnessed something so shocking, so unexpected, so awe-inspiring that you simply had to just stop and stare with your mouth wide open?
Never? Once? Maybe twice at the most?
For shame. You need to start living. And by living, I mean: Get courtside seats to an NBA dunk contest and in no time you'll be producing dumbfounded stares at a rapid pace.
Like this!
Note: If you find yourself at a dunk contest and fear you may be prone to The Dumbfounded Stare, don't carry a video camera from 1989 as Shaq was in the clip above. Those things are antiques. You don't want to drop it whilst being dumbfounded.
Overgrading
Grade inflation. You think it's easy to pull a B at a state school these days? It's nothing compared to the dunk contest.
Did a 6-foot-7, 22-year-old professional basketball player just successfully dunk a basketball?
That's a 10!
Did a 6-foot-7, 22-year-old professional basketball player trip at the foul line, get up, weakly jump and then get snagged in the net? That's a 9.4!
Shock and Terror
Look at
this Kevin Garnett reaction
.
Now ... pop quiz time!
What did Kevin Garnett just witness?
a) a man chopping someone's head off with a samurai sword
b) a shark swallowing someone whole and then turning in Garnett's direction
c) a litter of puppies getting run over by a steamroller
d) a dunk
Believe it or not, the answer is D -- a dunk. Yes, Kevin Garnett, a man who would gladly punch a baby in the neck to get the possession arrow in his team's favor, had that reaction to a dunk. It must have been quite a dunk.
Grabbing Those Nearby for Comfort
Sometimes a dunk is so terrifying that you must grab hold of those near you in half-hugs, hoping that they have the strength to keep you standing. For an example of this one, just watch footage of every dunk.
The Self-Immolation
OK, so this one hasn't exactly happened yet. But it's coming. You know it is. One of these years a player is going to complete a dunk so powerful, so high-flying, so artistic, that a fellow player courtside will produce a sword, plunge it into his stomach and disembowel himself. He will then, while bleeding out, light a torch and set himself aflame.
Perhaps this is why superstar players like LeBron James no longer participate in the dunk contest. Can you imagine the courtside carnage? James doesn't want to be responsible for what might occur.
If people are having seizures over Jeremy Evans dunks, what might happen if the best player in the world pulled off some sort of 360, through-the-legs number?
The loss of life would be too great.
No, it's better that no-name players do the dunking. It's safer that way. When you watch the dunk contest at All-Star Weekend, remember to say a prayer that all those courtside fans survive.