John Dowd, 47, still loves racing Moto-X
August, 13, 2012
8/13/12
12:00
PM ET
By
Lynn Hoppes
| ESPN.com
SOUTHWICK, Mass. -- "You can't teach an old dog new tricks."
Don't tell that to 47-year-old John Dowd, who is nicknamed the "Junk Yard Dog" because he grew up in a junkyard and is the oldest rider on the Pro Motocross series.
On Saturday, Dowd, of Ludlow, Mass., finished 14th out of 40 drivers in the 450 class at the Moto-X 338 National in Southwick, Mass.
[+] Enlarge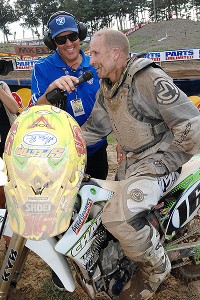 Courtesy of Carl StoneJohn Dowd is 24 years older than Ryan Dungey, who won the Moto-X 338 on Saturday in Massachusetts.
That finish gave him enough points to keep his bike number, 16, for another season.
"I love the competition, just riding my motorcycle. I enjoy this," said Dowd, whose birthday was Friday. "I've always been the old guy out here on the track. It gives me motivation to try to beat the young guys."
Dowd was a late bloomer in the motorcycle racing game. He didn't seriously start racing until he was 20. That's many years past most of the other riders. He got his first factory sponsorship deal at 29 and has been near the top of his game for more than 15 years. For the past few years, Dowd has been riding occasionally, on tracks he likes, and trying to score enough points to keep his bike number, the same one he's had since 2000.
"I'm still riding pretty good. I keep myself in shape and I try to set a good example," Dowd said. "I'm not out there for the win. It's almost unheard of that someone my age is out there."
And Dowd is hoping his 15-year-old son, Ryan, will
follow in his footsteps
. Starting next year, his son can try qualifying for one of the lower classes.
"I hope he can make a name for himself. In a year or two, you might be seeing him out here instead of me," Dowd said. "We joke around about both of us qualifying for nationals together!"
Ryan said he can't beat his father on the track -- yet.
"I'm trying to keep up the best I can right now," Ryan said. "I'm getting there. I've always wanted to do this."
[+] Enlarge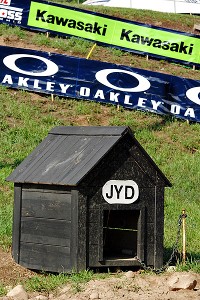 Carl Stone This fake dog house sits in the middle of the track at Southwick.
So Dowd will continue to race and qualify until his son is riding alongside for a big race.
"He's getting closer. It's a pretty fun deal for us. I have a lot to offer him," Dowd said. "This is my love. That's the bottom line."
So the Junk Yard Dog will be barking a while longer.
"Oh, the nickname ... I grew up in a junkyard because my dad owned a scrapyard business," said Dowd, who has a dog tattooed on his right shoulder. "And the other reason is my riding style has never been pretty. I've never been one of those fluid natural guys."
And what about standing on the track next to those young bucks?
One of Dowd's friends walks up and lifts Dowd's shirt up:
"Have you seen his ripped muscles? He looks the same except for his bald head."