Who will be next ex-Met to throw no-hitter?
April, 23, 2012
4/23/12
12:35
PM ET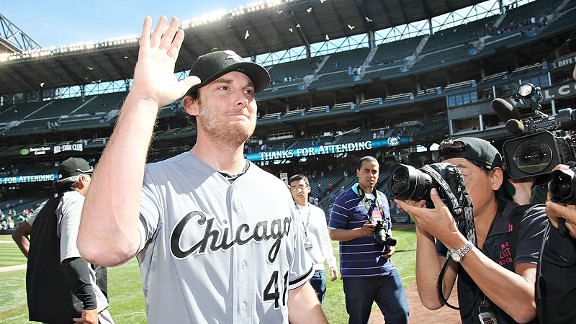 Otto Greule Jr/Getty ImagesPhilip Humber is the latest Mets castoff to remind us of the franchise's 50-year no-hitter drought.
On Saturday night against the Mariners, White Sox starter Philip Humber joined an exclusive club, becoming the 21st pitcher to throw a perfect game in major league history. He also joined an even more exclusive club, along with Nolan Ryan, Tom Seaver, Mike Scott, Dwight Gooden, David Cone and Hideo Nomo as ex-Mets who have thrown no-hitters.
Meanwhile, the Mets themselves have zero no-hitters in their 50-year history. There is even a website dedicated to this "phenomenon" --
NoNoHitters.com
-- which notes that the Mets have played "7,982 regular season games and 74 postseason games -- 50 years and 12 days" without a no-hitter.
Impressive stuff. With that history in mind, let's try to predict which ex-Met will be the next pitcher to throw a no-hitter. Here are the candidates:
Eddie Kunz
– Philip Humber was the Mets first pick in the 2004 draft; Kunz was their first pick in the 2007 draft. The Mets gave up on Humber, just as they gave up on Kunz, who is now toiling for the Tucson Padres with a 9.72 ERA. All San Diego needs to do is call Kunz up and let the magic happen.
Oliver Perez
– Perez once had some of the filthiest stuff in baseball. Today, he is a reliever for the Triple-A Tacoma Rainiers and has a 6.48 ERA. If you think this makes it unlikely he will pitch a no-hitter in the major leagues, you obviously don't follow the Mets.
Nelson Figueroa
– Figueroa is a 37-year-old journeyman who put up two forgettable seasons with the Mets in 2008 and 2009. Last year, he was 0-3 with a 8.69 ERA for the Astros, the worst team in baseball. Not surprisingly, he was out of baseball to start this season. But, what's this? He's
back on his way to the big stage
of New York? Yes, it would be perfectly fitting if he throws a no-hitter for the Yankees.
John Maine
– Maine put up a 26-inning scoreless streak as a rookie with the Mets in 2006. He has the stuff to be dominant; he just hasn't shown it in a few years. For example, last year he had a 7.43 ERA for the Rockies' Triple-A team. This year, he failed to make the Red Sox out of spring training – and as any baseball fan knows, not being able to make the Red Sox is about as low as it can go for a major league pitcher. All this means is that he has bottomed out. It's all up from here on the way to an inevitable no-hitter.
Johan Santana
– Picture it: late July, the cash-strapped Mets are out of playoff contention and decide to deal their best pitcher for prospects. Santana, who the Mets acquired in 2008 in a package that included Humber, then throws the first no-hitter of his career. Against the Mets. There is no greater certainty in life than this happening.