August, 22, 2017
Aug 22
7:00
AM ET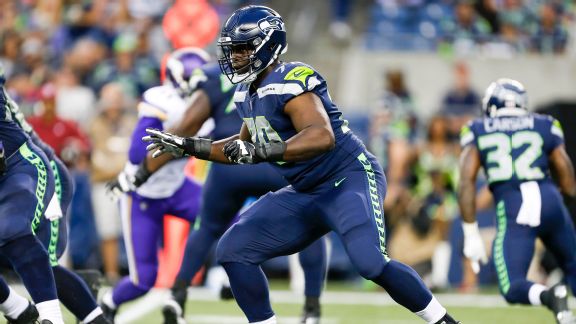 Joe Nicholson-USA TODAY SportsRees Odhiambo will get the first shot at replacing George Fant as the starting left tackle.
RENTON, Wash. -- George Fant went through his share of growing pains as a rookie, but the Seattle Seahawks left tackle was put in an impossible situation.
He hadn't played football since the eighth grade and was asked to start 10 games on a team trying to contend for a Super Bowl. Fant showed the coaches this offseason that he was serious about improving. He bulked up from 296 pounds to 320 pounds. He struck up a relationship with Hall of Famer Walter Jones and picked his brain. Pete Carroll singled Fant out as the Seahawks player who made the biggest jump since the end of last season.
But on Friday, Fant suffered a significant knee injury, and he's expected to miss the season. With the regular-season opener less than three weeks away, the Seahawks are scrambling to find a new left tackle. Here are their options.
Rees Odhiambo -- The second-year player will get the first shot at replacing Fant, but Odhiambo hasn't shown much since the Seahawks drafted him in the third round in 2016. The coaches deemed that he wasn't good enough to beat out Fant, Garry Gilliam or Bradley Sowell at either of the tackle spots last year. Until Fant's injury, Odhiambo was slated to serve a backup role.
"We drafted him highly with the thought that he'd be able to do this," Pete Carroll said. "I've never backed off the thought. Physically, he can do it all. Now, he's just got to make sure he can settle in and execute and function really well with the guys."
Having Odhiambo step up to the challenge would be the Seahawks' best-case scenario. But at this point, to count on that happening would be a mistake.
Luke Joeckel -- It's clear now the Seahawks signed Joeckel with the intention of playing him at left guard. Joeckel started at left tackle during his first three seasons before sliding inside. He's gotten reps at tackle during camp but was penciled in as the starting guard, and Carroll would prefer not to move him.
"Luke has been a starting left tackle in the NFL. He was drafted as that, and if that's what winds up happening, that winds up happening," Carroll said. "And we know that. We like Luke playing at left guard, and we'd like to keep it that way."
Carroll was pretty clear that they don't want Joeckel to move back to tackle, but this option can't be ruled out completely.
Ethan Pocic -- He's a dark horse. The second-round pick out of LSU played multiple spots in college but was mostly a center. He has been competing with Germain Ifedi at right tackle, but Carroll indicated on Monday that Ifedi is going to start. That could open up other options for Pocic.
"He's played left tackle in the past," Carroll said. "He's done everything. He's already done a little bit of everything for us. That's a possibility. He's only played a short time there at the left side. He's been primarily [a] right-side guy. When you're a center, you have to be somewhat ambidextrous. That's a possibility, also."
Pocic is 6-foot-6 with 33 1/8-inch arms. He figures to at least get a look at left tackle.
Matt Tobin -- The Seahawks acquired him from the Philadelphia Eagles on Monday. Tobin has started 21 games in four seasons. NFL Nation Eagles writer Tim McManus did not project Tobin making Philadelphia's 53-man roster. None of his career starts have come at left tackle, although Tobin has filled in there during games.
In the Eagles' last preseason game, Tobin played right tackle.
The Seahawks obviously brought him in for a reason. Tobin could assume the role of versatile backup, but he'll likely be given a chance to compete for the left-tackle job.
August, 21, 2017
Aug 21
6:19
PM ET
RENTON, Wash. -- The Seattle Seahawks have acquired offensive lineman Matt Tobin and a 2018 seventh-round pick from the Philadelphia Eagles in exchange for a fifth-round pick.
Tobin entered the league as an undrafted free agent out of Iowa in 2013. He has started 21 games in four seasons and has played both tackle and guard.
The Seahawks lost starting left tackle George Fant to a season-ending knee injury during Friday's preseason game against the Minnesota Vikings.
Seattle coach Pete Carroll said Monday that second-year player Rees Odhiambo would get a shot to replace Fant. The team could also move Luke Joeckel over from left guard, and rookie Ethan Pocic could compete there as well.
None of Tobin's starts have come at left tackle, but he has filled in there before and is expected to compete for playing time at that spot.
August, 21, 2017
Aug 21
7:00
AM ET
SEATTLE -- After Blair Walsh connected on a 52-yard field goal Friday night, he took a few steps toward the Minnesota Vikings' sideline and pointed right at his former coaches and teammates.
Later, Walsh made another 52-yarder and did the same thing. This time, his new teammates were waiting for it. Richard Sherman raced onto the field with a huge grin on his face. It felt like the moment that Walsh officially became a member of the Seattle Seahawks.
Afterward in the locker room, the veteran kicker was fired up. He said his former team had been taunting him and that he was just responding. Walsh tried to downplay the whole thing, but clearly a part of him loved it.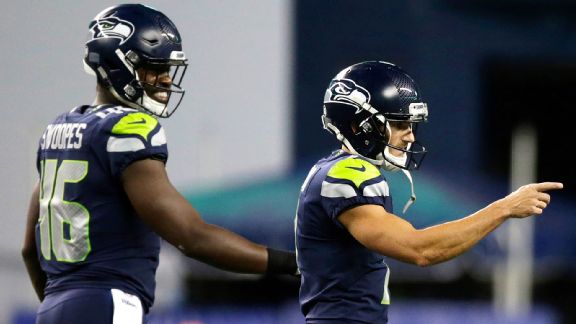 AP Photo/Scott EklundIn responding to taunts from his old Vikings teammates during a preseason meeting, Blair Walsh showed he was ready to go all-in on his Seahawks opportunity.
"I simply was just responding to getting taunted," he said. "I didn't say anything. When you've got guys who were your teammates for five years yelling at you when you're trying to kick, it's just odd. And I hope they were in jest. And I hope they didn't mean it because I didn't mean anything with mine, but it was definitely not out of nowhere."
At this time last year, Walsh was on the Vikings. He was trying to turn the page on the 2015 season that ended with a missed 27-yard field goal attempt against the Seahawks that would have sent the Vikings to the divisional round of the playoffs. But Walsh was unable to do so. In 2016, he missed four extra point attempts in Minnesota's first nine games and was 12-for-16 on field goal attempts. The Vikings released him in November.
Walsh flew home to Southern California and hit the practice field at Orange Coast College. He watched film of himself and tried to make mechanical tweaks. For the first time in five years, he spent Sundays in front of a TV watching football instead of playing it.
"For me, it was frustrating because I knew I belonged up there -- not just in the league but at the top of it," Walsh said. "That's just how I am. It might come across as too confident. But you have to have it if you want to play in this league."
Walsh then made a visit to Florida to see sports psychologist Bob Rotella, who works with golfers such as Rory McIlroy and Padraig Harrington.
"He helped me a lot with just my mindset," Walsh said. "I have all the tools and the right attitude. But I just needed to adjust it a little bit and make sure my focus is on the right stuff on game days. And I feel good. He's just helped me develop a mental side to it that's helping."
During the spring, Walsh was inconsistent. It looked as if the kicking game was going to be a major question mark for the Seahawks going into the season after they let Steve Hauschka leave in free agency.
But this summer has been a different story. Walsh is 4-for-5 on field-goal attempts in two preseason games, with his only miss coming on a 53-yarder that hit the crossbar. He has made all eight of his extra point attempts and looked great on kickoffs.
It's a small sample size, and Walsh will have to prove himself in the regular season. So far, his comeback attempt is right on track.
"We are getting him at a time when he really has something to prove," Seattle coach Pete Carroll said. "He has been a tremendous worker for us, really diligent worker. He is a very good athlete, too. You can see he has soccer background in him and all that. He has a big leg though, too. We haven't seen a ball pop up in the air like this in years."
Walsh said Carroll's positive approach was just what he needed.
"Here, they just bring something out of you that makes you more confident, makes you enjoy the game, makes you relax a little bit," Walsh said.
"Pete's always there supporting us. If you had a good practice, he's going to tell you. If you had a bad practice, he'll tell you, too. And that's fair. He's here to support you and bring the best out of you. They're not sugarcoating anything. They're just supporting you. And that's different than sometimes in other environments. It's been a blast here so far. But in order for it to work, you've got to produce on the field."
As for the missed 27-yard field goal attempt, Walsh clearly doesn't like talking about it. Whether it's fair or not, that kick is the one Vikings fans will think of when they hear his name.
"It's one of those things where in the moment it's not fun, and it's not easy to go through," Walsh said. "But it was something that I was in control of. For me, it's just so far in the past that I just don't think about it. The only time I think about it is when it's brought up or mentioned to me."
The Seahawks organization has embraced the idea of grit over the years. It wants players who are capable of overcoming obstacles, guys who view failure as an opportunity for growth.
Walsh is on a one-year deal that contains no guaranteed money. The stint with the Seahawks allows him the opportunity to show he can overcome adversity and turn his career around.
"I understand the position," he said. "You've got to make kicks to stay in the league. I had made a lot for [the Vikings]. But for me, I knew that my next opportunity I wanted to make my last. I wanted to make that my permanent home."
August, 19, 2017
Aug 19
3:33
AM ET
SEATTLE -- Seattle Seahawks kicker Blair Walsh said his gestures toward the Minnesota Vikings' sideline Friday night were the result of his ex-teammates taunting him.
"I felt like it was nothing that was serious or meant to be hurtful, but I wanted to let them know that it just wasn't going to roll off," Walsh said. "I didn't say anything though. Just looked at them."
Walsh made a pair of 52-yard field goals in the second half, and after each one, he gestured toward the Vikings' sideline. Following the second kick, cornerback Richard Sherman raced onto the field to express his approval.
Asked what the Vikings were saying to him, Walsh said, "Nothing I can repeat here. That's for sure."
Walsh played five seasons in Minnesota before the team released him in November. He signed with the Seahawks as a free agent this offseason.
"I simply was just responding to getting taunted," Walsh said. "I didn't say anything. When you've got guys who were your teammates for five years yelling at you when you're trying to kick, it's just odd. And I hope they were in jest. And I hope they didn't mean it because I didn't mean anything with mine, but it was definitely not out of nowhere."
Added Seahawks coach Pete Carroll: "I'm fired up for Blair. ...They were giving him a hard time. They were razzing him a little bit and all that. He was just having a little fun with it. He's a really good competitor. I like his mentality, and I think we are very fortunate to have him."
August, 19, 2017
Aug 19
1:20
AM ET
SEATTLE -- After two preseason games, it appears that this might be the best group of pass-catching weapons Russell Wilson has ever played with.
Wilson was sharp Friday night in the Seattle Seahawks' 20-13 victory over the Minnesota Vikings. He hit his usual targets such as Doug Baldwin but also might have found a new weapon in Kasen Williams.
Throw in Tyler Lockett, Jimmy Graham, Paul Richardson and C.J. Prosise, and Wilson will have no shortage of playmakers to throw to in the regular season.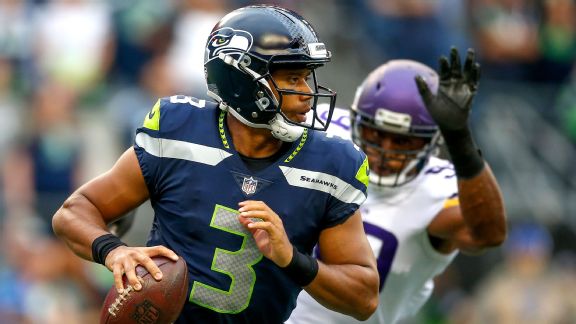 Otto Greule Jr/Getty ImagesRussell Wilson went 13-for-18 with a pair of touchdowns and no picks Friday against Minnesota.
QB depth chart: Wilson looked good, completing 13 of 18 passes for 206 yards, two touchdowns and no interceptions. So far in the preseason, Wilson is 16-for-22 for 247 yards. Two of those incompletions were throwaways. And two more were drops. Wilson is having a fantastic summer and appears primed for a monster, bounce-back season. Trevone Boykin didn't play much, going 5-of-8 for 55 yards. And Austin Davis closed the game out.
When it was starters vs. starters, the Seahawks looked ... impressive. The offense had a chance to score on three of four possessions. Blair Walsh just missed a 53-yard field goal that hit the crossbar. Baldwin caught all four of his targets for 69 yards. Defensively, the Seahawks gave up some plays, but Earl Thomas once again looked to be operating at 100 percent.
One reason to be concerned: Left tackle George Fant went down with what looked like a right knee injury in the second quarter. Fant was in pass protection when Justin Britt, who was on the ground, rolled into the back of his legs. Fant was on the ground for several minutes before getting carted off the field. If the injury is serious, it'll be Luke Joeckel or Rees Odhiambo filling in at left tackle.
That guy could start: Williams. Well, maybe not start. But he's certainly playing like he's worthy of a roster spot and a role. Williams caught two passes for 28 yards and a touchdown. Both were contested catches, one on a fade from the 1-yard line. Last week, Williams caught four balls for 119 yards. Williams' ability to win 50-50 balls down the sideline is a unique skill. After two preseason games, he looks to have a great chance to make the team.
Rookie watch: Chris Carson rotated with Eddie Lacy on the Seahawks' first-team offense. Carson carried six times for 27 yards. He also had a 17-yard catch-and-run on third down. And on special teams, Carson forced a fumble on kickoff coverage. The seventh-round pick out of Oklahoma State has had an impressive summer and looks like a lock to make the roster. The only question now is: How big of a role can he earn between now and the regular season?
Walsh's revenge: OK, maybe that's a step too far. But the Seahawks' new kicker nailed a 52-yard field goal and then pointed to the sideline of his former team. Later, he hit another 52-yarder and again gestured toward the Vikings sideline. That time, Richard Sherman joined him on the field. Entering camp, the kicking game seemed like a huge question mark. And Walsh still has to prove himself in the regular season. But so far, so good.
Injury updates: In addition to Fant, defensive end Frank Clark left the game with a hand injury. And wide receiver Amara Darboh was being tested for a possible concussion. Graham, Thomas Rawls and Prosise were among the Seahawks who did not play in Friday's game.
August, 18, 2017
Aug 18
11:16
PM ET
SEATTLE -- Seattle Seahawks left tackle George Fant tore his ACL in his right knee during Friday's preseason game against the Minnesota Vikings and will have to undergo season-ending surgery.
"I'm really broken-hearted about George Fant getting hurt," Seahawks coach Pete Carroll said. "Just unfortunate. He's done so much and come so far."
Fant suffered the injury with 8 minutes, 49 seconds left in the second quarter. He was moving backward in pass protection when teammate Justin Britt, who was on the ground, rolled into him. Fant immediately went to the ground and clutched the knee. Trainers tended to him for several minutes before carting Fant off the field.
Fant started 10 games at left tackle last year and was going to start there again in 2017.
Carroll said earlier this summer that Fant had the best offseason of any Seahawks player. Fant bulked up from 296 pounds to 320 pounds.
After Fant's injury, second-year player Rees Odhiambo took over at left tackle. Luke Joeckel, who has been playing left guard, could also be an option to play that spot going forward.
August, 18, 2017
Aug 18
10:31
PM ET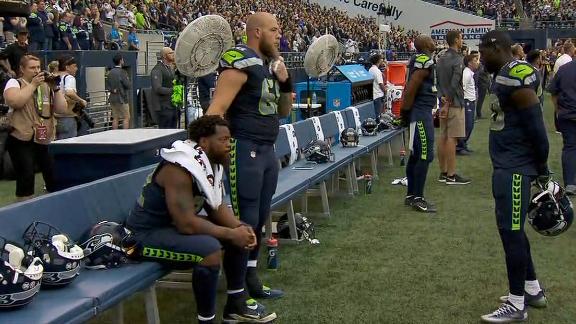 SEATTLE -- Michael Bennett once again sat during the national anthem before the Seattle Seahawks preseason game against the Minnesota Vikings on Friday. But this time, he had company, with Justin Britt standing next to him.
Britt put his arm on Bennett's left shoulder during the anthem. Afterward, the teammates embraced.
"I want to support him," Britt said after the Seahawks' 20-13 win. "I want to support what he stands for and his beliefs. I'm not foolish. I'm from Missouri. I get that things are different in that area than they are in some other areas. I'm not against what the flag means and veterans. My dad was in the Army. So I'm not putting any disrespect to them. I'm just trying to understand the issues, trying to educate myself more in that regard and showing support.
"And I'm going to continue to understand what's going on in the world and why it's happening. Because none of it's right. None of it's what should be happening. I'm going to continue talking with Mike and exploring and just helping myself understand things. I wanted to take a first step tonight. And that's what I felt like I did."
Bennett first sat during the national anthem before the Seahawks' preseason opener against the Los Angeles Chargers last weekend. He said that the events in Charlottesville, Virginia, were a tipping point for him and that he wanted to use his platform to promote justice and equality.
Earlier this week, on ESPN's SC6, Bennett called for a white player to join the protest
August, 18, 2017
Aug 18
7:00
AM ET
RENTON, Wash. -- The Seattle Seahawks continue their preseason Friday night against the Minnesota Vikings. Here are some things to keep an eye on:
Eddie Lacy getting more work
Thomas Rawls had been getting reps with the first team ahead of Lacy, but Rawls suffered a "minor" sprained ankle in last week's game, coach Pete Carroll said. That means Lacy will likely get the start. Carroll said the Seahawks don't need the preseason to see what Lacy can do, but because Lacy missed the last 11 games of the season in 2016, he needs the work.
"He didn't play but the first five games last year, so it's been a long time," Carroll said. "He needs to play football and come back. He did a nice job last week. He had a very good week of work. So to get him to come back this week was -- I think it's a real sign that he's back and going."
Lacy carried four times for 10 yards in the first preseason game.
Chris Carson also should see plenty of work. He's had an impressive summer so far.
The cornerback situation
Rookie Shaquill Griffin had an up-and-down debut, but the coaches still love what he brings to the table. Griffin should see plenty of work at right cornerback, and Jeremy Lane is expected to play after missing the first game with a soft tissue injury.
The Seahawks signed Tramaine Brock this week, and Carroll said Brock will be used inside in nickel packages.
Most likely the Seahawks will start the season with Richard Sherman and Lane as their base corners. Griffin can come on the field in sub packages, and Lane can slide inside. But Seattle wants depth. And if Griffin can improve and play well as the preseason goes on, he could earn the starting job.
Offensive line musical chairs
Three of the five spots on the offensive line seem settled. From left tackle to center, it's going to be George Fant, Luke Joeckel and Justin Britt. But the spots on the right side are up for grabs.
Oday Aboushi started at right guard last week, but Mark Glowinski will get a shot with the first team this time around.
At right tackle, Germain Ifedi is trying to hold off rookie Ethan Pocic.
The Seahawks generally prefer competition over continuity, but it'd be nice for them to settle on their starting five linemen in time for the third preseason game next week.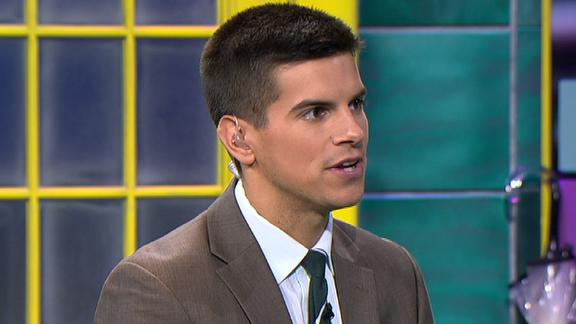 August, 17, 2017
Aug 17
8:15
PM ET
By
ESPN.com staff
| ESPN.com
Several NFL players continued their national anthem protests during Week 2 of the preseason. The protests against what several players believe to be social injustice were started last season by former San Francisco 49ers quarterback Colin Kaepernick, who remains an unsigned free agent. Here are the players who protested in Week 2:
Cleveland Browns: Eleven Cleveland Browns players took a knee in a circle during the national anthem before Monday's preseason game. While the group knelt behind the bench in front of the Gatorade buckets, several other players stood nearby and put their hands on a kneeling teammate's shoulder in support.
Those who took a knee were tight end Seth DeValve, running backs Duke Johnson Jr. and Terrence Magee, safeties Jabrill Peppers and Calvin Pryor, cornerback Jamar Taylor, receivers Kenny Britt and Ricardo Louis, linebackers Christian Kirksey and Jamie Collins, and running back Isaiah Crowell (who was not in uniform).
Those who stood nearby were punter Britton Colquitt (who also had his hand on his heart), cornerback Jason McCourty, quarterback DeShone Kizer, defensive tackle Trevon Coley and offensive tackle Shon Coleman.
Philadelphia Eagles: Safety Malcolm Jenkins continued his protest by raising a fist over his head prior to the Eagles' home game against the Buffalo Bills. In an apparent show of support, defensive end Chris Long kept his hand on Jenkins' back for the entire playing of "The Star-Spangled Banner." Then Long gave Jenkins a pat on the shoulder pads and a hug when the song was over. Cornerback Ron Brooks was also seen taking a knee during the anthem. Brooks joined Jenkins in raising a fist for multiple weeks last season before being sidelined with a ruptured quad tendon. -- Tim McManus
Los Angeles Rams: Outside linebacker Robert Quinn raised his fist in the air during the national anthem Saturday, as he did in the first preseason game and throughout the 2016 regular season. Quinn spoke to new Rams coach Sean McVay about his intent beforehand, saying he wanted to express himself while respecting McVay's wishes that everybody stand. "It's not just a stance, but an appreciation to ancestors who made a way for, and gave opportunities for, me and others that came along the way," Quinn told reporters earlier this week. "It's more of an appreciation than a stance, that not all has been forgotten." -- Alden Gonzalez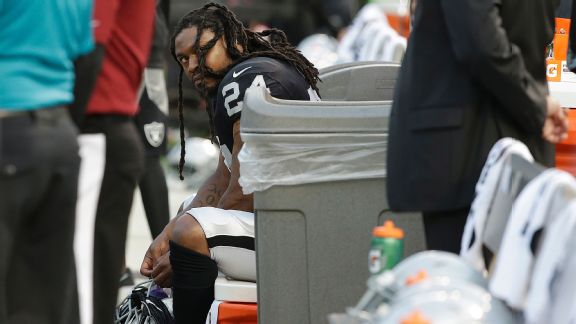 Rich Pedroncelli/AP PhotoFor the second preseason game this season, Raiders running back Marshawn Lynch sat during the national anthem.
Oakland Raiders: Quarterback Derek Carr put his right hand on defensive end Khalil Mack's left shoulder during the national anthem before the Raiders' exhibition home opener against the Rams on Saturday night. Also, a week after remaining seated on a cooler in Arizona, Raiders running back Marshawn Lynch again stayed seated. Plus, Raiders rookie safety Shalom Luani took a knee at the beginning of the anthem. -- Paul Gutierrez
Seattle Seahawks: For the second straight week, Michael Bennett sat for the national anthem. Seahawks center Justin Britt stood next to Bennett with his hand on Bennett's right shoulder, and the two hugged after the anthem. Seahawks cornerback Jeremy Lane stood facing Bennett with his back to the flag and the field.-- Sheil Kapadia
Tennessee Titans: Following the national anthem sung before the Titans' game against the visiting Panthers on Saturday, defensive lineman Jurrell Casey and linebacker Wesley Woodyard raised their firsts in the air. Both Casey and Woodyard did the same last season.-- Cameron Wolfe

Buffalo Bills: Bills offensive lineman Cameron Jefferson raised his fist during the anthem before their game against the Philadelphia Eagles on Thursday. Jefferson said he was inspired to raise his fist after looking across the field at Eagles safety Malcolm Jenkins doing the same during Thursday's anthem. Bills coach Sean McDermott said Sunday he respects Jefferson's decision. "What I want all of our players to understand is we are going to support them, No. 1," McDermott said. "Everyone obviously has their view on things. I think the key word here is respect. We respect Cam's opinion, we respect and acknowledge what's going on. ... Respect the situation, respect the communication end of things moving forward, and then respect the process of what's going on in this country and in this world."-- Mike Rodak
This post will be updated throughout this week's slate of games.
August, 17, 2017
Aug 17
3:31
PM ET
RENTON, Wash. -- The Seattle Seahawks and center Justin Britt have agreed to a three-year, $27 million contract extension, a league source told ESPN.
Britt tweeted his excitement about staying in Seattle.
Britt was entering the final year of his rookie contract. Originally a second-round pick in 2014, Britt began his career at right tackle and then moved to guard in 2015.
Last season, Britt changed positions again and played well at center.
"He has been a fantastic leader for us up there," coach Pete Carroll said Thursday. "He had an excellent season. He's played three spots for us and started at tackle, guard and center now. We think he's really in the best spot for him. I think it's just recognition and acknowledgment of the player and the teammate that he's become for us. And also the fact that we're able to do it on the offensive line, I think it is important to note that. I don't want to try to dissuade you from thinking that."
Britt has started 47 games over the past three seasons. He is the first offensive lineman the Seahawks have drafted and extended since Carroll and general manager John Schneider took over the team in 2010.
"It's a statement that we want to make sure and take care of these guys," Carroll said. "Justin has done everything that we need him to do, been a great teammate. ... I think it's very much in line with all of the things we've done in the past."
August, 17, 2017
Aug 17
3:26
PM ET
Rich Graessle/Icon SportswireSeattle coach Pete Carroll said the team is in a good place with Tramaine Brock, who was signed after charges from an alleged domestic violence incident were dropped.
RENTON, Wash. -- Pete Carroll said Thursday that he was comfortable with the process the Seattle Seahawks went through to investigate cornerback Tramaine Brock's alleged domestic violence incident in April.
The Seahawks signed Brock to a one-year deal on Thursday.
"What I would say to you is, I don't know how anybody could have done a more extensive look into this," Carroll said. "John [Schneider, the team's general manager] started this quite some time ago and followed it throughout to make sure we knew exactly what was going on. I'm not going to go into particulars for you, but we feel assured that we have done all of the homework that can be done and done a little bit past that and then maybe past that.
"We've really done our work here and feel that we're in a good place with him."
Brock, 28, was arrested on April 6 on suspicion of felony domestic violence and child endangerment after officers responded to a call that evening. Officers reported that an adult woman had visible injuries and was "in a dating relationship with the male suspect." Brock pleaded not guilty to those charges. Charges were dismissed on Aug. 9. The Santa Clara District Attorney's office said there was insufficient evidence to proceed with the case because the alleged victim declined to cooperate.