April, 23, 2017
Apr 23
7:00
AM ET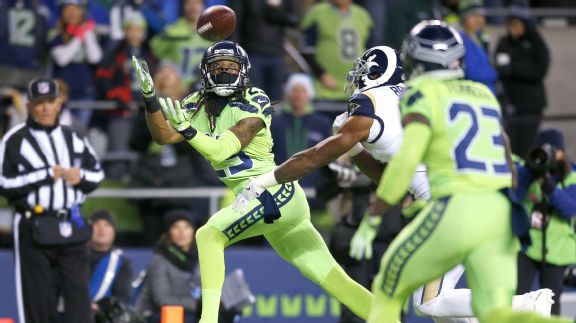 Otto Greule Jr/Getty ImagesRichard Sherman, who was a fifth-round draft pick by the Seahawks, has made the Pro Bowl four times in his six NFL seasons.
The Seattle Seahawks have selected 398 players in their 41-year history. Here's a look at the best draft picks by position for the Seahawks:
OFFENSE
Quarterback: Russell Wilson, third round, 2012, Wisconsin. He hasn't missed a start since entering the NFL, and the Seahawks have gotten to at least the divisional round every year that Wilson has been their quarterback. They've been to the Super Bowl twice and hoisted the Lombardi Trophy once. Wilson's 99.6 career passer rating is currently second in NFL history behind only Aaron Rodgers.
Running back: Shaun Alexander, first round, 2000, Alabama. Alexander is the all-time franchise leader in rushing yards (9,429) and rushing touchdowns (100). He's the only Seahawks player to ever earn MVP honors (2005). Alexander ran for 1,880 yards and 27 touchdowns that season, averaging 5.1 YPC as Seattle went 13-3 and made it to the Super Bowl.
Wide receiver: Darrell Jackson, third round, 2000. There's no obvious option here for the Seahawks, but Jackson is third on the team's all-time receiving list with 7,132 yards. Only Steve Largent (whom the team traded for) has more receiving touchdowns than Jackson in Seahawks franchise history.
Tight end: Christian Fauria, second round, 1995, Colorado. The Seahawks haven't had a lot of success drafting tight ends, but Fauria's 166 career receptions with Seattle are the most by a player at his position in franchise history. He started 73 games in seven seasons for the Seahawks.
Tackle: Walter Jones, first round, 1997, Florida State. He's the easiest pick on this list. Jones was inducted into the Hall of Fame in 2014 after a 12-year career in which he started 180 games for the Seahawks. Jones made the Pro Bowl nine times and is considered one of the greatest left tackles of all time.
Guard: Steve Hutchinson, first round, 2001, Michigan. He spent the first five years of his career with the Seahawks, starting 68 games and making the Pro Bowl three times. Hutchinson continued his career with the Minnesota Vikings where he started 89 games and made four more Pro Bowls.
Center: Max Unger, second round, 2009, Oregon. The best center the Seahawks ever drafted was Kevin Mawae (second round, 1994). But he didn't earn Pro Bowl recognition until he joined the New York Jets, so Unger gets the nod. Unger started 67 games in six seasons with the Seahawks, making the Pro Bowl twice, before being traded to the New Orleans Saints as part of the Jimmy Graham deal.
DEFENSE
End: Michael Sinclair, sixth round, 1991, East New Mexico. He totaled 73.5 sacks in 10 seasons with the Seahawks -- second-most in franchise history. In 1998, Sinclair's 16.5 sacks were tops in the NFL. He made the Pro Bowl three times. Jacob Green (first round, 1980) had 97.5 career sacks and is also a consideration, but since Sinclair was a sixth-round selection, he gets the nod.
Tackle: Cortez Kennedy, first round, 1990, Miami. Like Jones on the offensive side of the ball, Kennedy is a no-brainer. He was an eight-time Pro Bowler and was inducted into the Hall of Fame in 2012. Kennedy started 153 games in his career and had 58 sacks.
Linebacker: Bobby Wagner, second round, 2012, Utah State. A three-time Pro Bowler, Wagner has been the quarterback on a defense that has led the NFL in fewest points allowed in four of the past five seasons. Wagner led the NFL in tackles in 2016, and at only 27 years old, still has plenty of great football ahead of him.
Cornerback: Richard Sherman, fifth round, 2011, Stanford. One of the great value picks in NFL history, Sherman has 30 interceptions since entering the league -- 10 more than any other cornerback during that span. He's a four-time Pro Bowler and has never missed a game in his career.
Safety: Kenny Easley, first round, 1981, UCLA. A strong case can be made for the Seahawks' current safeties -- Earl Thomas and Kam Chancellor -- but Easley is already a Hall of Famer and gets the nod. The five-time Pro Bowler was the NFL's Defensive Player of the Year in 1984 and will be officially inducted into Canton this summer.
SPECIAL TEAMS
Kicker: Josh Brown, seventh round, 2003, Nebraska. There aren't a lot of choices here, and no team should ever draft a kicker, but Brown is the best of the group. He made 80 percent of his field goal attempts and 223 of 224 extra points in five seasons with the Seahawks.
Punter: Ryan Plackemeier, seventh round, 2006, Wake Forest. The Seahawks have somehow spent a draft pick on a punter six times in franchise history. None of those six punters ever made a Pro Bowl. Plackemeier lasted only two seasons with the Seahawks, but at least he was a seventh-round pick.