May, 23, 2017
May 23
2:43
PM ET
An outpouring of condolences arrived swiftly on Tuesday following news that NFL Hall of Famer Cortez Kennedy had died in Orlando at the age of 48.
Various members of the football world took to social media to pay respects to the 1992 Defensive Player of the Year, who played collegiately with the Miami Hurricanes and professionally with the Seattle Seahawks.
Drafted third overall in the 1990 draft, Kennedy went on to make the Pro Bowl eight times and earn five All-Pro selections. He racked up 11 sacks throughout his NFL career.
Kennedy is one of nine Seahawks enshrined into the Hall of Fame, and Seattle also inducted him into the team's Ring of Honor as its 10th member in 2006.
-- Nick Ostiller
May, 23, 2017
May 23
1:06
PM ET
ESPN.com news services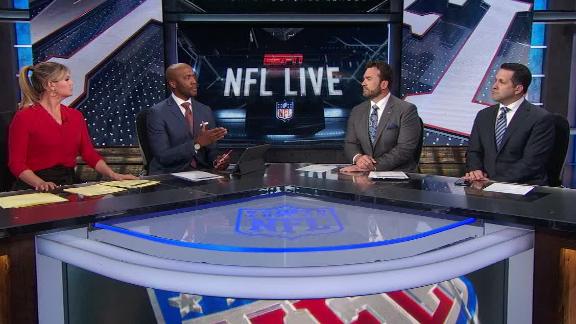 Cortez Kennedy, an icon with the Seattle Seahawks who was inducted into the Pro Football Hall of Fame in 2012, has died at age 48, the Orlando (Florida) Police Department said Tuesday.
Orlando police confirmed to ESPN that they are investigating the former defensive tackle's death but said "there is nothing suspicious to report" at this time.
Kennedy died alone, according to police.
Kennedy was a force inside, both as a run-stopper and in threatening quarterbacks. The 1992 Defensive Player of the Year made eight Pro Bowls, had 58 sacks -- an unusually high total for a tackle -- and spent his entire 11-season career with Seattle, starting 153 out of 167 games.
Named to the Associated Press 1990s All-Decade team, Kennedy was credited with 448 tackles, six forced fumbles, five fumble recoveries and three interceptions during his NFL career.
"Tez was the heart and soul of the Seahawks through the 1990s and endeared himself to [fans] all across the Pacific Northwest as a player who played with a selfless and relentless approach to the game," the team said in a statement.
"Tez was an NFL Defensive Player of the Year, Pro Football Hall of Famer, and Seahawks ambassador, but more than his on-field accomplishments, he was a loyal son, father, teammate and friend to many, possessing a larger-than-life personality and an infectious laugh. ... We are proud to have been represented by such a special person."
Kennedy retired in 2000, was named to the Seahawks Ring of Honor and had his No. 96 retired by the team.
"Cortez will be remembered not only for all his great achievements on the football field but how he handled himself off the field," Pro Football Hall of Fame CEO David Baker said in a statement. "He epitomized the many great values this game teaches which serves as inspiration to millions of fans."
The third overall pick in the 1990 NFL draft was an All-American at the University of Miami and was on the Hurricanes' 1989 national championship team. Kennedy also was inducted into the Miami Hurricanes Ring of Honor and the university's Hall of Fame.
Jimmy Johnson, who coached Kennedy at Miami, said he was "shocked" by Kennedy's death.
Kennedy's personality was evident nearly 30 years ago when Dennis Erickson, who succeeded Johnson at Miami, first met Kennedy. Erickson saw it again in 1995 when he became the head coach of the Seahawks, and Kennedy was his star player.
"He always had a smile on his face. There was no arrogance about him at all. Not at all," Erickson said. "He wouldn't think he was as good as he was. ... He was just a great young man. He was one of the closest guys I've been around in coaching. I was close with his family and he was close with my family and we kept in touch all these years. It's hard to describe him. They don't make them like him anymore."
Even though he last played for the Seahawks in 2000, he remained a significant part of the organization. He was a mainstay around the team during training camp and would occasionally roll through the locker room during the regular season grabbing a few minutes with anyone -- players, coaches, media -- up for a chat.
Seahawks players past and present expressed their condolences on social media.
Kennedy also spent the past several years as an informal consultant with the New Orleans Saints
May, 23, 2017
May 23
7:00
AM ET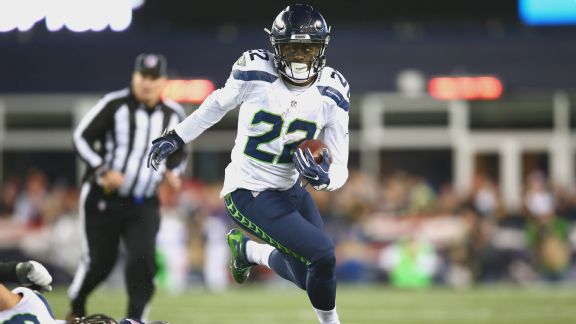 Adam Glanzman/Getty ImagesA healthy C.J. Prosise could be a potent weapon for the Seahawks.


Pete Carroll believes strongly in the idea of the second-year leap.
He's never been afraid to play rookies early, but the Seattle Seahawks coach has spoke often about the importance of the offseason following a player's first NFL season.
Of the 90 players currently on the roster, 22 are entering their second seasons. Who will make the leap? Here's a list of the prime candidates.
C.J. Prosise -- There are two things that Seahawks coaches have consistently said about Prosise. One, they love that he has the skill set to be a dynamic weapon in their offense. And two, he needs to prove he can stay healthy. Prosise appeared in just six games last season, rushing 30 times for 172 yards (5.73 yards per carry) and catching 17 passes for 208 yards. In a Week 10 win over the New England Patriots, Prosise totaled 153 yards from scrimmage. Prosise will be featured in the passing game and be used as a change-up to Eddie Lacy's physical style in the run game. If he can stay healthy, Prosise should have a big role in 2017.
George Fant -- He was put in an unfair situation last season, starting 10 games at left tackle after having not played competitive football since the eighth grade. Fant earned good will from the coaching staff with his work ethic and attitude, even if the results were often ugly. He'll now have a chance to compete with Luke Joeckel at left tackle.
Germain Ifedi -- He began and ended last season with an ankle injury and started 13 games at right guard as a rookie. He flashed potential in the run game but struggled in pass protection -- particularly with twists and stunts. Ifedi will get a chance to start at right tackle, but he'll have to hold off rookie Ethan Pocic. If Pocic impresses, Ifedi could move back inside.
Rees Odhiambo -- He's the third offensive lineman on this list, which shouldn't be too surprising considering the Seahawks had the second-youngest line in the NFL last season. Odhiambo served a backup role and struggled when he got onto the field -- specifically in the divisional round playoff game against the Atlanta Falcons. But the coaches have been talking him up all offseason. Odhiambo will compete for a starting spot on the left side at guard and potentially tackle.
Quinton Jefferson -- The team had high hopes for Jefferson last season, but he suffered a knee injury and appeared in only three games. A fifth-round pick in 2016, Jefferson will look to get healthy and carve out a role as a rotational pass-rusher. But the defensive line is a competitive group with the additions of Malik McDowell, Dion Jordan and Nazair Jones this offseason.
DeAndre Elliott -- He surprised by earning a roster spot out of camp last summer as an undrafted free agent. Elliott served mostly a special-teams role, playing just 29 snaps on defense. With DeShawn Shead recovering from a knee injury and unliklely to be ready for the start of the season, cornerback is a spot where a surprise candidate like Elliott could emerge.
May, 22, 2017
May 22
7:00
AM ET
RENTON, Wash. -- Tyrone Swoopes has no interest in trying to mask the difficulty involved with his transition from college quarterback to NFL tight end.
Asked if he's ever played tight end before at any level, Swoopes said, "Never in my life."
What about special teams?
"Never played special teams either," he said. "All of this that I'm doing is new. This is my first time doing it. But I'm willing to learn and do anything I can to get on the field."
Swoopes (6-foot-4, 247 pounds) was a four-star quarterback recruit at Texas. He completed 56.3 percent of his passes and threw 17 touchdowns with 13 interceptions during his four seasons with the Longhorns.
His career as a college quarterback never quite got on track, but Swoopes found a role in Texas' "18-wheeler" package, carrying the ball successfully in short-yardage situations. Swoopes ran for 24 touchdowns at Texas, including 19 in the past two seasons. In 2015, he totaled 451 rushing yards and averaged 6.1 YPC.
Now he's trying to make the Seahawks' roster as a tight end. Swoopes ran 4.65 at Texas' pro day, and Seattle added him as one of its eight undrafted free agents.
"He caught a couple of great balls today," coach Pete Carroll said after the first day of the Seahawks' rookie camp. "He looked real natural. He's obviously a great athlete. He caught a terrific pass in the walk-through today, then had a couple of really nice catches out here that show he's got athletic ability to have a chance.
"We'll just see how it goes and see how far he can take it. He has been playing a lot of quarterback, so we're not quite sure how he's going to block anybody, but he's willing. He's a big body and a very talented athlete. That jumped out today."
The Seahawks have six tight ends on their 90-man roster, and three are locks to make the team: Jimmy Graham, Luke Willson and Nick Vannett. But Seattle has kept four tight ends in the past, and if the coaches like Swoopes' upside, he could have a chance. Graham and Willson are free agents after 2017. The practice squad could also be an option for Swoopes.
"When I signed, my agent, we talked about it and came to the decision it'd be best to use my athleticism on special teams and be able to make plays and block," Swoopes said. "So we just came to the decision that this was my best chance to get an opportunity at the next level."
Swoopes said he started watching film of Willson and Graham and how they operate in the Seahawks' offense. Blocking is entirely new to him.
He needs to show he can catch, but Swoopes said his background as a quarterback should help him as a route runner.
"Just reading coverages," he said. "Most people don't get that that's a huge part of playing quarterback and running routes. Just recognizing zone or man and things like that. So I think that helps a lot."
At one point last year, the Seahawks had 24 undrafted free agents on their roster. They have a history of giving guys with unique athletic traits opportunities. Swoopes is a long shot, but this summer he will try to become their latest success story.
May, 21, 2017
May 21
12:04
PM ET
Making consecutive trips to the postseason is one of the more difficult things to accomplish in the NFL. Not every team can be as successful as Bill Belichick and the New England Patriots, who have been to the playoffs in each of the past eight seasons and 13 of the past 14.
It's a grueling 16-game season, and only six teams from each conference earn a playoff bid.
In 2016, the Dallas Cowboys were the cream of the crop in the NFC. They finished with a 13-3 record behind their rookie duo of quarterback Dak Prescott and running back Ezekiel Elliott. They were the top seed in the conference, but went down to Aaron Rodgers and his Green Bay Packers in the divisional round.
The Detroit Lions crept into the playoffs in the last week of the season, while the Seattle Seahawks made a familiar appearance, along with the New York Giants and Atlanta Falcons -- who represented the conference in the Super Bowl.
But which of those six teams is least likely to make a return to the playoffs in 2017? You be the judge:
May, 19, 2017
May 19
7:00
AM ET
In the early stages of free agency, the Seattle Seahawks made it clear that addressing their run game was going to be a priority this offseason.
The team showed interest in a number of backs, including Adrian Peterson, Jamaal Charles and Latavius Murray, before ultimately deciding to sign Eddie Lacy.
During an interview on 710 ESPN Seattle's "Brock and Salk" show earlier this week, coach Pete Carroll was asked if the team is going to run the football more this year.
"We definitely will," Carroll said. "We lost 100-something runs last year. And that was basically the story. That was basically the tale of why everything came about as it did. The defense had to do some more stuff. We had to throw the ball more. We had to pass protect more and all of that because the running game got knocked up.
"With the quarterback being a mess and the running-back situation, everybody being banged up, we were just unable to find it. So I think we'll come roaring right back at it."
As a team, the Seahawks totaled 403 rushing attempts last year, which ranked 20th. In the previous four years with Russell Wilson at quarterback, the Seahawks averaged 517.5 rushing attempts, more than any team in the NFL.
According to ESPN Stats & Information, the Seahawks called pass plays 64.5 percent of the time in 2016, seventh-most. The previous four years, that number was 54.5 percent, which ranked 32nd.
There are the obvious disclaimers here. Teams run the ball more when they have a lead and pass the ball more when they're playing from behind. That was a factor for sure. But last year's ratio also had to do with the Seahawks' struggles with the ground game.
Seattle ranked 23rd in rushing efficiency; it had never been worse than seventh with Wilson at QB. As Carroll mentioned, the issues started with Wilson's injuries and lack of mobility. The run blocking was rarely in sync. And the Seahawks had multiple injuries at running back.
So what's changed?
Wilson being healthy should provide a boost. With Eddie Lacy, Thomas Rawls and C.J. Prosise, the Seahawks have more options than they did a year ago. And they expect the league's second-youngest offensive line in 2016 to get better.
Lacy was brought in to be the team's feature back. Prosise will provide a change of pace and be used plenty in the passing game. And Rawls is a wild card. He was great in 2015 but struggled through injuries last season and couldn't regain that form. Others like Alex Collins, Troymaine Pope and seventh-round pick Chris Carson will look to earn a role this summer.
Carroll has a formula he believes in, and it's brought plenty of success to Seattle. By all accounts, the Seahawks will look to regain their offensive identity in 2017.
May, 18, 2017
May 18
7:00
AM ET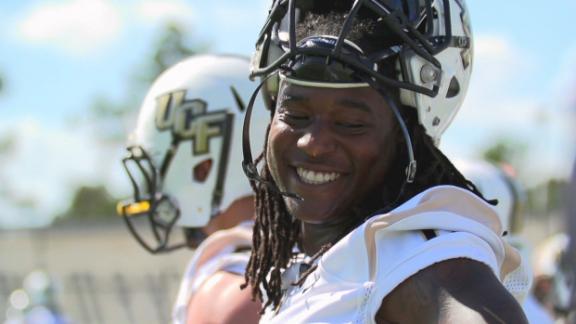 All Seattle Seahawks rookie cornerback Shaquill Griffin can remember is frantic screaming and crying that started in the hallway and made its way to the kitchen.
Everything else, he says, is a blur.
Shaquill and his twin brother, Shaquem, were 4 years old and had just settled into their usual spots for bedtime that June night in St. Petersburg, Florida. Shaquill was on the top bunk and Shaquem on the bottom.
Around 1 a.m., Shaquem got up, exited their room and made two right turns. The pain in his left hand had become too much, and he was going to do something about it.
"

As he's grabbing the knife, I grabbed it out of his hand. And he said, 'Just cut them off! I just want to cut them off! I can't take it! It hurts! Cut it off!'

"- Tangie Griffin
Shaquem suffered from amniotic band syndrome, and the five fingers in his left hand hadn't formed fully. Often when Shaquem would catch a ball awkwardly, lean against the wall or bump into his bed frame, he felt a sharp pain in his fingers.
"It's something that you can't forget," Shaquill said nearly 18 years later.
The twins' mom, Tangie, often asked God to take the pain away from her little boy and pass it to her. She didn't know what else to do.
That night, she heard Shaquem take off toward the kitchen, and she jumped out of bed. But Shaquem was fast. She heard the drawers opening and closing as she ran after him. Tangie found her son with a knife in his hand.
"As he's grabbing the knife, I grabbed it out of his hand," Tangie said. "And he said, 'Just cut them off! I just want to cut them off! I can't take it! It hurts! Cut it off!'
"And I just grabbed him and was holding him. I'm crying, and he's crying. His Dad [Terry] is just trying to hold his tears back."
Shaquill didn't know if he should hide underneath the covers or get up and see what was going on. He stayed put.
The next morning, Shaquem didn't go to preschool with Shaquill. Instead, Tangie and Terry took him to the hospital to have his fingers removed.
"When it got to the point where it was so bad that I saw him literally grab a knife to cut his hand off, I knew at that point, it was time to do something," Tangie said.
Added Shaquem, "I guess I kind of gave a hint to my mom."
Shaquem doesn't remember much about the surgery. One minute, he was pulling his red wagon down the hospital hallway. The next, he was waking up with his hand bandaged. A day later, Shaquem was outside playing football with his brother.
"Ever since that procedure, he's been able to do everything else anyone could do," Shaquill said.
'We weren't going to let anybody separate us'
Shaquill and Shaquem formulated a plan around the age of 10. They would go to high school and college together. They'd marry another set of twins. They'd pool their money to buy a house and live in it together with their families.
Tangie never believed they were serious until Shaquill started getting recruited heavily in high school.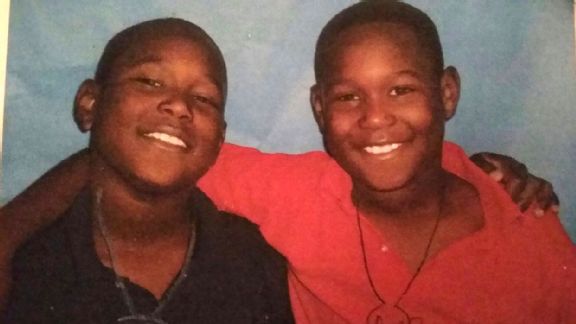 Photo courtesy of Tangie GriffinShaquill and Shaquem planned to high school and college together, marry another set of twins and pool their money to buy a house and live in it together with their families.
"I started having some of the coaches calling me and saying, 'Hey, we're offering Shaquill, but he's telling me if we don't offer Shaquem, he's not interested,'" Tangie said. "And I was like, 'Oh my God.' That's when it hit me that they are really serious about this."
Shaquill had always been protective of Shaquem. Growing up, Shaquem would joke about why he was missing a left hand. When people asked, he'd tell them he was fishing with his dad, and a shark bit it off.
Humor didn't work for Shaquill. He constantly wondered why everyone was staring, pointing and whispering. When a little girl in preschool said Shaquem had a "pickle hand," Shaquill hit her, and Tangie had to come pick him up early.
As such, it probably shouldn't have surprised anyone when Shaquill turned down offers from bigger-name programs because he wasn't going anywhere without his brother.
"People have to understand, whatever 'Quem went through, 'Quill was a part of that," Tangie said. "Regardless of 'Quill having both hands and 'Quem having one, it was still the same level of pain and concerns and all of that. Everything 'Quem went through, 'Quill went through it right there on the side of him."
But for three years at Central Florida, their plan wasn't working out. Shaquem couldn't get on the field. Did Central Florida offer him a scholarship just to get Shaquill? Did the coaches think Shaquem was incapable of succeeding because he had only one hand?
From 2013 to 2015, whenever Tangie's phone rang with a call from one of the boys, she said a prayer before answering because she knew what was coming.
"I knew that it was going to be something that they're bothered by or something that they're upset about or something that had happened," Tangie said. "Every time that I picked up the phone. And we're talking three years of that. So it was really tough."
Added Shaquill: "The first couple years were tough. Seeing him go through that. I couldn't really do too much about it because it's the coaches' choice. But it was tough for him. The only thing he did was listen to me and put his faith in that something was going to happen. Something greater was going to come.
"He believed in that. It almost got to the point where he wanted to give up football for good. It's tough going through that, feeling like you're never going to get a shot to play. And he finally did. He had faith in it. Now it's one of the bigger stories in college football."
Even when they discussed the idea of transferring, it was going to be together. But they decided to stay, and in Shaquem's first year as a starting outside linebacker, he piled up 11.5 sacks, 20 tackles for loss and an interception, earning American Athletic Conference Defensive Player of the Year honors.
"Every decision that we tried to make, it was a decision for both of us -- not just oneself," Shaquill said. "And that's kind of how we grew up together.
"We weren't going to let anybody separate us. I'm glad I made the decision that I did to stay in Orlando with him and play football with him. One of the best decisions I've ever made."
Playing through each other
When Shaquill walks onto Lambeau Field Sept. 10 for the Seahawks' opener against the Green Bay Packers, it will be the first game in his life that he'll play without Shaquem, who will suit up against Memphis the day before.
The twins won't be able to go through their usual pregame ritual of FaceTiming their parents and saying a prayer before kickoff. But they insist that they'll be playing through each other that weekend.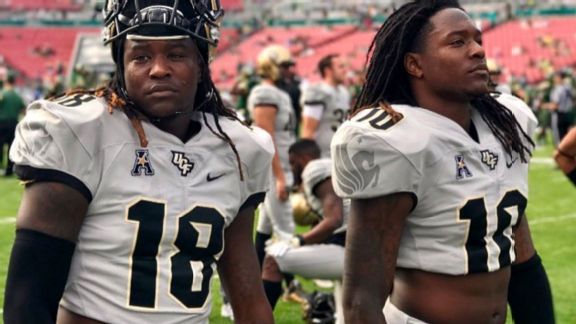 Photos courtesy of Tangie Griffin.
"He's just inspired me to never make excuses," Shaquill said. "And not small excuses that I could think of. But just understanding that someone could really be going through something way worse than I am. Any time I feel sorry for myself, he helps to remind me that there's always someone that could be going through something worse."
Said Shaquem: "Just to never quit. He always just told me if I feel like I can do it, just do it. Don't let anybody tell you what you can't do. And that's something that I ran with. Even the years that I didn't play at UCF, when he was playing, he was playing for me. And that's the whole thing. Even when we're in different states, we're always going to play for each other. We're always going to be right there in spirit."
Shaquill, who was drafted by the Seahawks in the third round, didn't play much press coverage in college and will have to pick up the Seahawks' technique. But coach Pete Carroll raved about him after rookie camp, and Shaquill has a chance to carve out a role as a rookie with a strong performance this summer. Shaquem, meanwhile, will look to take on more of a leadership role at Central Florida.
At one point, Shaquem thought the Miami Dolphins were going to select Shaquill. He would have been closer to home. But now, Tangie and Terry will have to decide how to plan out their weekends so that they can watch both boys play.
Maybe at this time next year, that planning will be easier.
"It will be amazing to see if they're both on the same team at some point again," Tangie said. "It would be amazing."
May, 17, 2017
May 17
7:00
AM ET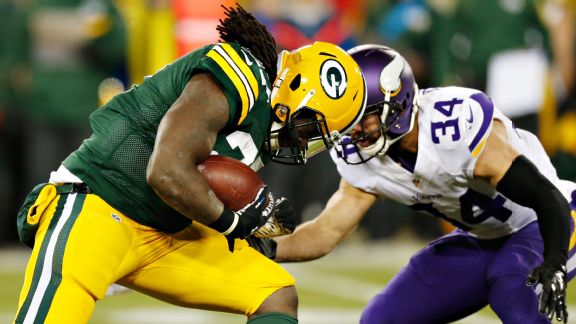 Wesley Hitt/Getty ImagesEddie Lacy's one-year contract includes $2.865 million guaranteed. He can earn an additional $2.685 million in incentives.
On Monday, Seattle Seahawks running back Eddie Lacy earned $55,000 for weighing in at under 255 pounds.
Lacy's contract includes bonuses tied to making weight on seven different occasions. If he hits all of them, he'll earn an additional $385,000. But that's not the most significant incentive in his deal.
Per a league source, Lacy's contract includes a potentially bigger bonus tied to rushing yards. If he runs for at least 800 yards, Lacy will cash in on an additional $250,000. If he hits 900 yards, he'll get $500,000. For a 1,000-yard season, Lacy receives $750,000. For 1,100 yards, the number jumps to $1 million. And if Lacy rushes for 1,200 yards or more, he'll get $1.3 million. (He is eligible to receive just one of the bonuses tied to yardage; they don't accumulate.)
During his four seasons with the Green Bay Packers, Lacy averaged 858.8 rushing yards. He rushed for only 360 yards last season and missed 11 games due to injury. In 2015, Lacy rushed for 758 yards. He surpassed 1,100 yards in each of his first two seasons but has never rushed for 1,200.
Lacy has another sizable bonus tied to durability. He'll earn $62,500 for each week he's on the 46-man gameday roster. That's a possible total of $1 million if he is active for all 16 regular-season games.
As for the additional weigh-ins, Lacy has to be at 250 pounds or less in June and August. He'll be weighed on four separate occasions from September through December and has to be at or below 245 pounds to cash in on those bonuses.
Lacy weighed in at 253 pounds on Monday.
In March, Seahawks general manager John Schneider said he liked to use incentives in deals.
"Philosophically, I would tell you that any time you can incentivize somebody, I think it's a good idea," he said. "Whether it's sacks, interceptions, play time, weight. Anything you can do like that."
Lacy's one-year contract includes $2.865 million guaranteed. He can earn an additional $2.685 million through the incentives described.
May, 16, 2017
May 16
2:49
PM ET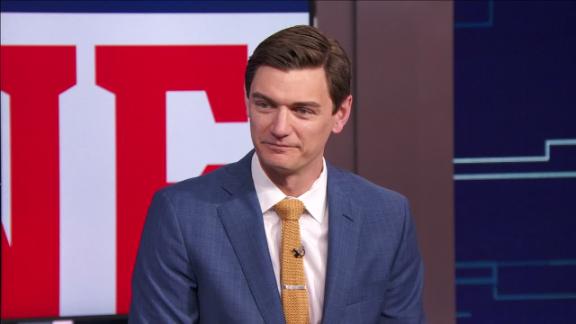 Defensive end Michael Bennett said Tuesday that Seattle would be the "perfect place" for quarterback Colin Kaepernick to sign.
"I think a person that's dedicating their life to creating change, why wouldn't you want that type of leadership in your locker room?" Bennett told John Clayton and Gee Scott on 710 ESPN Seattle. "Why wouldn't you want a young person that's dealt with people wanting to kill him because of his choices in life? So I don't know why people feel like that is a problem.
"I think that Kaepernick getting the opportunity to be on our team would be really cool, would really be a good place for him because you have a coach like coach [Pete] Carroll who is up for challenges like that. You have an owner who spends and gives back to the homeless. You've got players on your team that give back in the community. You've got Russell Wilson, who shows that our team is built around community. So this is a perfect place for him."
Carroll said Monday that Kaepernick, 29, is among the veteran quarterback options that the Seahawks are exploring.
Last season, Bennett and other Seahawks players such as Cliff Avril, Doug Baldwin, Bobby Wagner and Jeremy Lane publicly supported Kaepernick for his social activism.
May, 15, 2017
May 15
3:40
PM ET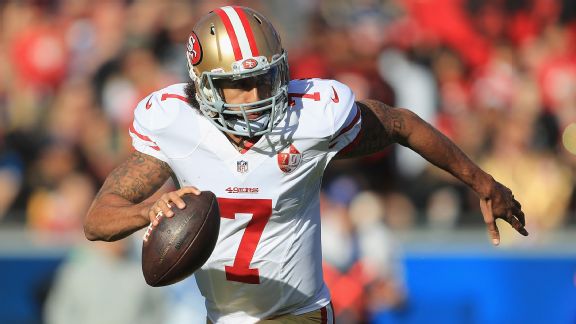 Sean M. Haffey/Getty ImagesColin Kaepernick has always been a rival, but he shares some of Seattle QB Russell Wilson's on-field strengths.
Before the Seattle Seahawks' 2016 regular-season finale, defensive end Michael Bennett and Colin Kaepernick met on the field at Levi's Stadium and had a lengthy conversation.
Bennett said afterward he was voicing support for Kaepernick and commended the quarterback on using his role as an athlete to try to promote social change. This was a common theme all season among leaders in Seattle's locker room.
In the 2013 playoffs, the Seahawks beat the San Francisco 49ers in the NFC title game, and Kaepernick was pretty much public enemy No. 1 in Seattle. But plenty has changed since then. And coach Pete Carroll said Monday the team is exploring the possibility of signing Kaepernick.
Last September, several Seahawks publicly supported Kaepernick for kneeling during the national anthem.
"I truly respect what Kaep is doing," defensive end Cliff Avril said. "I think some people are taking it out of context because they're not experiencing the same thing other people are experiencing. They can't really see it."
Seahawks receiver Doug Baldwin said he reached out to Kaepernick and had discussions on the most effective ways for athletes to promote social change. Linebacker Bobby Wagner and cornerback Jeremy Lane supported Kaepernick as well.
"I do support Kaep in what he's doing, the message behind it," Wagner said. "I think sometimes everybody's taking the message wrong because there's a lot of stuff that's going on, a lot of bad stuff that's going on. And that needs to be fixed. So at some point, you've got to do whatever you need to do to get that fixed."
Lane ended up taking a knee during the national anthem of the Seahawks' final preseason game to support Kaepernick. When the regular season started, the Seahawks as a team locked arms during the anthem every week as a show of unity.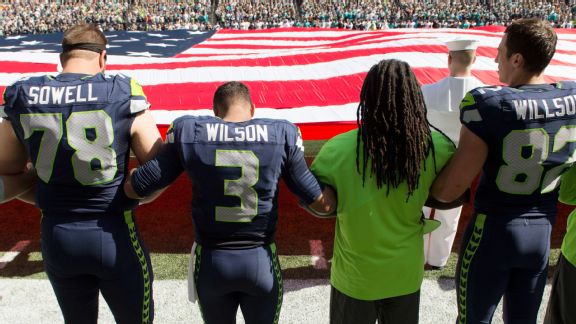 Troy Wayrynen/USA TODAY SportsLast season several Seahawks publicly supported Colin Kaepernick for kneeling during the national anthem, and Seattle players locked arms during the anthem every week as a show of unity.
Even Richard Sherman -- once thought to be among Kaepernick's biggest rivals -- said in March he thinks the quarterback is being blackballed.
Carroll has never been one to shy away from perceived distractions. Marshawn Lynch, Sherman and Bennett have made plenty of headlines for what they've said (or in Lynch's case, didn't say) over the years. Carroll encourages them to let their personalities show as long as it doesn't negatively affect the team.
In that respect, the Seahawks make as much sense as any in the NFL for Kaepernick. He would fit in well in their locker room. And Carroll wouldn't employ any rules or guidelines about what he could or couldn't say. Even last year with the 49ers, Kaepernick won an award from his teammates for his courage and inspiration.
The question has always been whether Kaepernick makes sense from a football perspective. At the owners' meetings in March, Seattle seemed like an unlikely landing spot for Kaepernick. But things have changed since. Kaepernick remains unsigned, meaning his asking price is likely less than what Seattle anticipated.
And the Seahawks were unable to address the quarterback position (although they tried) in the draft.
Last season, Russell Wilson suffered three different injuries that affected his play. He still has never missed a start in his NFL career, but the Seahawks know they need to be better prepared for that scenario than they were last year. Trevone Boykin, an undrafted free agent last season, was Wilson's backup in 2016 and is in line to do so again. But he was arrested this offseason.
There are two qualities that Kaepernick possesses that make him attractive from an on-field perspective. One, he takes care of the football. This is a pillar of Carroll's philosophy. He can put up with other mistakes as long as the quarterback doesn't give the ball away. Kaepernick's career interception rate is 1.8 percent -- second-best in NFL history to only Aaron Rodgers.
And two, Kaepernick can move. When asked why the Seahawks' run game (and overall offense) stalled last season, Carroll consistently pointed to Wilson's injuries. Seattle still employs plenty of shotgun zone-read runs where the quarterback is asked to account for an unblocked defender. Those runs weren't as available to the Seahawks last season because of Wilson's injuries.
Seattle ranked 23rd in rushing efficiency in 2016. It had never finished below seventh since Wilson was drafted in 2012. It's not just the run game, but the bootlegs and scrambles and improvisational plays. Those are a big part of the Seahawks' offense, and Kaepernick would be able to execute those better than less-mobile quarterbacks.
The Seahawks' offseason has focused on regaining their identity as an efficient run team with a strong defense. But they need to give themselves options should a key player go down.
Kaepernick has his obvious flaws, but he'd be welcomed into the locker room by the Seahawks' leaders and possesses the traits the team wants out of Wilson's backup.
If Kaepernick can't find an opportunity to compete for a starting job elsewhere, Seattle makes perfect sense as his next stop.