December, 16, 2017
Dec 16
3:42
PM ET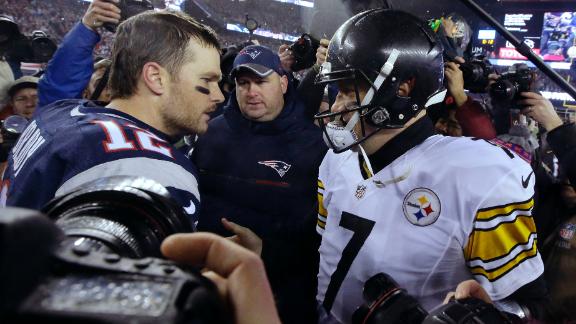 PITTSBURGH -- The Steelers-Patriots clash on Sunday is stocked with major star power.
Steelers running back Le'Veon Bell led all NFL players in Pro Bowl fan voting with 855,539 votes, while Patriots quarterback Tom Brady (833,481) narrowly edged Pittsburgh wide receiver Antonio Brown (832,446) for second place. Patriots tight end Rob Gronkowski is one of four players from Sunday's game among the top-10 vote-getters, coming in at No. 9 (551,058).
Bell and Brown have combined for more than 3,000 yards, leading the Steelers to the top of the AFC as of Week 15. Brady leads the league in passing (3,865).
Philadelphia Eagles quarterback Carson Wentz received the most votes among NFC players for fourth overall. Wentz was lost for the season after suffering a torn ACL in his left knee in last week's win over the Los Angeles Rams.
Other NFC notables were New Orleans Saints