April 3, 2010 7:00 PM ET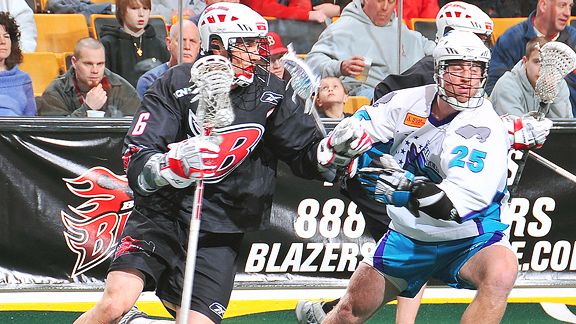 Steve Babineau
Dan Dawson of the Boston Blazers will inspire a generation of joystick checking gamers.
National League Lacrosse has just doubled down on their effort to keep the youth of North America from playing outside. That's because the guys who brought you the best indoor lacrosse league the Western Hemisphere has to offer comes
a whole new breed of entertainment
. This week, the NLL announced that, at the end of the month, it will be releasing its first video game since the 2001 Sony PlayStation epic
Blast Lacrosse
.
NLL Lacrosse 2010 presented by Reebok will be available as a $5 download starting April 30th on the Xbox 360 Indie Game Channel, just in time to ride the wave of the NLL playoff schedule. For those keeping tabs, that means you can download the game
and
theme-out your PC with
a Buffalo Bandits Goalie Ken Montour Mouse Pad
with a single, crisp Hamilton.
The game will feature complete rosters of all 250 players on the 11 NLL teams and the cover art will depict some familiar faces of the NLL including Dan Dawson of the Boston Blazers. Although passive indoor lacrosse fans may not recognize Dan Dawson if he was sitting in their
BoomChair Stealth
, chances are that fans of ridiculous brutal in-game brawls know him as the older brother of
YouTube star Paul Dawson
.
Crosse Studio, one of the development companies behind the game, also developed College Lacrosse 2010. With
more than 75,000 fans on Facebook
and more than 500,000 units sold, the success of College Lacrosse 2010 may indicate that there's potentially an untapped market of lacrosse gamers out there just waiting to grab a hold of NLL Lacrosse 2010. There will be no grabbing a hold and punching, though. Somehow, NLL Lacrosse 2010
will not include fighting
.
Tags: Haha, Video Games, National League Lacrosse, Sony PlayStation, Blast Lacrosse, Xbox, Buffalo Bandits, Ken Montour, Dan Dawson, Paul Dawson, College Lacrosse 2010, Boston Blazers