Gruden's QB camp: Blake Bortles
April, 22, 2014
4/22/14
10:49
AM ET
By
Mackenzie Kraemer columnist profile
| ESPN.com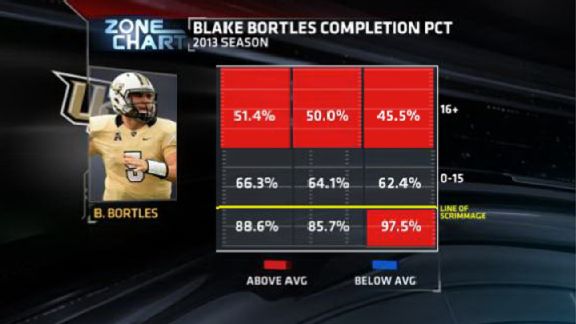 After leading UCF to a 12-1 record and an impressive Tostitos Fiesta Bowl victory over Baylor, Blake Bortles has become one of the hottest names in the 2014 NFL draft.
Scouts Inc. lists him as the top quarterback prospect available, but is Bortles worthy of the hype? ESPN "Monday Night Football" analyst Jon Gruden will meet with Bortles in Gruden's "QB Camp" show (airing Tuesday at 9:30 p.m. ET on ESPN) to try to find out. In the meantime, here's a look at some of what makes Bortles such an interesting prospect to evaluate.
Physical Attributes
At 6-foot-5, 232 pounds, Bortles has prototypical size for the position. Since 2006, the average first-round quarterback has measured 6-4, 232 pounds. His top-end size has helped him remain durable throughout his career (never missing a start).
For a large quarterback, he has shown mobility throughout his career. At the Fiesta Bowl, he ran for a career-high 93 yards on eight rushes.
That combination of size and mobility also makes him a difficult matchup in the red zone. Bortles rushed for 13 red zone touchdowns the past two seasons.
Greatest Strength -- Handling Pressure
Bortles' physical attributes help him handle the opposing pass rush effectively. He has the frame to absorb hits and the athleticism to scramble away from pressure. But perhaps most importantly, he maintains his composure to make accurate passes under pressure.
No BCS automatic qualifying quarterback threw for more yards when being hurried or knocked down last season, and he ranked near the top in completion percentage and yards per attempt.
He is especially good when able to keep his feet planted under pressure, completing 57.9 percent of those attempts, a 16 percent increase over when his feet are moving.
Another area he excels at when under pressure is keeping his eyes downfield. He was 13 of 22 (59.1 percent) on passes traveling at least 15 yards downfield when under pressure, the most completions by any AQ quarterback.
Needs Improvement -- Consistency

Although Bortles often looks the part of a franchise quarterback, he isn't always consistent. On short passes (within 5 yards of the line of scrimmage), he completed just 62.2 percent of his attempts. The only quarterback in the Scouts Inc. top 10 with a lower percentage was Logan Thomas of Virginia Tech.
From game to game, Bortles was also more inconsistent than most other draft hopefuls. On the bright side, he posted four games with a QBR of 94 or higher last season, tied for most among quarterbacks with at least 100 pass attempts.
However, he also had two games with a QBR below 30, which came against teams that went a combined 5-19 last season (Memphis and South Florida).
By comparison, fellow highly rated quarterbacks Johnny Manziel, Teddy Bridgewater, Derek Carr, Zach Mettenberger, Aaron Murray and AJ McCarron did not have any games with a QBR below 30.
Bortles also didn't play the highest-caliber schedule in college, with just five games against teams that ranked in the top 30 in opponents' QBR the past two seasons, including only one in conference play (Louisville).
On Tuesday night, watch Gruden break down the tape with Bortles, examining these areas and more.