Teams must decide when to start clock
April, 5, 2011
4/05/11
1:00
AM ET
On July 8, 1994, the
Seattle Mariners
recalled 18-year-old wunderkind
Alex Rodriguez
to start at shortstop at Fenway Park. The Mariners were only five games out of first place but 12 games under .500, going nowhere fast in a season that ended up going nowhere.
Three weeks later, with a labor strike looming, the Mariners sent Rodriguez back down to the minors. He had played 17 games, made 59 plate appearances, struck out 20 times and scored four runs. The Mariners would pay a steep price for those four runs. Rodriguez also spent time in the majors in 1995 but didn't play his first full season until 1996. He played five full seasons with Seattle but accrued enough service time -- by a few days -- to reach free agency following the 2000 season.
If the Mariners had kept A-Rod in the minors in 1994, they would have held his rights for one more season. On a team that won 116 games without him.
So you can see the conundrum teams face. Pushing back a player's recall to the majors means you can extract an extra season of service before he's eligible for free agency. The Mariners faced this decision this spring with rookies
Michael Pineda
and
Dustin Ackley
, two of the top prospects in the minors. The Mariners elected to keep Pineda, and he makes his major league debut Tuesday night. Ackley was sent down to Triple-A to work on his defense at second base, or so reports suggested. Starting instead: weak-hitting veteran
Jack Wilson
.
As a Mariners fan, I can tell you who I want to see in the lineup, and it's not the guy who had a .598 OPS last season. But from a strategic and economic standpoint, it makes sense to keep Ackley down for a couple of months. The Mariners aren't likely playoff contenders, so why start his service clock? What doesn't make sense is why the team didn't take the same approach with Pineda, who certainly has an explosive fastball but by all accounts needs to refine his slider and changeup. The Mariners easily could have used that excuse to send him down as well.
The Giants faced this dilemma with
Brandon Belt
. Last year, they held back
Buster Posey
until late May, scuffling along with
Bengie Molina
behind the plate. The Giants got lucky; they probably didn't consider themselves playoff contenders leaving spring training. But what if the Padres hadn't completely collapsed down the stretch and the Giants had missed the playoffs by one game? They would have been kicking themselves for not having Posey on the roster from the get-go.
With the National League again projected as a tight race, the Giants elected to leave spring training with Belt as their starting first baseman. He is probably their second- or third-best hitter behind Posey and
Aubrey Huff
. They realized one win could mean the difference between making the playoffs and falling short, so you better do it with your best men -- they'll worry about 2017 in 2017.
Complicating matters slightly is the "Super Two" rule. A player is classified as a Super Two player -- and thus is eligible for salary arbitration -- if (A) he has at least two but fewer than three years of service time; (B) has accumulated at least 86 days of service time during the preceding season; and (C) ranks in the top 17 percent of service time among players qualifying under the first two criteria.
That means there is further financial incentive for delaying a player's call-up to the majors. A team can save a few million dollars (or possibly more if he's developed into a star) by avoiding arbitration for one season. The Giants might have been considering this when keeping Posey down. Many felt when the Orioles sent
Zach Britton
down and the Braves sent
Mike Minor
down out of spring training, it was to avoid accumulating those precious days on the major league roster. (Sometimes plans go astray: Injuries to other pitches forced the Orioles and Braves to recall the two rookies.) Twenty years ago, the Royals might have opened with big-time prospects like Mike Moustakas and Eric Hosmer on the roster; at least it would give fans a reason to go to the ballpark. Now? Preserve that service time.
Of course, being cheap is no way to win over your players. Maybe the Mariners had this in mind in putting Pineda on the roster. When you have a big kid throwing 95 mph laser beams with good control, it's difficult to tell your team that he isn't one of your 25 best players.
It's an issue that is becoming more and more prominent. In the end, I believe something needs to be done in the upcoming labor negotiations, because it's not good for your sport if you're leaving more talented players in the minor leagues just to save a few bucks.
Put it this way: As a Mariners fan, Tuesday's game is about a thousand times more interesting with Pineda on the mound. And getting fans excited about the team is what organizations should be aiming to do.
Photo Of The Day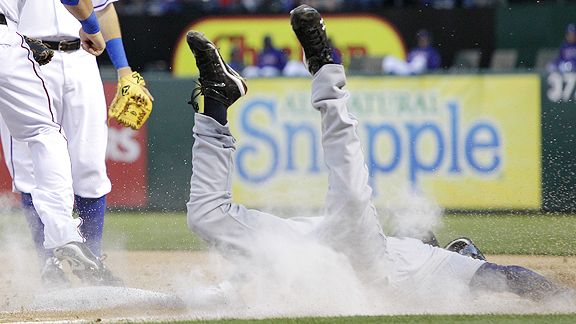 AP Photo/Tony GutierrezThree yards and a cloud of dust? That's football. Ryan Langerhans went 90 feet and ate dirt.