NASHVILLE, Tenn. -- Something clicked for running back Derrick Henry and the Tennessee Titans' running game over the final month of the 2018 season. Highlighted by a franchise-record 238-yard rushing performance in Week 14 against the Jaguars, Henry ran for a total of 625 yards over the final five games. Now the Titans have to figure out how to carry that production over to this season under new offensive coordinator Arthur Smith.
"Derrick [Henry] is going to be a big part of our offense. Derrick has a rare skill set. He's one of the few guys that -- he's a home run hitter. We're taking another step hopefully with him. What he did the last five weeks will open up a lot of things," Smith said of Henry during his first news conference as coordinator.
How can the Titans get the most out of Henry?
Set the tone
Smith said he wants the Titans' offense to be "physical and knock people back," which fits Henry's style. Offensive linemen like to be able to fire off the ball and deliver the blow rather than continually getting into their pass sets and catching the contact.
"Running the ball allows them [the offensive line] to go out and play physical. I think for them that's when they're at their best when we can go out and run the ball and be successful, 'Impose your will.' All offensive linemen love to set the tone," offensive line coach Keith Carter said.
Henry had an NFL-high 2.9 average rushing yards after contact last season, and his 612 rushing yards after contact were the second most in the NFL behind only Ezekiel Elliott. Since entering the NFL in 2016, Henry's 740 yards in fourth quarters are the third most behind Elliott and Todd Gurley, according to ESPN Stats & Information. Those numbers clearly show that Henry runs through tackles and should warrant more carries to establish a physical presence throughout the game.
"Absolutely, Derrick can get hit at the line of scrimmage and fall forward 5 yards," Carter said. "You add him to that mix, he isn't just running and avoiding people. He's stiff-arming and breaking tackles and running guys over. He is so dang big and hard to bring down. He's a huge element."
This video provided by NFL Next Gen Stats shows a 6-yard run for Henry against the Giants in Week 15. It was his fourth consecutive carry early in the first quarter, and it set the tone early in what became a 17-0 victory.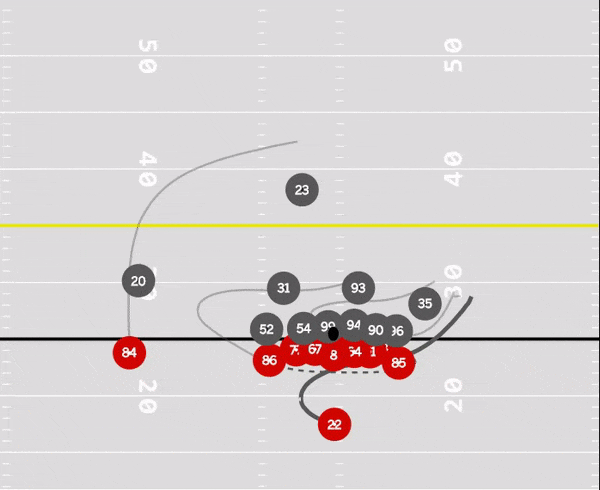 Henry's early success on that cold December day led to a 33-carry, 170-yard performance.
Pound the rock early and often
More touches for Henry has meant success for the Titans, who were 5-1 last season in games where Henry had 16 or more touches. If someone tells you Henry doesn't need more carries to be productive, don't believe them.
"One thing that always amazed me about Derrick Henry was it seemed like the more he got the ball, the better he played. Derrick Henry, when he gets the ball, the more he gets it, the better he runs it. I don't know if it's a confidence thing with him. I don't know if it's because he's so big, strong and physical that it just wears the other guys down," Alabama head coach Nick Saban told 102.5 The Game Nashville.
The sweet spot for Henry should be 16 carries per game. He had 16 or more carries in four of the final five games last season, when his yards per rush jumped to an average of 6.7. In the first 11 games last season, Henry averaged 3.67 yards per carry and fewer than 11 carries per game. If the Titans give Henry the ball 16 times per game and he sticks to his career average of 4.6 yards per carry, that would put Henry at 1,177 rushing yards over 16 games.
At 6-foot-3 and 247 pounds, Henry can wear down defenses as games go on. Running backs get into a rhythm as they get to carry the ball. Henry is no different.
"I feel like once I'm in the flow, I'm seeing everything. I'm finishing runs and being able to get north and south and have momentum," Henry said last December.
Beat stacked boxes
Teams will likely stack the box to try to stop Henry, but even if they do he can find success. Over the past three seasons, Henry has 770 rushing yards and 18 touchdowns against eight or more defenders in the box. He faced a crowded box on 31 percent of his carries since 2016. Both are the second most in their respective categories.
Running into a stacked box isn't always a bad thing. When blocked correctly, it can lead to a big play. Take Henry's record-setting 99-yard touchdown run against the Jaguars in Week 14, for example.
Derrick Henry started himself in fantasy this week. pic.twitter.com/dCeP0QDpmj

— Field Yates (@FieldYates) December 7, 2018
Stacking the box can lead to a footrace if the running back can get to the second level of the defense. Henry is surprisingly fast for a bigger back. According to Next Gen Stats, Henry reached 21.74 mph on his 54-yard touchdown run in Week 14 against the Jaguars. It was the third-fastest max speed on a touchdown run in 2018. He has three touchdown runs of 75 or more yards in his career. He should get opportunities to break off long runs against teams that load the box to stop the rushing game.
One roadblock early in the season? The absence of left tackle Taylor Lewan, who is facing a four-game suspension for violating the league's performance-enhancing drugs policy. Most of Henry's success came when running to the left side. Henry averaged 5.84 yards per carry in 2018 going to the left, according to Next Gen Stats. He averaged 5.1 yards per carry when running outside the left tackle. The Titans hope newly signed left guard Rodger Saffold is enough of an upgrade to hold down the fort until Lewan comes back. Henry's early success could depend on it.