Iggy: LeBron "makes the easy play now"
March, 25, 2011
3/25/11
7:09
PM ET

By Tom Haberstroh
ESPN.com
Archive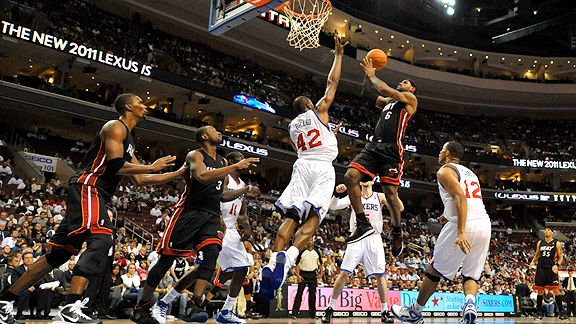 Drew Hallowell/Getty Images
Andre Iguodala believes LeBron James is dunking less and laying it up more.
MIAMI -- If you want to know if LeBron James has changed his game since joining the Miami Heat this season, Philadelphia 76ers wing Andre Iguodala would be a good person to ask.
As one of the top perimeter defenders in the league, he has handled the unenviable task of guarding James several times a season and few players have logged as many hours on LeBron James duty.
After Friday morning shootaround, Iguodala was asked if he's noticed any tweaks to James' game.
"I've only noticed one small thing," Iguodala said before taking time to find the right words.
"I shouldn't say he doesn't jump as high, because he does jump as high," Iguodala said. "But he doesn't spend too much energy trying to dunk on guys. He makes the easy play now."
Iguodala elaborated.
"He doesn't go down the lane and do a windmill in the half-court set or backwards dunk it. It's kind of like 'just get the finish.' He's preserving his body for the long haul and I see that."
But does James see it that way?
Standing in front of his locker minutes before tipoff against the Sixers, James laughed upon hearing Iguodala's morning scouting report.
"I guess I'm getting ready for the playoffs, I'm saving all my energy for the playoffs," James said on Friday.
James then cut to the chase.
"But if I get one tonight, I will throw it down," James said laughing.
James didn't disagree with Iguodala's assertion that the two-time MVP is trying to keep his body healthy for the postseason.
"This year I've been banged up a little bit and I've just trying save enough energy [for the playoffs]. But if I get the opportunity [to dunk], I will," James said.