The book on LeBron James vs. Boston
April, 28, 2011
4/28/11
7:00
PM ET

By Tom Haberstroh
ESPN.com
Archive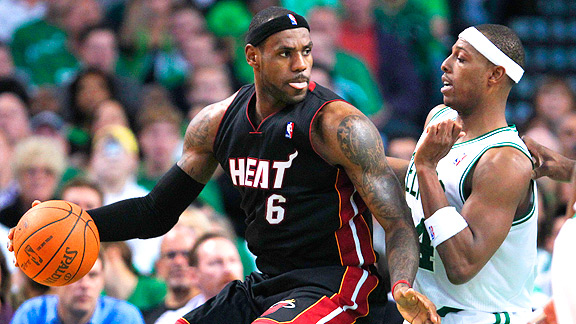 AP Photo/Charles Krupa
If LeBron James wants to beat the Celtics, he'll need to overcome his struggles against Paul Pierce.
It all hinges on LeBron James.
The overarching narratives and the on-court dynamics both depend on the two-time MVP and how well he performs under the pressures of history and against the Boston Celtics.
Everyone wants to know how LeBron will do, but few people are better equipped to respond to that question than ESPN researcher Peter Newmann and Dean Oliver, ESPN's director of analytics and former director of quantitative analysis for the Denver Nuggets.
This is not an understatement: Newmann and Oliver have probably studied more Celtics-Heat film than anybody outside the video rooms in Miami and Boston. Knowing they can't predict the future, Newmann and Oliver looked to the past to answer another question:
How has LeBron done?
Well, let's start with the basics first. LeBron has played against the Celtics four times this season and has averaged 28.8 points, 6.5 rebounds and 6.5 assists in 42 minutes of playing time. His 3-point shot has been off -- he's only 3-for-15 from downtown -- but otherwise, he has shot 55.2 percent on 2-pointers against the vaunted Celtics defense.
But that's all surface statistics. Newmann and Oliver dug deeper, breaking down every single one of the 277 offensive possessions during which LeBron was on the court against the Celtics.
277.
A number of trends came to light, but here are three of the most compelling that they found:
1. Paul Pierce is the antidote to LeBron James
Defending LeBron is never a one-on-one ordeal, let's get that out of the way. But if LeBron wants to get to the NBA Finals, he may have to plow through three of the best wing defenders in the NBA in Andre Iguodala, Paul Pierce and Luol Deng. Iguodala did an admirable job defending LeBron, but Pierce may have his number.
According to Newmann and Oliver, Pierce checked LeBron 69 percent of the time, with Rajon Rondo, Jeff Green and Marquis Daniels (no longer with the team) filling in the rest. But against Pierce, LeBron shot just 43 percent from the field and his efficiency plummeted to depths rarely seen from him. In fact, LeBron scored 75 points per 100 possessions with Pierce covering him, down from his 93 points per 100 possessions when guarded by all other Celtics defenders.
That's a huge difference, and considering how often the ball is in LeBron's hands, it's imperative for the Celtics that Pierce to avoid foul trouble.
2. Rajon Rondo is not a real option
I've dissected
Rondo's coverage on LeBron
at length before and the ESPN Stats & Information group found similar results: there's no evidence that Rondo can handle LeBron outside of a one-possession cameo.
Keeping in mind that Pierce held LeBron to 75 points per 100 possessions, what would you guess LeBron's efficiency against Rondo was this season? Answer: 135, or just about twice as lethal as when Pierce was his primary defender. Stats & Info found that LeBron shot 60 percent on his field goals against Rondo, which also includes some and-1 opportunities when Rondo couldn't match LeBron's strength inside.
We remember the inspiring performance from Rondo in the third game against LeBron not because it was entirely successful, but because it was theatrical. The 170-pound point guard got under the skin of a player the size of Karl Malone. Rondo was invading Miami's huddles and getting the Boston crowd on their feet. However, the Celtics aren't interested in fairy tales, and Celtics coach Doc Rivers would be wise to keep Rondo away from that assignment.
3. If the Celtics send help, LeBron makes them pay
As I said earlier, guarding LeBron is a team effort, not an individual one. But the scouting report tells us LeBron picked apart the Celtics' defense when they sent a double-team or a help defender. LeBron is so difficult to defend because of his passing skills and radar-like awareness. Unlike other scorers such as Kevin Durant and Carmelo Anthony, LeBron can pass out of a double-team with precision and the Celtics have been burned in these scenarios this season.
When the Celtics provided help defense on LeBron, the Heat's efficiency improved compared to when Boston played him straight up. As a team, the Heat scored 86 points per 100 possessions against one-on-one defense but improved to 92 points per 100 possessions when the Celtics sent the extra defender.
Why the jump? When the Celtics load up on LeBron, he hits his teammates in better positions to score, thereby relieving these players of the pressure of having to create their own shots. As a result, the Heat's turnover rates drop dramatically from 16 percent to 11 percent, while the team's field-goal percentage rose slightly. What's most interesting is that LeBron's individual numbers suffered when the Celtics sent help defenders, but the Heat as a whole benefited from Boston's strategy.
In the end, the onus will be on Pierce. James has the rare ability to thwart double-teams and pick apart defenses the moment they spread themselves thin. Of course, things could change. James could buckle under the pressure, hijack the offense and play hero-ball at critical moments, which would completely defeat the purpose of joining Wade and Bosh in Miami.
Facilitating the Heat's offense may not be the most glorifying route for LeBron, but against the Celtics, it may be the most effective one. If LeBron wants to finally beat Boston, the truth is that he can't do it all by himself.