LeBron and Wade test limits of hero ball
June, 1, 2011
6/01/11
2:55
AM ET

By Tom Haberstroh
ESPN.com
Archive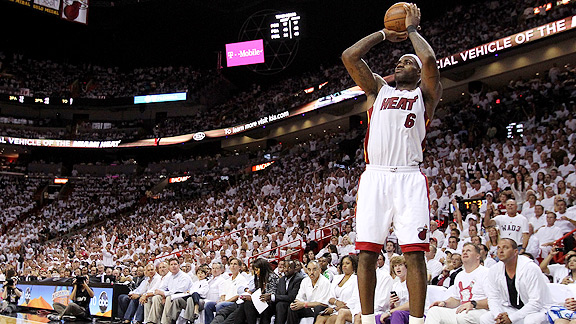 Ronald Martinez/Getty Images
Can LeBron James outperform from downtown long enough for the Heat to win a title?
MIAMI -- As the saying goes, sometimes it's better to be lucky than good.
LeBron James and Dwyane Wade are many things, but outstanding 3-point shooters they are not. If we're being honest with ourselves, James is barely an average shooter from downtown (he shot 33 percent this season; league average was 36 percent) and Wade is only average on his best days.
But lately, the two stars have forgotten their limitations as sharpshooters and suddenly look as though they're Steve Kerr and Ray Allen.
In Game 1 of the NBA Finals, James shot 4-for-5 from downtown and Wade drilled two of his four attempts from beyond the arc. Their hot shooting on Tuesday came on the heels of a combined 4-for-8 shooting performance against Chicago in Game 5 of the Eastern Conference finals, with a flurry of 3s in the final minutes.
Right now, Wade and James are mostly lucky with their 3-point daggers. And for one game snapshots, luck is sometimes all you need.
How do we know they're lucky?
The postgame quotes offer a clue. When a player hits an ill-advised shot, it's not described as "bad." Instead, most times you'll hear a player soften his tone by referring to an ill-advised shot as a "tough shot." That's easier on the ears.
After Tuesday night's game, the players peppered their Game 1 reflections with the "tough shot" phrase.
Looking exasperated at the postgame podium, Dirk Nowitzki shook his head as he spoke about James' and Wade's shotmaking down the stretch.
"Dwyane made some big shots there in the fourth quarter, and LeBron has been shooting the ball really well this playoffs," Nowitzki said. "Yeah, he had some open looks and really made some tough shots."
When James hit that virtually impossible 25-foot 3-pointer with Shawn Marion's hand in his face at the end of the third quarter, AmericanAirlines Arena shook with delight -- and disbelief. Count Wade in that group.
"Not many guys can make that," Wade said. "It's a tough shot to make."
After the game, Wade said he knew James was going to take that shot as soon as he crossed the half-court line with the clock ticking down from 10 seconds. James dribbled idly for several seconds, then went away from a pick from Udonis Haslem, and opted to rifle off a step-back 3-pointer as he fell out of bounds.
If it misses, we probably take him to task for hastily settling for a hero shot. If he makes it, we praise him for his courage. As we know, he made it.
Still, it's lucky. And Wade's 3-point dagger with three minutes left to put the Miami Heat up by nine? The one that was perfectly contested by Jason Kidd? The one that he took before the shot clock entered single digits?
Yeah, Wade needed a hefty dose of luck to put that one through the net, too.
When players hit shots they have no business making, they use another term we've all heard before: "rhythm shooting."
"When D-Wade is dribbling the ball, dribbling it," James said after the game, "and he gets in his rhythm, and pulls up for a 3, once that went down, I knew he was feeling really good."
Rhythm.
"We're rhythm players," James continued. "When we get in a good rhythm, we get in a good groove, we feel like every shot we take is going to go in. Those are two cases of it."
Then again, James missed his only 3-point attempt in the fourth quarter after hitting the 25-footer to close the third frame. The groove lasts only so long.
When those shots don't go in for Wade and James, Heat coach Erik Spoelstra will talk about the need to curb James and Wade's tendencies to hit "home runs" and play hero ball. But when they go in, he sings a different tune.
"If the ball is moving and it's getting side to side and multiple players are involved, that's a flow for us," Spoelstra explained. "And those guys both can make rhythm jump shots. And especially timely shots when you need them at the end of the clock."
Of course, Wade's 3-pointer wasn't at the end of the shot clock. He wasn't involving other players. James' step-back 3-pointer at the third quarter buzzer was textbook hero-ball. But they went in, and the Heat ran away with the victory, thanks largely to those incredible -- and incredibly unlikely -- 3-pointers.
Spoelstra will take it. He knows title teams need this luck. When 30 percent shooters start turning into 70 percent shooters, that fortune is a necessary element in championship ball. And we're seeing it with the Heat these days.
But will it last?
That's the big question.
In statistical circles, there's a concept called regression to the mean. When a player exceeds or falls short of expectations, he will trend back toward his norm over time. We should place extra emphasis on the last two words of the previous sentence because James and Wade can catch lightning in a bottle in a few games. Fluky things happen in a seven-game series -- much less one game.
As permanent as it seems now, Wade and James will miss those critical shots down the stretch at some point. The Dallas Mavericks better hope it happens sooner than later.