October, 19, 2017
Oct 19
6:20
PM ET
October, 19, 2017
Oct 19
12:44
PM ET
ASHBURN, Va. -- The Washington Redskins placed Jonathan Allen on injured reserve because of his Lisfranc injury, but they're holding out hope that his season isn't over.
Because teams can return two players off injured reserve, the Redskins won't rule Allen out for the season, multiple sources told ESPN.
One source told ESPN this is a "just in case" scenario and the team doesn't want to close the door on a possible return before seeing Allen's progress after eight weeks. He had surgery Wednesday, and there is at least some level of optimism that he could return, multiple sources said.
Coach Jay Gruden said the outlook for Allen changed Wednesday night after he underwent surgery.
"We got better news after the surgery that it wouldn't be as lengthy as they typically are," Gruden said. "That's good news. But we still have to rehab it. He's a big man and sometimes bigger guys take a little bit longer. We'll wait and see. Hopefully we see him again, but it's up to the rehab."
Redskins tackle Morgan Moses underwent the same procedure at the end of the 2014 season and was told to apply no pressure to his foot for six to eight weeks.
The Redskins already have kicker Dustin Hopkins (hip) on injured reserve, and he might be able to return after eight weeks, if needed. Considering the Redskins (3-2) don't have anyone else yet on injured reserve who is eligible to return -- and where they're at in the season -- it makes sense to hold out hope for a comeback.
Regardless, Allen's extended loss is a blow to the defensive line. Though he only has one sack, he and Matt Ioannidis
October, 19, 2017
Oct 19
7:00
AM ET
October, 18, 2017
Oct 18
7:41
PM ET
Jeff Gross/Getty ImagesRedskins running back Chris Thompson says Eagles fans are "some of the meanest fans I've ever experienced."
Washington Redskins running back Chris Thompson once prayed in the end zone before a game at Philadelphia when a fan shouted at him -- in mid-prayer -- that God wasn't going to help him that day.
"I was like, dang, all right, that's a little harsh," Thompson told ESPN980 Wednesday afternoon.
But not as harsh as what Thompson heard sometimes happens in the stands, which is why he doesn't want his family to attend Monday night's game at Lincoln Financial Field.
Philadelphia has gained a reputation for being a hostile place for visiting teams and fans. The Redskins' bus was once pelted with eggs, with players laughing afterward about seeing little kids flip them off. And former Redskins running back Clinton Portis' mother once got into a fight during a game in Philadelphia, punching someone after an Eagles fan had tossed a beer into her section of fans.
It's not as if the Redskins always have issues there, but enough for word to spread. Those words reached Thompson during his rookie year of 2013.
October, 18, 2017
Oct 18
3:20
PM ET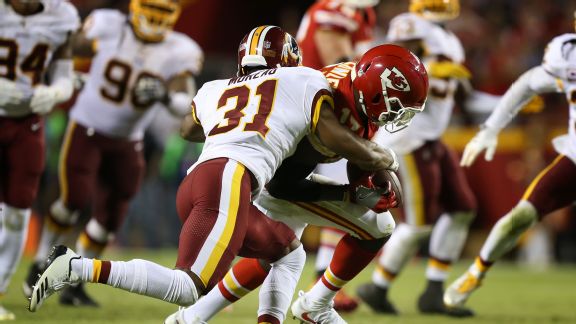 Scott Winters/Icon SportswireRookie CB Fabian Moreau could slip into a starting role while Josh Norman and Bashaud Breeland are on the mend.

The Redskins, facing the loss of Jonathan Allen for the season and the absence for now of their starting corners, will look to their youthful depth.

October, 18, 2017
Oct 18
12:13
PM ET
Mark Goldman/Icon SportswireThe Redskins selected defensive lineman Jonathan Allen with the 17th pick in the 2017 NFL draft, and coach Jay Gruden said he had been playing his position "like a veteran, really."
Washington Redskins defensive lineman Jonathan Allen will miss the rest of the season after suffering a Lisfranc injury in his left foot during Sunday's win over San Francisco, a source said Wednesday.
Allen underwent surgery Wednesday on the foot, a source said, and had multiple screws inserted into it. The recovery period will be at least three months.
It's a crushing blow for a defense that had been improving, in part because of Allen's performance.
Allen, the 17th overall pick in this year's NFL draft, visited noted foot specialist Dr. Robert Anderson on Tuesday. Redskins right tackle Morgan Moses had a similar injury near the end of the 2014 season; he underwent surgery and returned for the start of training camp.
October, 18, 2017
Oct 18
9:00
AM ET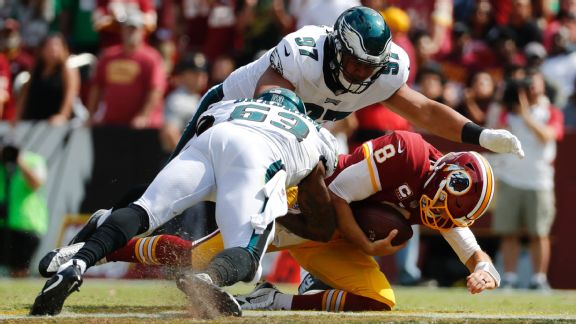 AP Photo/Alex BrandonKirk Cousins and the Redskins have their work cut out for them in the next month, starting Monday night with a rematch against the Eagles.

The Redskins (3-2) begin a critical five-game stretch against four NFC teams with winning records and the division rival Cowboys, who are 2-3.

October, 17, 2017
Oct 17
6:50
PM ET
The Washington Redskins will enter a crucial stretch of their season with a new kicker. They will place Dustin Hopkins on the short-term injured reserve list and will sign Nick Rose, a source said Tuesday.
It leaves the Redskins with an inexperienced kicker, known as much for the YouTube video of him kicking a field goal from the 5-yard line while doing a backflip at the University of Texas. He also once kicked an 80-yard field goal in practice. But Rose hasn't yet kicked in an NFL game after leaving Texas following the 2015 season.
Atlanta cut him in August 2016 and San Francisco, after signing him to a futures contract in January, released him this summer.
Rose handled the kicking duties at Texas his final two seasons. He made 27 of 38 field goals and 71 of 74 extra points during his college career.
He'll replace Hopkins, in his third season as Washington's primary kicker. Coach Jay Gruden said he learned Monday that Hopkins had possibly been dealing with a right hip rotator muscle strain. Gruden called the injury "pretty significant for a kicker."
Because Hopkins will be on short-term injured reserve, he must miss at least eight weeks. He will be eligible to return for a Dec. 17 game against Arizona
October, 17, 2017
Oct 17
4:30
PM ET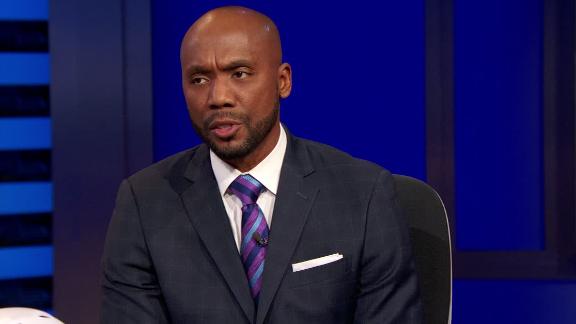 Our NFL Insiders predict Week 7's biggest upsets and fantasy flops and sleepers. Plus: Who are the league's top quarterbacks now that Aaron Rodgers is likely out for the season? And who will be the NFC's two wild-card teams come January?
---
What's your top upset pick for Week 7?
Mike Clay, NFL writer: Chargers over Broncos. When these teams met in Week 1, the Chargers fell behind 24-7 before mounting a furious comeback that fell short after a Younghoe Koo field goal was blocked in the final seconds. The Chargers will be at "home" this time around, and a two-game winning streak seems to have them back on track after an 0-4 start. Denver, meanwhile, has lost two of three and could be without Emmanuel Sanders.
Domonique Foxworth, The Undefeated senior writer: Redskins over Eagles. Philadelphia is currently considered the best team in the NFC. The hype is well-deserved, but the difference between the Eagles and Washington is minor. This game could go either way, but I like Washington to even the season series with a win in Philly.
October, 17, 2017
Oct 17
7:00
AM ET
October, 16, 2017
Oct 16
4:50
PM ET
ASHBURN, Va. -- Washington Redskins rookie defensive lineman Jonathan Allen, who was making an impact as an interior pass-rusher, suffered a Lisfranc injury Sunday and could miss substantial time.
Redskins coach Jay Gruden said Allen will visit with noted foot specialist Dr. Robert Anderson to determine the severity of the injury. Gruden said Allen would "hopefully" miss only three to four weeks, though they'll know more about his absence after he visits Anderson.
Allen isn't the only injury concern for Washington. Cornerback Bashaud Breeland sprained his left MCL, but Gruden said he could play Monday, Oct. 23, at Philadelphia. Corner Josh Norman did not play vs. San Francisco on Sunday because of a fractured rib, but Gruden said he'll increase his exercise and running and will be re-evaluated midweek. Gruden said Norman could be ready for the Eagles game.
It's a tough time for the Redskins to suffer key injuries as their next five games are against Philadelphia, Dallas, Minnesota, New Orleans and Seattle.
October, 16, 2017
Oct 16
12:40
PM ET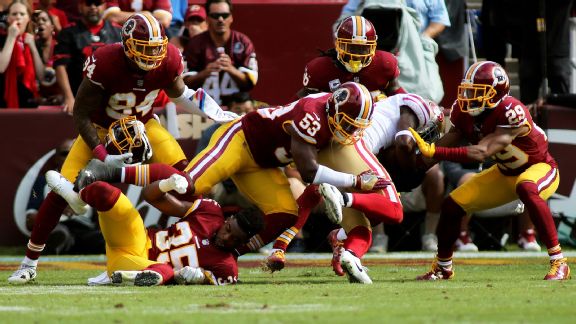 Daniel Kucin Jr./Icon Sportswirenull

Redskins safety D.J. Swearinger just wanted to stick up for a fallen teammate. He knows he must be smarter, however.