March, 21, 2018
Mar 21
8:00
AM ET
March, 20, 2018
Mar 20
7:54
PM ET
ALBANY, N.Y. -- What started when NFL players sparked a national discussion on racism and police brutality by kneeling during the national anthem will continue this week as current and former players meet with lawmakers and community officials in major cities across the Northeast.
The campaign began Tuesday in New York's state capitol, where New Orleans Saints linebacker Demario Davis -- representing the Players Coalition -- joined criminal justice reform advocates to lobby legislators to change what they believe are race-based disparities in the bail system.
"We're using our platform and our space to do our part, to raise awareness [on] the social injustices that are going on in our country," said Davis, who signed last week with the Saints after playing for the New York Jets. "In New York, we're focusing on criminal reform. That's just a small piece in a big puzzle."
On Wednesday, former Ravens tight end Benjamin Watson will participate in a town hall-style session in Baltimore that will focus on police and community relations. On Thursday in Washington, D.C., Redskins cornerback Josh Norman will head a group that will visit a local school to discuss education and economic advancement. On Thursday in Boston, New England Patriots safety Devin McCourty and former Pats star linebacker Willie McGinest will meet with key legislators.
March, 20, 2018
Mar 20
1:15
PM ET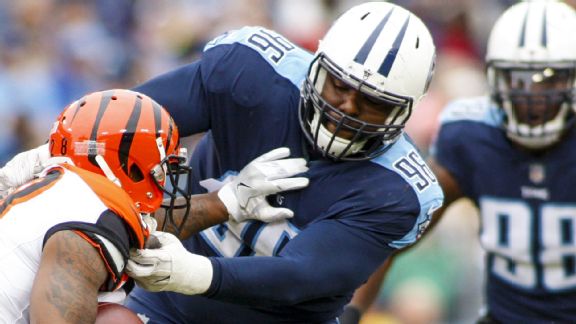 EPA/Rick MusacchioSylvester Williams is expected to visit with the Redskins on Tuesday.

Johnathan Hankins could be an option as a starter on the defensive line, while Sylvester Williams, who visits Tuesday, would provide depth.

March, 20, 2018
Mar 20
12:23
PM ET
ESPN
Former Washington Redskins receiver Ryan Grant, whose deal with the Baltimore Ravens was voided last week after he failed a physical, signed a one-year deal with the Indianapolis Colts on Tuesday.
Grant, who has never missed a game in his four-year NFL career, suffered an ankle injury in Washington's regular-season finale. As a free agent, Grant had agreed on a four-year, $29 million deal with the Ravens, only to have that deal voided last Thursday.
His agent told ESPN last Friday that Grant has been working out and running routes, and that his ankle was cleared by renowned surgeon Dr. Robert Anderson and is not an issue.
"If there was an issue with my ankle, I wouldn't have passed the physical with the Colts and the Raiders," Grant said. "I can't control what [the Ravens] did. I can't control their assessment of my ankle. I've gone to other places. I've seen multiple doctors and I've passed physicals so that should pretty much speak for itself."
Grant, 27, a fifth-round pick in 2014, caught 84 passes for 985 yards and four touchdowns during his four seasons with Washington.
He provides much-needed depth to a Colts receiving corps that is in need of help; Donte Moncrief
March, 19, 2018
Mar 19
2:32
PM ET
The Washington Redskins signed cornerback Orlando Scandrick on Monday.
Terms were not disclosed but it's two-year deal worth up to $10 million, a source said.
Scandrick, 31, was released by the Dallas Cowboys on Saturday, granting his request to become a free agent.
With Washington, Scandrick will compete to start outside opposite Josh Norman. The Redskins had been in talks with Dominique Rodgers-Cromartie, but his price tag was too high for them.
The Redskins wanted a veteran presence at the position while hoping last year's third-round pick, Fabian Moreau, develops; he played 58 snaps last season. The Redskins also have Quinton Dunbar, who will challenge outside as well. Scandrick also likely would play inside versus slot receivers when needed.
Injuries took their toll on Scandrick in recent years, with the most severe a knee injury that cost him the 2015 season. He also dealt with a back injury last season, and the Cowboys filled his void with younger players such as rookies Chidobe Awuzie and Jourdan Lewis at outside cornerback, and safety Xavier Woods in the slot.
Scandrick joined the Cowboys as a fifth-round pick in 2008 and outperformed their first-round pick from that year, Mike Jenkins. He served as a slot corner his first five years, becoming one of the best interior defenders in the league. He moved into a full starting role in 2013.
March, 5, 2018
Mar 5
11:37
AM ET
Welcome to the NFL's annual scramble for top talent.
Less than two months remain before the 2018 draft (April 26-28), when teams will jockey for the prospects who will make up the majority of the league's rosters in the coming years. Free agency, of course, is a supplementary exercise.
What follows is a subjective ranking of the high-end players still available, and the ones who have already agreed to terms.
Note: Players no longer on the market will be marked with asterisks. Top-tier players have also been added to the original ranking following their releases.
Jump to: 1-25 | 26-50 | 51-75 | 76-100 | Top free agents by position
---
Headed to: Minnesota Vikings | Age heading into 2018 season: 30
After two years under the franchise tag with combined earnings of nearly $44 million, Cousins will experience a rarity for upper-level quarterbacks: a true bidding war for his services. The Redskins have moved on to Alex Smith, whose acquisition will become official when the new league year begins March 14. Cousins could set a new bar for NFL contracts, perhaps in excess of $30 million annually.
Re-signing with: New Orleans Saints | Age: 39
It's difficult to imagine Brees and the Saints parting ways, especially with the team again competitive and without his heir on the roster. Brees himself has said he doesn't anticipate testing the open market, but it'll be a little tricky. Brees' contract did not allow the Saints to use the franchise tag, so they'll have to meet his price for a standard contract before a March 14 deadline that would accelerate $18 million in salary-cap space. The situation provides an opening for Brees to test the market if he changes his mind.
Headed to: Denver Broncos | Age: 30
With a new offensive coordinator, and a decidedly muted public stance from coach Mike Zimmer, it's clear that Keenum's return is far from guaranteed. Would the Vikings move on from a quarterback who finished the season with the NFL's second-highest Total QBR (69.5) and led them to the NFC Championship Game? At the very least, the Vikings don't value Keenum enough to lock him down with a franchise tag.
Headed to: Jacksonville Jaguars | Age: 26
Norwell picked a pretty good year to earn his first All-Pro honors. When you look at the five-year, $60 million deal the Browns gave to Kevin Zeitler (who has never made All-Pro or even the Pro Bowl) in 2017, you understand the value Norwell would find on the open market.
Headed to: Green Bay Packers | Age: 31
Although he never matched his early-career production after the 2015 trade to the Seahawks -- in part because of a serious patellar tendon injury that season -- Graham remains a major weapon in the red zone. His 10 touchdown receptions (on only 95 targets) in 2017 were tied for second in the league. Someone will see major value there.
2017 team: Miami Dolphins | Age: 31
Suh can still be an elite-level interior player, even if he doesn't produce eye-popping sack numbers. He keeps himself in excellent shape and, when invested, requires the attention of multiple blockers. Any honest appraisal of him must note his inconsistent effort level, but overall, he is one of the few potential difference-makers available on the market.
Headed to: Minnesota Vikings | Age: 27
A preseason trade from the Jets to Seattle, if nothing else, gave Richardson tape in both the 4-3 and 3-4 defenses. The Seahawks, who gave up a second-round pick and receiver Jermaine Kearse to get Richardson, might want him as a younger replacement for Michael Bennett. Richardson made a few splashy plays in Seattle, but he probably wasn't dominant enough to spark a frenzied bidding war.
Headed to: Houston Texans | Age: 26
Although he has been slowed at times by knee injuries, Mathieu started all 16 games last season and is as young as anyone on the free agent market. Safeties are critical to current defensive schemes and he should find many suitors.
Headed to: New York Giants | Age: 30
Solder finished the regular season on a strong note but is undeniably an inconsistent player who would have never been a candidate to hit the open market if his play had smoothed out. With that said, it's rare for even a capable left tackle to reach free agency. Solder would be a popular target.
Headed to: New York Jets | Age: 28
Johnson earned $30.7 million while playing under the Rams' franchise tag over the past two seasons. He was a reliable starter, but he didn't approach his seven-interception performance of 2015 -- he had just one in 2016 and two in 2017 -- and has yet to make a Pro Bowl.
Headed to: Buffalo Bills | Age: 28
After five years of anchoring the middle of the Carolina defense, Lotulelei could be ready to test the market. The Panthers would have to decide whether to add another significant contract to a defensive line that already includes Kawann Short's monster deal ($16.1 million annual average).
Headed to: Chicago Bears | Age: 25
A torn ACL limited Robinson to one catch in 2017, but it occurred early enough for him to be fully recovered in time for training camp this summer. Giving significant money to a player returning from a serious injury is tricky, but Robinson will generate a ton of interest. Catching 201 passes from Blake Bortles in three seasons (2014-16) is impressive.
Headed to: Kansas City Chiefs | Age: 25
After a 1,047-yard season for the Bills in 2015, Watkins combined for 1,023 receiving yards over the next two years for the Bills and Rams. In other words, his career arc moved in the wrong direction as free agency approached. But his size (6-foot-1, 211 pounds) and efficiency (eight touchdowns on 39 receptions last season) will intrigue some shoppers.
Headed to: Carolina Panthers | Age: 28
Poe proved reliable, if nothing else, after signing a one-year deal with the Falcons. He was on the field for 745 snaps, the second most on the Falcons' defensive line, and started all 16 games.
Headed to: Arizona Cardinals | Age: 30
Bradford demonstrated in Week 1 what he can do when healthy, carving up the Saints for 346 yards and three touchdowns. But after a long history of knee injuries caught up to him, forcing surgery and limiting him to two starts this season, it's fair to wonder how a team could commit to him for anything more than an incentive-laden flier. Mike Zimmer has painted a discouraging picture recently by saying that Bradford's knee condition is "degenerative."
2017 team: Washington Redskins | Age: 26
The Redskins might not be able, or willing, to squeeze in the market-level contract Breeland has earned as a four-year starter. They're already paying fellow cornerback Josh Norman an average of $15 million per year, and they have several young players who could step in. That could make Breeland one of the more desirable defensive players available.
Headed to: Houston Texans | Age: 26
Colvin has been an excellent nickelback for the Jaguars but won't be a starter as long as Jalen Ramsey and A.J. Bouye are on the roster. Does that mean Colvin could be looking to play elsewhere, for more money and playing time? It's something to consider.
Re-signing with: Chicago Bears | Age: 26
The Bears declined Fuller's fifth-year option for 2018 based on his 2016 knee injury, but on Tuesday they decided to use the transition tag to maintain some control over his movement. The Bears can match any offer he might receive. The tag itself is worth $12.97 million. This is all based on Fuller's successful return in 2017 to start all 16 games.
Headed to: Chicago Bears | Age: 26
The understudy to starter Zach Ertz has enough versatility as a blocker and as a receiver -- he has caught 60 passes in the past two seasons -- to merit a starting job elsewhere. During the 2017 regular season, one out of every five of his receptions went for a touchdown. He also threw a pretty cool touchdown pass in Super Bowl LII.
2017 team: San Francisco 49ers | Age: 26
Reid will provide another test case for the ongoing impact of NFL player protests during the national anthem, as Reid was one of the organizing partners of the initial movement. We all know what happened to his friend, colleague and former teammate Colin Kaepernick. Reid would be a prized target, but even he understands the potential limits on the market for him.
March, 19, 2018
Mar 19
9:30
AM ET
March, 17, 2018
Mar 17
8:14
PM ET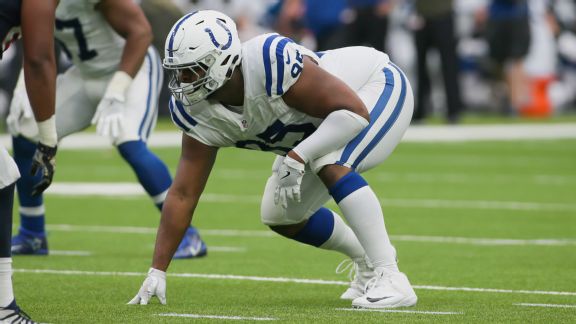 Leslie Plaza Johnson/Icon SportswireDefensive tackle Johnathan Hankins spent four seasons with the Giants before playing in Indianapolis last year.

The Redskins want to upgrade their defense, which is why they're reportedly having two former NFC East rivals in next week to meet with the staff.

March, 17, 2018
Mar 17
8:15
AM ET
March, 16, 2018
Mar 16
9:02
AM ET
March, 15, 2018
Mar 15
8:50
PM ET
ASHBURN, Va. -- Before Doug Williams discussed the Washington Redskins' new quarterback, Alex Smith, he delivered a message to the assembled media. It was the start of a new era for the Redskins, occurring on the same day a part of their past, Kirk Cousins, had signed with the Minnesota Vikings.
But this day was about Smith, not Cousins, who becomes a part of the franchise's history.
"We're not looking in the rearview mirror," said Williams, the Redskins' senior vice president of player personnel. "We're going forward, and that's where we are today. Everything is going forward, nothing behind us."
The Redskins wanted it to be a special occasion. Williams used the word "historic" to describe the day to a packed auditorium, and the news conference was timed to be televised live on local TV.
Smith allows Washington to feel good about the position, one reason the team wanted to trade for him. The deal was done on Jan. 30, but could not be officially announced until the new league year began Wednesday. A handful of teams tried to trade for Smith, but he said Washington stood out.
"This is where I wanted to be," Smith said. "As a quarterback, you certainly watch a lot of film. ... The system, the guys that are here, it looked fun. I wanted to be a part of it."
That last comment resonated with the Redskins, who kept Cousins around on the franchise tag the past two seasons. That led to numerous questions about his future, both to Cousins and to others in the organization.
Smith already signed a four-year extension, so he could be around for a while.
"It means a lot," Redskins coach Jay Gruden said. "It's somebody you can build your team around and know he'll be here year in and year out. Then you start putting the other pieces together. You're not always looking down the road or, 'Who's going to be our quarterback next year?' We have our guy in place."
But the Redskins wanted more than just stability; they wanted production. Smith is coming off his best season statistically, having thrown for 4,042 yards, 26 touchdowns and five interceptions last season. The yards and touchdowns were career bests for Smith, the first overall pick in the 2005 draft.
To help Smith and the offense, the Redskins signed speedy receiver Paul Richardson
March, 15, 2018
Mar 15
5:16
PM ET
The Washington Redskins have re-signed linebacker Zach Brown, the team announced Thursday.
Brown, who finished with a team-leading 127 tackles last season, will receive a three-year, $24 million contract, NFL Network reported.
Brown, 28, used his speed to help make an impact in his only season with the Redskins' defense, giving them something they lacked. He was leading the NFL in tackles through 13 games before having to miss the final three because of a knee issue.
Brown, who battled various leg injuries for much of the season, was most productive playing behind a healthy Jonathan Allen and next to Mason Foster. Brown also finished with 2.5 sacks and was named as a Pro Bowl alternate.
He had signed a one-year deal with Washington after a productive season with the Buffalo Bills in 2016, when he was second in the NFL with 149 tackles and was a Pro Bowl selection in addition to earning second-team All-Pro honors.
Brown spent his first four seasons with the Tennessee Titans, who drafted him in the second round in 2012.