December, 14, 2017
Dec 14
10:25
AM ET
December, 14, 2017
Dec 14
7:00
AM ET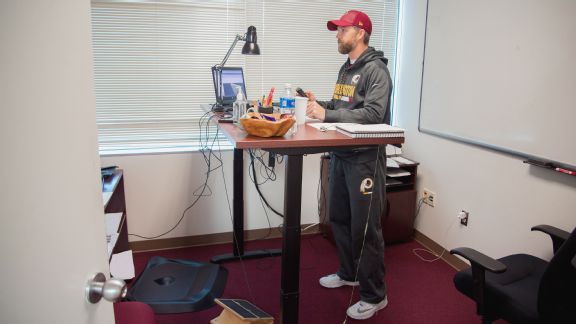 Courtesy of the Washington RedskinsWes Phillips' stand-up desk keeps his attention sharp as the hours pile on.

Redskins coaches have a variety of methods to get through the long, grinding days of the NFL season. They decided to share a few of them.

December, 13, 2017
Dec 13
6:30
PM ET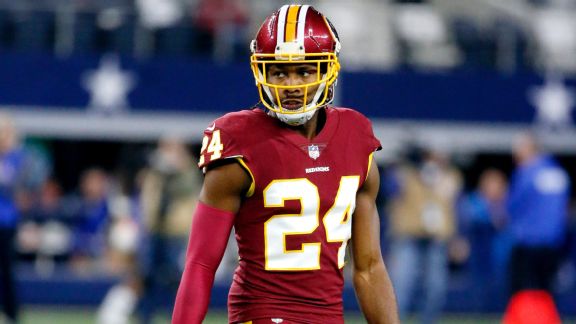 AP Photo/Michael Ainsworthnull

The Redskins gave Josh Norman the day off but will need him on Sunday against Larry Fitzgerald. A look at Wednesday's full injury report.

December, 13, 2017
Dec 13
2:58
PM ET
ESPN
The Washington Redskins issued a statement Wednesday denouncing an internet hoax that said the team had changed its name to the Redhawks.
"This morning, the Redskins organization was made aware of fraudulent websites about our team name," the statement said. "The name of the team is the Washington Redskins and will remain that for the future."
According to the Washington Post, an alliance of American Indian activists posted internet pages disguised as news outlets saying the team had changed its name to the Redhawks.
Redskins senior vice president of communications, Tony Wyllie, told the Post that the matter was forwarded to the NFL.
December, 13, 2017
Dec 13
11:30
AM ET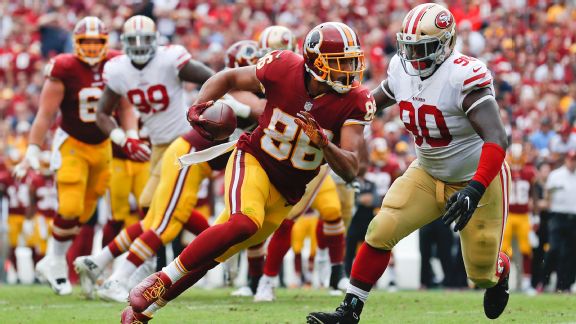 Alex Brandon/Associated PressJordan Reed's season ended with only six games played and 27 receptions, but he remains one of the league's best tight ends when healtjy.

Yes, Jordan Reed is injured often, but the explosiveness he adds to the Redskins in two TE sets when healthy is too valuable to just let him go.

December, 12, 2017
Dec 12
10:40
PM ET
ESPN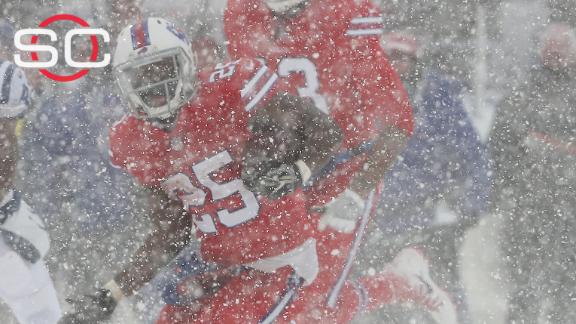 Former NFL running back Larry Johnson told the Washington Post that he believes he suffers from chronic traumatic encephalopathy, or CTE.
At this time, CTE can only be confirmed after death. Johnson told the Washington Post that his anxiety, paranoia and self-destructive impulses match the symptoms of people who had CTE. He describes brief, intense headaches, the jitters, mood swings, violence and forgetfulness.
He describes "demons" that push him toward rooftop decks, urging him to jump.
"One is telling you to do it; one is telling you don't. One is telling you it'd be fun," he says.
He says he believes that he and Aaron Hernandez are something like kindred spirits, cautionary tales.
Johnson, who played at Penn State, was a Heisman finalist in 2002 -- the same year he won the Maxwell, Walter Camp and Doak Walker Awards. He was drafted No. 27 overall in 2003 by the Kansas City Chiefs and was selected to two Pro Bowls, in 2005 and 2006, with the Chiefs. He also spent time with the Cincinnati Bengals, the Washington Redskins and the Miami Dolphins.
December, 12, 2017
Dec 12
5:11
PM ET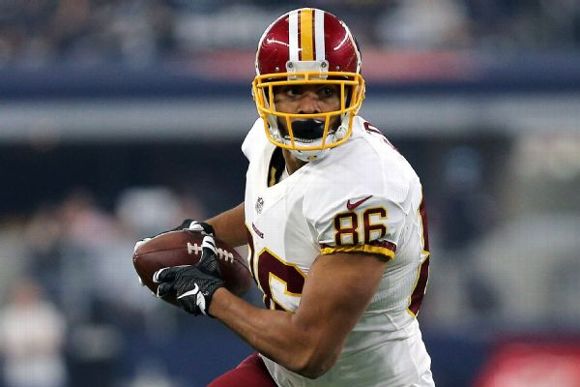 Matthew Pearce/Icon SportswireJordan Reed's injury problems started with a toe fracture. He developed hip issues due to overcompensation and eventually the hamstring injury that landed him on IR.
After weeks of hoping tight end Jordan Reed could return from a hamstring injury, the Washington Redskins ended any suspense.
They placed him on injured reserve Tuesday, along with two other players: running back Byron Marshall and linebacker Chris Carter.
The Redskins now have 18 players on injured reserve, including 12 who were projected starters or key backups.
Reed had missed the past six games and seven overall because of his hamstring. He last practiced on Nov. 9, when he suffered a setback. The Redskins had decided to stop him from running last week.
Reed's most frustrating season ends with just 27 receptions for 211 yards and two touchdowns. His loss was a big one for the passing attack, as Washington's coaches like to feature him; his quickness in and out of cuts creates difficult matchups for defenses.
Reed's issues stem from a toe fracture that might need surgery. It caused him to open training camp on the physically unable to perform list. When he returned, he needed special orthotics in his cleats, in addition to needing them to be wider.
December, 12, 2017
Dec 12
11:09
AM ET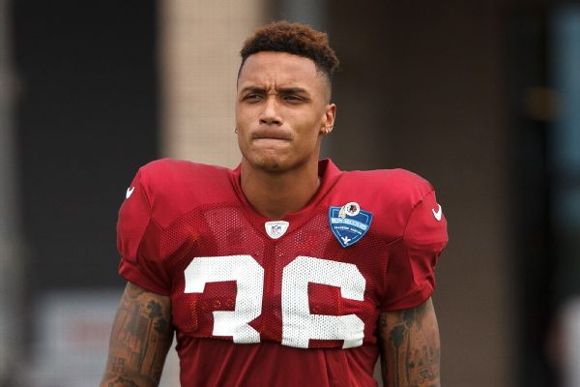 Lee Coleman/Icon SportswireSu'a Cravens, a second-round pick in 2016, has 34 tackles in 11 games played. Just 22, he has reversed course after wanting to retire, is able to resume activities after suffering from post-concussion syndrome and hopes to play again in 2018.
Washington Redskins safety Su'a Cravens has been cleared to resume football activities after suffering from post-concussion syndrome and wants to return in 2018, his agent said in a statement Tuesday.
Agent Fadde Mikhail said Cravens was treated by Dr. Michael Collins at the University of Pittsburgh Medical Center's Sport Medicine Concussion Program.
"Su'a has undergone targeted treatment and rehabilitation," Mikhail said in a statement. "He is now asymptomatic and cleared to return back to ALL THINGS FOOTBALL. Su'a is excited and looking forward to the 2018 NFL season and the many years to follow."
The Redskins had placed Cravens on the exempt/left squad list on Sept. 3 after the second-year player said he wanted to retire. Cravens was dealing with family issues at the time.
On Sept. 18, they placed him on the reserve/left squad list, which meant he'd have to sit out the season.
The Redskins said in a statement Tuesday, "We are focused on the Arizona Cardinals. He is on reserve/left squad for the season."
In 2016, after suffering a concussion in Week 4 that caused him to miss two games, Cravens said in a social media video that he'd need to wear glasses.
"Due to my concussion, my eyes have lost the memory to keep track of moving object, so I have to wear these for the rest of my life," he said.
Cravens then missed the final three games of the season because of an elbow injury. At one point late in the year, he did not show up to the facility, leaving the Redskins to wonder about his whereabouts.
He participated in offseason and training camp practices until injuring his knee in the opening game of the 2017 preseason. He required arthroscopic surgery, and the Redskins thought he'd miss only two to three weeks.
Cravens remains under contract with the Redskins, but he could always request a trade if he does not want to return to Washington. The Redskins have had a hole at safety next to D.J. Swearinger
December, 12, 2017
Dec 12
10:00
AM ET
December, 11, 2017
Dec 11
5:54
PM ET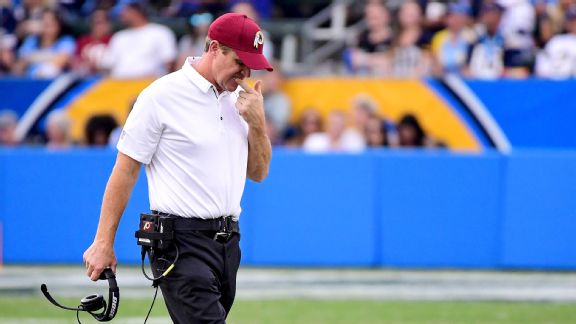 Harry How/Getty Images"We've got to do a better job as a staff to make sure these guys are on top of dotting the I's and crossing the T's, without a doubt," said Jay Gruden.

Redskins coach Jay Gruden addresses talk that his team was not ready against the Chargers and takes responsibility.

December, 11, 2017
Dec 11
7:00
AM ET