Unranked Delaware still tops mid-major poll
January, 23, 2013
1/23/13
11:57
AM ET
An updated top 10, through Tuesday's games:
1. Delaware (13-3, 4-0 CAA)
Practically, I understand why Delaware isn't ranked in either major poll, or even all that close to cracking the list. But at the same time, I don't get it philosophically. At this time one year ago, Delaware was 16-1 and ranked No. 16 in the country. After routing Towson on Sunday, the Blue Hens are 13-3, with wins against Villanova (RPI No. 10), Princeton (No. 20), Duquesne (No. 42) and St. John's (No. 55). The losses that separate last season's record from this season's record (both teams lost to Maryland) were by single digits against Georgetown and Duquesne, in both cases without Elena Delle Donne, who just scored 38 points on 14-of-20 shooting against Towson. And this Delaware team is second in the nation in field goal defense and eighth in scoring defense, both statistics representing significant improvements over the same measures last season. If one adds up to No. 16, should the other really equal poll oblivion?
[+] Enlarge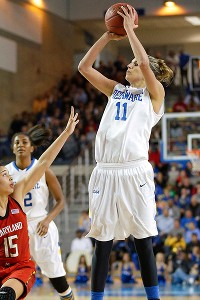 AP Photo/Patrick SemanskyElena Delle Donne's unranked Blue Hens received just seven votes in this week's AP Top 25 poll.
2. Dayton (15-1, 3-0 Atlantic 10)
It is safe to assume the Flyers got the message. After going two weeks without a game following a 65-40 loss at Bowling Green, Dayton won its first three conference games by scores of 82-39 (Butler), 95-47 (La Salle) and 74-48 (Rhode Island). Granted, those programs aren't the best the A-10 has to offer, but that's domination. There is one team from outside the BCS conferences among the top 10 in the nation in scoring margin, and you can probably guess which one it is (in fact, Dayton's 22.6 point-per-game advantage checks in eighth, right after Notre Dame, Louisville and Maryland). A trip to Richmond on Feb. 3 (ESPNU, 11 a.m. ET) offers a possible test before the next rankings.
3. Green Bay (14-2, 4-0 Horizon)
If only Aaron Rodgers had a defense like this. The Phoenix lead the nation in scoring defense, allowing just 46.7 points per game to edge Connecticut in the category. That's some good company. Even with former coach Matt Bollant and associate coach Mike Divilbiss gone, the Phoenix under Kevin Borseth still use the "Buzz" defense that makes opponents so uncomfortable (Adrian Ritchie, for instance, is on the cusp of the top 20 in steals per game). But there are some subtle changes -- last season Green Bay forced 25 turnovers per game but saw opponents shoot 38.7 percent. Turnovers forced are down to 20.5 per game this season, but opponents only hit 35.1 percent of their attempts.
4. Boston University (16-3, 6-0 America East)
The Terriers keep their heads down and keep climbing up the rankings. There have been some results recently that give pause, including a 55-53 win at New Hampshire and a 57-52 win against Binghamton, but you get the benefit of the doubt for a few close calls when you win 13 games in a row. Defense is this team's strength (No. 15 nationally in scoring defense and No. 31 in field goal defense), but that has been a consistent strength over the past few seasons. If this team is a cut above past editions, and Wednesday's showdown against fellow conference unbeaten Albany is another step in attempting to prove that's the case, improved offensive efficiency is a reason why.
5. Creighton (13-4, 5-1 Missouri Valley)
People who don't follow the Missouri Valley might wonder why Creighton drops just two spots after Wichita State blitzed the Bluejays 67-45 this past weekend. (Conversely, those who do track the MVC might wonder why Wichita State, now alone in first place in the league, isn't in this spot.) It was a bad performance against the Shockers, one for which the home team's defensive pressure deserves much or most of the credit. But the body of work Creighton put together before conference play buys it more leeway than other mid-major teams that lose league games. In losses against Oklahoma, Kansas, Minnesota and Wichita State, Creighton shot 30.4 percent from the 3-point line. In 13 wins, the nation's second-most prolific 3-point shooting team hit 40.2 percent of those attempts.
6. Chattanooga (14-3, 7-1 Southern)
The Lady Mocs earned a big win at Davidson this past Friday, handing the Wildcats their first conference loss, and avoided any mental letdown with a businesslike 27-point win at conference minnow Western Carolina two days later. That sets up a big four-day stretch, beginning with Wednesday's visit to Samford (6-2 in the conference and the team that represented the league in the NCAA tournament last season) and Friday's home game against Appalachian State (6-1 in the league and 12-3 overall). Entering her first game against her former school, Appalachian State, Ashlen Dewart is averaging 18.3 points on 54 percent shooting in Chattanooga's eight conference games.
[+] Enlarge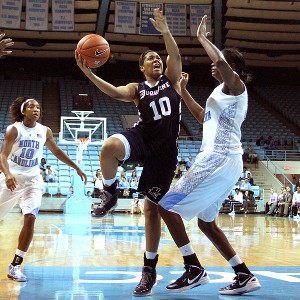 Andy Mead/YCJ/Icon SMIJunior Wumi Agunbiade scored 23 points in both of Duquesne's wins this past week.
7. Duquesne (14-3, 3-0 Atlantic 10)
After back-to-back strong defensive showings against Saint Louis and Temple this past week, Duquesne has held eight opponents to fewer than 50 points this season. It's still nice to have the kind of offense Wumi Agunbiade provided in those recent wins. The Canadian junior scored 23 points against both the Billikens and Owls, the most any Dukes player scored in a game this season and just the second and third times a player scored as many as 20. A trip to Dayton looms in February, but three road games in the next two weeks present enough of an immediate challenge.
8. UTEP (14-2, 2-1 Conference USA)
This is the flip side of the Creighton coin. UTEP beat Arizona, Arizona State and Kanas State this season, wins which count for something. But when a team builds a résumé on a home-loaded schedule (11 home games and just three true road games), it can't afford to do things like lose at home in conference -- even to a pretty good UAB team. That said, considering the Miners still edged UAB 57-33 on the boards and held the Blazers to 39 percent shooting, this is not the time to cast them into the hinterlands. The schedule the next two weeks includes games against Rice and SMU, two of the four other teams in Conference USA ranked in the RPI top 120 (UAB was also one of those teams).
9. Princeton (10-5, 1-0 Ivy League)
Princeton hasn't exactly been busy since the last rankings. The reigning (and reigning and reigning) Ivy champs opened conference play with a 77-47 win against Penn, and … well, that's it. The Tigers always have an extended January layoff (pesky academics), but the lull provides an opportunity to study the existing résumé. You know what? It's pretty good. All five losses came on the road (Marist, UCLA, Villanova, Delaware and DePaul) in competitive games. There are wins by double digits against Saint Joseph's, Rutgers, Illinois State and Drexel, teams with a combined 46-20 record otherwise. Even with that schedule, few teams competing for this spot can match Princeton's field goal differential (42.1 percent field goal offense against 34.9 percent field goal defense), rebound margin (9.9 per game) and assist-to-turnover ratio (1.07).
10. Florida Gulf Coast (15-5, 8-0 Atlantic Sun)
A familiar face from last season's mid-major rankings makes a return. The Eagles closed the nonconference portion of the schedule with the biggest result of their season, a 76-70 win against LSU, and carried that momentum into the Atlantic Sun. They have yet to win a conference game by fewer than 10 points, with six of eight wins by at least 20 points. That includes the Jan. 12 game against East Tennessee State in which they hit 22-of-43 3-point attempts. One reason for pause is that minus that game, Florida Gulf Coast is shooting 29 percent from the 3-point line this season. This weekend brings a big home game against Stetson, the other unbeaten in the A-Sun.
Next five: Gonzaga, Middle Tennessee, San Diego State, Pacific, Toledo