Commentary
Colleges should share injury info
Mystery surrounding Collin Klein should lead to changes
Updated:
November 6, 2012, 12:40 PM ET
By
Jemele Hill
| ESPN.com
Collin Klein's injury is big news, complete with the kind of juicy implications that could shuffle the BCS standings.
If Klein is unavailable to play quarterback Saturday against Texas Christian, who knows what might become of undefeated Kansas State's national championship hopes or of Klein's bid for a Heisman Trophy?
But all the titillating drama has made it easy to overlook some key issues surrounding Klein's injury, issues that point to a more significant problem in college football.
In case you hadn't noticed, Kansas State isn't being very forthcoming about what's wrong with Klein. All that's known is that he was injured some time in the second half against Oklahoma State, when he absorbed a number of hits, and that he spent the game's final 25 minutes on the bench.
A report surfaced Sunday that Klein had suffered a concussion, but Kansas State coach Bill Snyder -- who has a reputation for treating injury information as if it could affect national security -- wouldn't disclose the nature of Klein's injury.
[+] Enlarge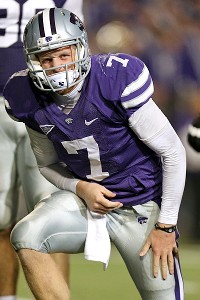 Ed Zurga/Getty ImagesCollin Klein left the game in the third quarter Saturday.
"He seems fine to me," Snyder told reporters Monday.
Snyder's secrecy isn't unlike how a lot of college football coaches deal with injuries. Some coaches have no problem disclosing them, but others fear a competitive disadvantage and prefer to give as little information as possible.
As much as I understand their position, we should be a little bit uncomfortable with a system in which athletes' injury conditions are routinely hidden.
I'm not accusing Snyder of being deceitful, or insinuating that he is putting a chance at a BCS title or Klein's Heisman Trophy chances above his star quarterback's health.
However, let's also not ignore the strong motivation behind keeping a star player's injury quiet.
If college football had a uniform injury policy similar to the NFL's, there wouldn't be as many questions being raised about Klein's injury and, in general, it would be a lot easier to trust that college coaches were operating in the best interests of their players.
In the NFL, teams are required to report injuries. If they don't, or if they manipulate the information, they face serious fines.
Some conferences, such as the ACC, have a uniform injury policy, but coaches are only encouraged, not required, to participate.
This is an issue that has bubbled up periodically this season. At USC, Lane Kiffin briefly banned a reporter from practice for writing about an injury. Then Kiffin later stormed out of a media session like a petulant 5-year-old after he was asked about a player's participation in practice.
Not surprisingly, a lot of college coaches aren't on board with the idea of a standard policy. They cite privacy laws -- or rather, hide behind them.
"I think it's a horrible idea," Washington State coach Mike Leach told reporters after Kiffin's outburst and a suggestion by Pac-12 commissioner Larry Scott that the conference consider NFL-style reporting. " … It's journalism at its most pitiful level."
College coaches such as Kiffin, Leach, Chip Kelly and Steve Sarkisian, among others who are tight-lipped about players' health, would have fans believe the obsession with injuries is a media-driven story. That's certainly a fair point. Yes, it's our job to provide engaging content that will draw readers and viewers, many of whom are thirsty for information about the availability of their favorite players.
But there are other points to consider.
There isn't much in society that isn't or hasn't been improved by total transparency. A uniform injury report would make college coaches more accountable and provide college athletes a measure of protection from themselves and from their coaches.
And even though the college football power brokers would likely never admit it, an injury report would lessen the temptation for people with gambling interests to use injury information to manipulate betting.
I believe most coaches don't purposely jeopardize their players' health. But the culture of the game and the financial interests at stake often put coaches in a position where they are pressured to make choices that are rooted in self-interest.
With the increased awareness of head trauma and concussions, Snyder's coyness about Klein's injury is more than just another casual example of gamesmanship.
To its credit, Kansas State reportedly uses a computerized concussion evaluation system that helps its medical staff determine whether an athlete can play.
But if Klein plays with details of his health still a mystery, it will raise questions. I just wish it would lead to some solutions.
Jemele Hill
ESPN
EDITORS' PICKS
Jameis Winston, the potential No. 1 overall pick, drew coaches from all 32 NFL teams to Florida State's pro day.
Jared Shanker »

Trending in NOLA: The latest Saban-Miles battles.
Crabtree

Dynamic duo
MORE COLLEGE FOOTBALL HEADLINES