Top uncommitted 2013 prospects
Recent surprises shake up the list of available ESPN 100 prospects
Updated:
November 13, 2012, 10:20 AM ET
By
Dave Telep
| ESPN RecruitingNation
It doesn't make the most sense, but with the start of the early signing period exactly a week away, the national talent pool has both shrunk and expanded since we published our top uncommitted prospects list just seven days ago.
For example, we didn't see the commitment of Jarell Martin coming, and neither did LSU, the team that landed him.
But as unexpected as Martin making an early decision was, it might have been the second-most interesting commitment of the past week. Austin Nichols was down to six schools, three of which were in his home state of Tennessee. In what was categorized as a surprise decision, Josh Pastner and Memphis kept him home. Nichols wasn't even the most likely power forward to pick Memphis. Devin Williams was a good bet for the Tigers, but he chose West Virginia.
Once the dominoes began tipping late last week with Noah Vonleh and BeeJay Anya, who parted ways with Indiana and is scheduled to pick NC State on Nov. 16, center Dominic Woodson was painted in a corner. He went with finalist Baylor over the Pack.
Buzz Williams won a national recruiting battle last week for the services of JaJuan Johnson. The Marquette Golden Eagles have assembled a top-10 recruiting class. Johnson was a coveted piece of that class and a player who will likely outperform his ranking, but he wasn't drawing top-shelf interest, which made him getable for Marquette.
Even with all of that, the biggest recruiting news of the last week wasn't a decision; it was an insertion. Dakari Johnson is now a senior, which means another huge national recruiting battle. He has been added to the chart but won't decide until the spring.

Top target: PF Aaron Gordon
With their freshman frontcourt off to a good start, the Wildcats have to be thinking about losing a guy early to the NBA draft -- thus the importance of Gordon.
Which schools are still in the thick of recruiting battles for ESPN 100 prospects? Become an ESPN Insider and find out.
Insider
2013 EARLY SIGNING PERIOD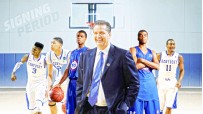 The basketball early signing period is over, but RecruitingNation still has you covered with all the news and analysis you need to know.
Top Unsigned Recruits
Class Grades
Shadow Creatures
Shock And Awesome
On The Border
Kentucky's Top-Ranked Class
'RecruitingNation'
'Signing Day Special'
MORE MEN'S COLLEGE BASKETBALL HEADLINES