Thompson overlooked in QB battle
Sophomore signal-caller is darkhorse in Sooners' spring competition
NORMAN, Okla. -- As the 2012 football season progressed, at least one thing remained constant at Oklahoma.
There was redshirt freshman signal-caller Kendal Thompson staying late after practice, working on his game and preparing to compete for the starting quarterback job this spring. Thompson, one of the stars of OU's Red-White spring game in 2012, brings unique athleticism and running ability behind center.
[+] Enlarge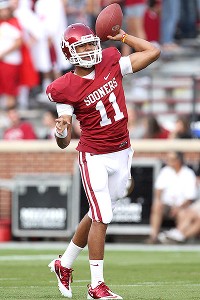 Matthew Emmons/USA TODAY SportsQuarterback Kendal Thompson was 7-of-9 for 42 yards and one touchdown in the 2012 Red-White spring game.
And yet Thompson remains the most overlooked candidate in the battle for the Sooners' starting quarterback job. Blake Bell, considered by many to be the favorite to start in 2013, has garnered much of the attention, and newcomer Trevor Knight was praised by the OU defense in the fall for the way he quarterbacked the scout team.
A closer look at his teammates' words last spring present a convincing reason to think twice before counting the Moore, Okla., native out of the quarterback race. Senior QB Drew Allen, who is likely to transfer before next fall, raved about Thompson's performance in the spring game after the freshman marched the Sooners' offense down the field for a game-winning touchdown on the final possession.
"It was very impressive," Allen said while praising Thompson's ability to be prepared for the moment despite limited practice reps.
Meanwhile the Sooners defenders were just as impressed. Linebacker Corey Nelson compared Thompson to current Washington Redskins quarterback and former Heisman winner Robert Griffin III while detailing the trouble Thompson can create for defenses with his open-field ability. He wasn't the only Sooners defender forced to try to stop Thompson that day who came away impressed with his physical skills.
"I really like what Kendall was doing," former Sooners safety Tony Jefferson said. "He really came out and played today. What he does best is run. He scrambled a lot, and he also threw pretty well. He caught my eye, and he's always had the talent."
The key words in Jefferson's statement? "What he does best is run." Thompson could bring an aspect to OU's offense that would be tough to prepare for, even if he doesn't eventually win the starting job. Bell, Knight and Thompson all can run well, but Thompson might be the most elusive, something that could come into play if the Sooners decide to make quarterback runs a bigger part of the offense.
"If you have a quarterback that has the ability to run, it adds an extra dimension to his game," co-offensive coordinator Jay Norvell said. "It adds a dimension to your offense, and it's much more difficult to defend."
ESPN's SoonerNation

ESPN.com's SoonerNation covers everything Oklahoma, including college football and recruiting. SoonerNation
More:
• Recruiting news | Blog | Forum

And Thompson has continued to impress while quietly being overlooked during the fall. Coach Bob Stoops spoke highly of Thompson's play during bowl practices leading up to the Cotton Bowl, and offensive coordinator Josh Heupel said he was happy with the ability of Thompson and Knight to learn from mistakes during those bowl practices.
"They made a mistake, learned from it, came back into the meeting room and changed it," he said. "It's good to see young guys transition and not make the same mistake. You're going to make mistakes, just don't make the same mistake twice and you're going to be ok."
More times than not, when Knight's name was brought up to Stoops or Heupel, they consistently brought up Thompson's name right alongside.
While others might be overlooking Thompson in the quarterback race, his teammates and the coaching staff are not. He's just too talented, too committed to ignore much longer.
"He's a great player," Nelson said of trying to stop Thompson during the spring of 2012. "He's so elusive, in and out of the pocket. It's a big test for us, we haven't seen a running quarterback in Oklahoma's offense. To go against it in practice every day and in the spring, he was amazing."
Yet Thompson is still being overlooked.
ESPN Staff Writer
Covers the Big 12
Joined ESPN.com in 2011
Attended the University of Colorado
EDITORS' PICKS
Ready to start?

Rivalry recruiting

Comparing scouts
MORE COLLEGE FOOTBALL HEADLINES