Updated:
January 7, 2011, 9:39 AM ET
4. Daily Dime Live Recap
Zach Harper, TrueHoop Network bloggers and fans gave their in-game opinions throughout Thursday's slate of NBA games in Daily Dime Live.
THURSDAY'S BEST

Evans
Tyreke Evans, Kings: For the first time this season, Evans hit double figures in dimes, dishing 12 in the 119-102 win over the Nuggets. He also had 27 points as the NBA's cellar dwellars rose up.
---
THURSDAY'S WORST

Jason Kidd's shooting: The triple-double king had a fun line here: zero points, 10 rebounds and seven assists -- missing all seven shots he took. Of note, J-Kidd had a zero point, 10-assist game on Nov. 8.
---
TWEET OF THE NIGHT
I need more votes for All Star somebody please hook me up11:50 p.m. via Twitter for iPhone
Paul Pierce
paulpierce34
---
DUNK OF THE NIGHT
Watch Thunder center Serge Ibaka

---
QUOTE OF THE NIGHT
"I know this will be another long rehab. But I'm looking forward to beginning my recovery. I will use this time to consider all of my options, and will make a decision regarding my career plans as I get closer to the end of my rehab."
-- Oft-injured Rockets center Yao Ming, after undergoing surgery on his left ankle.
By Chris Broussard
ESPN The Magazine

Anthony
It's looking more and more like Carmelo Anthony will remain in Denver until the Feb. 24 trade deadline, and after all this time, the New Jersey Nets remain the Nuggets' preferred trading partner.
The Nets and Nuggets have discussed various trade scenarios and just before Christmas, they nearly worked out a three-team deal involving the Cleveland Cavaliers, according to league sources.
The Nets have a standing offer of rookie Derrick Favors, two first-round draft picks and Troy Murphy on the table, but last month, sources said the Nuggets weren't interested in Murphy because they would have inherited the remaining $8 million on his expiring contract. So the Nets brought in Cleveland and its $14.5 million trade exception.
Denver would have received Favors, Devin Harris and three first-round picks. Cleveland would have received Murphy and one or two first-round picks, and the Nets would have received Anthony, Al Harrington and the Cavaliers' trade exception, the sources said.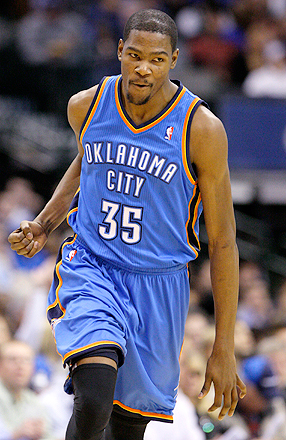 (AP Photo/Tony Gutierrez)
Oklahoma City's Kevin Durant pumped 28 points and his fist in the win over Dallas. Durant is shooting 46.2 percent from the field for the season -- same as his career average.
9.

Boozer Flap In Chicago
By Jon Greenberg
ESPN Chicago

Boozer
Vinny Del Negro will live on in relative infamy, at least as long as ESPN 1000 is in business.
Del Negro's unforgettable appearance on "The Waddle & Silvy Show" during the 2009-10 season resulted in an often-repeated sound bite, as host Marc Silverman threw in a jab at Del Negro's decision to keep rookie Derrick Rose on the bench at the end of a game.
Silverman said at the end of their interview, as a reminder to Del Negro, "D-Rose at the end of the game, Vinny." Del Negro took offense at the backseat coaching, and thus, radio magic was born.
It's the clip that keeps on giving.
So you have to wonder if Tom Thibodeau will push "ignore" on his phone if the radio station comes a calling this week after he left Carlos Boozer to stew on the bench against the New Jersey Nets.
As of early Thursday morning, Boozer's fourth-quarter benching was the biggest story on a team relatively devoid of drama this season.
On Wednesday in Newark, N.J., Boozer sat and watched the last 14 minutes of the game as the Chicago Bulls fell to the lowly Nets 96-94. Suffice to say, Boozer could have been the difference.