Commentary
Jerry Gaines paved the way at Virginia Tech
Updated:
February 26, 2007, 2:20 PM ET
By
Richard Lapchick
| Special to ESPN.com
Jerry Gaines has been a heavy lifter all his life, always willing to take on the big challenges, and he's never made decisions lightly. So when he decided to leave segregated Crestwood High in Virginia Beach, Va., to compete in track at predominantly white Churchland High in Portsmouth, Va., during the 1966-67 school year, Gaines fully considered the ramifications. He enrolled at an integrated school where his athletic prowess could be showcased, but he carried with him the heavy burden of leaving his friends behind. That burden stayed with him for decades.
The choice paid off. While his former classmates at Crestwood stayed shackled by segregation's cruel restrictions on opportunities for African-Americans, Gaines became the first African-American scholarship athlete in the history of Virginia Tech. He never forgot the ones he left behind. Gaines, who said he was "a dime a dozen" athlete at Crestwood, became a star athlete in his new integrated world. But he knew there were many more talented athletes at Crestwood who didn't get the chance for a better educational opportunity, which was the basis of the landmark Supreme Court decision Brown vs. Board of Education of Topeka (1954) that ruled separate schools were inherently unequal and opened the doors to the integration of America's schools. For years, Gaines worried that his former classmates and teammates considered him a traitor to his race for leaving them behind.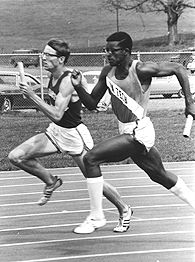 Courtesty of Virginia TechGaines sprinted into Virginia Tech's history books back in the late '60s.
In the fall of 1967, Gaines didn't know what to expect at Virginia Tech. Track coach Martin Pushkin tried to make him feel as comfortable as possible, and Gaines trusted the other Hokies athletes he'd met there while he was being recruited. Nonetheless, Gaines told ESPN.com, "It was never a thing of pure comfort. There were a whole lot of factors I had to balance. I didn't have any intention of going to Tech to be anyone's pioneer, at least not initially." He quickly established a routine. He attended classes, went to practice, ate a meal and then either studied or rested. Gaines did not feel as welcome in the classroom as he was on the track. He felt the stares of some of the white students. There were professors who seemed to show disdain for Gaines as a student and were not timid about expressing it. "African-American students were so few and far in between that you rarely ran into them," Gaines said. "There were the usual stares. And in 90 percent of classes, I was the only black face in there." One English professor made a number of comments on Gaines' papers that he thought were inappropriate. By then, Gaines had befriended James Jarrett Owens, another English professor who had been a basketball player at Tech. Owens, who became a huge influence on Gaines, assured him that his papers were well-written. Once, a student in one of the Tech dorms threw an egg that splattered on Gaines' shoes and pants as he walked across campus in his ROTC uniform. The student tried to duck away, but Gaines had seen him. He paid him a visit inside the dorm to let him know he didn't appreciate having egg on his uniform. Later, Gaines regretted that reaction. "Things like that taught me that you don't need to go there," he said. "I wasn't the one with the problem. They were." He worked hard both in the classroom and on the track. In his freshman year, he was the collegiate state champion in the long jump. When he qualified for the NCAA Indoor National Championships, Pushkin asked the athletic director to provide Gaines with new sweats since he would be representing the school at nationals. The AD offered him one of the basketball team's sweat suits. Gaines chose to wear his old sweats instead, refusing to acknowledge an offer he saw as another slight. "It was motivation to get good," Gaines said. "It was not a nice gesture, but it was part of what you had to deal with. It was character-building stuff, in the long run. It was hard work; but during those years when we grew up, it was all we knew. You could always work a little harder, no matter how talented." Gaines still holds the Virginia Tech record for the outdoor long jump, the oldest track-and-field record in the Tech books, dating back to 1971. He also holds the record for the 120-yard hurdles and is fourth all-time in the indoor long jump. Gaines humbly says his records might not still be standing if it weren't for the fact that Tech had only an indoor facility for a time, which kept many top track athletes from attending the school. When his eligibility in track was up and he'd earned his degree in Spanish, Gaines received one more year of eligibility to play football. He had wanted to play football while he was running track, but Pushkin wouldn't allow it because he recognized the dangers Gaines would face on the football field. Gaines said that Pushkin told him, "I have your legs tuned like fine Stradivarius violins. I'm not going to let them destroy my work."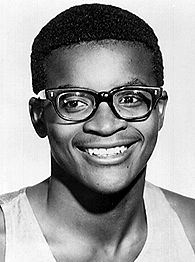 Courtesy of Virginia TechGaines, shown here during his Virginia Tech days, is trying to help refugees in Africa.
Gaines realized Pushkin was referring to people who wanted to deliberately hurt him on the football field, possibly including his own teammates. And in fact, some players did attempt to take him out with cheap shots to the legs, but Gaines proved to be an effective defensive back and punt returner. He entered the Army as a second lieutenant. After his tour in the Army, Gaines was hired as a Spanish teacher in 1972 at Western Branch High School in Chesapeake, Va., where he also coached football, track and cross country. Gaines took the school's cross country team to eight straight district titles and three regional championships. In 1987, he was named high school coach of the year by the Portsmouth Sports Club; and in 1990, he was selected as the Teacher of the Year in Chesapeake. Now, every year during the holidays, cards arrive from different parts of the world from former students wishing him the best. "Those are just reminders that, yes, you did make a difference," Gaines said about the cards. "I did not train to be a teacher. But there are certain characteristics that make for good teachers. You have to have a heart for it. You have to have a passion for kids. It's a matter of creating what I think is the most important thing in life, which is building relationships." In 1996, he moved to Great Bridge High School in Chesapeake to become an assistant principal. He is still working there. And he never forgot the students he felt left behind at Crestwood High. He went to the school's 25th reunion in 1992 with some trepidation, unsure of the reception he would receive. He worried his old classmates might view him as a traitor who had left his past behind and sold out for the greener pastures at Churchland High School. It was a great relief, he says, to discover he had the backing of his old schoolmates, even though it took him 25 years to find it out. Gaines has always believed the events in his life were laid out for him by a greater power. A humble man, he gives credit for any successes to others and to that heavenly power. While he was still searching for his role in life, he got a sudden jolt with the birth of his first daughter in 1981, and his vision went global. Now, Gaines hopes to work with a friend to construct shelters for refugees in Africa. He questions how a continent rich with resources such as gold, oil and diamonds can have so many countries in dire need of the basic necessities. "I would like to expand my horizons as far as helping people," Gaines said. He has applied to government authorities in both America and Africa to gain clearance. The metaphorical shackles of a segregated society that might have held Gaines back if he had remained at Crestwood were painful enough, but he knows his ancestors somewhere in Africa wore real shackles on their way to America. Gaines, a man who seized opportunity and became a servant for children in an integrated America, is ready to close the human circle and work to help those in need in Africa.
Richard E. Lapchick is the chair of the DeVos Sport Business Management Graduate Program in the College of Business Administration at the University of Central Florida. The author of 12 books, Lapchick also directs UCF's Institute for Diversity and Ethics in Sport, is the author of the annual Racial and Gender Report Card, and is the director of the National Consortium for Academics and Sport. He has joined ESPN.com as a regular commentator on issues of diversity in sport. Horacio Ruiz, a DeVos graduate assistant, contributed to this article.
Contributing Writer, ESPN.com
American leader of the sports boycott of South Africa from 1975 until the end of apartheid
Chair of the DeVos Sport Business Management Graduate Program at the University of Central Florida
Author of 16 books and the annual Racial and Gender Report Card
Directs UCF's Institute for Diversity and Ethics in Sport
Director of the National Consortium for Academics and Sport